We're back! Sorry for lack of posts the last few weeks. We've been on vacation and had crazy busy schedules. But we're back and we have even more awesome date night ideas for all you awesome couples out there.

Friday night was one of the funnest and most entertaining nights I think we've had in a while. We went on a triple date with some of my old roommates and their husbands. The whole night was spent in laughter. I couldn't have asked for better company!

About a month ago we were having a girls night and I was telling my friends about this blog segment and that I needed some more ideas. We started brainstorming and came up with quite the concept...alphabet dates. The idea is to pick a letter and have all the activities start with that letter. We went with the letter F. Now you are probably asking yourself why in the world would you start with that letter. Well, that's a question we can't even answer. Sorry.

To start our night off we had a traditional Vietnamese dish called Pho. It's pronounced "fuh" which is why we decided it worked for our first alphabet date night. We went to Pho Plus in Orem to try this yummy dish. They also have a new location that just opened off of Center Street in Provo. Before you get freaked out by the name, Pho is just a bowl of beef broth with fresh rice noodles, onions, cilantro, and your choice of meat. It also comes with a plate of bean sprouts, lime wedges, jalapenos, and herbs. What's neat about this dish is that everyone gets to make it their own. It comes with the basics then you can add some of their sauces to make it spicier if you wish. It was interesting how different everyone's bowl tasted.
I'm going to be honest, I don't think I would ever crave Pho, but I would keep going back because of the experience you get when you are there. And don't get me wrong, Pho was delicious, I just don't think I would ever crave it like I do ice cream sometimes. Another plus, it's pretty cheap. For a regular bowl it was only about $7. A couple pointers about ordering at Pho Plus....
1. A regular is plenty - the bowls are ginormous there
2. A couple could share the large, but then you couldn't each make it your own - that's your call
Part two of our triple date consisted of something else I've never tried before...frolfing. Yes, that is a term. Frolfing is the term for frisbee golf and who knew there was a brand new course right here in Utah Valley?! We went to the new course at Utah Valley University. It was gorgeous! The course is free to use, you just need to provide your own equipment. The course is located on the west side of the campus, right next to the baseball field (where the Orem Owlz play). The trickiest part of this course is how close to the pond some of the targets were. My friend's husband already had the frolfing equipment we would need, including a "golden retriever" in case some of our discs went into the pond...and of course they did :)
Here are a few highlights of our frolfing experience: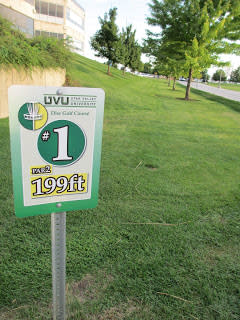 199 ft is a lot harder than you'd think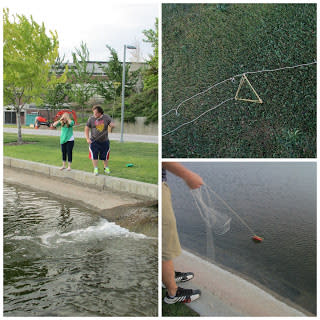 A successful find with the golden retriever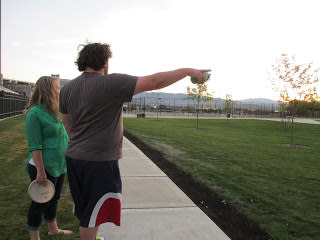 Getting a few pointers from the husband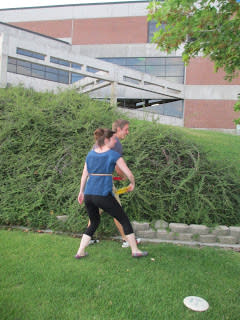 Is this not the cutest thing you have ever seen?!
K&B, T&M...thanks for a super fun night and awesome memories. Can't wait for our next alphabet date!
?
?