Utah Valley has a ton going on this October, with great Halloween events for kids, college students, and everybody who loves to be spooked! There are musicals, concerts, haunted houses, free Halloween events, and other Halloween-themed productions in the mix that you won't want to miss, with plenty to keep busy all month long! For additional ideas of things to do this month, check out our events calendar. Here are some spooktacular ideas for what to do for Halloween 2019!
---
Family Friendly Activities
---
Hop on the Heber Creeper with some ghosts and other costumed characters! Enjoy a pumpkin cookie and take home a pumpkin, too!

Oct 8th, 15th, 22nd, 29th
Departures at 11am, 12:30pm, 2pm, 3:30pm & 5pm
450 South 600 West, Heber City, UT 84032
$15 for ages 3 and up (includes pumpkin)
Come hear 60+ local bands play live music, while dressed in costumes! Also, be on the lookout for secret shows!

Oct 21st starts @8pm, Oct 22nd @4pm-midnight
Downtown Provo Center Street
$20 per person, day-of, $15 in advance
3. City Halloween Parties
Many of these Halloween parties are free Halloween events with costume parades, face painting, bounce houses, and carnival games! Check your city calendar for details on their annual Halloween events!
Join Eagle Mountain in Halloween festivities that include a dog costume contest, a car show, games, and more!

October 1 @ 11:00 AM – 2:00 PM  – Cory Wride Memorial Park
Hocus Pocus Drive-In Movie 7:30 PM – Mid-Valley Soccer Field
FREE
This free Halloween event is fun for the whole family, with candy, games, and a spook alley!

Oct 28th, 5pm-8pm
Lehi Legacy Center, 123 North Center Street, Lehi, UT 84043
Fee: At the door: $5 per child or In Advance: $4.50 per child. Adults free.
This Halloween event for kids is a walk-through haunted house, just spooky enough for little ones to handle!

Open every night of the month of October from 7:30 pm to 10 pm
1641 Oakview Lane, Spanish Fork, UT 84660
FREE
Crisp, witty exchanges pepper this light hearted and inventive thriller that unfolds with a series of macabre twists. A thriller writer indulges in vitriolic word duels with his estranged wife until she shoots him. An amateur detective from the next flat attempts to solve the murder before calling the police. More deadly games are in store when the corpse rises and the tables are turned more than once for the victim and the killers!

September 22 - October 15 Thursday - Saturday, Monday 7:30 p.m.
425 West Center Street, Provo, UT 84601
$14 - $16 Reserved Seating

This cruise down the Provo River is the perfect way to enjoy the outdoors during the evening, while being spooked! 

September 30th – October 31, 2022 
First Departure: 6:30 pm, Last Departures: 9:00 pm (M-Th); 9:45 pm (F-Sa)
Cruises depart every 15 minutes
Closed Sundays
3606 West Center Street, Provo, UT 84601
$9-10 per person
7. The Legend of Sleepy Hollow
Come and see this exciting Halloween play, put on by SCERA Center for the Arts!

Dates: 10/17/2022 - 11/4/2022
Location: SCERA Center for the Arts
Time: 7:00 PM to 11:59 PM
Price: $8.00 Adult, $6.00 Child (age 3-11)
Visit a local pumpkin patch for a picture perfect jack-o-lantern and then stay for their hay rides and other fun activities!

Sept 28th-Oct 31st, Mon-Sat 9am-dusk (until 3pm on Halloween)
September 24th - October 31st, 2022
Monday - Saturday 10am - 8:30pm
Sunday 10am - Dark
1541 Sandhill Rd, Orem, UT 84058
9. Springville Art Museum Halloween Party
Wear your costumes and visit the Museum for trick or treat games, arts activities, and a lot of fun!

October 19, 2022
Location: Springville Museum of Art
Time: 5:00 PM to 8:00 PM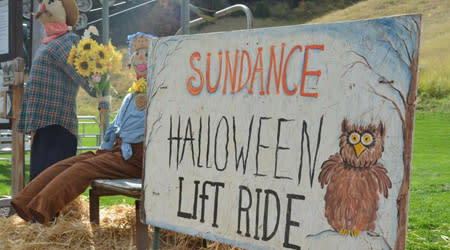 Go up to the mountains to be spooked on Sundance's ski lift ride! Add on a Ziptour for even more Halloween night time fun!

Oct 20th-31st, Mon-Sat @7pm
8841 North Alpine Loop Road, Sundance, UT 84604
Price varies by group size
11. Halloween Events at Thanksgiving Point
Eat a delicious breakfast with some of your favorite Halloween characters!

Oct 29th 9:00 am
3003 North Thanksgiving Point Way Lehi, UT 84043
$200 - 6 People ($33 per person)
Wander the beautiful botanical gardens at Ashton Gardens as you hunt for scarecrows!

Oct 10th-15th, all day
3900 Garden Drive Lehi, UT 84043
$17-24
This isn't a Halloween event, per se, but it is a great opportunity to celebrate your ancestors!

Oct 22nd, 10am-8pm
2455 Executive Pkwy, Lehi, UT 84043
$10
Utah's largest Jack-O-Lantern is here at the Outlets! Come and get some of the best savings deals. Click this link to find the best deals at the Traverse Mountain Outlets.

Dates: October 1st - 31st
Location: Traverse Mountain Outlets
Time: 10:00 AM to 8:00 PM
12. Haunted Half Marathon, 5K, & Kids Run
Utah's Favorite Party Run! We invite you and your friends and family to join the best Halloween run in Utah. Run, Indulge, and Party!

Dates: October 29, 2022
Location: The Shops At Riverwoods
Time: 8:00 AM to 11:59 PM
13.  Trick-or-Treating
Many main streets throughout Utah County are hosting trick-or-treating events with local businesses, including Spanish Fork and Provo. If you prefer to do it in a neighborhood and want to find the best-decorated houses and trick or treat at them, see this Halloween map!
---
Spooky Attractions
---

Get ready to be seriously spooked at this haunted house where you walk through a real forest with pop-out scares!

Dates: 9/23/2022 - 10/31/2022
Location: Haunted Forest
Time: 7:30 PM to 11:59 PM
Price: Tickets - $30 Fast Pass Add $7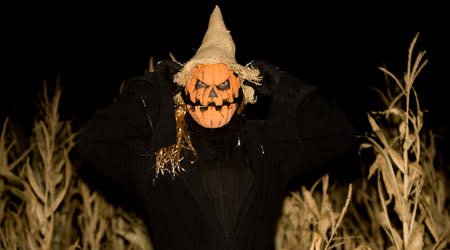 On select days at Cornbelly's, you can experience the only Halloween fireworks in Utah! Also visit their Insanity Point for a terrifying experience!

7PM - Midnight on Fri & Sat
7 PM - 10 PM on Mondays & Fall Break 
Sept 30 + October 3, 7, 8, 10, 13, 14, 15, 17, 21, 22, 24, 28, 29
3003 North Thanksgiving Point Way Lehi, UT 84043
$34.95
This walk-through haunted circus will give you nightmares of clowns for days!

Dates: 9/23/2022 - 10/31/2022
Location: Strangling Brothers Haunted House
Time: 8:00 PM to 11:59 PM

This family-friendly fantasy park turns creepy at dark during their fall event called "LORE"!

Dates: 9/23/2022 - 10/29/2022
Location: Evermore Park
Time: 6:00 PM to 11:59 PM
Price: Adult (12 and Over) | $19.00eachJunior (6 -12) | $14.00eachChild (5 and Under) Free
Terror in the Provo Towne Center returns this year as a giant dance party for 18+ adults!

Oct 28, 2022
9:00 PM
1200 Towne Centre Blvd, Provo, Utah 84601
$11-$35
---
Real Haunted Places
---

Learn the haunted, spooky history of Provo on a night bike tour that will take you through a cemetery, around town, or along the Provo River!

Oct 14th - October 22nd: Fri and Sat @9pm-11pm
$20 per person, or $35 for date night special
Come discover the real ghosts of Camp Floyd and do some ghost hunting to find them!

Dates: 10/1/2022 - 10/29/2022
Location: Camp Floyd State Park and Stagecoach Inn Museum
Time: 7:00 PM to 9:00 PM
Price: Admission fees are $10 per person and reservations are required.
There is SO MUCH to do this October, which makes it hard to choose what to do for Halloween 2019! Anything on this list is sure to be an unforgettable time! For more fun ideas, including corn mazes and fall festivals, see our Fall Activities Blog and our list of things to do in Utah Valley!