---
Get Prizes for Exploring Utah Valley!
Welcome to the ultimate Utah Valley Summer Bucket List, brought to you by Eventzee! Get ready to embark on an unforgettable adventure across Utah County, as we guide you through a series of exciting and immersive activities. This innovative app allows you to explore the stunning landscapes, vibrant communities, and hidden gems that make up this beautiful region.
But that's not all – by completing these fun challenges, you'll earn amazing rewards such as postcards, stickers, and posters. And wait for it... the grand prize is a dreamy staycation package featuring exclusive activities at the renowned Sundance Mountain Resort and Thanksgiving Point. So, grab your friends, unleash your inner explorer, and let's make this summer truly unforgettable!
*Be sure to check the prize location hours before you go
---
How it Works
Full Instructions
Dates: May 27th- August 18th, 2023
The program is run through the Eventzee app. The event code is: UVSummer
How it works:

Participant will show the badge on the app saying that they've earned a prize (see below directions on how to access the badges page).
Participant will receive the prize that matches the badge.

Players must be present to pick up the prizes.
Prizes:

1000 points - Postcard
2500 points - Magnet
4000 points - Sticker Sheet (1 per app)
7000 points - Taste Chocolate Bar (1 per app)
Silver Prize - Awarded to one raffle winner between the top 50 highest-scoring teams. Silver Prize includes one night stay at Downtown Provo hotel, gift card to Fat Daddy's Pizzeria, and $50 gift card to Wick Lab, Dry Bar Comedy or FishKiss.
Grand Prize - Awarded to the player with most points. If there is a tie for the most points, a drawing will determine the winner. Grand Prize includes one night stay at Downtown Provo hotel, $100 to your choice of Communal, Black Sheep, Station 22 or Bistro Provenance, and choice of one of these activities: 1) 4 Explorer Passes to Thanksgiving Point, 2) 2 Scenic lift rides and $100 gift card to Sundance, 3) 4 combo passes to Evermore Park
---
---
1. Go to the App Store & download the EventZee App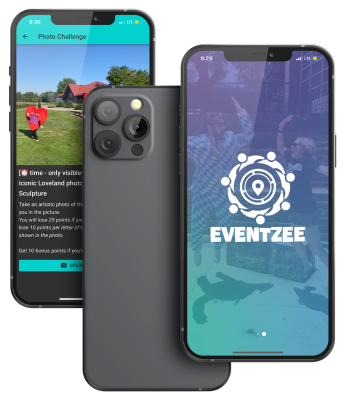 ---
2. Create an EventZee Account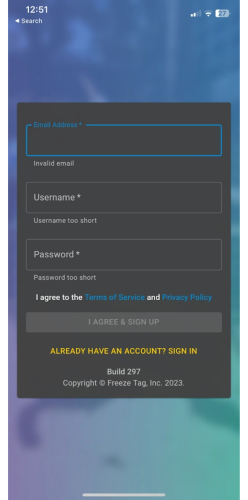 ---
3. Enter the event code in the proper text box. The event code is (case sensitive): UVSummer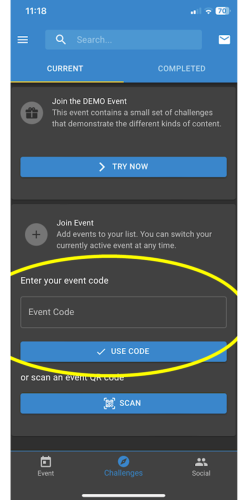 ---
4. You will be brought to the Utah Valley Summer Bucket List Event Page. May 27 - August 18.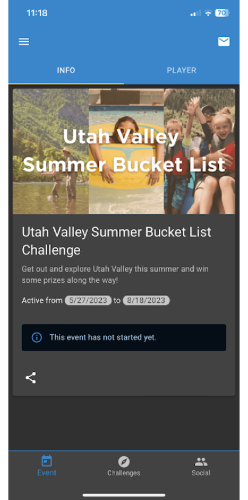 ---
---
1. Click on the hamburger menu on the event page (the three lines in the top left)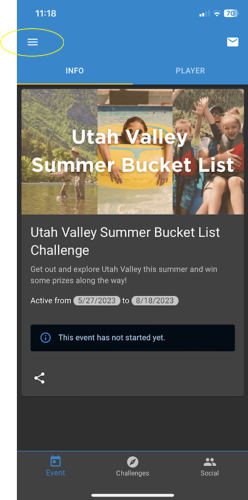 ---
2. Click on the option that says 'My Badges'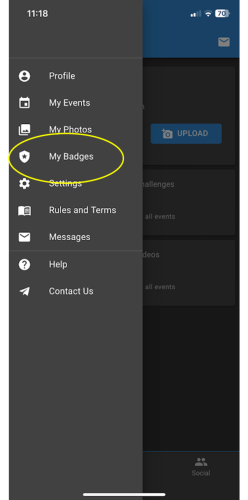 ---
3. All of the possible badges will show on the page. They will show as locked until the player completes enough of the challenges & then the circle behind the lock symbol will emerge.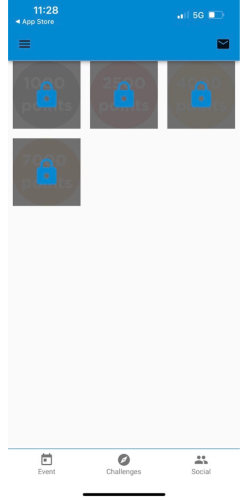 ---