There are many ways to enjoy winter here with a variety of things to do in Utah Valley. Some of our favorite family activities are ice skating on Utah Lake, downhill skiing at Sundance Resort, sledding at Rock Canyon Park, and a favorite - skate skiing up Provo Canyon at the Sundance Nordic Center.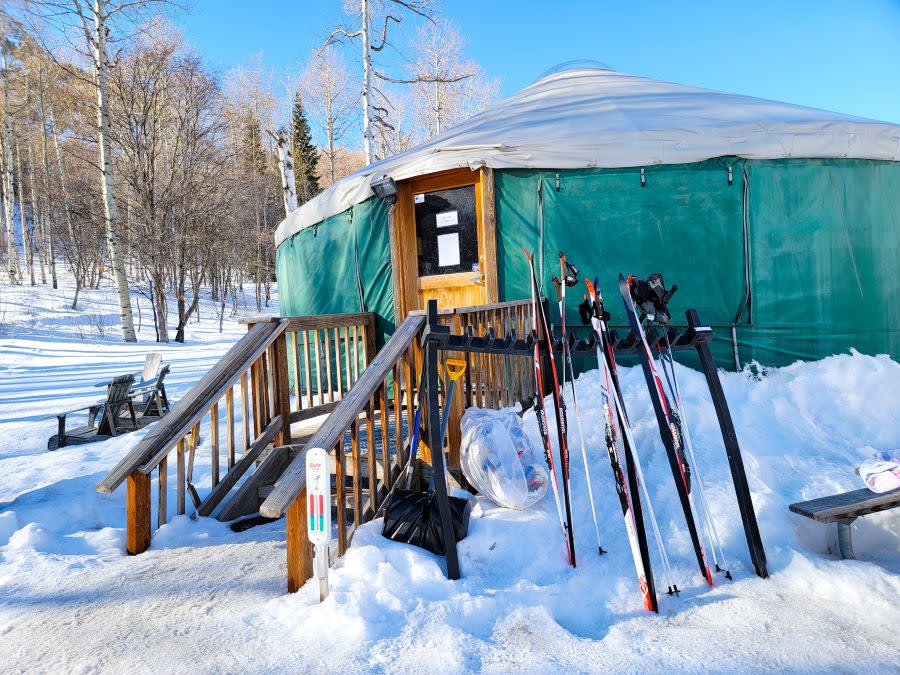 When our kids were little, we introduced them to cross-country skiing and for the last 12 years our family has exclusively enjoyed downhill skiing. Up until now our boys had never been skate skiing. We decided it was time to introduce them to this fun sport. And what better place to do it than in beautiful Sundance Utah, with breathtaking views of the majestic Mount Timpanogos.
Having skate skied before, I was sure I was going to leave the boys in the dust as they struggled to keep their balance. I was quickly humbled and reminded that, although I still feel like I am 20, I most definitely am not. Then I remind myself that, although I have slowed down a little, I am happy to be able to get outdoors, push myself, and almost keep up with my boys.
While downhill skiing takes place on wider, more stable skis, skate skiing will challenge even the most nimble. Skiers are on narrow skis and the heel is free, or not locked down. As you can imagine, we laughed and had so much fun trying to stay upright. I shouldn't have been surprised that my boys picked it right up and I spent the first 20 minutes doing my best to stay balanced.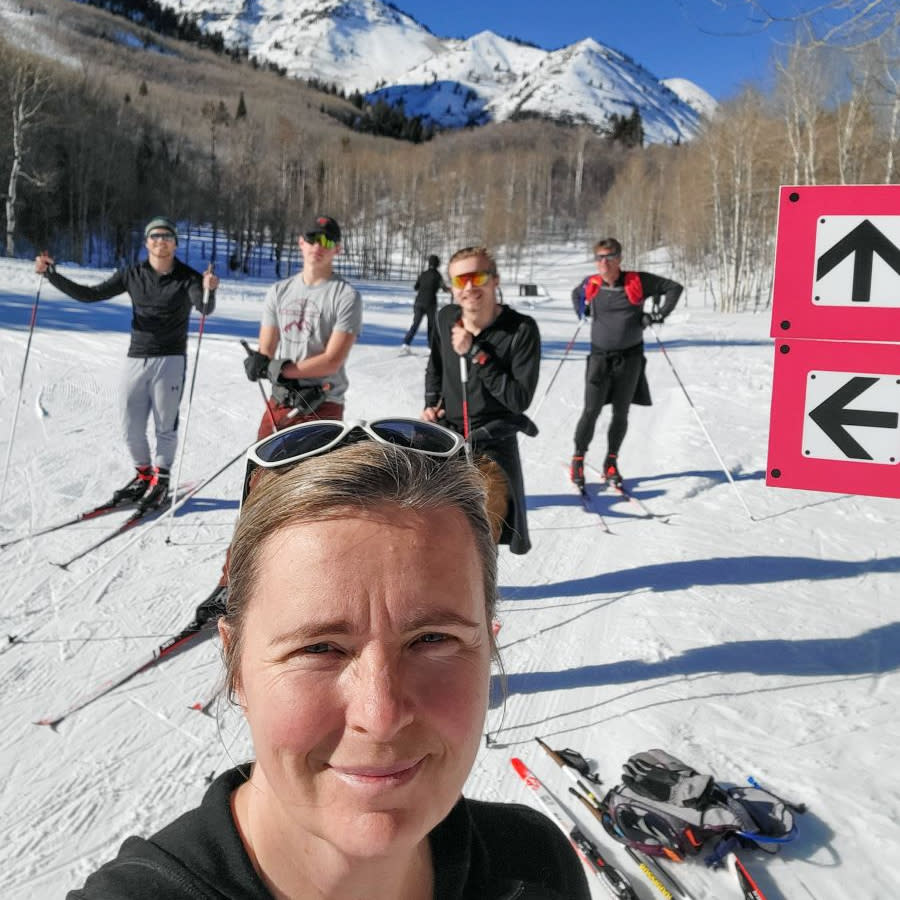 After getting my balance down, I quickly remembered why this is such a great winter workout. It is the running of skiing. As I huffed and puffed my way along the track, I couldn't help but take deep breaths of the fresh mountain air. I marveled at the fact that the kids were working hard enough not to fight, reveled in the beauty of the trees, and stopped often to "enjoy the view" (definitely not to catch my breath).
Why try skate skiing?
Less expensive and less crowded than downhill skiing
Great workout
You enjoy a good challenge
It's a fun way to enjoy the outdoors
Doesn't require as much time as downhill skiing
Sufficiently wears out the kids so they go to sleep easily (Am I the only one who would wear my kids out for the purpose of them going to bed early?)
Because if I can do it, you can do it
For me, there's something satisfying about using my own energy to move forward.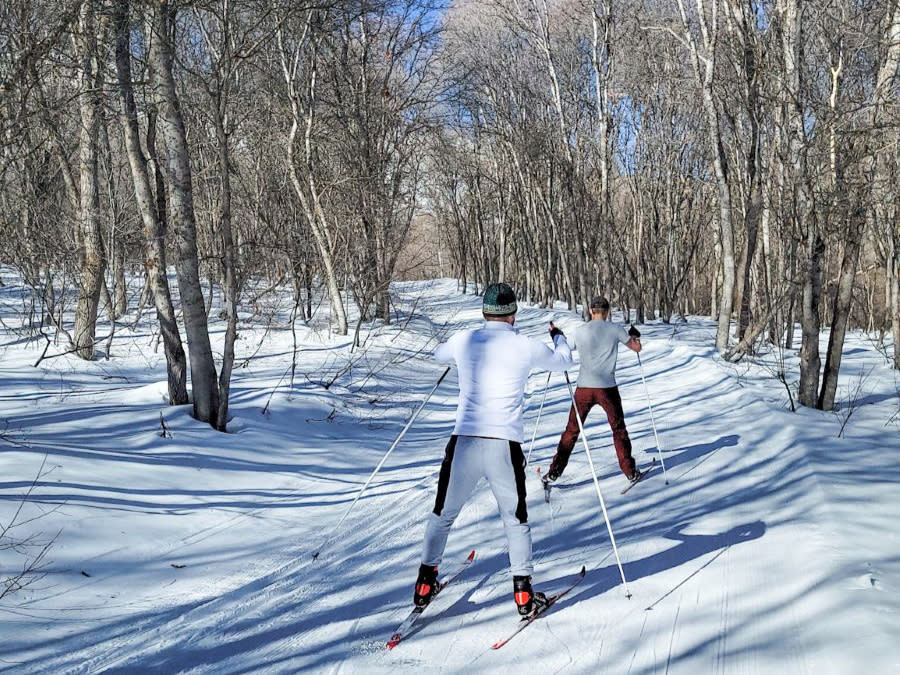 What to wear?
This is always a difficult decision for me - how to dress so as to not be too hot or too cold. With skate skiing the good thing is that you can expect to sweat.
We have found that the best things to wear are breathable lighter weight layers. Start with a good pair of wool base layers, also known as thermals, and wool socks, adding layers as needed. I love wool because it wicks moisture, helps regulate temperature and - the number one reason if you are raising teenage boys - controls odor. 
Over the base layers, we often wear a fleece or other activewear vest. On a warm day, we don't wear additional layers. On the bottom we add a pair of running tights/thicker leggings or water resistant outdoor pants.
Other useful things to bring are fleece or other lightweight gloves, sunglasses, a beanie or knit hat and a small backpack or fanny pack to carry a water bottle. Lip balm and sunscreen help prevent sunburns and, if you are lucky like me, cold sores. On wetter days a waterproof shell jacket will help keep skiers dry. 
Equipment
Skiers will need a pair of skis, ski boots and poles specific to skate skiing. Sundance Nordic Center makes the process simple. After making an online reservation and filling out the necessary waivers, skiers go to the yurt where the employees will help fit skiers into the appropriate sizes.
On warmer days, be aware that the skis can "stick" to the snow. The type of wax used will vary depending on the temperatures for the day. With Sundance Nordic Center, they take care of all this so you don't need to worry about all the intricacies of the equipment.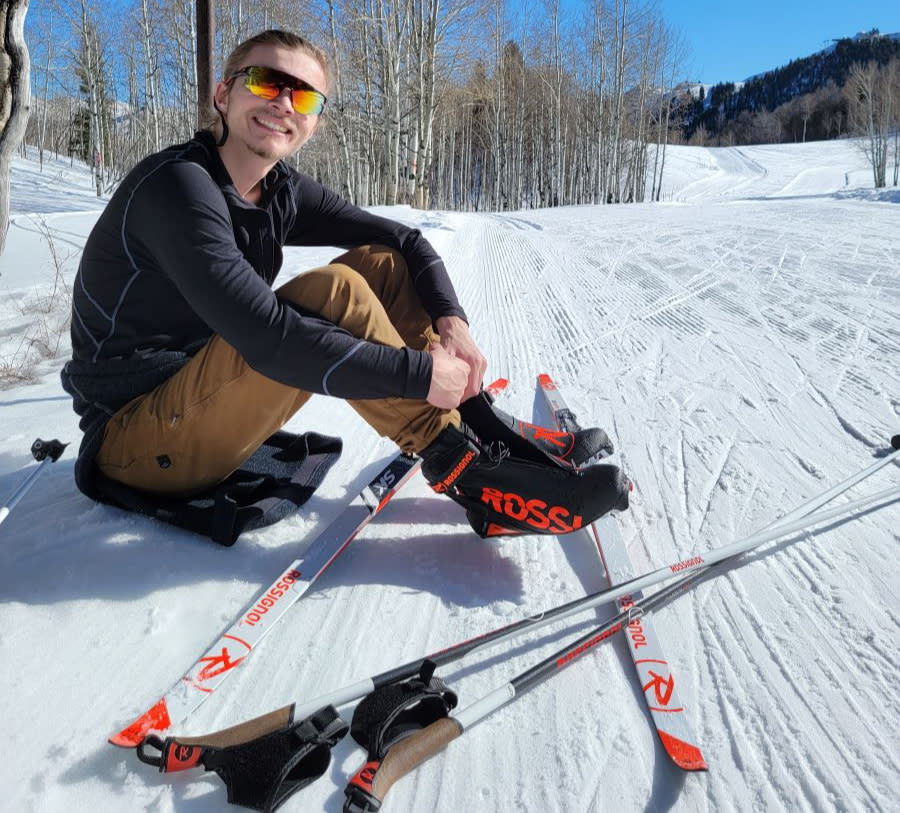 Lessons
We highly recommend taking a lesson the first time. Lessons introduce you to correct technique and can save you using trial and error or learning incorrect techniques to start with.
One of my biggest tips is the glide part of the movement. The longer you can glide on each ski, the less you have to work. I admit that sometimes my goal is to work smarter, not harder. And by the way, it is great to learn how to go downhill before actually having to go downhill. That's a whole other adventure. 
Why Sundance Nordic Center?
Sundance Mountain Resort Sundance Nordic Center also offer cross-country skiing and snowshoeing. Teens and adults can try their skill at skate skiing while the younger children can ski next to them on the cross-country track. It's a win-win.
We found the staff to be nice and knowledgeable and when I lost my favorite knit hat on the trail it was already in the lost and found when I got back to the yurt. It is always a bonus to be surrounded by good, friendly people.  
Beyond the great customer service, the views here are incredible. This is an extremely beautiful area. The ski resort, previously owned by Robert Redford, has always been committed to preservation, conservation, and mountain restoration. There is a beauty here unlike any other along these gorgeous snow-paved trails.
Don't let skate skiing be intimidating. Take a chance on a sport that connects people to nature and to their own potential, teaches kids they can succeed, let's families adventure together, contributes to family fun and increases fitness levels. 
"If you don't do it this year, you will be one year older when you do." – Warren Miller 
Looking for winter day hikes in Utah County and other fun things to do in Utah County this Winter? Check out one of these other Explore Utah Valley winter activity blogs here:
5 Sundance Mountain Resort Winter Activities, Adventure Sledding in Utah Valley & Winter Trails in Utah Valley