Flying down the mountain on my sled, I knew that adventure sledding would become our next family tradition. There is nothing quite like it. Santa must have known because we found brand new, super-fast sleds under the Christmas tree this year. 
You may be asking, "What is adventure sledding?"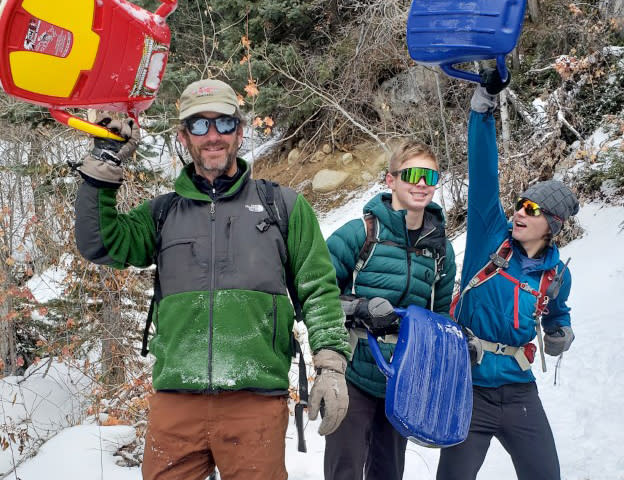 Adventure sledding is only the funnest thing, cheek hurting laughing fun, I have done in ages. It combines our love of hiking with sledding. We hiked 2.5 miles up one of our local trails and once we were at the top, pulled out the sleds to get back down. Imagine 2.5 miles of uninterrupted sledding whooping, laughing, and smiling the entire way down. The hiking element combined with the long descents is what sets adventure sledding apart from regular sledding.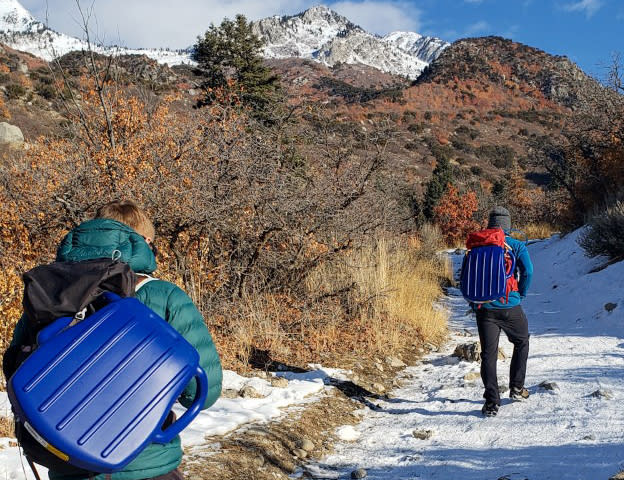 It is fairly straightforward if you are hoping to try it out. You hook a sled to your backpack and hike it up to the top with you. After that, it is smooth sailing back down. Here is the gear I recommend you take along:
Backpack - Any backpack that allows you to hook the sled to the outside will do. We use bungee cords as needed.
Sled - We use Merikan Missile sleds or Zipfy sleds. The missile sleds can be hard to find but are really fast. Zipfy sleds have always done a great job and are easier to find. 
Microspikes - Used on shoes to provide traction for the hike up. Some brands to look at are Kahtoola and Yaktrax. 
Snow pants - Any waterproof type pants will work to keep your bottom dry.
Coat - It is colder coming down than going up so a good insulated jacket works best.
Layers - A wool layer next to your skin helps wick moisture away to keep you warm and dry. Add a fleece layer for extra warmth. Layering allows you to remove layers on the hike up and add them back as needed. 
Hiking boots - You will want something you can hike up comfortably in. A waterproof hiking boot with gators to keep the snow out is best.  
Wool hiking socks - Even when they get a little wet, they are able to keep my feet warmer than other socks. 
Gloves - It gets cold coming down so use ski gloves to keep hands dry and warm (Take a couple of pairs of hand warmers in case).
Beanie - Hats help keep the heat in and increase warmth.
Helmet - Recommended for all and especially for those who like to push the speed barrier. 
Sunglasses - Eye protection from the sun and the glare off the snow.
Sunblock - Gotta protect that face!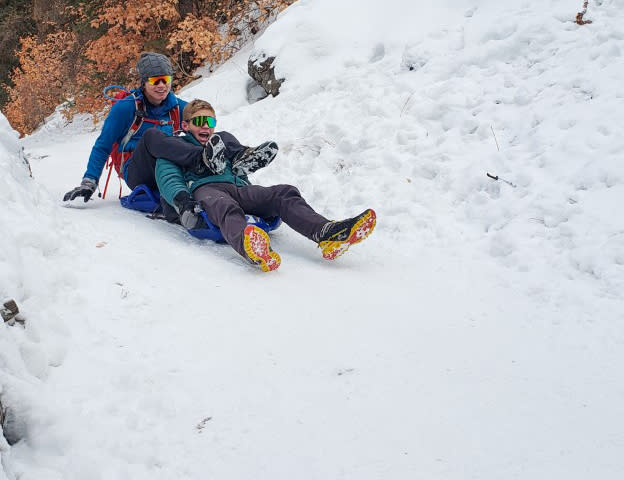 Choosing a trail can seem daunting, but remember there is no right or wrong answer here. Find a trail you know and are comfortable on. You want one that slopes down so the sled has the gravity needed. Avoid trails that have avalanche paths crossing them like Stewart Falls. Stewart Falls has 4 avalanche paths and should be avoided in the winter. You can check the avalanche forecast at www.utahavalanchecenter.org before you head out.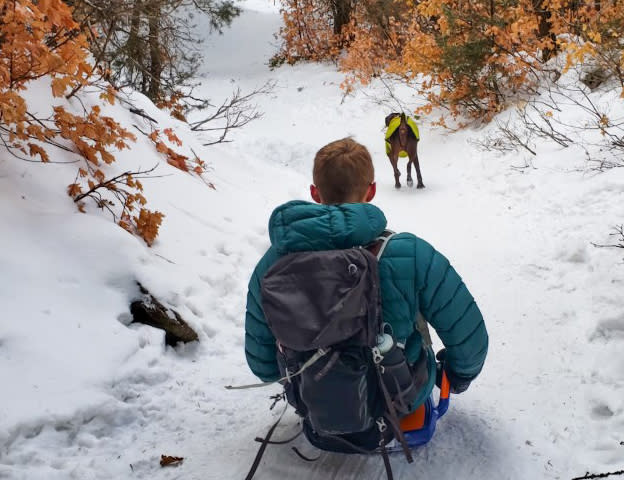 Part of the fun is exploring trails and discovering which trails are best for Adventure Sledding. On some trails, you will be able to sled all the way to the bottom, and in others, you will be able to sled different sections on the way down. The biggest factor for success is having enough snow. Two of my personal favorite trails are Horsetail Falls and Rock Canyon. Also, check out 8 Epic Places to Go Sledding in Utah Valley for more ideas!
On my first adventure sledding outing, my uncertainty and fear increased as we hiked up fairly steep and icy sections of the trail. I couldn't imagine being able to sled down without getting out of control. I learned that by keeping my feet flat in front of the sled I could easily control my speed. By pressuring one foot or the other, I was able to steer myself. It took a few minutes to catch on, but I had more control than I thought I would. I knew I could always bail if needed. As soon as I started down the trail, my worries disappeared and were replaced with pure joy. Now all I need is a bit more snow!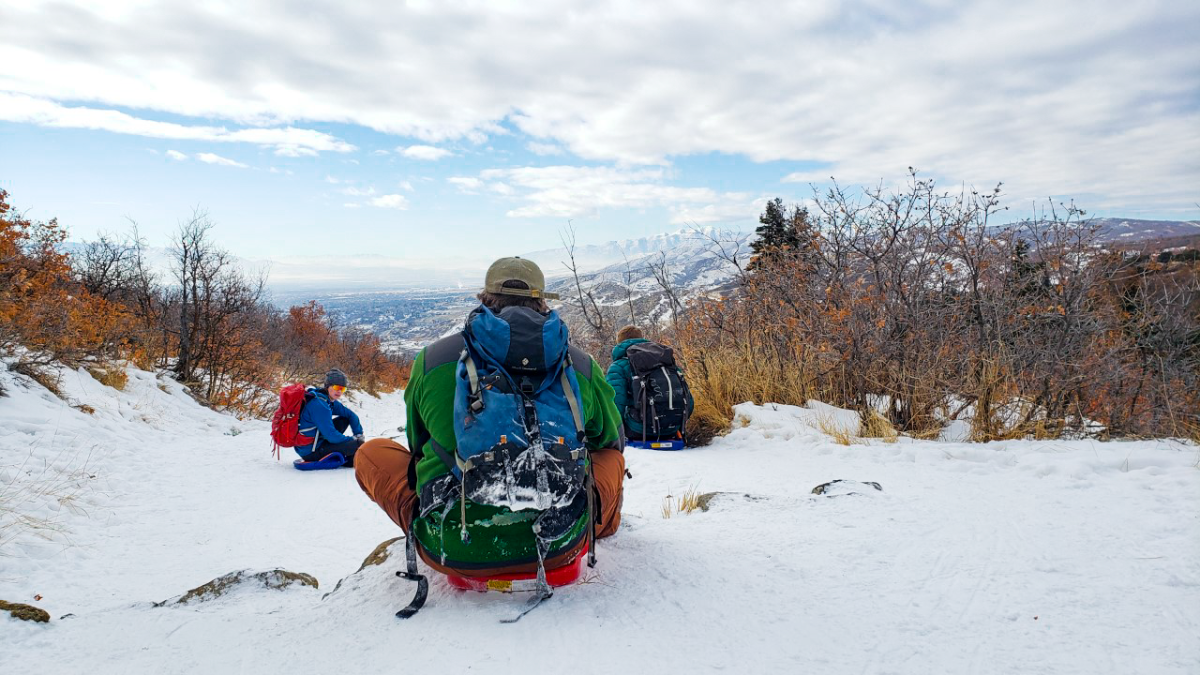 A few reminders:
Remember that mother nature is unrelenting so know the area you are hiking in and always check for avalanche danger before heading out. 
Be courteous to hikers coming up the trail as you are sledding down.
Avoid busy hiking times. Usually, weekdays are less crowded than weekends.
To find others who enjoy this kind of activity consider joining a local Facebook hiking group.
Always go with someone and let others know where you are and when you are expected home. 
Control your speed and be careful of obstacles, rocks, and trees. 
Happy sledding! For other winter activities check out 5 Sundance Mountain Resort Winter Activities, Winter Trails in Utah Valley & How to Embrace Winter Outdoor Adventure with Kids.