Tailgating is a time-honored tradition that brings fans together before collegiate and professional football games. As BYU joins the ranks of the Big 12, a surge of enthusiasts from around the nation is expected to descend upon its football games.
This comprehensive guide aims to equip you with essential information for a memorable tailgating experience within the unique cultural and regulatory context of BYU.
For general Parking information, check out our BYU Parking Page.
---
Can You Drink at BYU Tailgates?
BYU, a private institution owned by The Church of Jesus Christ of Latter-day Saints, is known for its strict Honor Code, which prohibits the consumption of alcohol and tobacco. These substances often play a central role in traditional tailgating celebrations.
Considering these traditions, an off-campus lot has been designated for the 2023 football season. This off-campus tailgate lot, introduced this year, allows for the consumption of alcohol.
2023 Off-Campus Lot (Alcohol Permitted)
In light of BYU's momentous entry into the Big 12, a designated tailgate lot has been established to accommodate those who wish to enjoy alcohol during their pre-game festivities.
This off-campus location requires a short, free transit ride to the Cougar Stadium. Notably, this accommodation is not exclusive to this year's unique circumstances. The UVX free bus service is available every day in Provo and Orem
For visiting fans supporting opposing teams, a private lot near Provo Glass Recycling, situated at 300 N 100 W, Provo, UT, in Downtown Provo, is available for tailgating.
---
Tailgate Lots
On-Campus (Lot 18) - Yellow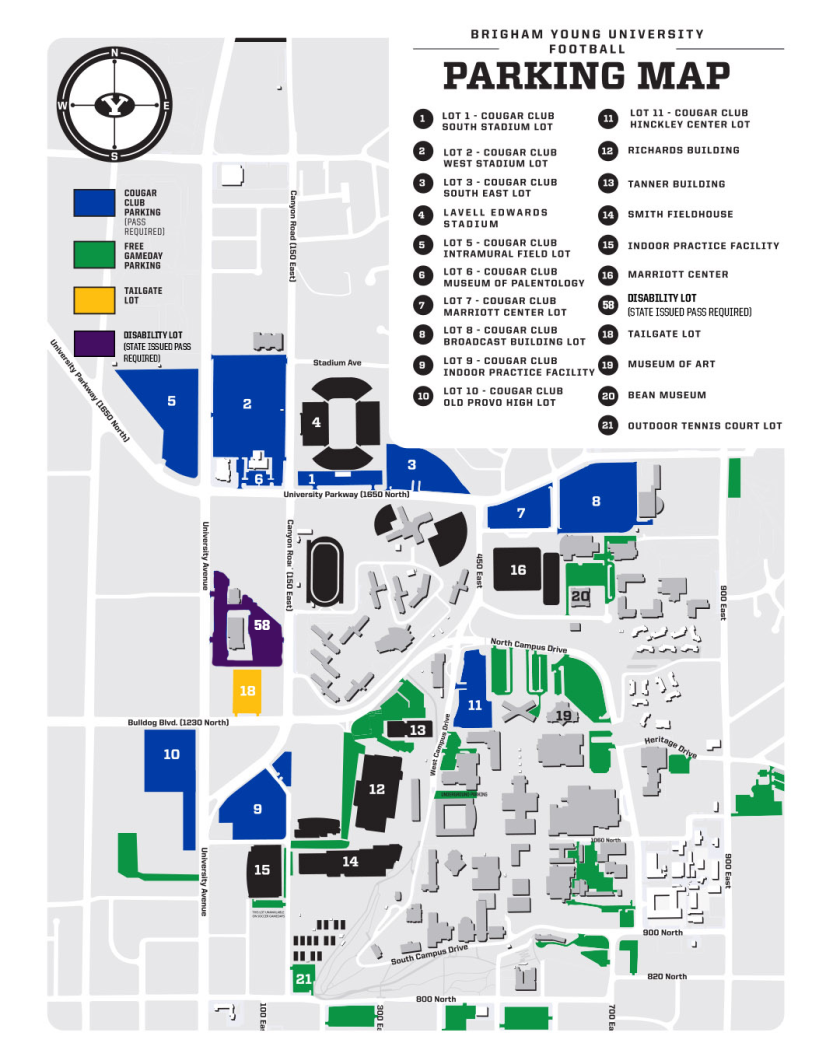 Lot 18, highlighted in yellow on the football parking map, serves as the designated on-campus tailgating area. Tailgating can commence as early as 8:00 a.m. and continues until two hours after the end of the game.
It's important to note that spots in this lot are not reserved and overnight parking is typically prohibited. Overnight parking is prohibited, but if the game starts after 7:00 P.M. parking tends to be a bit more lenient.
The lot accommodates vehicles of all types, ranging from cars and vans to RVs and campers. Each vehicle is allowed to occupy up to two parking stalls. While grilling is permitted, it's crucial to adhere to specific regulations. Charcoal and wood fires are prohibited, with only propane or wood-pellet grills being acceptable for cooking.
Off-Campus Lot (Alcohol-Permitted)
For the current season, a special off-campus tailgate lot has been designated that allows alcohol consumption. This lot caters to fans who wish to enjoy alcoholic beverages during their tailgating experience.
The location is off-campus, requiring a short, free bus ride to the stadium. Please note that this is a unique accommodation due to the Big 12 entry and is not the standard practice for tailgating at BYU.
---
Transportation
Efficient transportation is essential for a seamless pre-game experience.
Public Transit - UVX Bus Service
A complimentary bus service known as UVX provides convenient transportation from the Tailgate Lot directly to LaVell Edwards Stadium. This fare-free bus route takes approximately 20 minutes, ensuring that fans can arrive at the BYU game comfortably and in a timely manner.
---
Tailgating Services & Rules
Revel is a well-regarded tailgating service provider that offers an organized layout and site plan. A professional community planner oversees the tailgating setup, guaranteeing an optimal experience for fans. Guests receive site-specific maps, whether they're attending single games or the entire season.
BYU Tailgating Rules
Tailgating service providers ensure adherence to the rules to avoid any disruptions. Guidelines include:
Avoid putting signs, flags, or banners on the ground.
Don't bring alcohol, tobacco, or illegal substances.
There are no water or electricity connections.
No fireworks allowed.
Leave your pets at home.
Don't stick tent stakes in the ground.
As mentioned earlier, grilling is allowed, but make sure you pay attention to BYU's regulations. Limited portable restrooms, dumpsters, and recycling bins require proper disposal of charcoal and materials to maintain cleanliness.
For those seeking additional dining options beyond tailgating, Provo boasts a range of excellent restaurants. If you're interested in grabbing a drink, you can find recommendations here.