Utah County residents are not strangers to the weekend parking and traffic battles of BYU home football games. Playing parking chicken begins long before the game or pre-game does, as people try to find parking spots around the stadium. Parking can be a nightmare as thousands of families, students, and visitors fill the stands of Lavell Edwards Stadium. Below is a map of all the BYU parking lots with a color coordinated legend.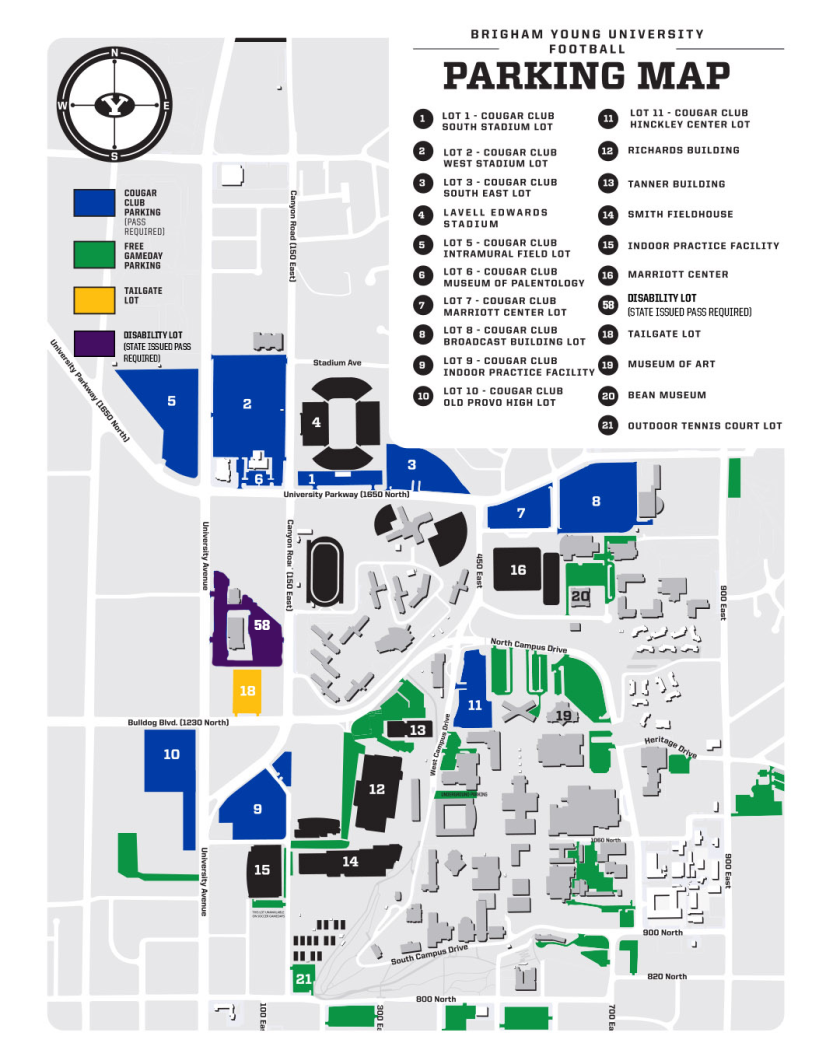 Student, Graduate and faculty parking lots on BYU campus are open on weekends and of course visitor parking. The above map is up to date and current. We recommend avoiding student housing parking lots, as parking there is already limited for the student residents and you're likely to get a parking ticket.
For even more Parking options than those on the map, check out the BYU Public Parking Map.
Also note that the lots immediately adjacent to the stadium, including the west stadium lot, are reserved for pass holders. Not to worry though, we've got a few parking ideas to help you out.
Parking Tips:
Plan ahead
Walk if you live within a mile or so of the Stadium, especially at the beginning of the season while the weather is still beautiful.
Get there at least one hour before hand to ensure time to find better parking
Carpool, the less cars the better
Use public transportation, UTX is one of the best ways to skip the traffic to BYU football games.
Don't leave all at once after the game, hang around and chat for a bit  and wait for traffic to simmer down.
Places to Park:
Marriott Center
Law School
Smoot Administration Building
Richards Building
Tanner Building
intramural field west of University Avenue
Hinckley Center
Bean Museum
BYU TV Lot
Neighborhoods near the MTC/Temple
Lot east across from the Hinckley Center
BYU Indoor Practice Facility Parking Lot
Most importantly, stay safe! Let us know where your favorite places to park for the games in the comments. May the odds be ever in your favor in finding parking. Good luck!