With the weather warming up and Memorial Day weekend approaching, it is the perfect time to start making Summer plans. Utah Valley has some prime places to play in the water this Summer, from swimming pools to family parks. Here are the best waterparks in Utah Valley!
---

Splash Summit Waterpark is better than ever this Summer with 11 water slides, a wave pool, and 4 kiddie attractions. They open this Saturday!
Admission: Single-Day Adult $24.99, Child $17.99 
Hours: 10 am-6 pm daily
---

Provo Beach is one of the top-rated things to do in Provo. They have a FlowRider, which pumps 30,000 gallons of water to give guests a true ocean wave experience. Pro surfers and beginner boogie boarders will each be able to have a good time as they hang loose.
Admission: $20 per hour per guest 
Hours: Mon-Thur: 3 pm-9 pm; Fri-Sat: 11 am-10 pm
---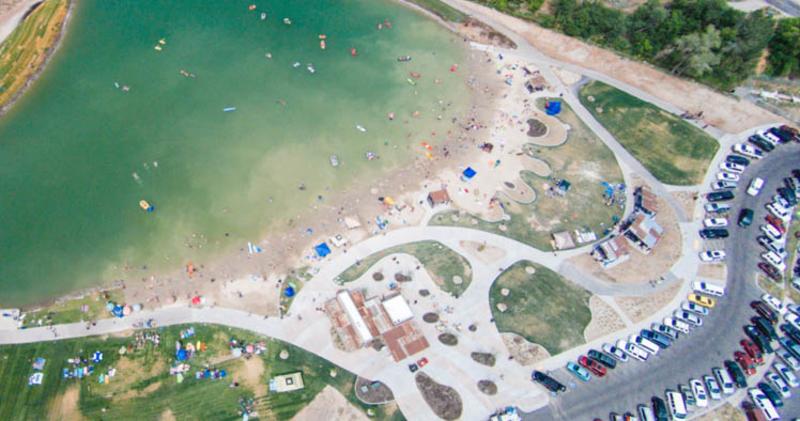 This water park is not just any ol' swimming pool--it's a beach! Located in Springville, this beach is great fun for the whole family. Bring food, lay out your towels, and get ready for a day in the water!
Admission: $15 per vehicle for non-Springville residents. Springville residents can acquire free annual parking permit at Civic Center
Hours: dawn to dusk
---

The SCERA Park Pool in Orem is perfect for some fun in the sun! While at the pool, you can choose to go down either one of two water slides. You can also jump off diving boards, float on a current, or splash in the beach area. Finally, you can race at the lap pool.
Admission: $6 for adults, $5 for 3-13yrs
Hours: Mon-Sat: 12:30 pm-6 pm
---

The Provo Rec Center is a blast for the whole family! The outdoor pool includes two awesome water slides, a wave pool, and a splash pool. They also have an indoor swimming pool with water slides, a water playground, a lazy river, and an aquatic climbing wall.
Admission: $5 for adults, $4 for 3-17yrs
Hours: Mon-Sat 12 pm-8 pm (outdoor) & 10 am-10 pm (indoor) with indoor slides on varying hours 
---

The Lindon Aquatics Center is jam-packed with fun for the entire family. For the kids, there's the pirate-themed water playground complete with a mini slide.
For the teens and adults, there's a surfing simulator, and - NEW this year - a new Speed Slide! For those who just want to soak up some sun, there is a lazy river. Opens for the season on Memorial Day.
Admission: $6 for adults, $5 for 4-17yrs, and $1 for 0-3yrs
Hours: Mon: 12:30-9:30 pm; Tue-Thurs: 12:30-7 pm; Fri: 12:30-6 pm; Sat: 11 am-6 pm
---

The Lehi Legacy Center has an indoor pool, which is great for any time of the year. Just down the street, there is a city outdoor pool as well. There's a tropical-themed playground for the kiddos, a lazy river, a water slide, and a hot tub. One of the main delights is the giant bucket drop - a fun way to get totally soaked!
Admission: $6 for adults, $5 for 12-17yrs, $4 for 4-11yrs, 3 & under are free
Hours: Mon-Fri: 1 pm-8:50 pm; Sat: 9 am-8:50 pm 
---

The American Fork City Pool is a refreshing choice for any age! It offers a fun aquatic playground for children, an outdoor lazy river, a large leisure pool, and a water slide. You can even take swim lessons there!
Admission: $5 for adults, $4 for 4-17yrs, 3 & under are free
Hours: Mon-Sat: 12:30 pm-7 pm
---

The Clyde Recreation Center in Springville features a fun play area for kids and some exciting water slides. Come take a splash in this refreshing pool. 
Admission: $5 for adults, $4 for 3-17yrs
Hours: Mon-Sat: 5 am-10 pm with slides opening at noon
---
Which water park is your favorite? Tag us on Facebook or Instagram, using the hashtag #exploreutahvalley. And don't forget your sunscreen!
As always after a swim day, you're going to be pretty hungry. Check out these Hole-in-the-Wall restaurants for a swim-day dinner. Looking for more fun things to do in Utah County? Check out these Outdoor Summer Adventures in Utah Valley.