It is getting HOT outside! With this week's temperatures in the 90s, it's time to cool off, and luckily a lot of water parks opened on Memorial Day weekend! Here's a list of the best ones in Utah Valley!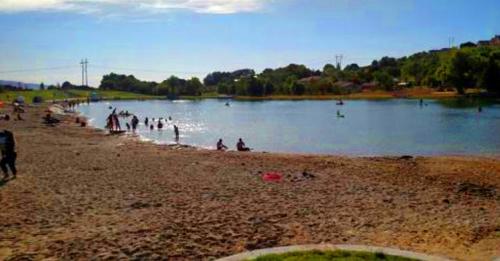 This water park is not just any ol' swimming pool--it's a beach! Right in the middle of Utah Valley! Located in Springville, this beach is great fun for the whole family. Bring food, lay out your towels, and get ready for a day in the water!
Admission: $10 (per vehicle for parking)
Hours: dawn to dusk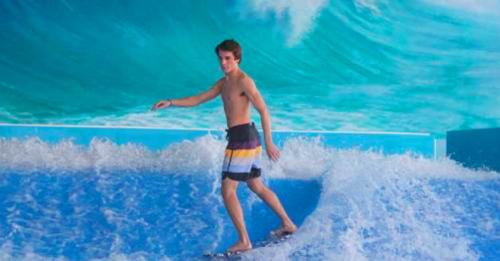 Last, but certainly not least, is Provo Beach, which is rated one of the top things to do in Provo. There is a variety of things to do there, but let's focus on the water fun! They have a FlowRider, which pumps 30,000 gallons of water to give guests a true ocean wave experience. Pro surfers and beginner boogie boarders will each be able to have a good time as they hang loose.
Admission: $20 an hour, per guest
Hours: Mon-Thur @ 11 am-10 pm, Fri @ 11 am-11 pm, Sat @ 10 am-11 pm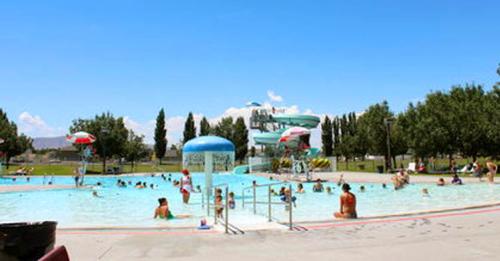 Next is something local and fun for smaller groups! The Spanish Fork Water Park includes a 150-foot water slide you'll want to go on again and again, a splash pad for little ones to play in, and several sports options including three volleyball courts, a basketball court, and horseshoe pits.
Admission: $3.50 per person
Hours:Tue-Sat @ 1-6 pm and Mon @1-8 pm
4) Provo Recreation Center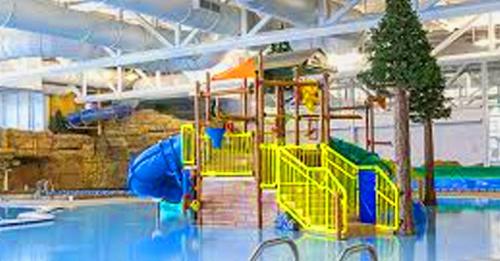 The Provo Rec Center is a blast for the whole family! The outdoor pool includes two awesome water slides, a wave pool, and a splash pool. But there's more--the Provo Rec Center also has an indoor pool with water slides, a water playground, a lazy river, and an aquatic climbing wall.
Admission: $5 for adults, $4 for youth
Hours: Mon-Sat @ 12-8 pm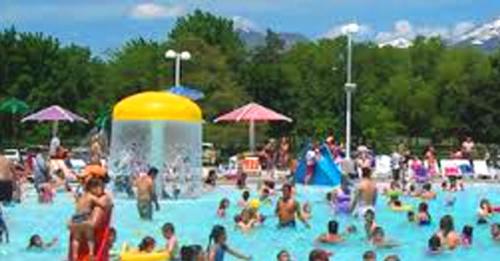 The SCERA Park Pool in Orem is perfect for some fun in the sun! While there, you can go down one of two water slides, jump off diving boards, float on a current, splash at the beach, and race at the lap pool.
Admission: $6 for adults, $5 for youth
Hours: Mon-Thur @ 12:30-7 pm and Fri-Sat 12:30-6 pm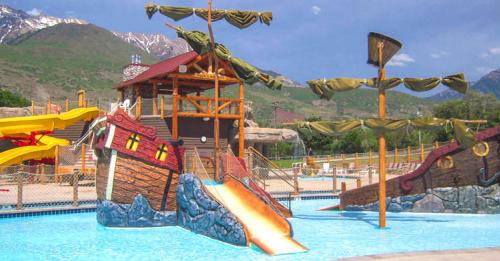 The Lindon Aquatics Center is jam-packed with fun stuff for the entire family. For the kids, there's the pirate-themed water playground complete with a mini slide. For the teens and adults, there's the FlowRider, a surfing simulator. For those who just want to soak up some sun, there's a lazy river.
Admission: $5.50 for adults, $4.50 for youth
Hours: Mon & Thur @12:30-9:30 pm, Tue-Wed @12:30-7 pm, Fri @12:30-6 pm, Sat @ 11-6 pm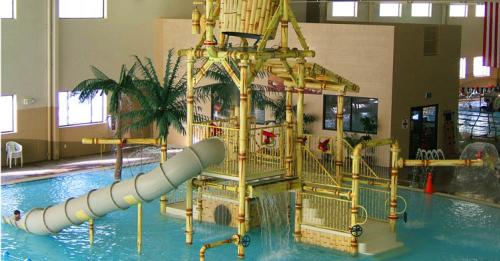 The Lehi Legacy Center has an indoor pool, great for any time of the year, and just down the street is a city outdoor pool. There's a tropical-themed playground for the kiddos, a lazy river, a water slide, and a hot tub. One of the main delights is the giant bucket drop--a fun way to get totally soaked!
Admission: $6 for adults, $5 for youth under 12
Hours: Mon-Sat 11 am-6:50 pm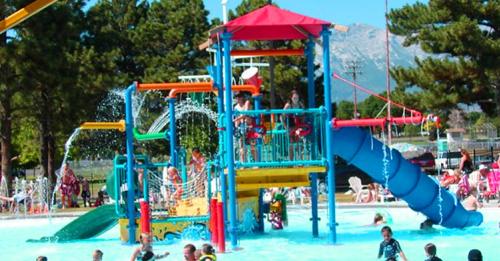 The American Fork City Pool is a refreshing choice for any age! It offers a fun aquatic playground for children, an outdoor lazy river, a large leisure pool, and a water slide. You can even take swim lessons there!
Admission: $4.50 for adults, $4 for youth
Hours: Mon-Sat @ 12:30-7 pm
Want more ideas on how to spend your summer? Check out our list of hikes in Utah Valley or visit our summer nights blog!
Which water park is your favorite? Let us know in the comments, or tag us on Facebook or Instagram, using the hashtag #exploreutahvalley.  And don't forget your sunscreen!