Looking for awesome things to add to your bucket list?
Look no further than this 3-day itinerary of all things awesome, the very itinerary that The Bucket List Family did when they visited Utah Valley!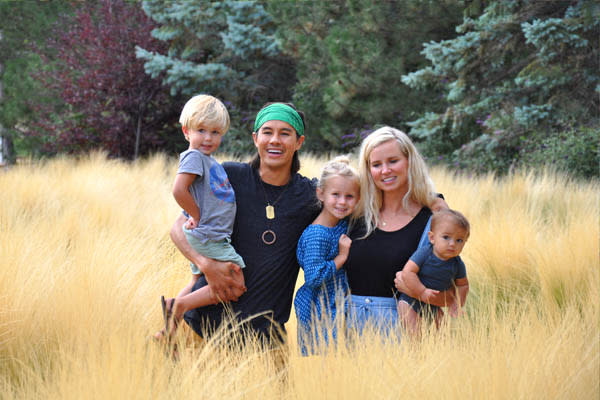 Day One: family mountain adventures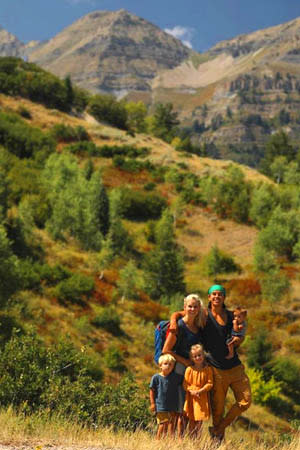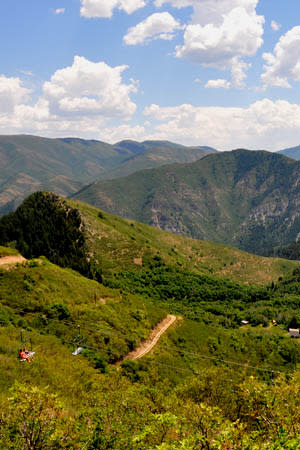 The Bucket List Family, the Gees, have lived in Utah Valley before, so they know the first thing everyone needs to do when they come here is to head up to the mountains and have some fun at Sundance Mountain Resort!
The Gees spent their time Taking Ray's and Red's Scenic Lift Ride to the trail that leads to Stewart Falls, the second-largest waterfall in Utah Valley! The sights are so breath-taking, with views of the mountain-side and the entire waterfall! Kids love it, too, especially since they can cool off by playing in the water and getting wet after the 2-mile hike leading to it!
Day Two: sweet times in the south (of Utah County)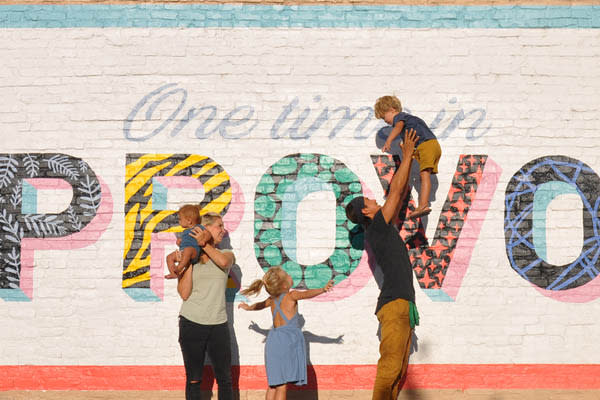 Bright and early in the morning of day two, the Gees came and visited us here at Explore Utah Valley and took a picture by the "One Time in Provo" wall mural outside our office! We are in Downtown Provo, located on Center Street and Freedom Boulevard and we love visitors!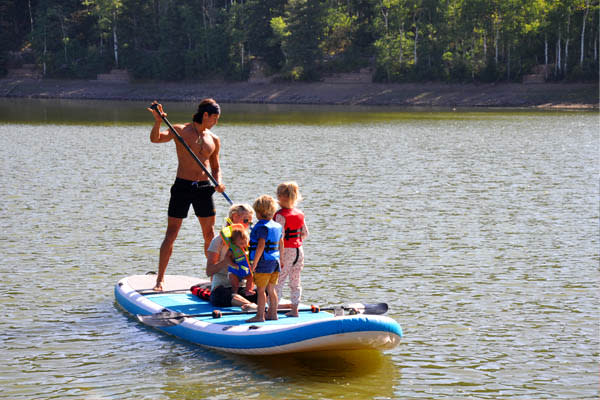 The first adventure of the day for the Gees was some awesome Stand-Up Paddleboarding (SUP) at Payson Lakes in Nebo Loop. Payson Lakes and the Nebo Loop are so beautiful and surrounded by trees, perfect for any peaceful trip to the lake. The Gees had a blast! However, their trip was in August and there are currently wildfires in that area, as well as other parts of the southern canyons and mountains of Utah Valley. We are unsure of how the wildfires will affect future recreation in these areas.
By the time SUP was over, the Gees had worked up quite an appetite, so they headed over to Ginger's Garden Cafe in Springville. This adorable little cafe is inside an herb garden, so you know everything is fresh! Almost every item on the menu is vegan-friendly and great for those looking for healthy, filling options.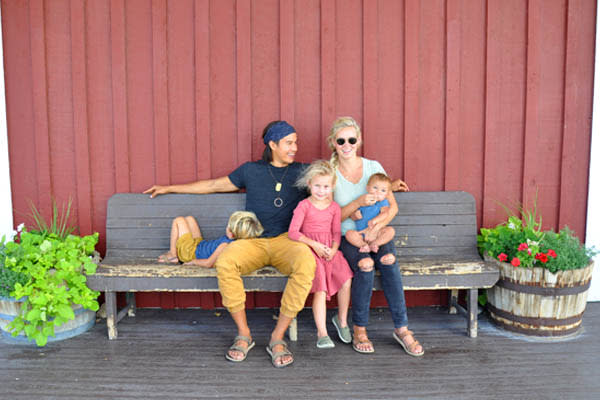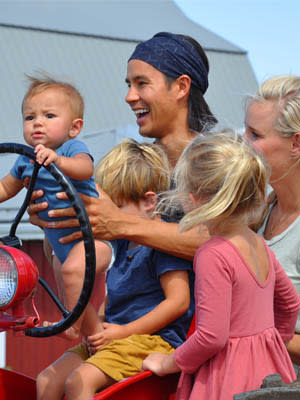 The next stop for The Bucket List Family was Rowley's Red Barn! This adorable barn in Santaquin (the most southern town of Utah Valley) is so much fun anytime of the year! The Gees had fun picking apples in their apple orchard, playing on their red tractor (which Manila Gee loved), posing on the red bench, and of course eating ice cream! Rowley's Red Barn also has other festivities throughout the year, including their summer cherry festival with cherry pit spitting contests and their fall fest with a corn maze and a pumpkin patch! It's so much fun for families!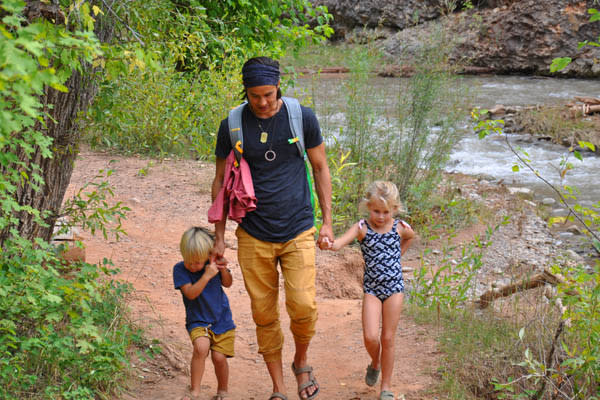 After a long day of fun, the Gees rested! Just kidding, after three years of constant travel they don't tire easily! They next ventured to the Fifth Water Hot Springs Trail! This trail, in Diamond Fork, is very popular because it leads to a natural hot spring where you can soak away all your worries. When you go, be sure to dress and pack appropriately for both a hike and a swim!
When dinnertime came around, the Gees ate at Art City Trolley in Springville. This urban delight started out as a trolley car made into a restaurant! It has now expanded to a bigger building with cool decor and a great atmosphere. The star of the show, of course, is the food! They have some amazing chicken dishes, including the chicken sandwich, voted Best Of Utah Valley, and the chicken tenders The Bucket List Family enjoyed.
Day Three: finding fun at Thanksgiving Point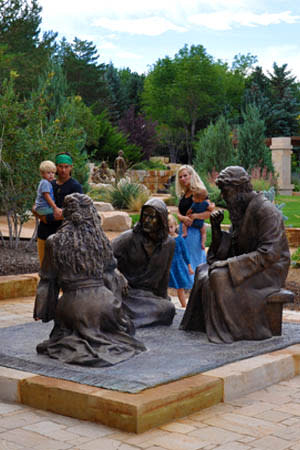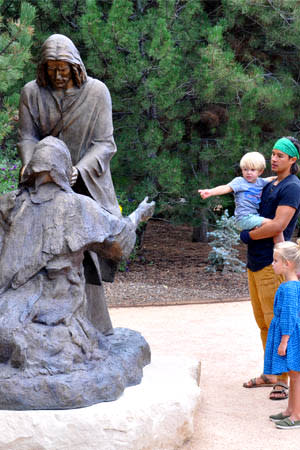 Day three was another fun-filled day for The Bucket List Family, where they spent it mostly at Thanksgiving Point in Lehi! They first experienced the serenity and beauty of Ashton Gardens and took in the glory of the exhibit there called "Light of the World." This exhibit has statues surrounded by pristine gardens depicting popular and revered stories from the Bible, including Jesus carrying a cross.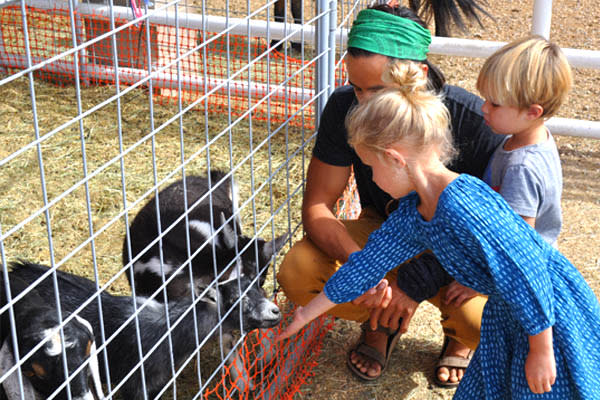 The next activity of the day was a favorite for Dorothy Gee because she and her little brother, Manila, got to ride ponies at Farm Country! This cute little farm area has so many baby and adult animals that kids love petting and seeing! Some cute creatures include baby chicks, goats, calves, and pigs!
The area surrounding Thanksgiving Point has some amazing dining options and The Bucket List Family chose to have lunch at Aubergine & Company! Their motto is "eat better, feel different." They serve a large variety of healthy and delicious foods, including acai bowls, rice bowls, filling salads, and pita bread sandwiches.


The Bucket List Family's trip in Utah Valley ended with a bang as they made their way to Holdman Studios at Thanksgiving Point. While here, the Gees were able to try their hand at glass-blowing! They also saw incredible works of art, such as works of stained glass that are famous worldwide and used in many places throughout the world. One of those places includes "Roots of Knowledge" at the Utah Valley University Library. The Gees stopped by there and saw the giant 6-foot story stained glass art that covers an entire wall. It is a sight to behold!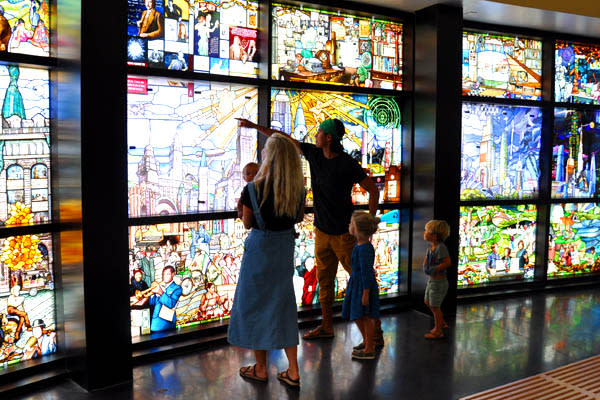 From exploring the city to escaping into nature, the Bucket List Family found many exciting, lesser-known activities in Utah Valley. Whether they were exploring Thanksgiving Point or eating mouth-watering meals, they made unforgettable memories together that they can cherish forever.
What memories will you make in Utah Valley? Explore our list of things to do and start planning your itinerary for a trip that the whole family will remember forever. For another itinerary, see what the Page family did!