When our family first got into rock climbing, I was under the impression that if we wanted to get to the best climbs, we would have to hike, drive, or travel hours away from where we lived in Mapleton. Then, we started climbing in Rock Canyon.
One of the best places to go rock climbing in Provo is located 5 minutes away from the Provo Temple for the Church of Jesus Christ of Latter-Day Saints, not only is it close enough for an evening trip, it is also home to some of the best climbing in Utah County.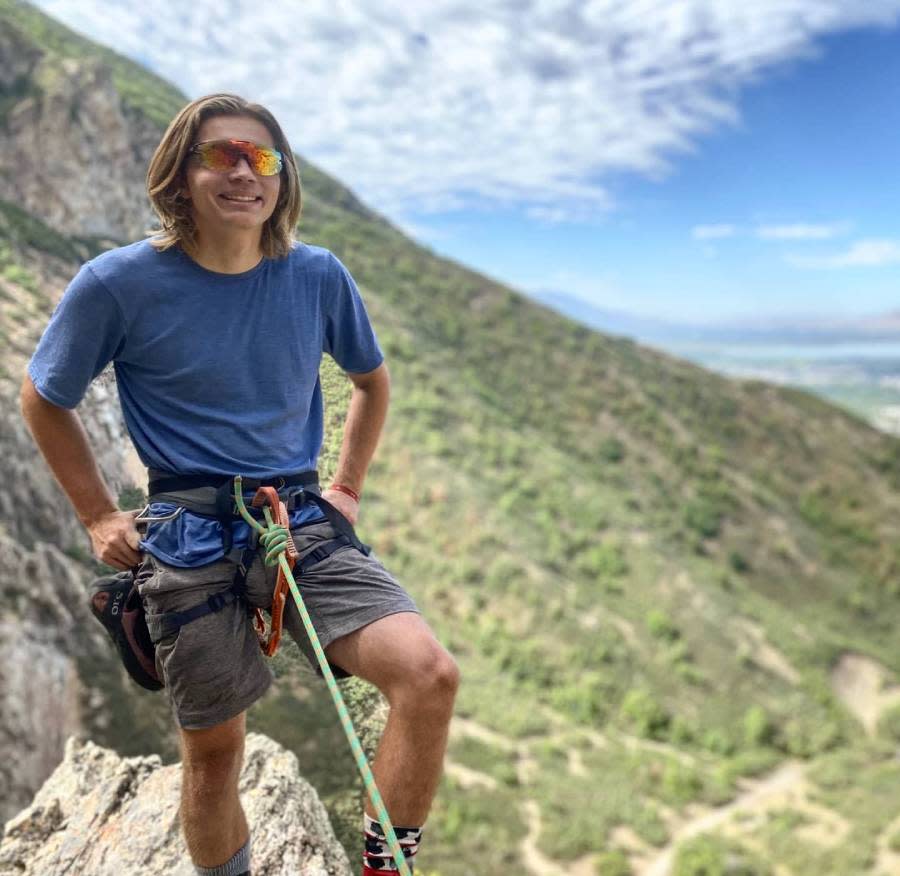 Rock Canyon boasts some of the most beginner friendly climbing in Utah County. With well-protected sport routes and lots of accessible anchors for top-rope, it is a great place to learn the basics of climbing.
That being said, Rock Canyon also has its fair share of project worthy routes and areas for the more experienced climber. As a great all-around climbing destination, here are my recommendations on places to go if you are in the mood to pull on some quartzite. 
Places to go: 
The Appendage: Rock Canyon
A short hike from the parking lot at the base of the canyon, The Appendage is a great area to go for beginner to intermediate climbers. It has a variety of sport routes which vary in difficulty up to its marquee route The Bulge, which climbs at 5.11b.
It includes a trad line as well which is easy enough for it to be a first-time lead on-gear. With nice places to sit and hang a hammock, it is an ideal spot for groups. Be warned, it can get busy on popular days. The best time to climb here will be mid-morning before it gets crowded. 
Check out this link for more detailed information on how to arrive, climb beta, and climb ratings.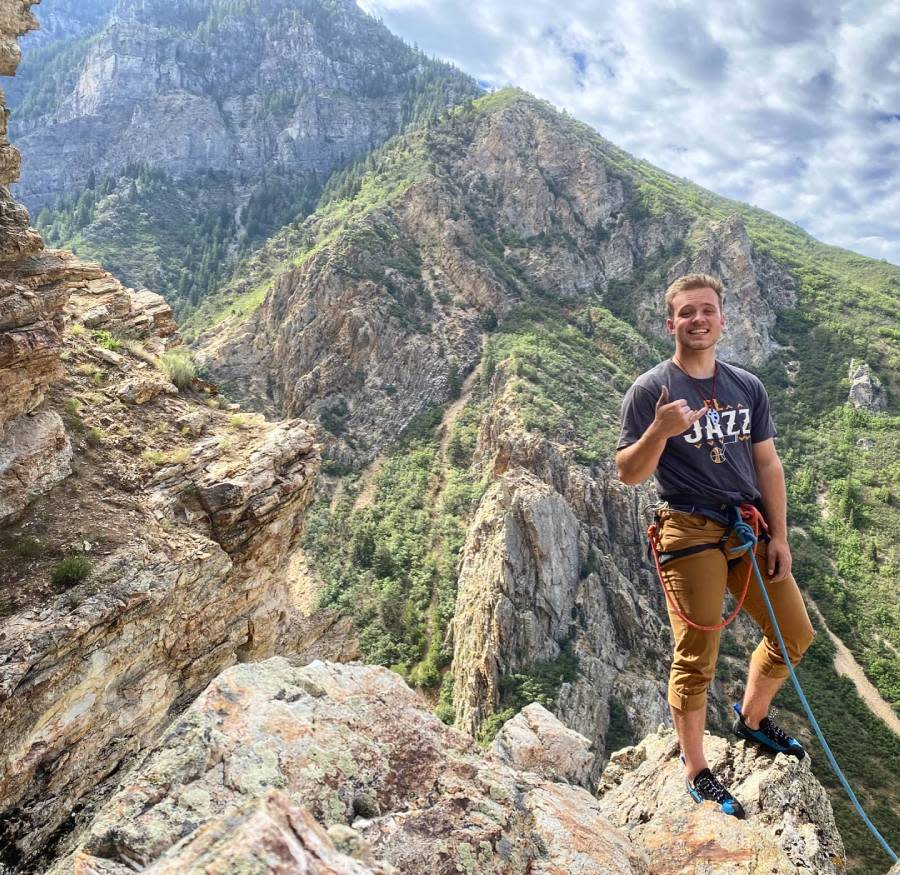 Galaxy Area: Rock Canyon
In the mood for a hike? Check out Galaxy Area. One of the newer developed areas in Rock Canyon, it is a perfect example of the area's climber-developed routes. Boasting several different walls and 45+ routes, it is one of the premier areas in Rock Canyon.
With a 5.2 climb easy enough for kids, it also has more spicy routes which will keep even intermediate-advanced climbers entertained. Crowds are usually not an issue here, but we enjoy climbing here before the sun hits the wall. Wear good shoes and bring a pack if you head here, you'll appreciate it on the way up. 
Check out this link for more detailed information on how to arrive, climb beta, and climb ratings. 
Cosmic Dust Space Lazers
Multi-pitch climbing is one of the most enjoyable activities for any climber, and Cosmic Dust Spacer Lazers is one of the most classic multi-pitch climbs in the Southern Wasatch. With 9 pitches, there are few moves that any climber will struggle with.
Be warned, even though it is easy, multi-pitch is not for beginners as a rookie mistake could result in a fall of several hundred feet. However, if you are comfortable on multi-pitch or are going with an experienced climber, this is an excellent route to improve your skills.
About every two or three times my family climbs this route, we find a herd of bighorn sheep, which makes it an instant favorite of mine (they're my favorite animal). With an easy approach, climb this climb early in the day or in the evening to see the view of the valley from above. 
Check out this link for more detailed information on how to arrive, climb beta, and climb ratings.
Places to avoid: 
Red Slab Climbing
Red Slab looks tempting. With the shortest approach in the canyon and a prominent face, a lot of climbers choose to climb here. And when I say a lot of climbers, I mean a lot of climbers. So many in fact, that we don't go here anymore.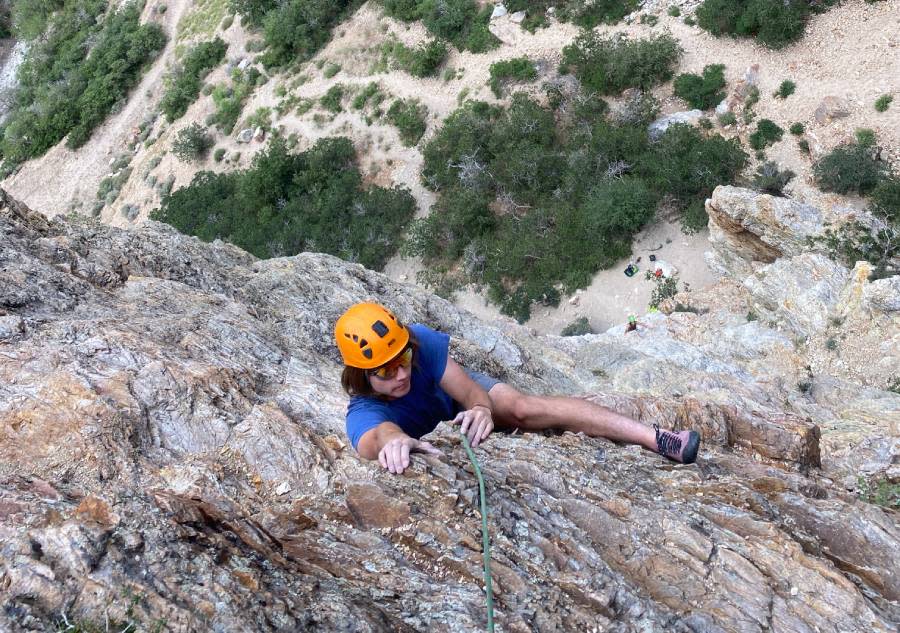 It is as crowded as Anaheim during Utah spring break, so expect loud music and packed routes if you go here. Having seen more injuries at this rock than anywhere else, I would recommend skipping this area for another. Novice climbers are often attracted by its easy routes.
However, their lack of skill often leads to broken ankles, falls, and other injuries. It lacks a good base for groups and has no shade once the sun is in the sky. Skip Red Slab and head somewhere else. 
Heart of Stone Climbing Routes
A climb that you can see from the trail, its chimney seems fun. However, poor bolting and a forced line make it the type of climb that few people do more than once. The top is run-out and requires a good head game in order to reach.
As experienced climbers, even my husband and boys were a little uncomfortable with how far apart the bolts were placed. With an abundance of other, more fun routes around it, skip Heart of Stone and instead climb some of its neighboring routes which are some of my favorites in the canyon. 
Other Routes of Interest
Main Crack: Rock Canyon - 5.7 - 1 Pitch - Trad
Located on Ed & Terry's Wall above Red Slab, this crack is one of the easiest and best in the canyon. My hands are about the same size as a blue BD cam, and they were the perfect size to hand and fist jam my way up it.
This route will gobble up blues and yellows, all of which are in solid placements. With good exposure at the top, you'll feel the wind whip around you as you top out. If you're comfortable on trad, this route is worth the walk. 
Curious George: Rock Canyon - 5.8 - 2 Pitches - Sport
While technically listed as two pitches, bring a 70m and stitch the two of them together for an even more fun climb. With a heady transition near the bottom up to sustained 5.8 moves up the arete and face, this climb is a great benchmark for all budding lead climbers.
With the exposure at the top helping you know exactly how high you really are, this is the type of climb that will get your adrenaline pumping. With an easy approach just around the corner from The Kitchen, it is best for groups of 2-4. This is one of my son's personal favorite climbs to do at night, and he'll often climb it with a headlamp to catch a view of the city lights.
Last time he climbed it, it was 2:00 AM and the view was definitely worth it. If you're a beginning-intermediate sport climber, this is definitely a spot worth checking out.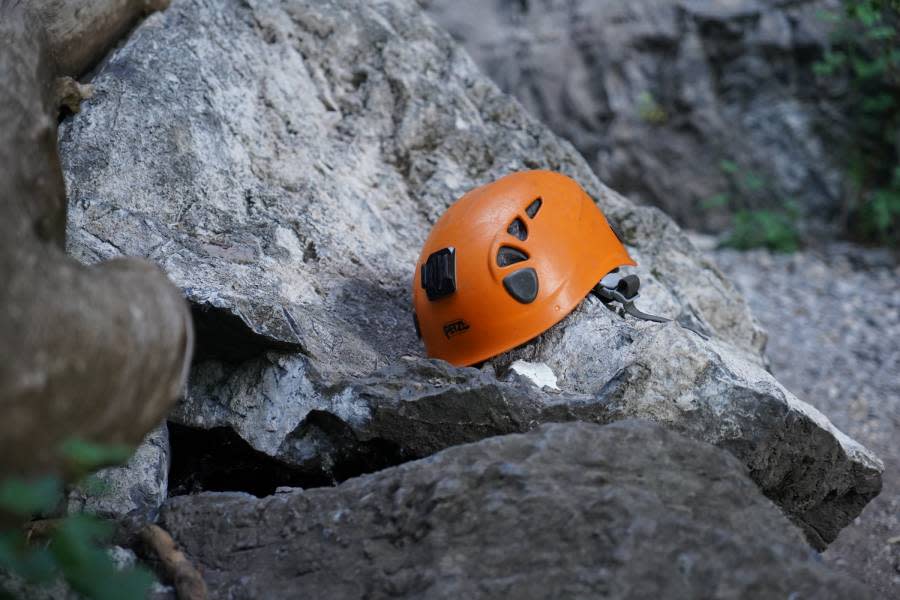 Rock Canyon is one of the top places to climb in Utah Valley. After the climb, enjoy food from the restaurants within 15 minutes of the base of the climb. Personally, if we go climbing in the morning we like to bring Kolaches from Hruska's Kolaches. Remember to always be safe while climbing, and happy climbing! 
Do you still have questions about rock climbing in Utah? We've listed out some of the best Utah Rock climbing routes in American Fork Canyon.