Utah County has some of the best climbing destinations in the world. With so many different options, it can be hard to choose where to start. In fact, climbing here can sometimes feel like reading the menu at The Cheesecake Factory. Here are my recommendations for where to go as you learn to rock climb.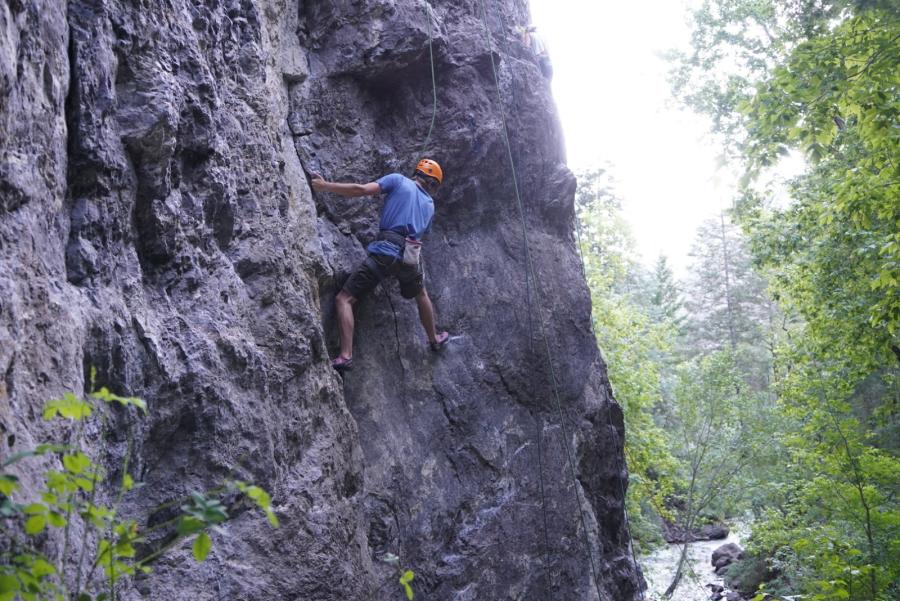 GYMS: 
Gym climbing is a great way to enter the sport and learn safety, technique, and etiquette in a safe environment. Unless you have an experienced friend who is willing to teach you, I would recommend heading to one of Utah County's fantastic rock gyms before heading outside: 
Momentum is one of the premier climbing gyms in Utah, with several locations across the Wasatch Front. Momentum, Lehi is our personal favorite of the gyms here in Utah County due to the high quality of their route setting. Momentum route setters are able to place holds in ways that compliment every climbing style, meaning that it is a great place to take a family or group who have a wide range of skills and athleticism. They frequently offer coupons, have classes for all skill levels and interests (such as women's night), and throw climbing themed events where you can meet like-minded friends. Momentum is a bouldering-only gym, which means leave the harness at home. They offer gear rentals on-site in addition to their in-gym climbing shop. 
The Quarry is a great gym in Provo. It is where my boys learned to climb. With dozens of top rope dedicated walls, a lead-wall, and a dedicated bouldering floor, this is the most versatile gym in Utah County. With a full-service climbing shop adjacent to their climbing facilities, it is a great place to buy a harness and climb on the same day. They hold regular climbing competitions which are much more about the community than about competing, so if you are interested in upping your game and meeting friends to climb with, be sure to check those out. My son tries to compete at least once a year, and even though he's never won, he has always come home with new friends and new swag. 
OUTDOORS: 
If you're ready to take the leap to outdoor climbing areas, Utah County has many quality places to climb. While it is tempting to hop onto the hardest climb you can find, I would recommend starting with one listed below for your first time.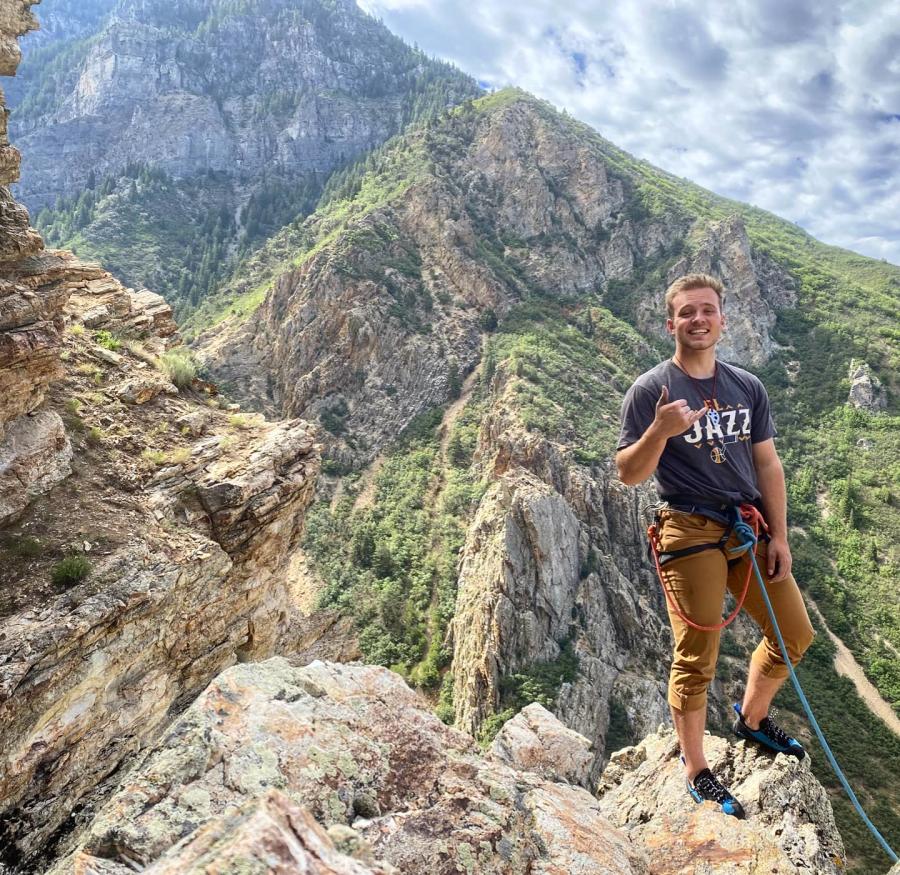 A classic and easy route in Rock Canyon, most people who learn to climb in Rock Canyon will have climbed it at some point. With easy movements and good places for feet and hands the entire way up, this is one of the areas I would take someone who had never climbed before. You can climb it either as a sport route up the face on solid, well-maintained bolts or you can walk around to the chains up-top and right an anchor without risking too much exposure. The approach can be difficult as it is on a face with loose rock, but once you reach the climb there are lots of places to sit. Be sure to wear good shoes that would be comfortable crossing skree when heading to this climb. If you do want to climb Red Slab, go early. Not only does the rock get hot later in the afternoon, but this climb can get crowded on weekends and evenings. 
Tinker Toys is the first route we took our kids to when learning to climb on lead, and for good reason. While it maintains the thrill of rock climbing, it is easy enough that anyone who can climb a ladder can climb it successfully. With solid feet and hand holds the entire way up the short route, it is ideal for date night, children, and new climbers still learning to get comfortable with the rope. You can set up a top-rope without too much trouble or it is an easy trad climbing route for anyone comfortable climbing on gear. As with Red Slab, it has a similar approach on loose rock that can prove challenging without good shoes. As with everything in Rock Canyon, I'd recommend heading up early in the day to avoid the crowds of college students and youth groups that are prevalent in the evenings. 
If you're looking for an easier route that is more secluded, head over to The Ledge in The Appendage Area. A 20-30 minute walk from the car up the canyon, it can be difficult to find at first so be sure to follow the directions on Mountain Project, the website. However, this climb is an easy sport climb that is well protected on lead and through a short scramble up the side, you can also set up a top rope without too much problem. This is a great spot for a group as it is off the main trail with a large and easily accessible base. The sun is not as big of an issue in this spot because of the shade, but still be sure to set up your ropes early as all the climbing routes in Rock Canyon, including this one, are popular. 
The longest climb on our list, the Mountain Project description of this climb says it all: "A truly fun jug haul whose start climbs like the 5.9 gym route on the lead wall. You know: the one that's super steep with huge jugs that you think doesn't exist outside." The handholds on this climb are stellar so anyone climbing it will have no problem finding places to hold. It involves climbing a flake as well, which is a fun feature for new climbers to learn. Like almost all routes in American Fork, it requires a lead climb to set up a top rope so take an experienced climber along. Serenity wall has an easy approach and is shady, making it ideal for a hot day.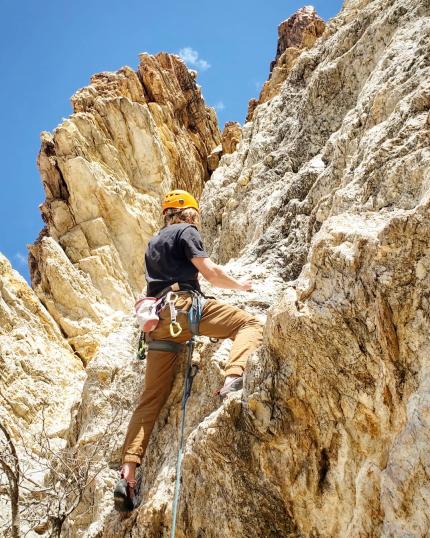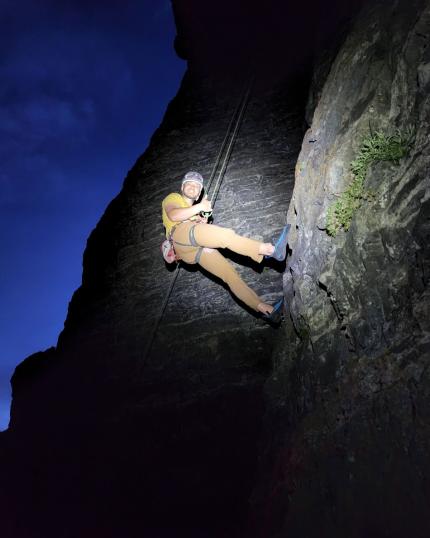 Getting started with gear:
With terms such as Gri-Gri, Quickdraw, and Lead being common in the climbing world, it can be difficult to know where to begin with gear - either climbing indoors or out. Utah County has some great places to begin.
Utah County climbing gyms offer in-gym rentals. Worried about getting the right harness, belay device, or shoes? Head over to The Quarry in Provo or Momentum in Lehi and they'll get you set up with everything you need to climb indoors. Both locations also boast in-house climbing shops for if you choose to purchase your gear instead of rent. 
Out-N-Back in Orem is your go-to destination for outdoor gear. They can help you get into the more specialized gear you need for outdoor climbing such as ropes, quickdraws, nuts and cams, as well as belay devices. Their knowledgeable staff are always happy to help and are dedicated to getting you into the gear that you need to achieve your climbing goals. 
As with all climbing, be sure to be safe, use proper technique, and follow the Leave No Trace Principles to ensure our Utah County climbs amongst the beautiful big walls stay accessible and in good condition for future rock climbers! 
_______
Looking for more fun things to do this summer? Check out Carri's blog on Mountain Biking in Utah County or her blog on Exploring the Payson Lakes. 
Follow Explore Utah Valley on Instagram for weekly ideas of fun things to do in Utah County!