"And at the end of the day your feet should be dirty, your hair messy and your eyes sparkling" - Shanti.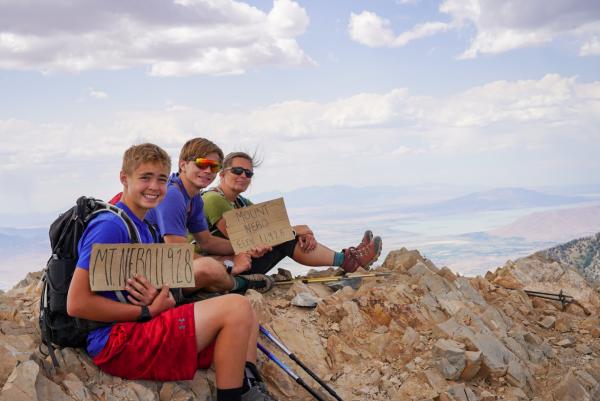 Summer brings the opportunity to explore, to do hard things, and to stoke the fire of curiosity and adventure in children and in ourselves; to experience something new is to be childlike again. 
With summer in full swing, I set out to plan a fun weekend adventure for my family. Located along the Nebo Loop National Scenic Byway, Payson Lakes is one of the many gems up Payson Canyon and the perfect spot for us. Camping, fishing, hiking, mountain biking, kayaking, swimming and of course, plenty of waterfall chasing. But planning for my husband and three boys, it is difficult to keep them from getting hangry on days as full as the one I had planned. Lucky for us, one of my favorite restaurants and bakeries isn't far from the canyon. What can I say? I am a sucker for easy meals and yummy desserts. I decided to make a quick stop on the way up.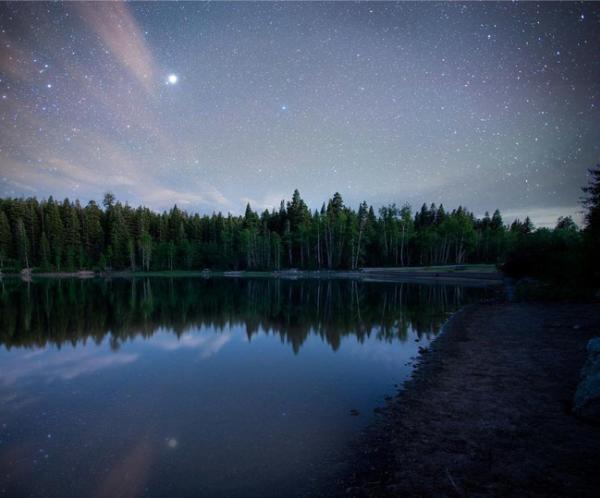 Have you ever had take-out on your first night of camping? The ease and convenience of stopping by El Tapatio was a huge selling point for me. Chips and salsa, quesadillas, and their traditional plate, La Piña, are the best things I have tasted in a long time. Wondering what traditional food from Guadalajara, Mexico tastes like? Stop by and wonder no more. El Tapatio is locally owned and they pride themselves on their food, their heritage, and on treating everyone like family.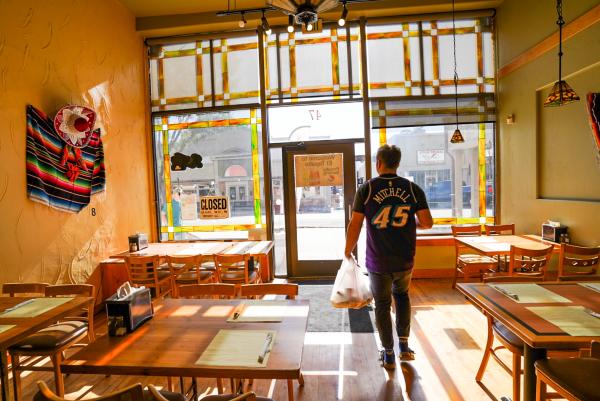 A little further down the road, we were drawn into Segovia's Authentic Mexican Bakery with their fresh made, colorful desserts lined up behind a glass display. I paused to take in this amazing sight and finally, with the advice of my oldest son, decided to try the pan dulce and a few chocolate croissants. Seeing their refrigerated cakes while I was paying, I was excited to find out that they have both made to order and pre-made cakes for sale. On those days when I need a quick treat or a cake for a family member's birthday, I know just where to go.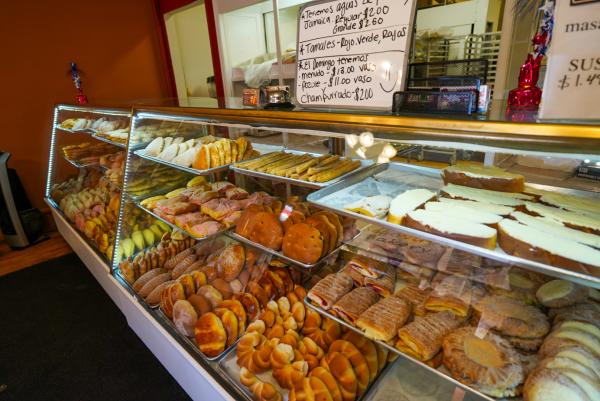 As we headed up Payson Canyon, I marveled at the beauty of this area and we decided on a short stop at Grotto Falls. The Grotto didn't disappoint. With a winding, short 0.6 mile round trip walk to a waterfall this was the perfect start to our adventure. Who can resist a good waterfall hike?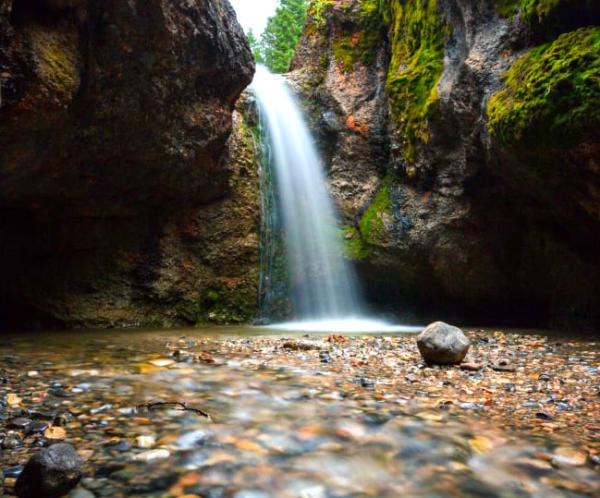 This hike has some adventure sprinkled in, which I found out as we crossed the river on top of fallen logs. Lucky for us, we all made it across the ankle deep water dry. As we reached our destination, everyone was happy to play in the water and take a turn getting dunked under the frigid water pouring over the lip of the waterfall. 
Our campsite was located in a beautiful area near the lakes and held up to 8 people. We hopped out of the car and my boys started scouting out the flattest area to pitch tents.  When we heard a gurgling sound and realized it wasn't coming from the river but from one of our boys' stomachs, we decided to eat first and set up later to avoid any potential hangriness (Boy moms, you know what I'm talking about). El Tapatio's pineapple fajitas were amazing and the pan dulce hit the spot. This dinner break opened a perfect opportunity to refresh the Seven Leave No Trace principles with our boys. 
Plan ahead and prepare.
Travel and camp on durable surfaces.
Dispose of waste properly.
Leave what you find.
Minimize campfire impacts (be careful with fire).
Respect wildlife.
Be considerate of other visitors.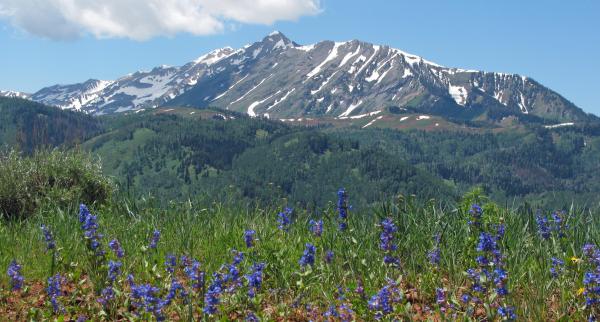 The boys were eager to get a fire going after setting up camp. Utah is experiencing record breaking temperatures right now so it is important to be aware of the fire danger and do what we can to prevent fires from happening. Here are some things to remember while considering if a campfire is right for your next trip:
Research any fire restrictions for the area you will be visiting. Be aware of any red flag warnings.
Do not park cars or drive over areas with dry vegetation.
Double check that your vehicle is not dragging chains.
Keep campfires to a manageable size and properly douse the fire when leaving. Don't leave fires unattended.
Many fires are started from target practice. Only shoot in designated shooting areas. Have water and an extinguisher available.
Fireworks in designated areas only and only on designated days.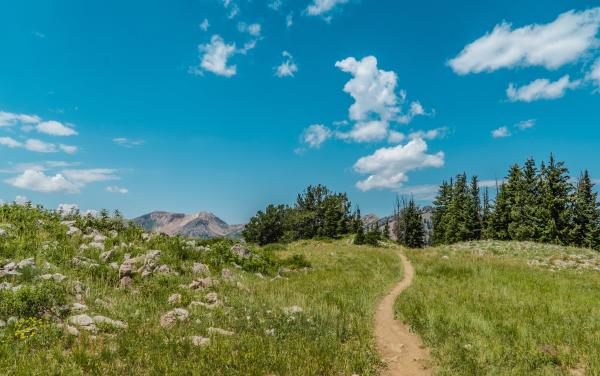 We woke up to a beautiful sunrise, and excitement built as we headed to summit the tallest peak in the Wasatch: Mount Nebo. Many people assume that Mount Timpanogos is the tallest peak and are surprised to learn otherwise. To say Mount Nebo is challenging is an understatement. It was long and steep, but the view at the end was definitely worth it. I am happy I remembered my hiking poles, our hydration packs, electrolytes, sun protection and snacks. But, when we reached the sharp scree-rock at the top, I found myself wishing I had brought some gloves.  
At the summit, the view was breathtaking. We could see for miles in every direction. Unsure of how the hike back down would go and to the laughter of my sons, I made a funeral video at the top just in case I didn't make it back down. To my surprise and much relief, coming down was easier than going up and my video proved to be unwarranted. My tip? Stay on the trail. We inadvertently summited via the spine instead of staying slightly to the right and following the trail all the way up. I won't be making that mistake again.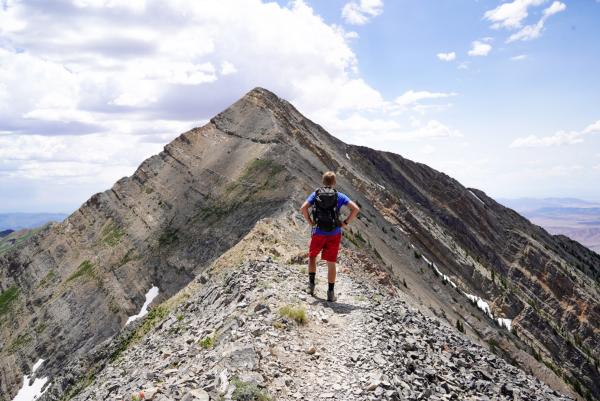 The Mount Nebo hike was more than enough for one day. We decided to head back to the lake and skip our blackhawk loop mountain bike ride to cool our feet, fish and enjoy a relaxing evening. The blackhawk loop is an 8.1 mile intermediate trail near Payson Lakes. While we love a great mountain bike ride, we have learned that it is good to know when enough is enough and that it is okay to leave something to do next time around.
The next morning we woke up early and pulled out the stand up paddleboards, hammocks, and fishing poles. We enjoyed one last morning of no phone calls or text messages with everyone happily doing something they enjoyed. 
As we headed home, we finished off our adventure by stopping for some delicious ice cream at Rowley's Red Barn, a local favorite for fruit, ice cream and other grocery and seasonal items. Right now they have a call ahead service. Simply call in your order and when you arrive they will bring it out to you.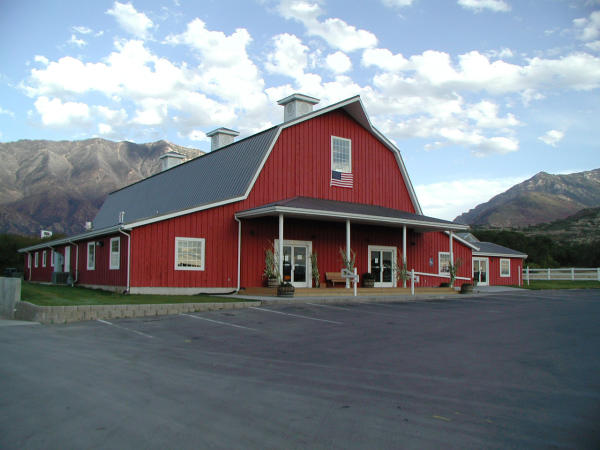 Passing a sign for Rocky Top Fruit Farm, I vowed that next time we would take time to swing by and pick our own cherries, peaches, raspberries or apples (depending on the season). Something about gathering my own food and having them on hand to munch is appealing to me. Maybe it is connecting with the earth and appreciating all that she has to offer us. That thought makes it all just a little bit sweeter. 
Happy adventuring! And may we all have many great experiences with our loved ones this summer, eating fresh fruit, enjoying one another's company, and appreciating nature together. 
Also check out our Nebo Loop Day Trip Itinerary and Your Complete Guide to Nebo Loop: Where to Camp, Hike, and Play.