Have you ever envied those anglers you see fly fishing in mountain streams? Standing knee-high in icy cold coursing water while trying to hook some trout? Doesn't that sound amazing! I've fished from the shore using bait and basic fishing gear a handful of times but decided I needed to evolve to the next stage. That means fly fishing, of course!
For many in the world of outdoor sporting culture, fly fishing is considered an art form. From the creativity shown in fly tying all the way to executing unique forms and shapes of casting as you surrender yourself to your environment. There is some good-natured debate around sport vs art but you'll have to judge for yourself (I vote for art).
The Provo River's natural beauty has always drawn me to it, and it is convenient to get to from Downtown Provo, which adds to its appeal. Located up Provo Canyon, the river is divided into three sections: upper, middle, lower and flows into Utah Lake. It's a Blue Ribbon Fishery and produces brown, rainbow and cutthroat trout, among others.
Where to begin? I hired a local fly fishing guide for a catch/release outing on the Provo River. Drake's Fly Fishing Guide Service, a Utah Valley fishing guru who supplied us with waders, water shoes, rods, reels, and everything else you could possibly need. Without too much fuss or effort I was geared up, given a quick Casting 101 lesson and then directed to a "perfect" spot where a newbie could expect to snag a few.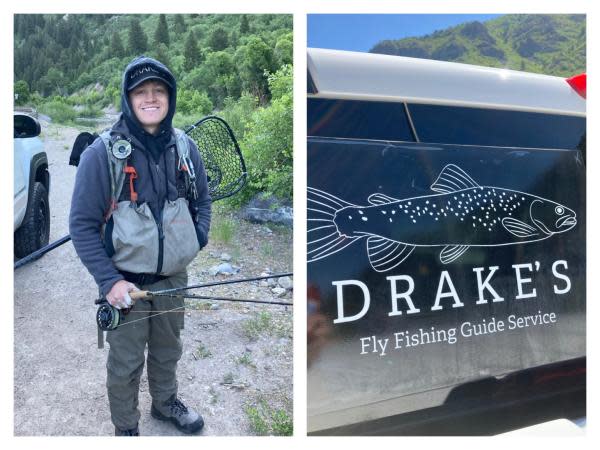 It wasn't too long after that that I felt the first strike. If you've ever fished then you know the excitement of that tug on your line. I lost that particular fish (due to classic first-timer mistakes) but then went on to catch eleven brown and rainbow trout over the course of the next two hours. 
Drake expertly handled all the catches and releases. He also managed the maintenance to the line such as checking the hooks and flies, weights, and floats along with detangling from trees and all the other things that can happen when you're a rookie. Having him take care of the logistics allowed me to focus on practicing my cast and experiencing the repeated thrill of reeling in a catch. Obviously, I have a lot to learn if I want to do this on my own someday in the future. But, for a first-timer, it was a great introduction.
If my hands hadn't started cramping after clutching a rod for so long and my feet hadn't turned to popsicles I would've asked to stay all day. I think I'm "hooked" on fly fishing!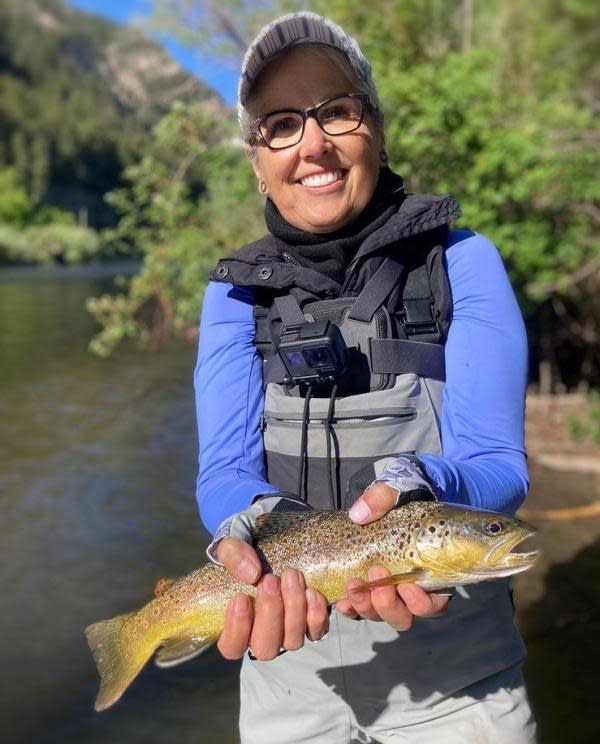 Here is my list of favorite things about fly fishing:
I get to be outside in a breath-taking and beautiful setting.
There were all kinds of wild creatures (besides the fish) around us. We saw mink, muskrat, beaver, herons, river otters and a variety of migrating song birds.
Fly fishing is immersive; you need to be aware of so many things: placement of your feet and body, the topography of the shore, the course of the river, shadows and sunlight, the integrity of your line, hooks and flies, etc.
It challenges you both physically and mentally.
If you plan to fish the Provo River, please keep these things in mind:
Get your fishing license. A one-year license costs $38 for ages 18-64
There is a daily limit of just 2 trout and they need to be under 15 inches
Only artificial flies and lures are allowed on the river from the Jordanelle Reservoir to the Olmstead Diversion Dam.
Utah has year-round fishing season for most waterbodies!
See www.wildlife.utah.gov for the details on fishing laws and rules.
For more fun things to do in and around Provo check out the Provo Pioneer Village, 50 Best Hiking Trails in Utah Valley, Provo River Trail and 170 Things to do in Provo.