A familiar drive up American Fork Canyon looked different a few weeks ago when I noticed tall white identical tents in Little Mill Campground. After some searching I learned they were new "glamping" (glamorous camping) tents put together by Go Camp Utah and that six campgrounds in Utah Valley now have them. Over the years, Utah glamping has been gaining popularity, and knowing that there are places to glamp close to home is super exciting.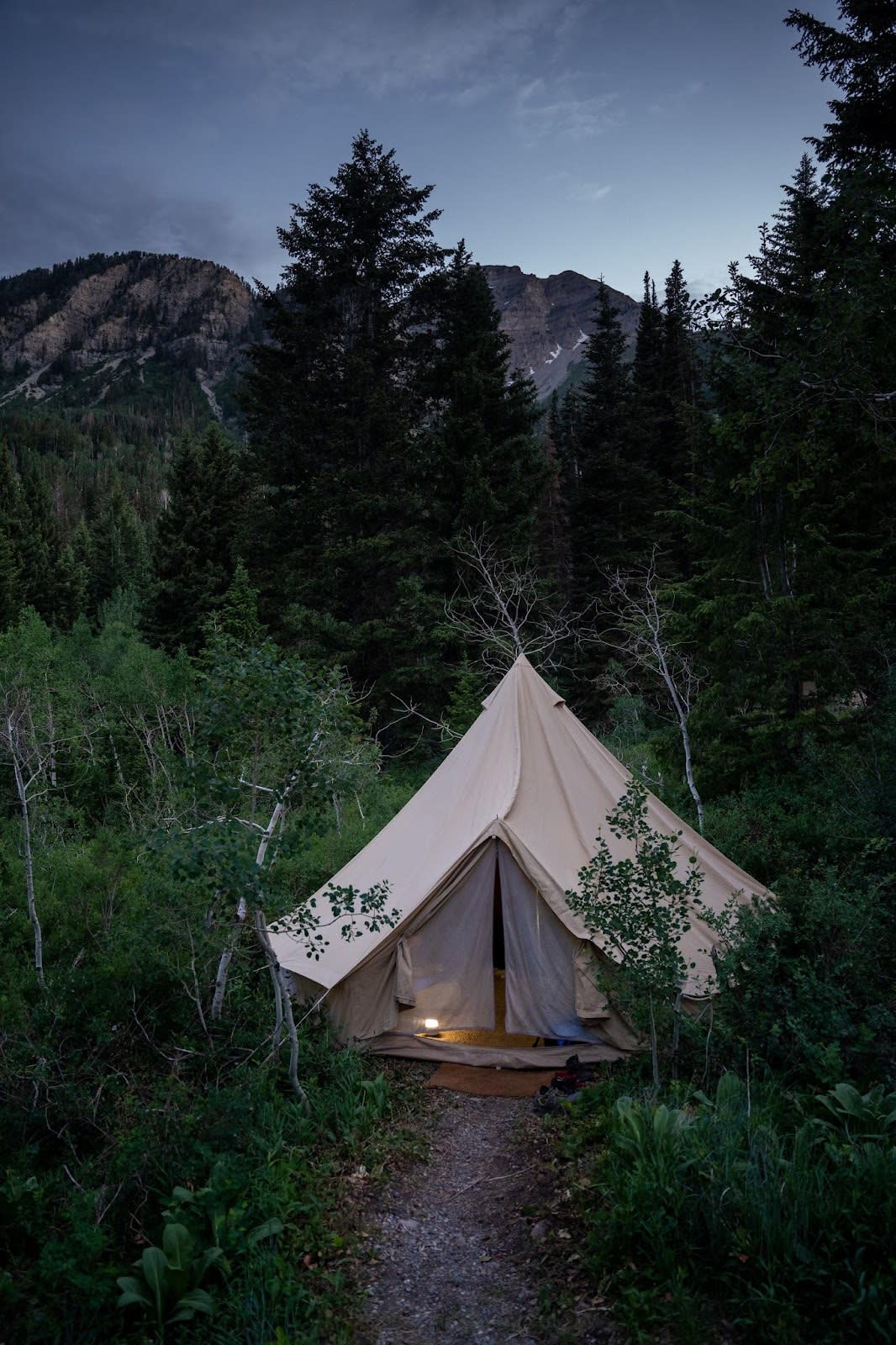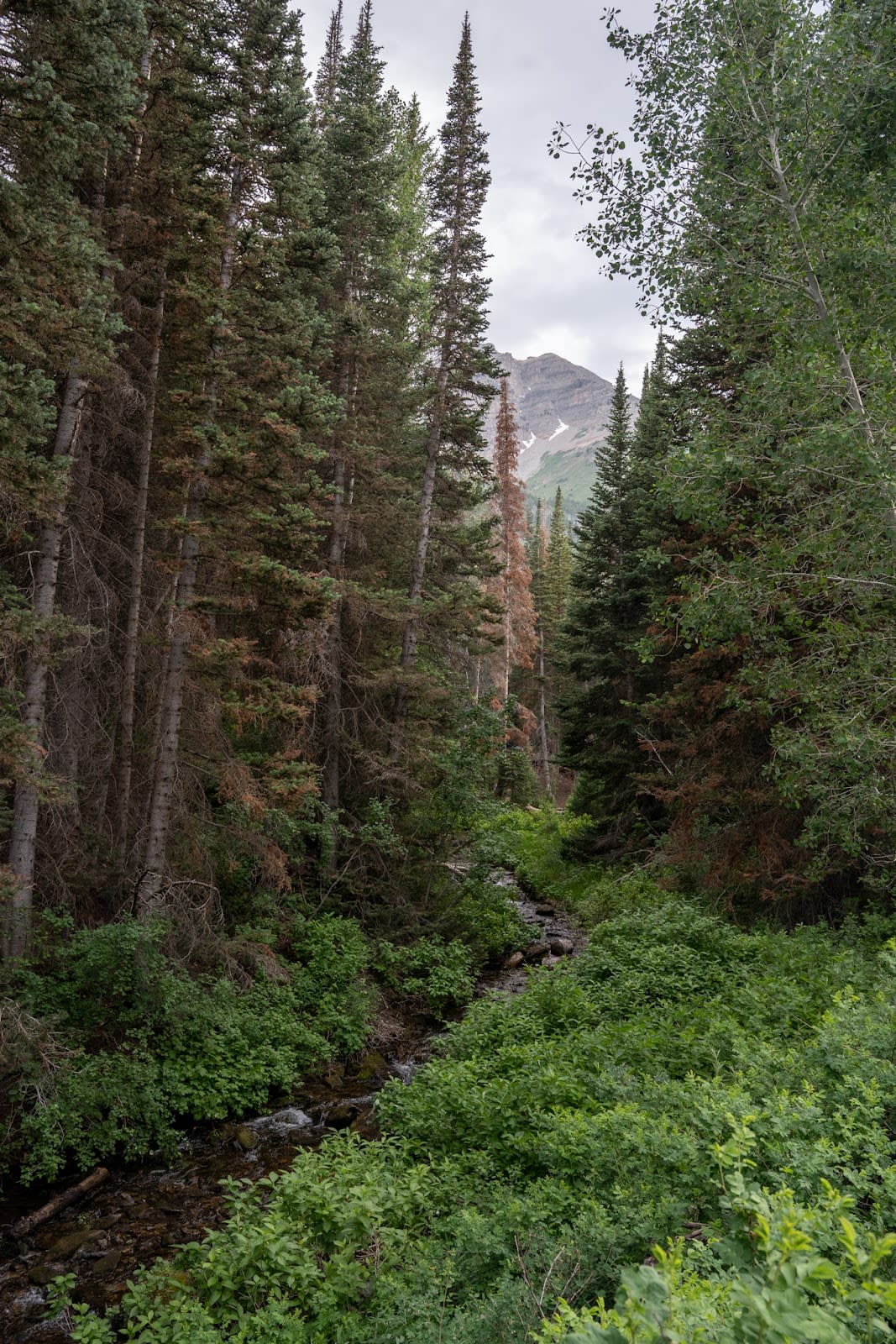 On their website, Go Camp Utah describes these canvas tents as having two full beds, two indoor lanterns, an indoor chair, and some rugs. Bedding is not included so guests still need to bring sleeping bags or blankets.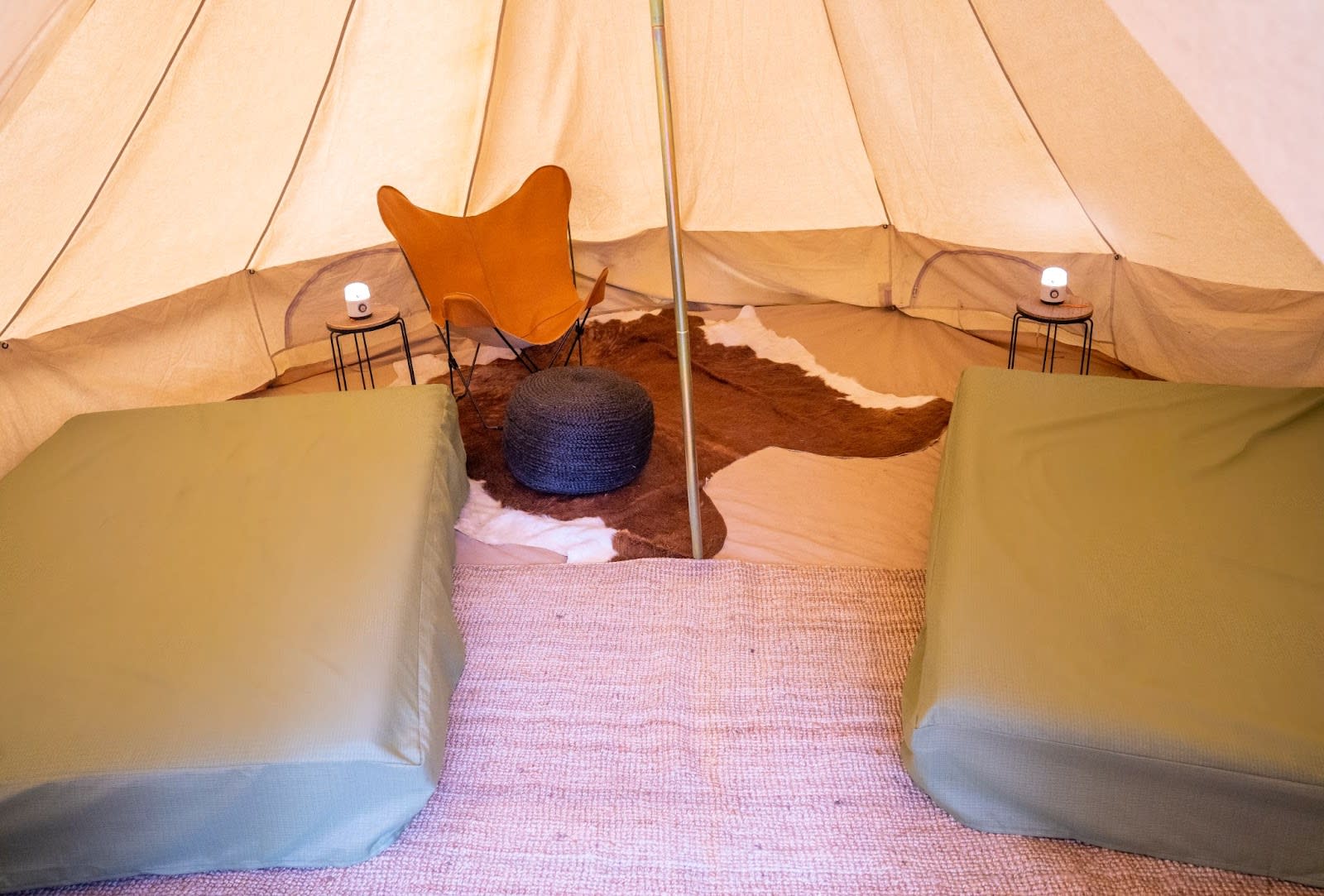 There was something extremely appealing about not having to bring out most of our camping equipment to spend a night in the woods. During a busy week, we booked a night at the Timpooneke Campground for the weekend, looking forward to a weekend adventure that needed little preparation.
The Timpooneke Campground is nestled along the Alpine Loop and is a great place to escape the heat and enjoy a variety of recreational activities. There are easy access points to Cascade Springs and Tibble Fork Reservoir, as well as one of the most popular trailheads (Timpooneke Trail) that will take you to the top of Mount Timpanogos.
On arrival we found our camp hosts who needed to unlock our tent before we could go inside. One car-load later and we were unpacked and able to start exploring the trails around our campground. Aspens, gambel oak, big tooth maple and white fir trees help shade the surrounding trails and sites. The summer wildflowers also adds a nice touch to this already impressive landscape.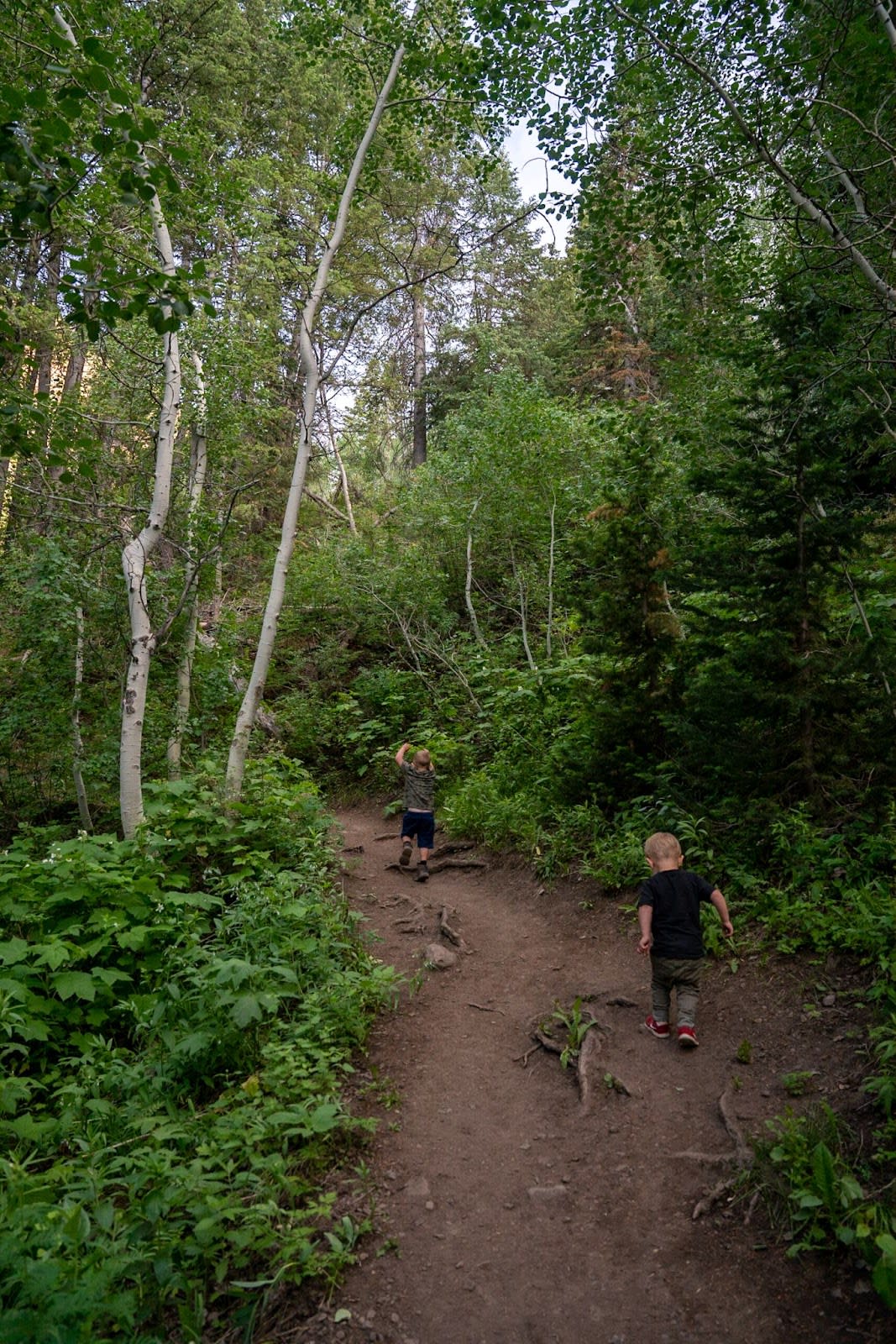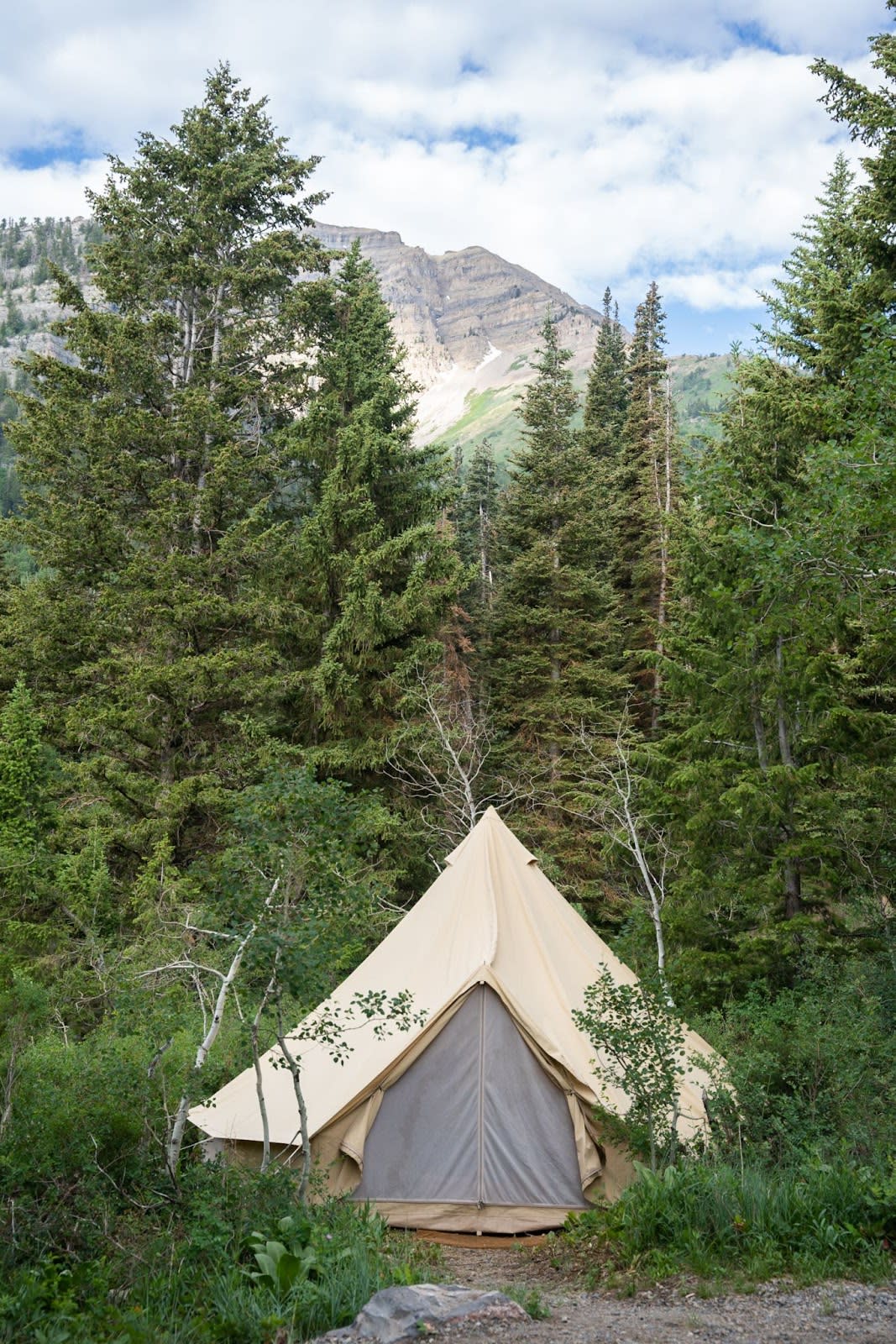 When bedtime rolled around we returned to the tent and turned on the provided lanterns. Screened-flaps in the tent were unzipped for some airflow and an outer door was opened to let in a breeze. The full beds are a step up from most camping beds; however, my 6'2 husband did have to put together some bags on the side so that his feet wouldn't hang in the air.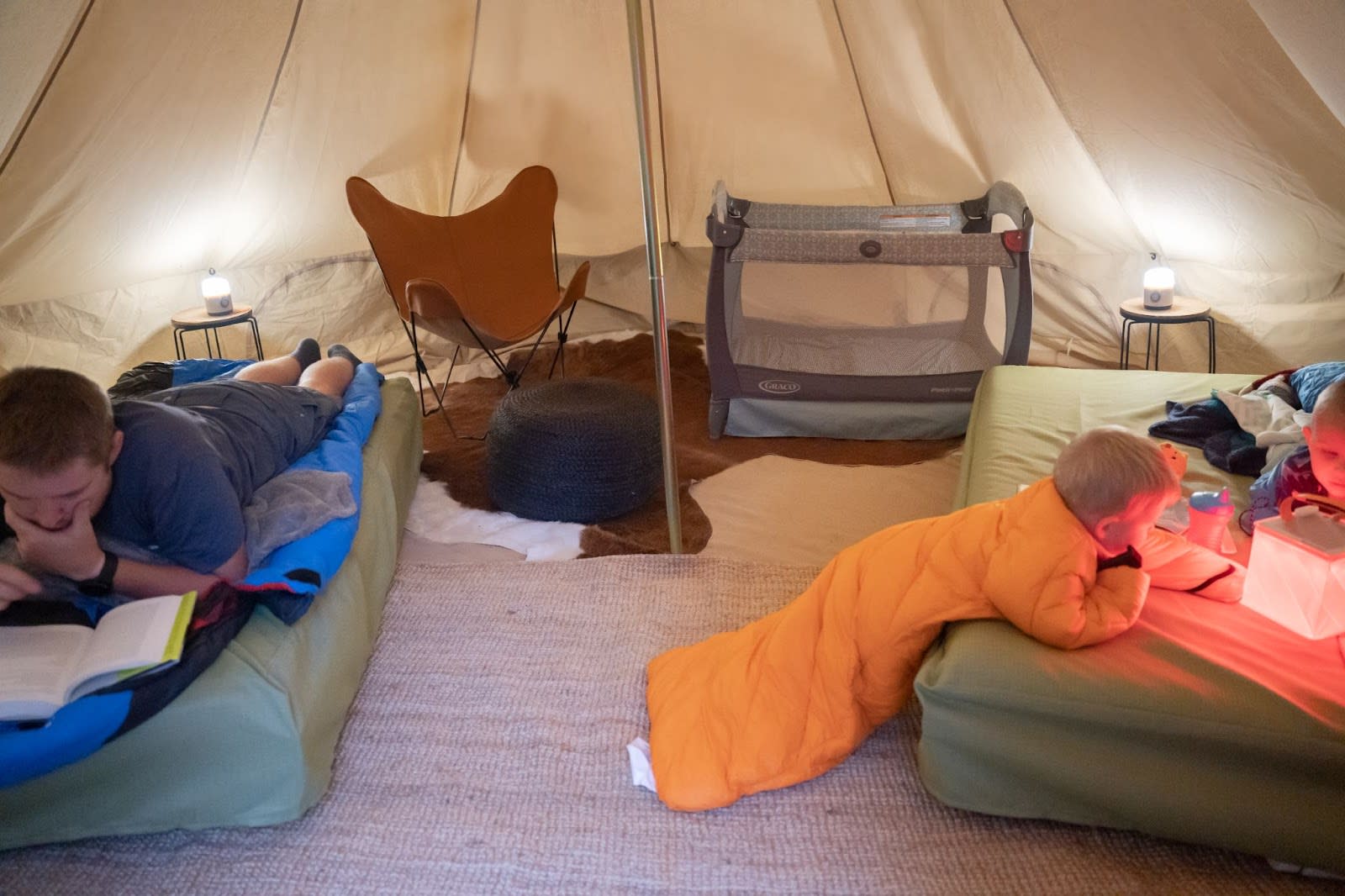 The next day we enjoyed the morning at the campground before doing a quick pack-up and heading the short drive home.
Staying at a glamping tent currently costs $133 per night instead of around $26-52 that it would cost to book a spot and bring your own tent. For our family, glamping won't make sense to do every time we want to go on an overnight adventure but when time is tight, (considering all the prep, set-up, and clean-up of a typical camping experience), I'm glad we now have the option to zip up one of our local canyons, unfold a few sleeping bags, and unwind.  
Places to Glamp in Utah Valley 
American Fork Canyon
Little Mill Camp Ground (10 minutes from entrance of the canyon) 
Timpanooke Camp Ground (20 minutes from entrance of the canyon)
Mapleton Canyon
Whiting Camp Ground (4 minutes from entrance of the canyon)
Spanish Fork Canyon
Diamond Campground (20 minutes from entrance of the canyon)
Payson Canyon
Payson Lakes Campground (32 minutes from entrance of the canyon)
Ponderosa Campground (80 minutes from entrance of the canyon)
How to Book: 
Visit www.gocamputah.com/glamping to be directed to the booking page for the specific campsite you want to stay at. Because these tents have recently been put in there are more openings in their schedule than some of the typical campsites. 
Tips from Campground Host: 
The glamping tents can hold 4 people but if your group is larger you can place another tent on the site (or two tents depending on which space you book)
There is a couple-day lag between when hosts can receive reservations since many of the campsites don't have cell service. Because of this, campsites not reserved in time or canceled at last-minute become first-come-first-serve. If your family is feeling a sudden need for a close adventure but campsites are full, consider driving by one of the listed campgrounds to see if one of the tents is available. 
For other places you can hike and camp in Utah Valley check out Camping in Utah Valley, Summer Fun at Payson Lakes, & The Ultimate Guide to the 50 Best Hikes in Utah Valley.