I suppose nearly every holiday can be thrown to the retail industry. However, Valentine's Day is a day to celebrate love and the ones you love. A day to focus on the good and how much you appreciate the one you love. And while it's good to do that throughout the year, Valentine's Day is a time to give a little something extra and make it more special.
To make this a Valentine's Day to remember, we've compiled some of the hottest and most romantic Valentine's Day events around Utah Valley.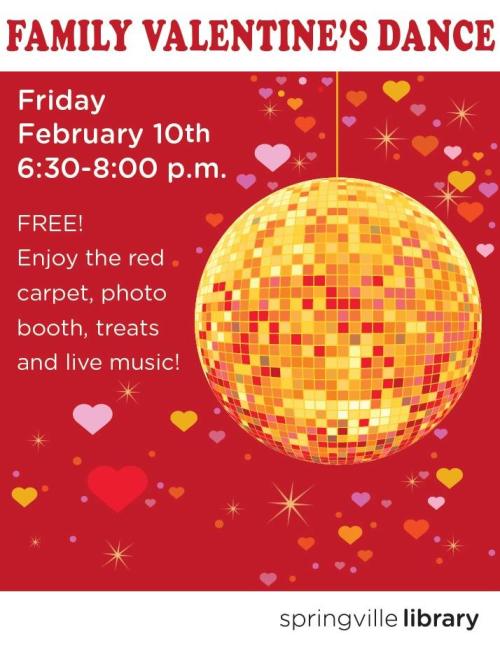 Springville Public Library
6:30-8pm, FREE
Lemon and Sage (Springville)
5:30-7:30pm, $75 per couple
Sundance Arts Shack
9:00AM, $349 per couple
6:00PM, $30 per person
The Shove Shack- Lindon
6:30PM-9:00PM
$10 for students, military, police, and EMT, $12 general admission, 5 and under FREE
Thanksgiving Point Show Barn
6:00PM-10:00PM
$58 per person in advance, $70 per person with rose at seat in advance, $65 day-of (if available).
Orem Senior Friendship Center
7:00PM, $8 presale- $10 at Door
Wadley Historic Farm, Lindon
7:00PM-10:30PM, $50 per person
 
Lemon and Sage, Springville
6:00PM-10:00PM, $25 per person
 
Taste in Provo
7:00PM,$35
UVU Sorensen Center Grand Ballroom
6:00PM-10:30PM, $75
 
Sundance Mountain Resort
12:00PM-4:00PM tours leaving every hour
You can make a reservation now (strongly recommended!) online or over the phone. Direct line is 844-ZIP-TOUR(844-947-8687) 
Package includes the Winter ZipTour (Scenic ride on Ray's lift + Outlaw Zip Line), complimentary hot chocolate and cookies after the tour
The Winter ZipTour boasts over 3,870 feet of continuous zipping! That length is almost 3/4 of a mile, and speeds can reach upwards of 60 miles per hour. Two lines run parallel to each other so each guest can enjoy the shared experience of flying through the air, or race down to the bottom to see who can soar the fastest!