It's Fall, so that means one thing: FOOTBALL! Get out your Cougar Blue Gear and get ready for the first home game of the season on September 8th. To see a full schedule of home games, see our events page. Here are some tips and tricks to getting the most out of the game.
Tailgate
Come and have some fun before the game starts in lot 18 (north of Bulldog Blvd)!  To register for a spot, call BYU Athletic Marketing at 801-422-9196. Most parking lots by the stadium only give you one spot to park and tailgate in, but in lot 18 you get two. Make sure you know the rules of tailgating on campus, including no charcoal or wood fires, no alcohol, tobacco, or illegal substances, no fireworks, and no pets.
Get there early
There is nothing like LaVell Edwards Stadium on game day! Get there early and enjoy the atmosphere of
63,000 fans getting ready to cheer on their team. Getting there early also helps with getting through security and finding your spot. To beat traffic, take UVX (for free!) and avoid wasting time finding parking.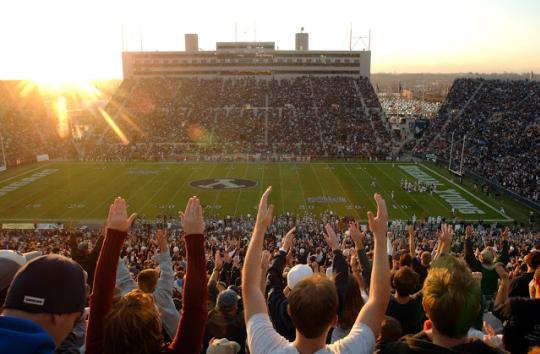 Show your Spirit
Each season BYU Football creates a different shirt with a new logo on it. At this year's games everyone will be wearing a dark blue shirt that says "COUGS" on it, along with a vintage Cosmo the Cougar face. You can pick one up at the BYU Bookstore or order it online here for $10. Also, show your True Blue spirit even more by learning the fight song!
Be comfortable
If you have bench seats, it can get pretty uncomfortable after a few hours. Rent stadium chairs at gates 1, 3, 5, 6, or 11. Or save a couple bucks and bring a blanket for some extra cushion. Personal stadium chairs are also permitted inside the stadium, but the stadium chairs must not exceed 18 inches wide x 16 inches deep, so you don't block another's view of the game!
Eat a Cougar Tail
Who doesn't love a extra long maple bar? Over a foot long of yum, Cougar Tails are made fresh on campus before every game. They are big enough to share (or not--we won't judge). If you are looking for something a little more hearty try a Brat-Tail, a bratwurst-stuffed Cougar Tail. If you're not into maple bars, don't worry there are lots of food options at LaVell Edwards Stadium, including pizza, pulled pork sandwiches, BYU Creamery ice cream, mint brownies, burgers, hot dogs, nachos, pop corn, and the list goes on.
Stay tuned in
If you can't make it to the game, you don't have to miss out on the fun. Most games are broadcast live on ESPN, BYU Radio Sirius XM 143, BYU Sports Network, and KSL 1160 AM/102.7 FM.