When I hear the word "May", yard work, flower pots, BBQ's, spring cleaning, and family time come to mind. To me, May feels like a fresh start with trees blossoming and flowers blooming. Anything is possible, including gardening. 
According to a study by a Texas A&M AgriLife Extension Service horticulture specialist, "being around plants has shown higher levels of reduced stress and anxiety" I mean, couldn't we all use a little less stress in our lives? I am not much of a green thumb, but I enjoy trying.
My not-so-green thumbs and I headed to Shade Home & Garden, a local nursery in Orem, to see what we could find. Not only is Shade a beautiful nursery, but they have a darling home section with decor and outdoor furniture to make outdoor areas both comfortable and inviting.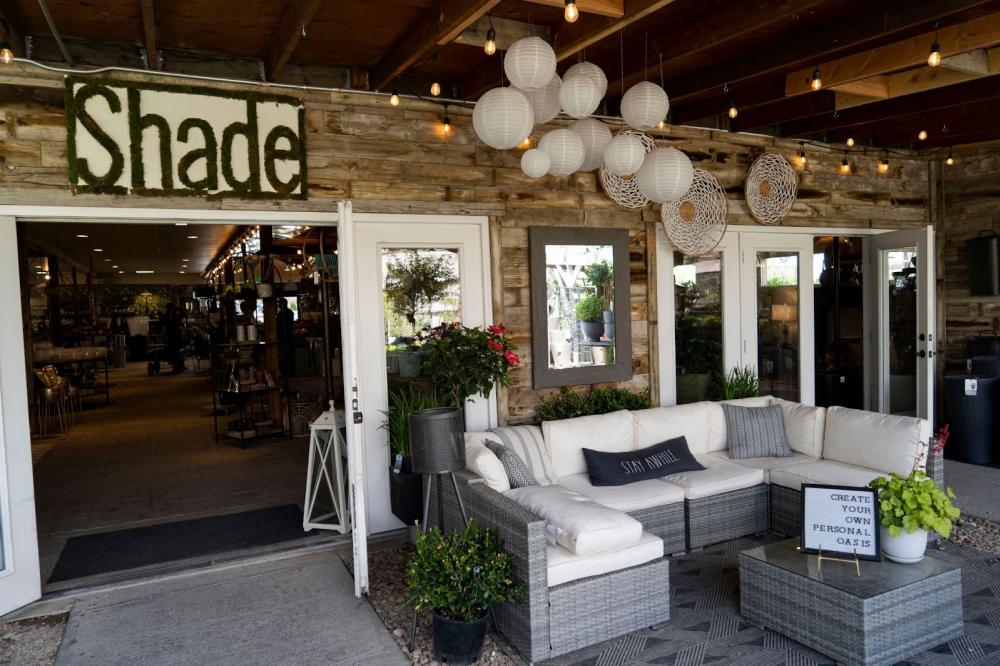 With a family get-together on the horizon, my patio was in need of some TLC (tender loving care). One of my biggest frustrations was not knowing which plants and flowers can go into pots and grow well. At Shade, I loved that flowers for pots were all in one area making it easy for me to see what I liked and to know that what I picked would be beautiful. All of their plants were presented in thoughtful combinations to help me envision workable ideas. Add a redbud tree and some bushes to replace everything I had ripped out (to my husband's chagrin) and I was off to a great start. 
At checkout I noticed Shade offers some interesting classes from gardening to home life skills. Calendars can be picked up near the register or you can call to inquire about upcoming classes. After wandering around for an hour or so, I can now say that Shade is now definitely my go-to nursery in Utah Valley.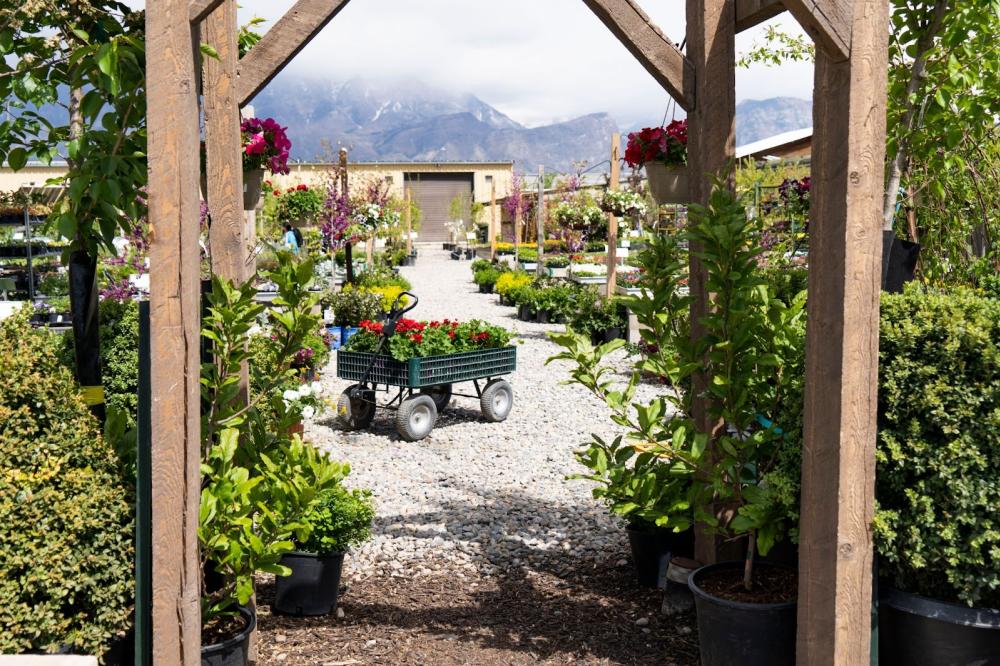 With my pots now planted, Antonella's Artisan Cafe was calling our name for a quick lunch break. After learning this artisan cafe was still run by the original owner and his wife, I was quickly enamored. Everything from their flaky cannoli filled with smooth cheese to their juicy burgers topped with savory onion rings was made fresh in-house. And, while they do offer salads, I can't say that I would recommend them. Stick to the burgers and you won't be disappointed. My husband even declared this cafe as having the best cannoli and burgers he has had in a long time and my boys agreed.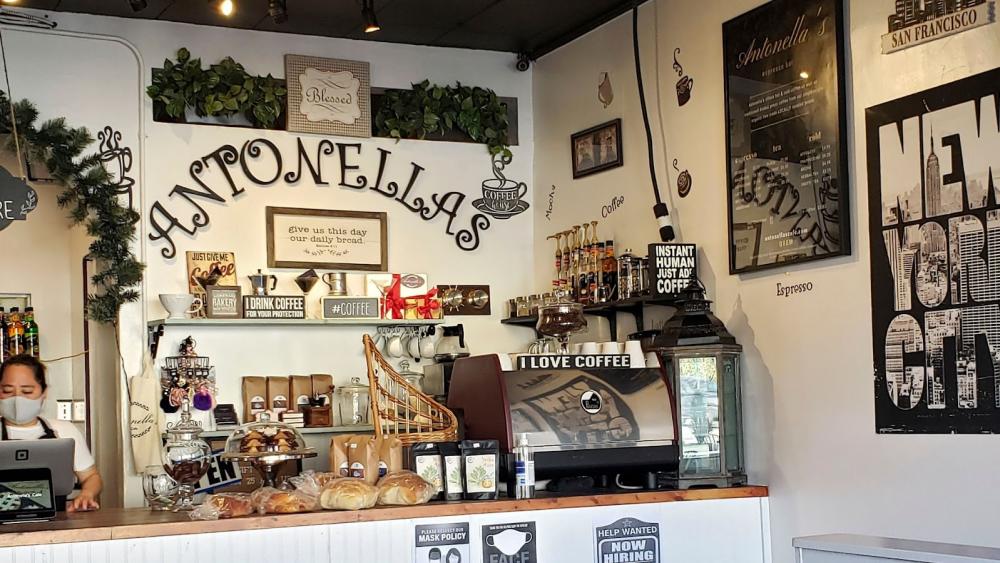 With full bellies and wanting to add a little something special to the patio, I booked our family a session at Stone Fox Forge to hammer out our own metal flowers. How cute would that be? As soon as I saw the pictures, I knew that I needed them as a conversation piece on the outside pot of my patio.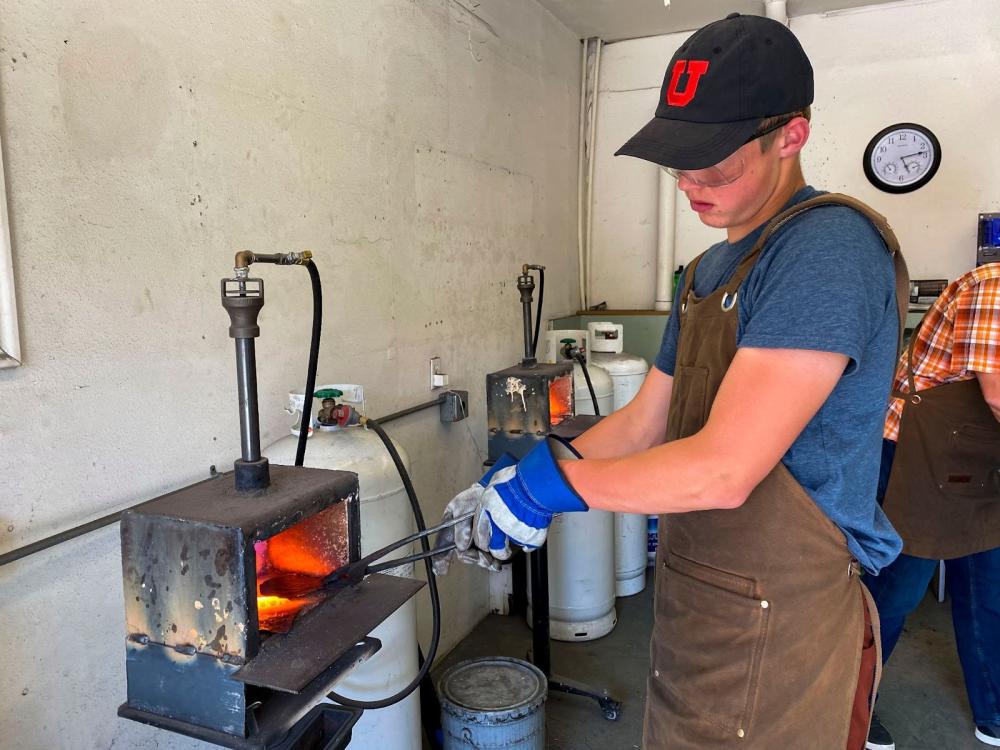 We donned our aprons, gloves and protective eyewear as our instructor taught us all about how to heat the metal and then hammer it like dwarves from Lord of the Rings to get the desired effect for our lilies. The process is a combination of heating, working, and cooling the metal. While hammering away, I don't think my boys stopped smiling even once. As you can imagine, their eyes lit up when they heard about their knife and sword making classes and after school classes. What a great way to expand their horizons and help our kids explore new interests! Worrying about them rusting, I asked about keeping the flowers outside and discovered it was possible by spraying them with a protective coating. Now I was all smiles too.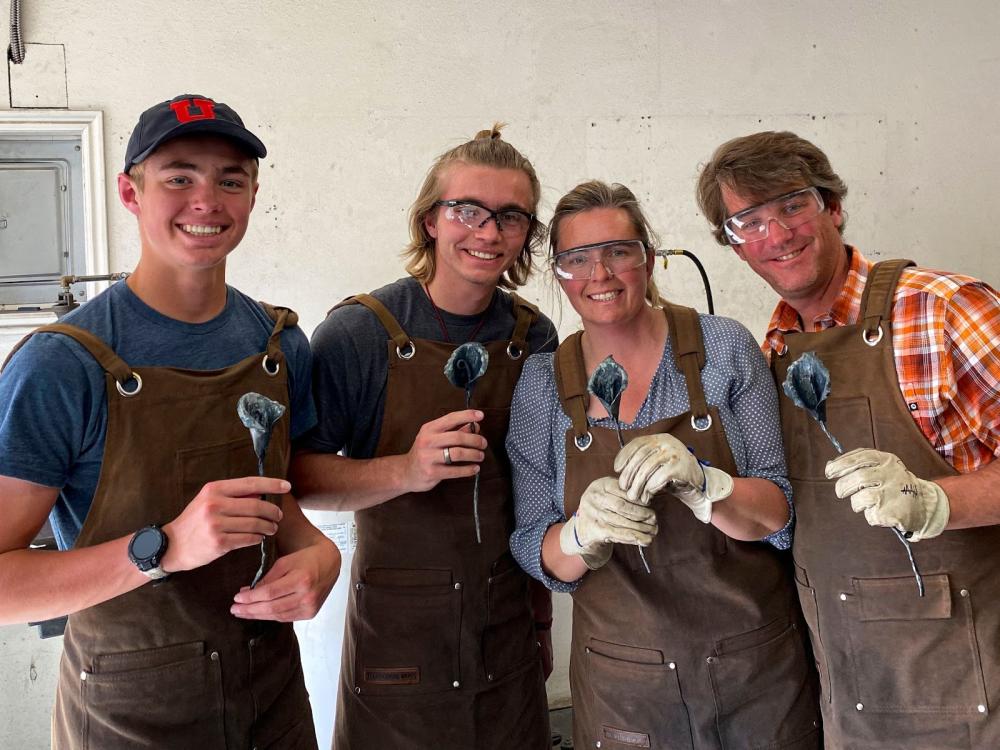 Heading out with our beautiful flowers in hand, we came across a locally owned Mexican Bakery, Juan Pablos. Venturing inside was a great decision. A man leaving with a beautiful pastel de tres leches prompted me to vow this is where I will buy our next birthday cake. Without a cumpleaños on the horizon, we settled on some flan chocolate to take home and sí estaban bien ricos . 
Thinking about flowers again, I booked a private group party at the Scera Art Studio inviting several friends to join me to learn to paint. The instructor and supplies are included for only $15 per person. It was so much fun getting out for the evening with my girlfriends to learn something new. We learned wet on wet and wet on dry watercolor techniques to paint tulips. It was incredible to see how unique everyone's paintings turned out, even after just one class! We laughed and painted and laughed some more. This class would make a great family, youth, date night, or friend activity. They offer a watercolor class for the public on an individual basis once a month and you can register on their website.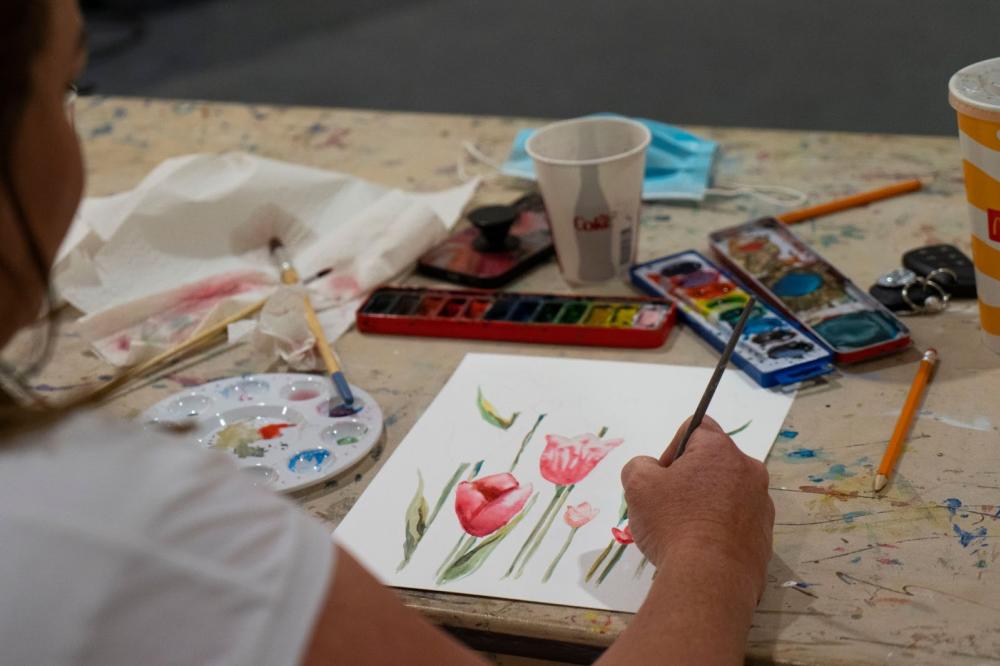 As we were leaving, my son asked me if I knew chocolate also came in flower flavors? And it's true! Amano Artisan Chocolate, founded in Orem, has a delicious Rose Raspberry chocolate bar. I was excited to learn that although their brick-and-mortar store closed, they are still available to order online. Can't wait to taste it when it comes.
After a long day, I pulled in and told my husband and boys that it was time to finish up the patio. Umbrellas? Check. New patio furniture? Check. Planted pots? Check. Cute metal flowers? Double check. All that was left is to string the lights and plant the bushes. There always is something satisfying about digging in the dirt. Did you know that Charlie Hall, a PhD and horticulture specialist even said that "interacting with nature, especially with the presence of water, can increase self-esteem and mood, reduce anger, and improve general psychological well-being with positive effects on emotions or behavior."? I am not sure about you, but after the last few months, I will definitely be doing more gardening this year.
Tired, but satisfied with all our work over the last couple of days, we grabbed take out from Asahi Sushi to eat out on our improved patio. The chicken teriyaki and tempura dinners were both amazing  and who can resist a honeymoon sushi roll to go along with it? My son who returned home from the Texas McAllen LDS Mission the day before definitely couldn't! Asahi offers both in house seating and take away. Simply call to put in an order after looking over the online menu. 
As it got late, I rallied the  troops and we headed to Sweet Rolled Tacos to surprise my husband and kids for all the work they did on the patio. Sweet Rolled Tacos is an ice cream shop that rolls the ice cream up and puts it in a cone that looks like a taco shell. There are several different varieties (although strawberry banana was my favorite).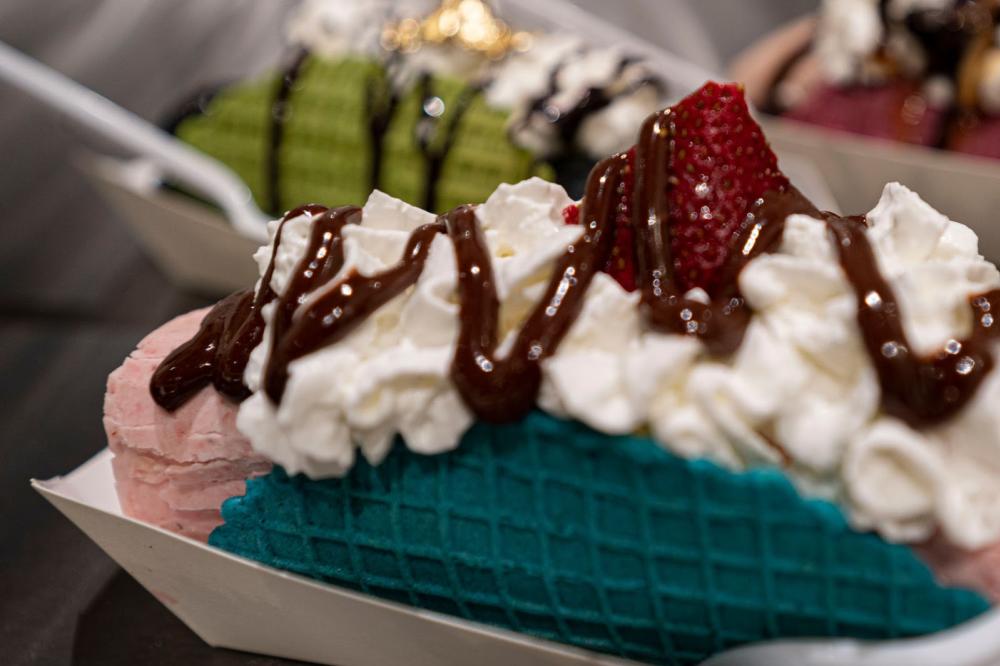 The next day I wandered out to the patio, opened the umbrella and enjoyed the spoils of our labors. With my chocolate, my book, and me, it is now a little slice of heaven. Thanks Orem for all the wonderful artisan food, shops and experiences that made it all a little bit better around here! 
For more Utah Valley experiences and artisan food check out An Artisan Mother's Day in Springville/Spanish Fork & Downtown Provo's Local Artisan Scene.