To clean or to bike, that is the question.
Life is filled to the brim. The saying, "my cup overfloweth" is an understatement. Getting caught up in all of the to-do lists and packing our lives so full often ends in disappointment. Disappointment that we missed a gorgeous day to get outdoors. Today I am opting out of to-do lists, chauffeuring, cleaning and I am loading up my fat tire bike and heading to the mountains. 
What is fat tire biking? Only one of my favorite winter pastimes and things to do in Utah County.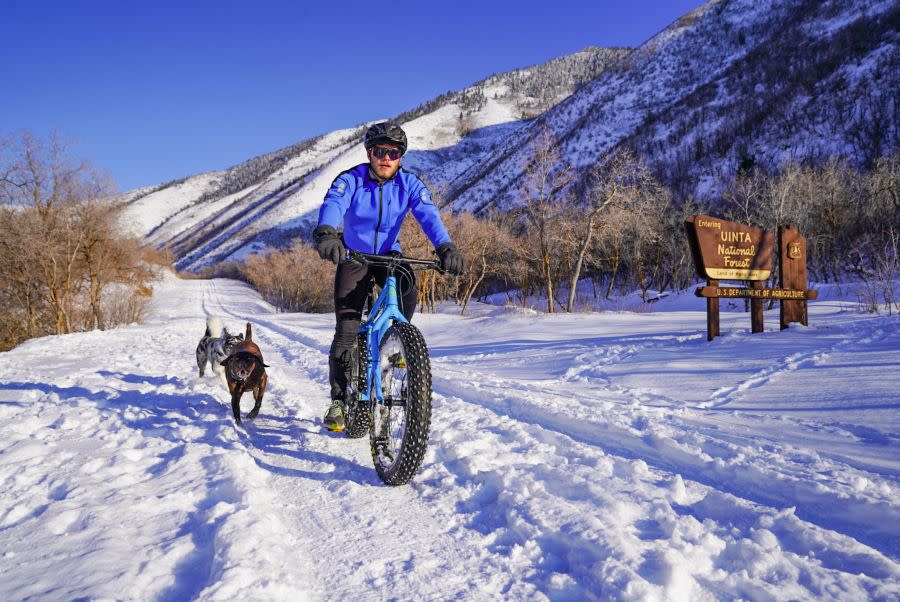 Fat tire bikes have wide tires and a higher area of contact with the ground. This helps the bike grip onto surfaces that are slick or loose and allow bikers to ride on unstable and uneven surfaces like mud, snow, or sand. They are made to disperse the bike's weight over a larger contact surface so they can roll right over uneven surfaces and are considered all-terrain bikes. They typically weigh more than a traditional bike, but are surprisingly easy to ride.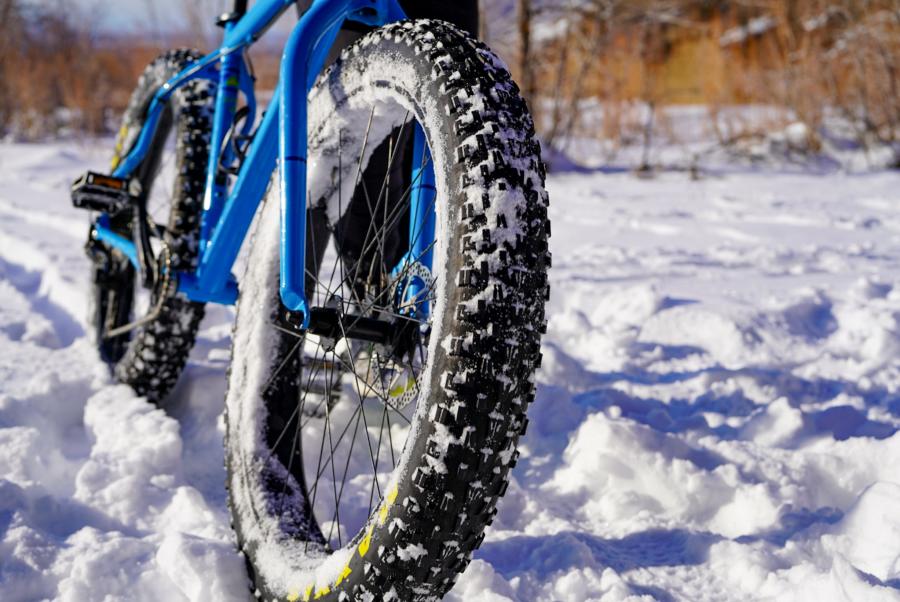 Dressing appropriately will make the ride more enjoyable. Riders get warm on the uphill and chilly on the downhill so layering is key. 
Base layer - wool is moisture wicking and helps control your temperature
Mid-layer - fleece jacket or vest, heavier weight wool layer or heavy weight thermal top
Outer layer - shell that is waterproof or water resistant
Use any combination of the above layers to ensure that you are comfortable on the ride. Gloves, a helmet and sunglasses are recommended. Waterproof hiking boots or shoes with wool socks will keep feet warm.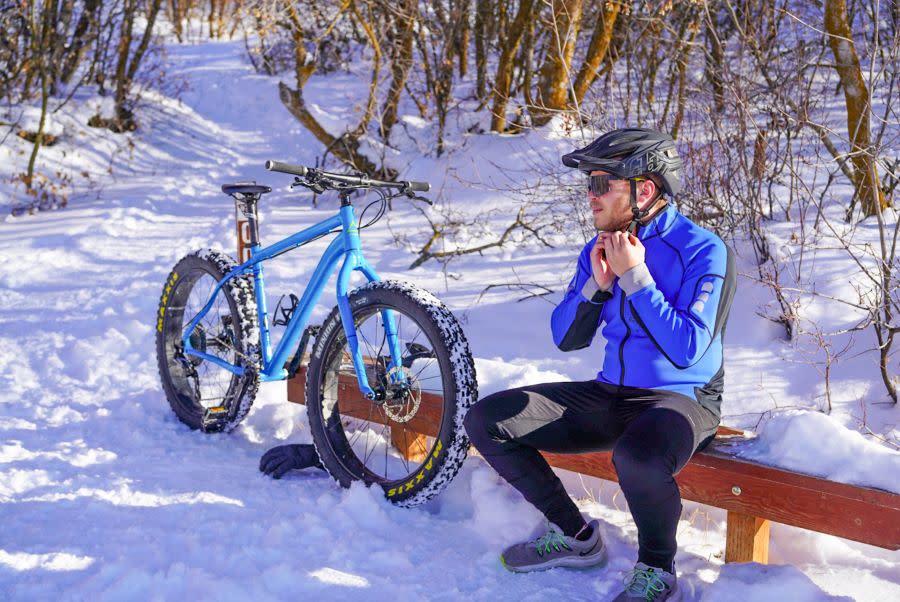 When riding fat tire bikes on a powder day, be aware that the first person on the trail will be slipping around and it will be difficult to ride. Following someone else's track or riding on a groomed area is much easier. 
We do not own our own fat tire bikes. We rent them from Outdoors Unlimited. This allows us to accumulate less stuff in our garage. Maybe it is just us, but our garage is a magnet for stuff and we don't need any more stuff. 
Taking time to pause the hustle and bustle of life for some self care is worth it. Being out in nature gives us a chance to re-center, experience peace and to better appreciate the world we live in. We come back feeling stronger and healthier both physically and mentally than when we left. So put away those to-do lists and go try fat tire biking. You won't be sorry. 
Now that we know what fat tire biking is, did you know we have some great areas to ride here in Utah County?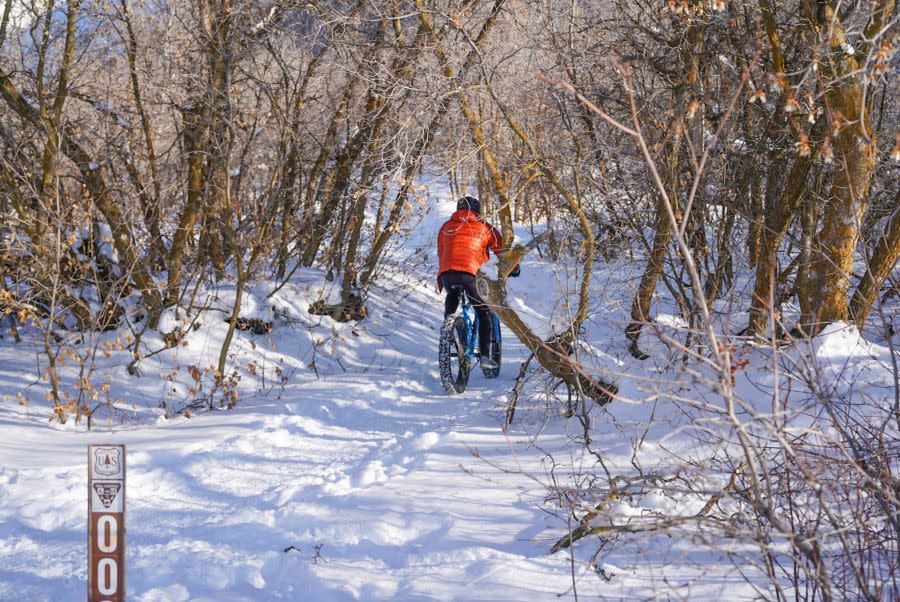 Four Bay in Payson Canyon
Four Bay is an area up Payson Canyon with roughly 16 miles of single track bike trails that are also used for fat tire biking in the winter months. After a storm, several trails are typically groomed to help compact the snow for riders. 
The gate is closed during the winter just past Jolley's Ranch making this a great place to try fat tire biking. Park where the plowing ends and continue to ride up the road as far as you want. Keep in mind, there are often snowmobilers up this canyon. For reference, Jolley's Ranch is along the canyon road just past the turn off for Left Fork Hobble Creek Road.
Whiting Canyon
This is a short, steep ride that begins at the closed gate at the bottom of the canyon. There are two choices. You can ride up the road and through the campground or start in the equestrian trail parking lot and hop on the single track trail there. It takes you up to the campground and you can continue all the way to the trail at the top of the campground for a longer ride.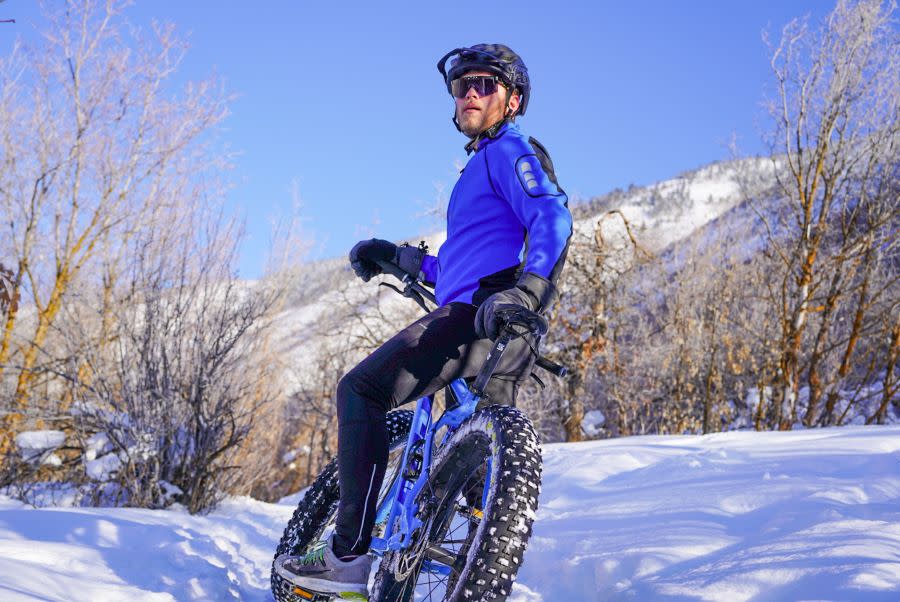 American Fork Canyon in Utah Valley has several rides. The first is a beginner ride that is 3.6 miles out and back on a snow-packed road. It is about 900 feet of elevation gain. Take SR 80 up to the Pine Hollow Parking lot where you will park and ride up the road from there.
The next ride is up a snow packed gravel road to Silver Lake Flat Reservoir. This ride has 1200 feet of climbing and is not technical. It is 7.4 miles out and back. Heading up the canyon, turn left at the Tibble Fork junction and park by the reservoir. Look for the North Fork gate and then proceed to go left up the hill toward the area known as Granite Flat.
This trail is easily accessible, but it is steep and icy towards the bottom. Be prepared in case you need to walk your bike at the bottom. The higher up you ride, the better the trail gets. There is no doubt this is a beautiful area. The trail is about 3.2 miles one way if you go up to the campground. 
For more great ideas for Utah Valley activities, check out the Things to Do page.