It's the most patriotic time of the year! Celebrate America's Independence by watching the red, white, and blue light up the night sky! We have researched the best fireworks shows in Utah Valley. We also have some tips if you are setting off your own fireworks.
4th of July Fireworks Shows
---

Lavell Edwards Stadium, Provo
July 1, 2023
1700 N Canyon Rd, Provo, UT 84604
Stadium of Fire is renowned for hosting the largest and most spectacular stadium fireworks show in the United States!
This year, on July 1st, the skies above Lavell Edwards Stadium in Provo will be ablaze with an awe-inspiring display of pyrotechnics. If you don't want to miss out on this grand extravaganza, make sure to secure your tickets early. The event promises an unforgettable experience for all attendees.
After the stunning fireworks show, the celebration doesn't end there! You can continue the festivities at the Street Dance on the west side of the stadium. Dance the night away and revel in the jubilant atmosphere as you soak up the post-fireworks excitement.
---
Thanksgiving Point, Lehi
July 4, 2023
3003 N. Thanksgiving Way, Lehi, UT 84043
On the evening of July 4th, Thanksgiving Point in Lehi will come alive with its Independence Day Celebration and Fireworks. The event promises an evening filled with fun, food, and, of course, a breathtaking fireworks display.
Before the pyrotechnics illuminate the night sky at 10 pm from the north side of the property, you can explore the various concessions and vendors that will be open from 4 pm onward. It's the perfect opportunity to indulge in delicious treats and find the perfect spot to settle down for the show.
To enhance your experience, don't forget to bring a cozy blanket and some comfortable seating. Settle in for an enchanting evening outdoors, surrounded by the warmth of community and the dazzling colors that will fill the sky.
---
Discovery Park, Pleasant Grove
July 4, 2023
1435-1511 N 100 E, Pleasant Grove, UT 84062
Join the city of Pleasant Grove as they put on an awesome firework show at Discovery Park on July 4th. This family-friendly event offers a variety of viewing areas, with the largest one situated on the north side of the park in a spacious grassy field.
If you prefer a different vantage point, head over to the Manila Elementary School field, where you can still enjoy a fantastic view of the illuminating display.
---
See Fireworks from the Mountains
For those seeking a unique perspective on the fireworks, consider venturing to an elevated location nearby. From these vantage points, you can overlook the entire valley and witness the beauty of multiple firework shows from afar.
Two highly recommended spots for this elevated experience are Squaw Peak Lookout Point and Y Mountain. These locations provide panoramic views that allow you to take in the enchanting sight of fireworks lighting up the night sky.
If you're an adventure seeker, you might want to explore the nearby hiking trails, offering even more opportunities to find hidden gems and breathtaking views.
Check out our hike list for more places you can go!
---
More Fireworks Shows, Not on July 4th:
Doing your own fireworks? Here are some things to know: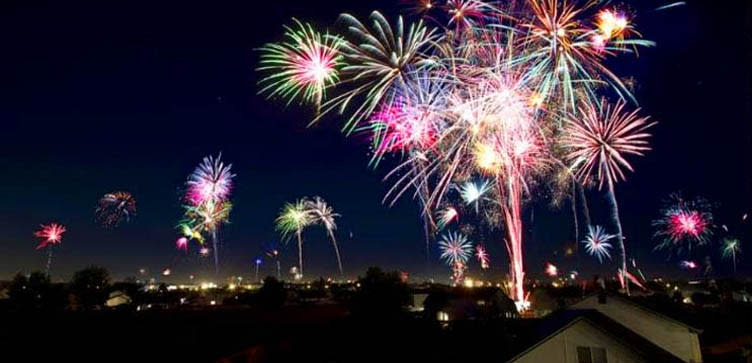 Fireworks can be lit from July 2-5 between 11 AM and 11 PM.
Fireworks are permitted the following dates and times:
July 2-5: 11 AM - 11 PM
July 22-25: 11 AM - 11 PM
July 4th & July 24th: 11 AM - Midnight
Some areas in Utah Valley are restricted fireworks areas. To find out where these spots are in your town, visit the Fire Marshal's website. In addition, some fireworks not sold in Utah may be illegal here, so be sure to buy locally.
Enjoy this summer with fireworks!
---
We've got all the information you need for an explosively fun summer! For more ideas on summer night activities, see our Camping Blog! Or check out the Utah Valley Summer Bucket List!