Looking for the perfect place to throw a holiday party? Whether you're looking for company holiday party ideas or family friendly Christmas party ideas, there are so many holiday party venues throughout Utah Valley that can provide just what you need to celebrate the holidays!
Fun Party Locations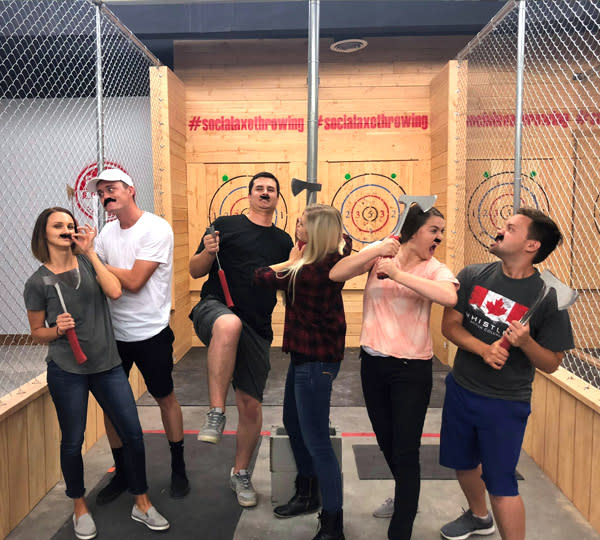 For smaller groups and tons of fun, choose a holiday party venue like axe throwing! With axe throwing venues throughout Utah County, such as Phat Axe and Heber Hatchets, there are many options to choose from! Add a fun twist to your party by having everyone wear ugly Christmas sweaters and then take Instagram-perfect pictures throwing axes in them!
Spend your company holiday party relaxing at the beach--Provo Beach! Rent out the resort and take your whole company there for a variety of games. They have bowling, a ropes course, mini croquet, an arcade, laser tag, and, of course, the simulated surfing experience your company will be talking about for years!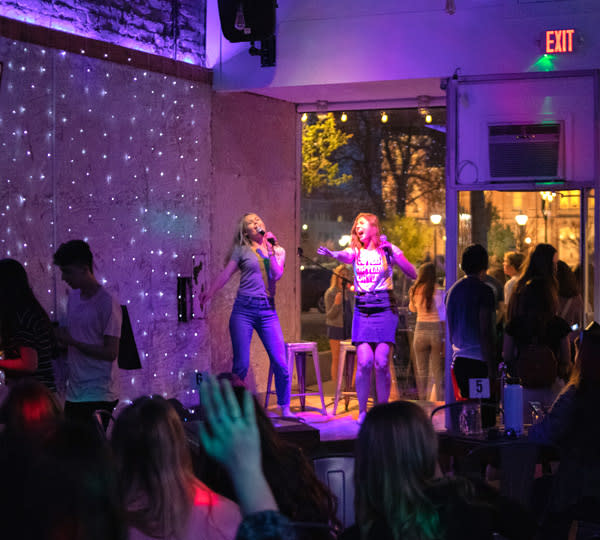 Better than Christmas caroling, celebrate your favorite holiday with your friends or family, singing Christmas songs at Heart and Seoul Karaoke! They have private rooms, so you don't have to sing in front of strangers! Also, for groups of up to 50, you can rent out the main area for a corporate holiday party.
FishKiss may just be the hippest place in town, hosting a weekly karaoke night, fizzy drinks, and fish that kiss the lifeless skin right off your feet! What better way could there be to relax during the busy holiday season? Give your company a break at one of their hosted corporate events with exclusive deals and discounts for your group.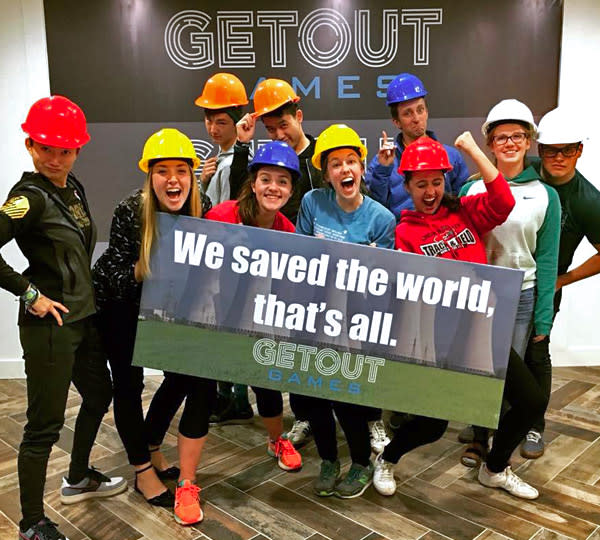 Escape rooms have been popping up all over Utah Valley--and for good reason! Take your group to an escape room for an unique holiday party venue, where team members will race against the clock to escape! For really large groups, some escape rooms, such as Getout Games, Escape Key, and Red Giant Escape Rooms, even offer the option of renting multiple escape rooms to see which teams work best together!
Good Move Cafe is one of the best holiday party venues for students. Instead of cramping a bunch of friends into your small apartment, go out for dinner (or snacks) and play your favorite board games! Let them know in advance if you plan to bring a group larger than 10 people so they can configure the tables to fit your needs!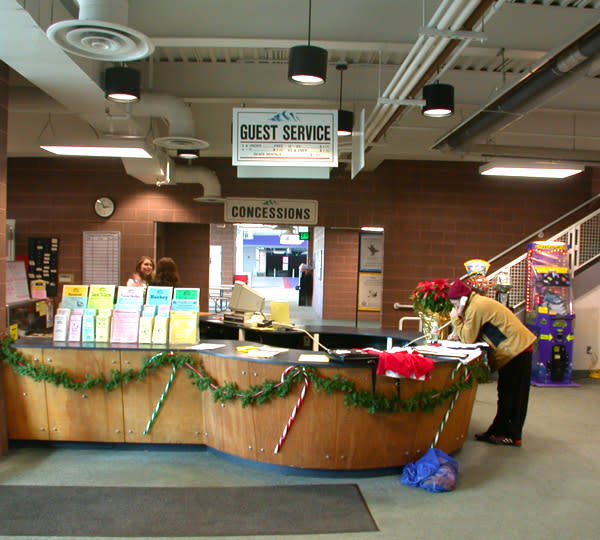 Nothing quite says "fun company holiday party" like going ice skating together! Provo Peaks Ice Arena is an Olympic venue that hosts private parties for corporate and family events. Rent out an entire ice rink and a party room, and add on hot chocolate and a cookie for each person!
Fun family friendly Christmas party ideas always include crafts! Make a variety of holiday themed ceramics at Color Me Mine! Paint Christmas trees, holiday plates, and more with your family or friends during a private team building event, friends night out, or just for fun! It will be a night of fun and creativity!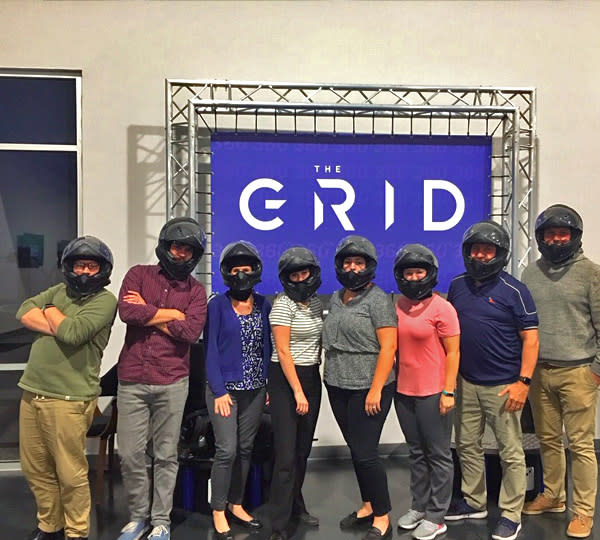 The Grid is a brand new attraction in Utah Valley that allows you to race on a multi-leveled go kart track! It's a blast for groups of any size and can be reserved ahead of time to ensure your group gets to race against each other! In addition to racing time, you can also spend all the time you want in the arcade!
Take your creativity into the mountains and make soap, jewelry, pottery, or candles at Sundance Mountain Resort! They have holiday themed scents for candles and soaps, such as pine, cinnamon, spiced cider, and cranberry. The setting and the activities will be the perfect blend for small private events.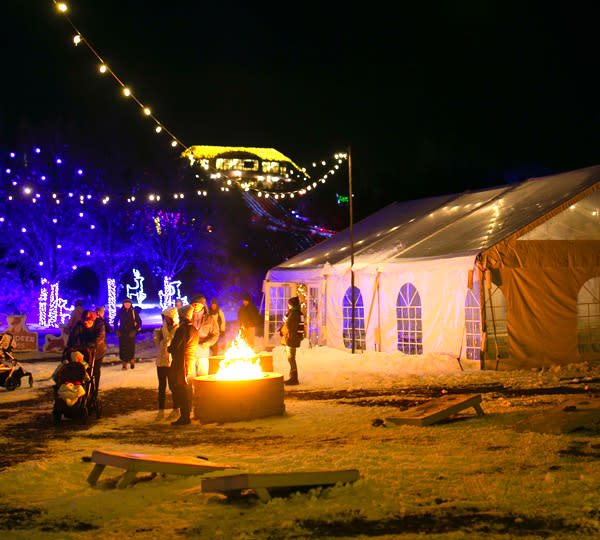 A holiday favorite, Luminaria is an event at Thanksgiving Point you won't want to miss! With thousands of holiday lights on display, walking through giant candy canes and seeing the rows of luminaries would be a great company holiday party idea. Rent their warming tent in the middle of Ashton Gardens for private events, along with an order of hot chocolate and s'mores!
The holidays are a perfect time to gather a group together and go to a local volunteer hotspot. The Food and Care Coalition is always looking for volunteers to help set up food drives, decorate their facility for the holidays, sponsor a fundraiser, and more! Give back to the community and have fun while doing it!
Large Party Locations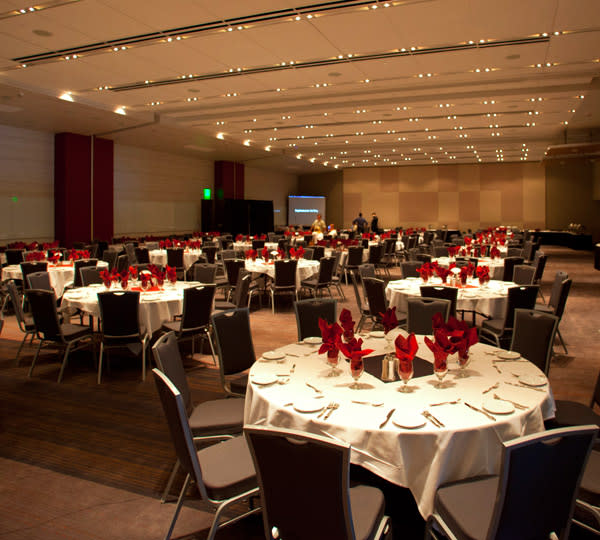 The holidays come to life in the Utah Valley Convention Center--they set up a huge, decorated Christmas tree in the lobby and go the extra mile to help your holiday party be a success! With three levels of meeting space and large rooms that can fit thousands of people, you can host a party for your whole company! For extra fun, rent or make a photo booth so guests can remember their experience forever!
Evermore is open seasonally and the holidays is one of those seasons! Throw your large party with winter characters and amidst a beautiful European-esque village, complete with a tavern, concessions, and other magical buildings. Your group will have fun exploring the village and taking party in the activities there.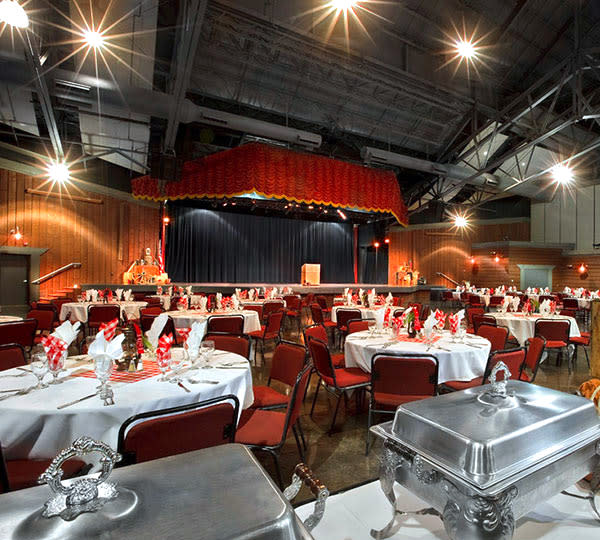 Thanksgiving Point has a variety of venues for large parties and the Show Barn is one of the most elegant. Order Thanksgiving Point catering, use the stage in the barn, and create a party that your company or group will love! Some fun activities to make the night incredible could include Christmas gifts, holiday skits, and holiday music!
Take your company to the Springville Museum of Art for a magical holiday party! The setting is elegant and beautiful, built in 1937 and reminiscent of Spanish colonial-style architecture. There is also artwork covering the walls, which will add a deeper dimension of beauty to your holiday party.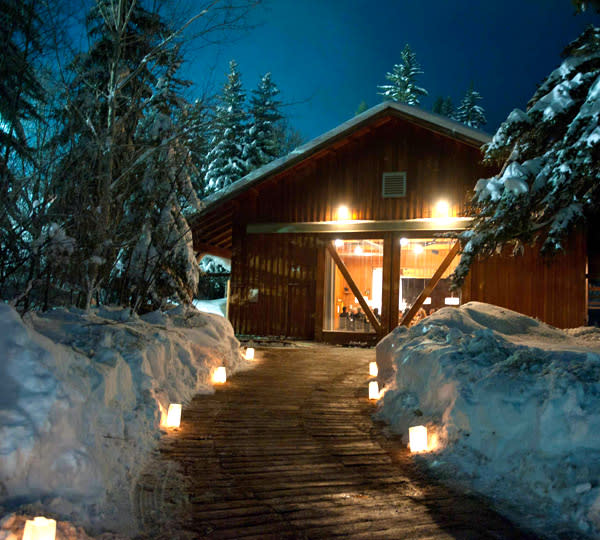 Sundance Resort during the winter is just magical, with snow covering the ground and the pine trees that surround the resort. Guests will love being able to visit the mountains for a holiday party in this rustic setting. The Redford Conference Center also has a wall of windows lining the hallway, so guests can enjoy the gorgeous scenery from the comfort of the party.
Dinner Party Locations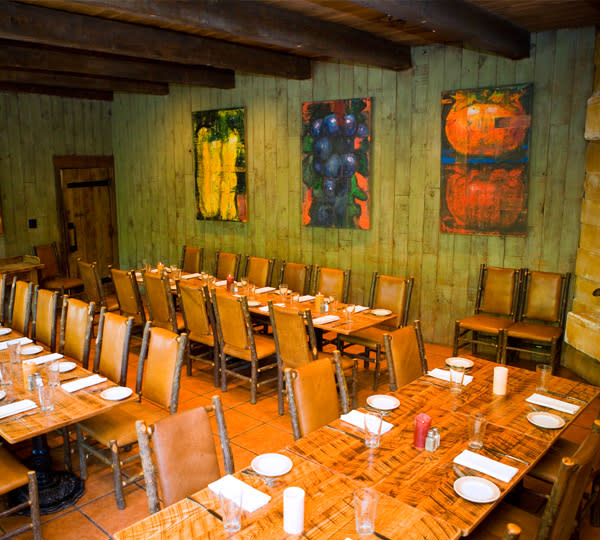 While you're visiting Sundance Mountain Resort's art studio, take your group to the Foundry Grill for a delicious brunch, lunch, or dinner. They serve appetizing cuisine, from brussels sprouts to charcuterie boards. The rustic setting is perfect for the holidays, especially as you cozy up next to the fireplace.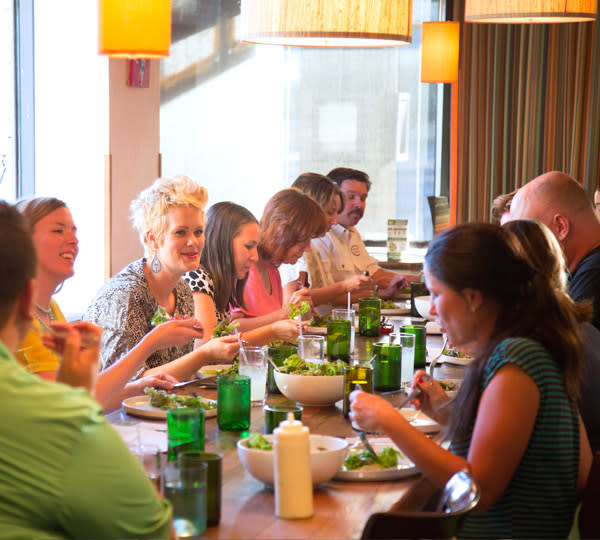 Communal has long been known for its large table that fits plenty of people around it. Reserve the table and take your group for an unforgettable meal with locally-sourced ingredients. Something else that makes Communal unique is that the dishes are served in large portions, meant for sharing, so you will feel like you're having a Sunday dinner for your holiday dinner.
With a group of up to 20 people, reserving a table at Harvest Restaurant at Thanksgiving Point will immediately earn you brownie points! This sit-down restaurant provides award-winning food and handcrafted lemonade. Plus, it's located within walking distance of the Museum of Ancient Life and the Butterfly Biosphere, which can make great add-ons to your holiday party.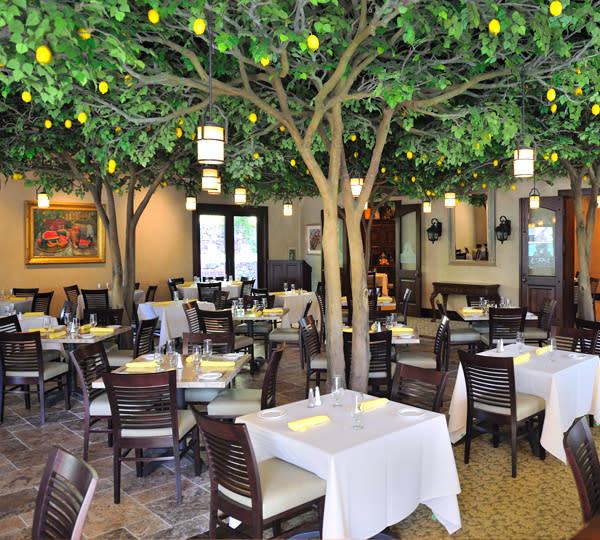 Fine dining under lemon trees is what your holiday party could experience at La Jolla Groves. Book a private dining room that can hold groups from 10-225 people and then enjoy the elegant atmosphere, delicious cuisine, and phenomenal service that is provided. They also have screens and projectors for rent in case you want to look back on the year and relive memories.
For a more casual holiday dinner setting, reserve space at Strap Tank Brewery. They have locations in Springville and Lehi that can accommodate larger group sizes. While there, indulge in eating juicy hamburgers and an assortment of lagers and ales, while enjoying the atmosphere decorated with legendary bikes and memorabilia.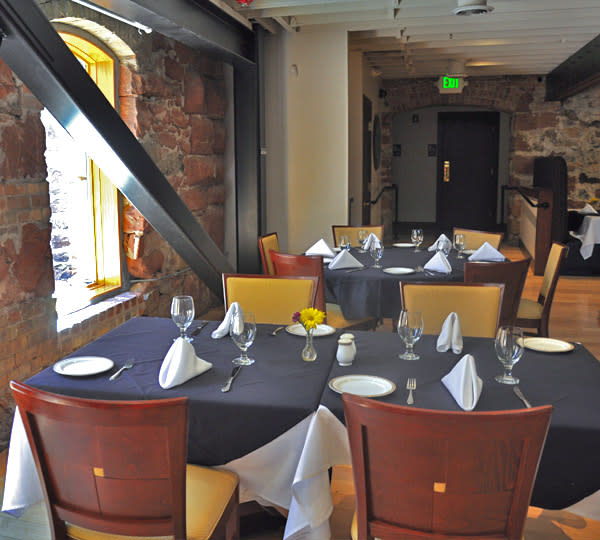 The perfect banquet setting can be found at Magleby's Grotto. The private dining room can seat 20-80 guests, with a cascading waterfall and china dishes. If you're looking for an elegant and calm setting for your corporate or other holiday party, this should be one of your first considerations.
If you would prefer to set up your own dinner party, reserve space at Southworth Hall in a beautiful historic Downtown Provo building. The venue is large enough for a dance floor and holiday games, or it can be set up with enough tables to host a large group. Tables and chairs are provided--you just bring the food!
With any of these company holiday party ideas and family friendly Christmas party ideas, you're sure to create an unforgettable time! For more ideas, visit our venues page or explore our things to do page and calendar of events.