Winter in Utah is at its best when the ground is covered in a blanket of fresh, powdery snow, and what better way to celebrate a snow day than the time-honored tradition of sledding? If you're looking for the best sledding spots to take the family, we've rounded up some of our favorites in Utah County to share with you. Grab your sleds and head outside for some frosty fun!
Location: 2620 N 1200 E, Provo
Various sledding routes can be found at Rock Canyon Park that are both safe and fun for your little ones as well as steeper hills for your adrenaline junkies. Give yourself plenty of time, as this local favorite can get busy at times despite the large size of the terrain. It's worth the trip just for breathtaking views of Mount Timpanogos and its surrounding mountains. Get ready to zip, zoom, and maybe even (but hopefully not) crash on these exciting hills.
2. Peteetneet Academy

Photo courtesy of Daily Herald, Copyright
Location: 10 N 600 E, Payson
In the field next to Peteetneet Academy are easily accessible hills, perfect for a day of tobogganing! There's plenty of room for everyone at this first-rate spot for Utah sledding. And for those tired of walking up snow-covered slopes, check out the nearby playground for more fun.
3. Cherry Hill Elementary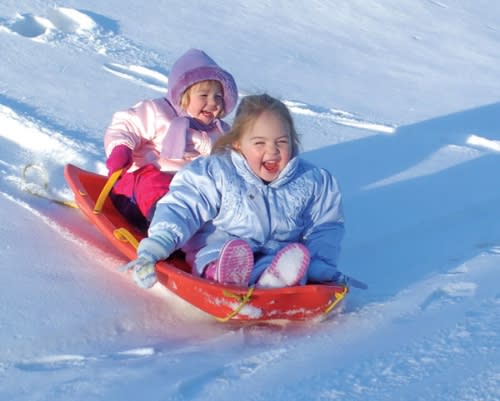 Photo courtesy of Daily Herald, Copyright
Location: 240 E 1800 S St, Orem
Head to Cherry Hill Park in Orem for a day full of memory-making moments! Cherry Hill Park is an oasis in the middle of the city, offering a great spot for winter coasting! You're sure to be grinning ear to ear as you fly down this hill.
4. Tibble Fork Reservoir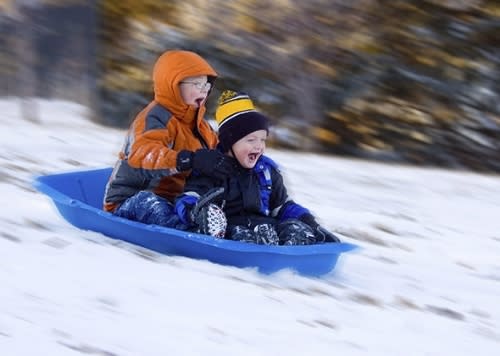 Location: N American Fork Canyon Rd, Provo (best accessed from SR 92)
If you're looking for a beautiful forest drive along with your winter adventure, head over to Tibble Fork Reservoir! In American Fork Canyon, just past Timpanogos Cave National Monument, this winter wonderland offers a variety of sledding hill options as well as picturesque mountain views. Bring the whole family along for this memorable sledding adventure.
5. Oak Canyon Junior High

Photo courtesy of Daily Herald, Copyright
Location: 111 S 725 E, Lindon
Appreciate all the beautiful mountain views south of Salt Lake City when you head over to Oak Canyon Park! With plenty of hills, you'll reach maximum velocity on your plastic taxi in the Utah snow while Jack Frost tries to nip at your nose.
6. Spanish Oaks Elementary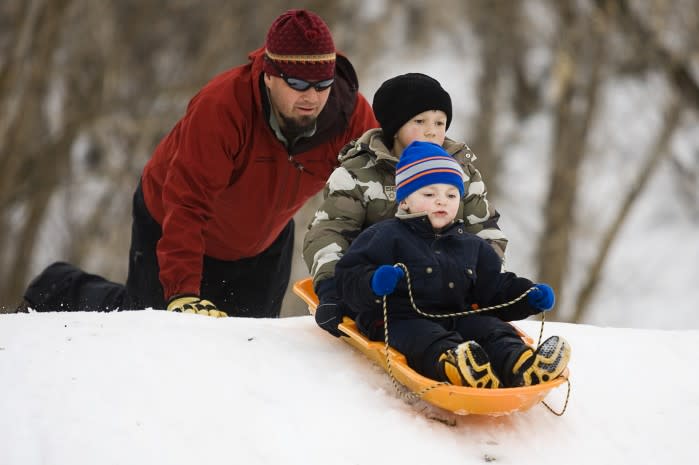 Photo courtesy of Daily Herald, Copyright
Location: 2701 E Canyon Crest Drive, Spanish Fork
If you're looking for a great place to test out your inner tube in south Utah county, check out Spanish Oaks Elementary. Their soccer field offers a prime spot for dashing through the snow!
7. Silver Lake Amphitheater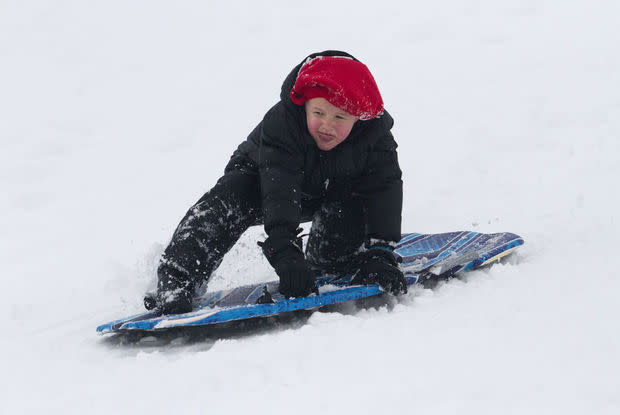 Photo courtesy of Daily Herald, Copyright
Location: Corner of Pony Express Pkwy and Silver Lake Pkwy, Eagle Mountain 
Pack your thermos of homemade hot chocolate and journey to the West side of Utah Lake to enjoy Silver Lake Amphitheater. This location offers a big bowl of sledding areas, many of which provide a lengthy course--perfect for racing each other!
8. Bicentennial Park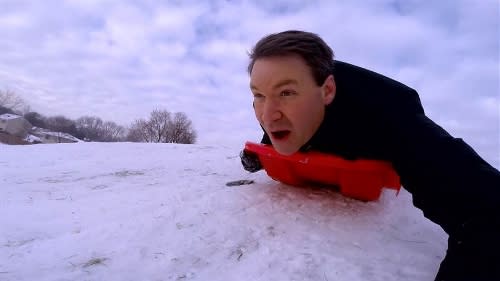 Location: 1400 S 1600 E, Provo
This beautiful park has walking paths and one massive hill to sled down, perfect for picking up speed and getting some air! When you're done sledding, appreciate the beautiful scenery, such as the small pond and snow-covered evergreens.
Don't forget to bundle up in this cold weather, as proper winter clothing will make your sledding experience much more enjoyable. When you've decided to wrap up your outdoor activities, treat yourself and your family to a cup of hot cocoa from one of our local drink shops!
For more ideas of things to do in the snowy season, check out Adventure Sledding or our list of winter activities.