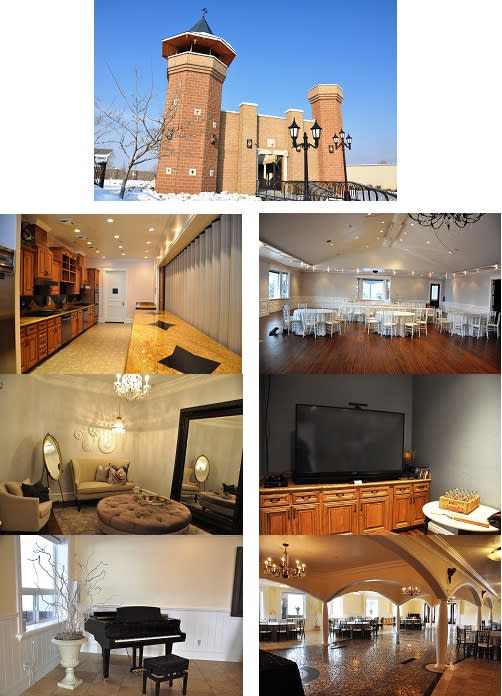 Before Castle Park became a reception center, it was a private estate used for family gatherings and was designed with elaborite fairytale and Disney themes. You can still see traces of the previous decor around the property--including the Snow White and the Seven Dwarfs cabin near the castle. It was built by a local retired couple who had around 40 grandkids, nearly all were girls, that lived in the neighborhood. Some of you may remember when the Princess Festival used to be held here. The family hosted the festival on their grounds until it grew too large to be held there.

The new owners converted the property into more of a neutral-toned atmosphere to accommodate wide-ranges of reception colors. The space is used primarily for receptions, but it also doubles as a corporate and family meeting center as well.

Castle Park was designed to accomodate all types of demographics--including those with tight budgets. You will find that Castle Park has some of the lowest rental prices around. On their site you can even compare prices with other venues.

There are multiple places to host a reception on the grounds. The main building consists of an upper and lower ballroom. The garden is another area to rent out for outdoor events. And of course there is their famous castle available for rent.

The main building has two brides rooms and a grooms room available. The lower ballroom is home to a baby grand piano and the upper ballroom has a large flat-screen TV. There is a kitchen in the main building which is shared if two parties are going on at the same time. The large kitchen is great for prepping your own food before the party. Castle Park also allows alcohol to be served as long as it is served through a designated bartender.

Another reason Castle Park is so great is because of the wide range of items you can rent. You are welcome to bring in your own decorations, of course, but Castle Park offers glasses, linens, table runners, backdrops, center pieces, and more available for rental. You can also rent out a park pavilion which is great for a summer wedding or outdoor family gathering.

Visit their website for more information on renting out their gorgeous property!