1. Highland Glen Park 
Highland Glen Park is located at 4800 W Knight Ave in Highland, close to Lone Peak High School. This park offers a 3 acre pond, so bring your fishing rod because the fishing here is great! Aside from the fishing, this park offers a playground, a large pavilion, a paved trail for running/biking, and a beach volleyball court. The wooden docks at the lake make for a great photo op for the whole family, so stop by Highland Glen Park on a lazy Sunday and enjoy everything it has to offer.
2. Nielsen's Grove Park 

Nielsen's Grove Park is located at 2000 Sandhill Road in Orem, just south of UVU and Walmart. Nielsen's Grove Park is historically significant, because the land was originally developed by Jorgen Christian Nielsen, a Danish immigrant who settled here in the 1870s, based on the Royal Gardens of Denmark. Today, the park includes a pond that is home to ducks and fish, a playground, large swings, a flower garden, a large pavilion, walking trails, grass playing fields, a fountain, and a reflecting pool.
3. Payson Constitution Park & Pool

Constitution Park is located at 655 South Main Street in Payson, located near Payson High School. The biggest attraction here is the city pool that features waterslides, a lazy river, a lap pool, and a zero-depth entry leisure pool with a water playground. The price is great too—just $4 for entry into the pool area. This park also is home to a brand new skate park, a grass playing field, a pavilion, and a playground. 
4. Spanish Oaks Reservoir 

Spanish Oaks Reservoir is located at 2931 S Spanish Oaks Drive, and is open from March 1st until November 30th, from dawn to dusk. This park includes pavilions with gas grills, restrooms, picnic tables, a playground, and a walking path. At this reservoir you can swim, fish, or just sit back, relax, and soak up the sun on the man-made beach.
5. Patriot Park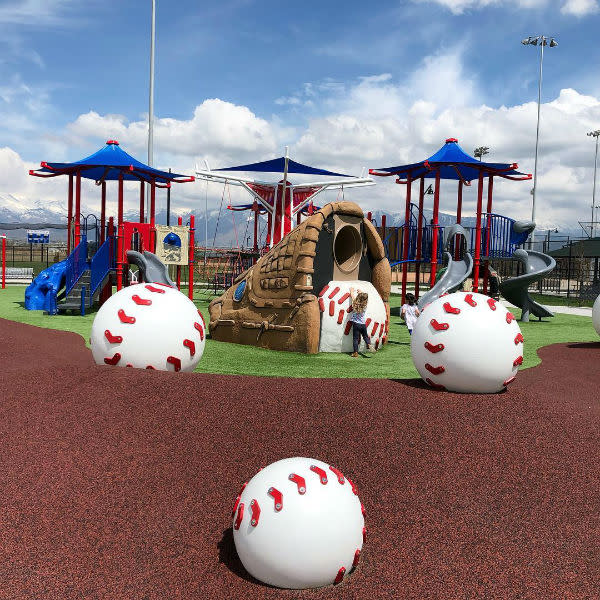 PC: @utahsadventurefamily Instagram
Patriot Park recently opened at 444 E. 400 S. in Saratoga Springs. This park is a baseball lovers dream!. At the park you'll find 8 baseball fields, pickleball courts and a turf area. One of the highlights of this park is it's themed playground. Let your kids crawl over giant baseballs, slide down a glove, or peek through a catcher's mask! Patriot Park has also installed a veterans monument to honor our former military members. Pavilions and restrooms are available to the public as well.