Header Image Courtesy of @cdtwitchy Instagram
Photography is a popular hobby for Utah County locals and it's easy to see why. Blessed with awe-inspiring natural scenery, Utah Valley would tempt anybody to break out their camera and capture the beauty of our local landscapes. If you're looking for some photo locations especially suited to the winter season, we've gathered a list of some of our favorite winter photography locations. Whether you're an amateur nature photographer snapping photos with your phone or a professional looking for some additional inspiration, these locations always provide stunning backdrops for your images.
Note that during winter access to many of these locations may be restricted due to heavy snow or other weather conditions. Make sure to check weather information before heading out. Hiking is often required to reach the following destinations, so come prepared for a day of traversing snowy or muddy terrain. 
Mountain/Forest Locations
American Fork Canyon
Sundance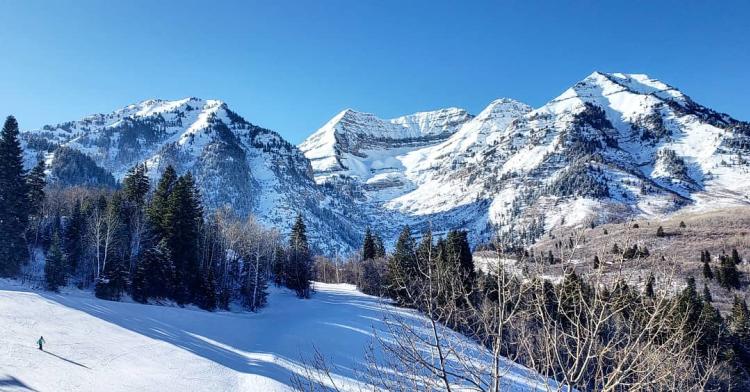 Photo Courtesy of @_shirenita Instagram
Sundance Mountain Resort furnishes landscapes that photographers have salivated over for decades. Sitting in the Wasatch Mountain Range and the Uinta-Wasatch-Cache National Forest, you're bound to capture some spectacular nature shots. The resort is easily accessible from Provo Canyon and turning onto the SR-92. Note that commercial photography requires permission from the property and has associated fees. Drones are not permitted on the property. 
Tibble Fork Reservoir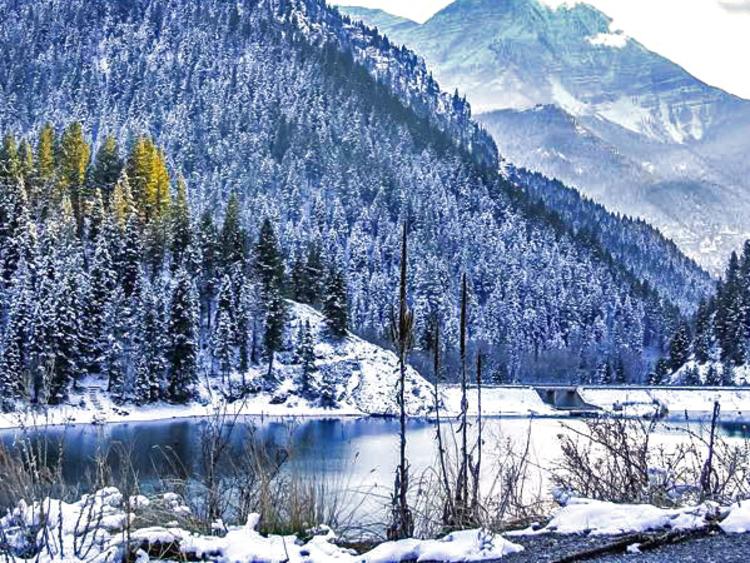 Tibble Fork Reservoir is a popular recreation spot in the summer but is the perfect backdrop for beautiful winter landscape shots. At this destination, you'll find a stunning blue/green reservoir surrounded by mountains covered in pine trees. The SR-92 is closed at certain junctions during the winter, so the best way to reach Tibble Fork is to take the Timpanogos Highway from the north. There is typically a $6 access fee for American Fork Canyon and commercial photography may require a permit. For more information concerning commercial photography, check with the local Forest Service Ranger District.
 
Provo Canyon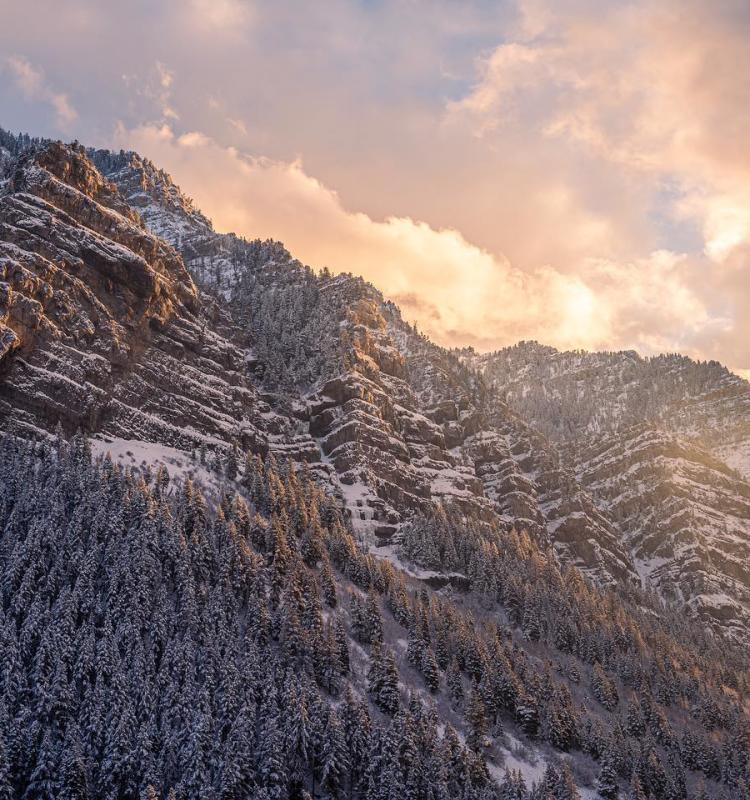 Photo courtesy of @jacobejohnson Instagram
Provo Canyon connects the Provo Metro to the Wasatch Back and is considered one of the prettiest scenic drives in Northern Utah. Several community parks, along with pullouts along the side of the road, provide parking areas for those interested in longer shoots. Outside of highlights, such as Bridal Veil Falls and the Provo River, you can find spectacular mountain formations and forested trails that capture the imagination and inspire creativity.
Payson Canyon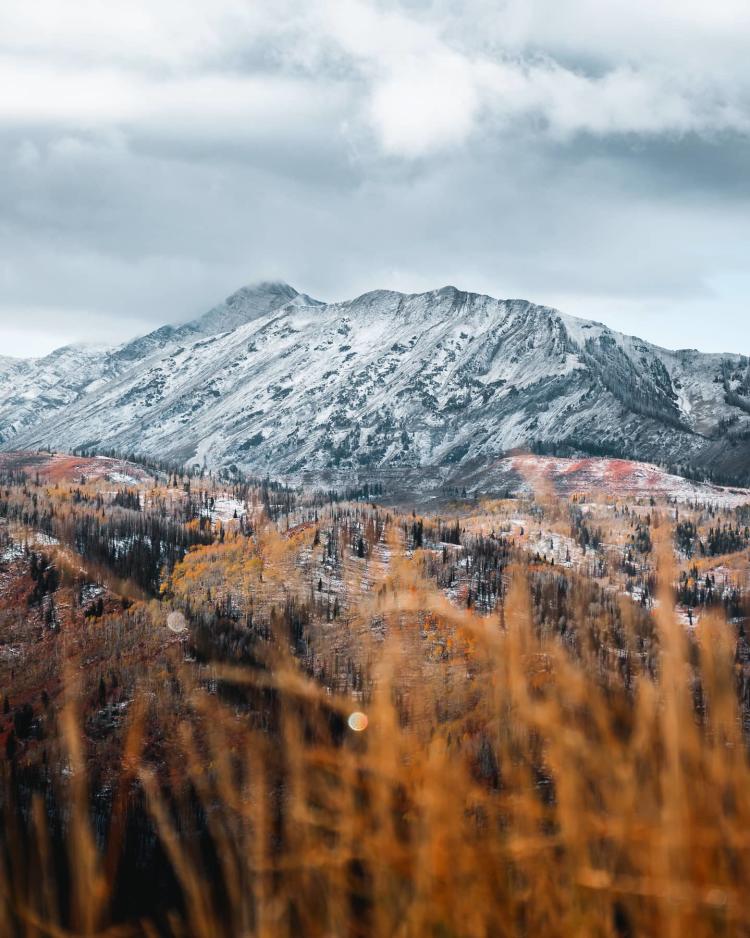 Photo courtesy of @explorewithsimon Instagram
Payson Canyon marks the entrance to the Nebo Loop Scenic Byway. If you're looking for beautiful mountain scenery that's somewhat less busy than the canyons to the north,  head to Payson Canyon for your landscape photos. While much of the Nebo Loop is closed during winter, you can find accessible photo locations north of the ski lot above the Grotto Trailhead. As most campgrounds will be closed, pull-outs along the side of the road are your best options for parking. 
 
Lake/Water Locations
Utah Lake
Utah Lake offers some of the most unique photo ops in the county. In winter, the water often freezes over, with winds creating ice floe stacks along the shoreline. Surrounded by mountains, wetlands, and cattails, a day at the lake will add an array of beautiful images to your portfolio. Take your photos during golden hour to capture phenomenal sunsets over the lake. 
Utah Lake has several access points that offer parking, but keep in mind that many charge entrance fees. A few spots along the lake we recommend for stunning photos are:
Utah Lake State Park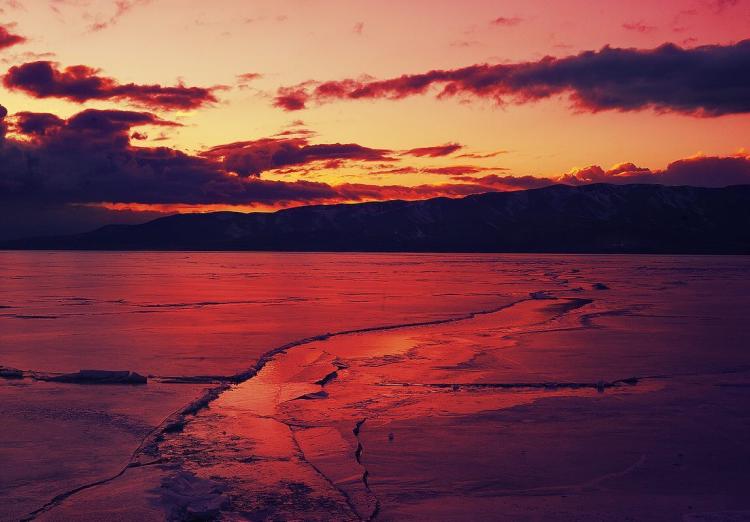 Photo Courtesy of @fordtough1975 Instagram
Cost: $10 per vehicle, $4 for walk-in
Plenty of Parking
For commercial photography, a special use permit is required.
Lincoln Beach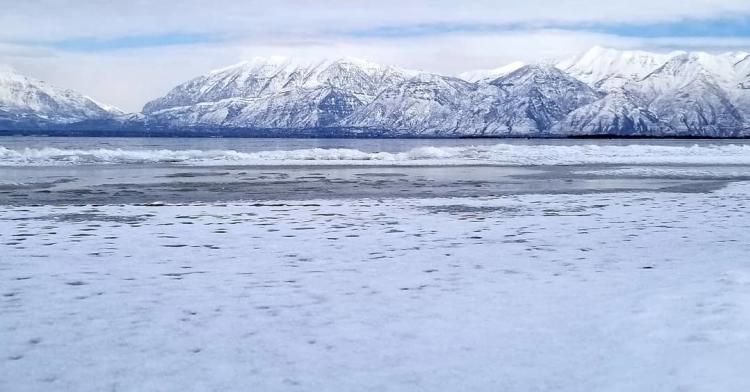 Photo courtesy of @katherine_field Instagram
Cost: Free
Plenty of Parking
Lindon Marina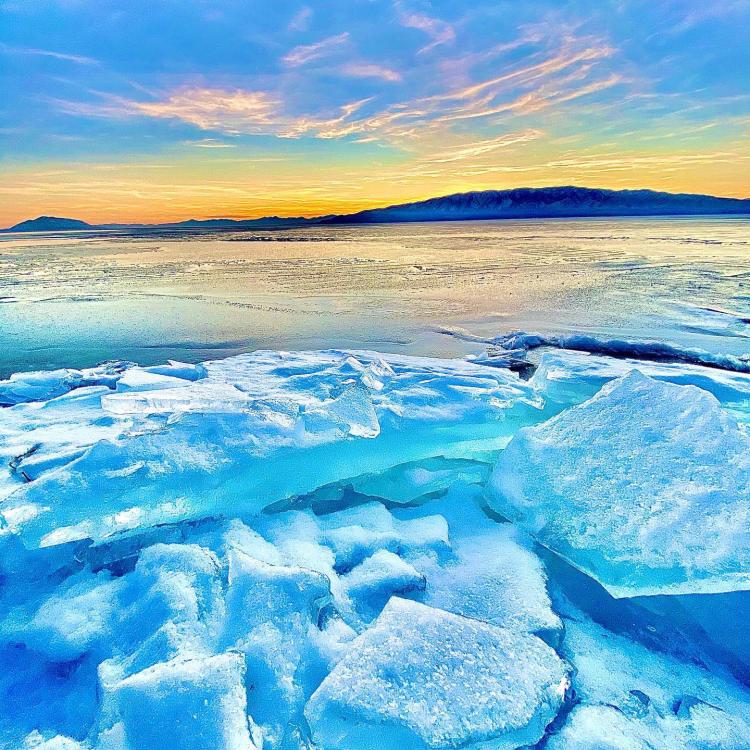 Photo courtesy of @uu_awesome Instagram
Cost: $10 per car, $3 for walk-in
Plenty of Parking
American Fork Marina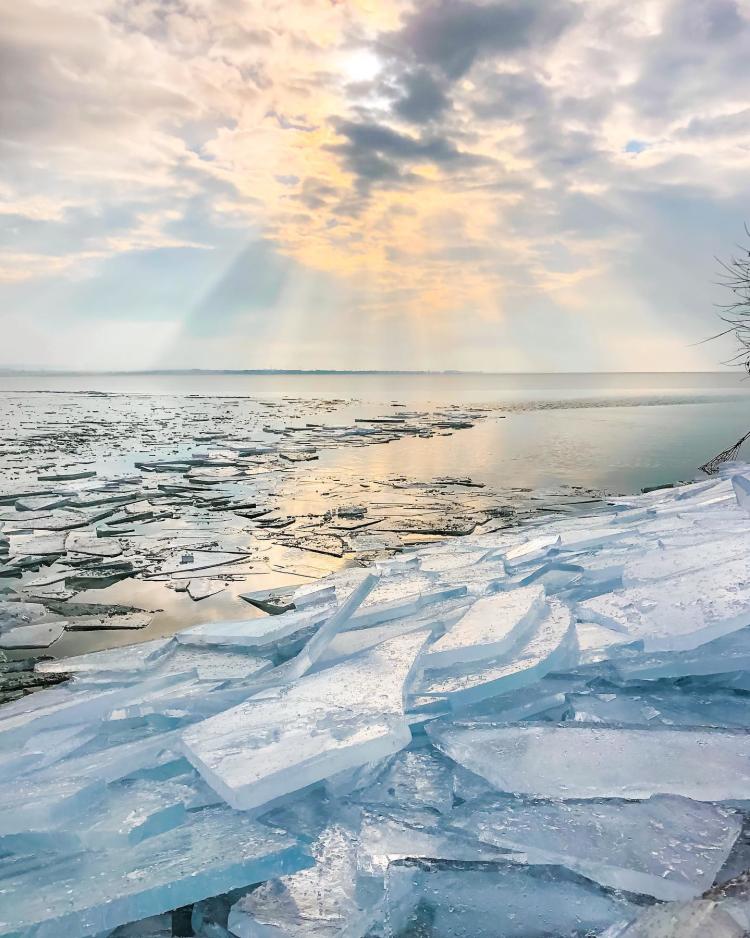 Photo courtesy of @parents_who_travel Instagram
Cost: $5 drive-in, $2 walk-in
Plenty of Parking
There are also several free public access pullouts along the lake that are perfect for the photographer who enjoys outdoor adventures and requires fewer amenities.
Provo River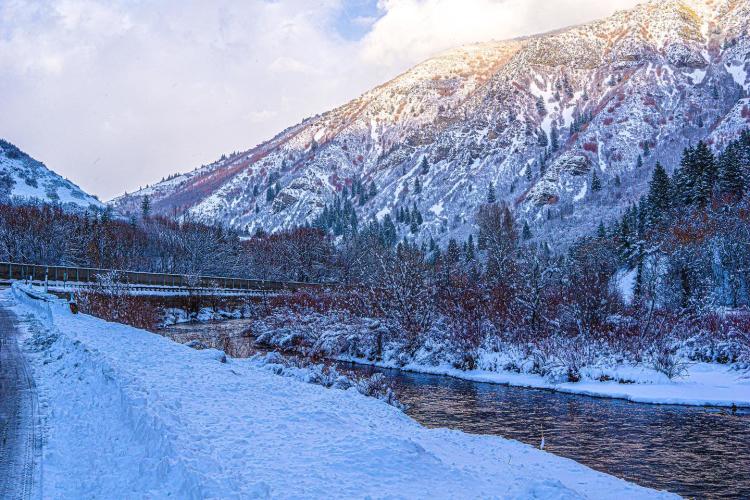 Photo Courtesy of @kareokiephoto Instagram
If you're looking for a place to test out long exposure techniques and slow shutter speeds, the Provo River is a great destination to check out. The Provo River offers some beautiful aquatic scenery and a peaceful atmosphere in which to take photos. The river's headwaters originate in the High Uintas and flow through Wasatch and Utah County before reaching the final destination of Utah Lake. In Utah County, you can find the river flowing throughout Provo City, but the best spots for landscape photography are up the canyon or close to Utah Lake. Up the canyon, you'll have mountain backdrops surrounding the river and can find several parking spots at one of the local parks or pull-outs along Highway 189. Utah Lake State Park is a popular place to park for those who want to see the confluence of the Provo River and Utah Lake. 
Bridal Veil Falls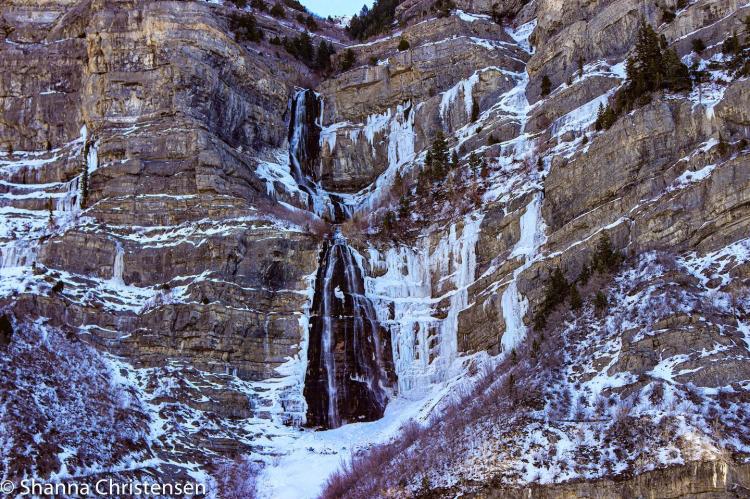 Photo Courtesy of @snappin_happy_photos Instagram
One of the most iconic destinations for nature photography in Utah County is none other than Bridal Veil Falls. This 608 ft. waterfall is one of Utah County's natural wonders and makes for stunning pictures. When it's cold in the winter the falls freeze over, and you can find ice climbers attempting to scale them. Experiment with vantage points and leading lines to get the best shot of this natural phenomenon. Parking near the falls in the winter is limited and photographers should stay updated on avalanche warnings. 
Fields/Scrubland Locations
Highway 68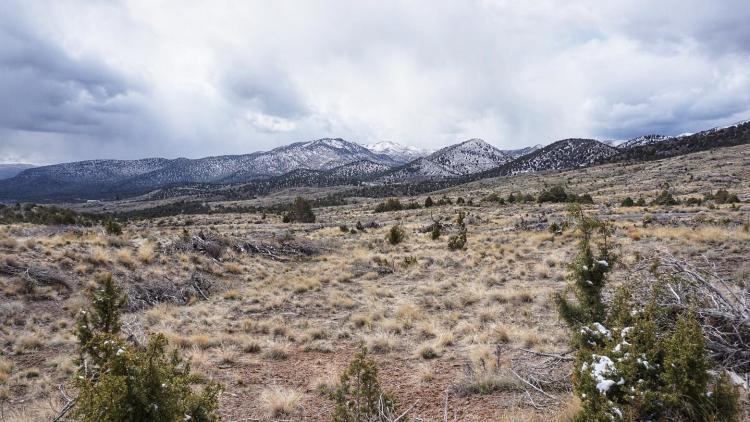 Photo Courtesy of @layoverjourney Instagram
While Utah Valley is known for its lush Mountain settings, the West side of Utah Lake offers some fascinating desert and scrubland terrain. Driving Highway 68 past Eagle Mountain towards Eureka, you can find wide-open spaces filled with desert scrubland that has a beauty all its own. Grab your wide-angle lens and capture this unconventionally beautiful landscape.
West Mountain
While technically a mountain, West Mountain borders the south end of Utah Lake and lies outside of a national forest. The flora and fauna reflect the dry atmosphere, lending itself to small shrubs and grasses rather than a tree-covered landscape. Sometimes described as desolate or barren, this area lends itself to using wide-angle lenses and great panoramic shots featuring rolling hills and clear skies.