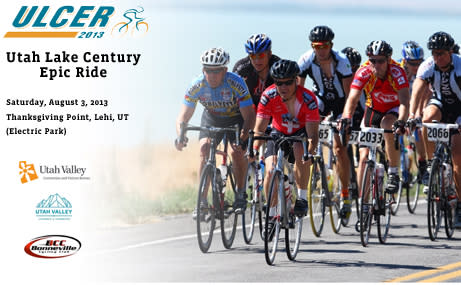 In less than four weeks' time, Utah Valley will be filled with close to 1000 bike riders who will cycle in the Utah Lake Century Epic Ride, nicknamed ULCER. Riders can choose between 30, 60 and 100 miles of riding around the Utah Lake. All proceeds from the event will go to benefit Habitat for Humanity. Habitat for Humanity builds and repairs houses all over the world to help everyone have a decent, safe, and affordable place to live.

One excited ULCER rider, Cade Taylor, shares his experience about the ride:

"Like the name implies, the ULCER isn't for the faint of heart but isn't so hard that it will give you actual ulcers. The ULCER was the first official century ride I participated in and I have been back each consecutive year now going on my fifth year. What originally caught my attention was the relatively level course and the ability to ride it on my single speed bike – which is all that I had at the time. I'm not the hardest core biker but I've been able to see my completion time improve each year by minutes to hours – in large part due to the multi-geared bike I now ride.
There is something unique about the ULCER that brings me back each year. I don't know if it is the joy of being pulled along in a peloton of other riders or the peace and tranquility of finding yourself riding a stretch alone on the West side of Utah lake. Whatever it may be, it brings me back year after year."

See more about Cade's experience in this video here:




There's still room to sign up for the ULCER! The ride will offer breakfast, have plenty of rest stops with food and hydration stations, and a medal for crossing the finish line, among other things! Don't miss you chance to be part of the fun!

The Utah Valley Chamber of Commerce and the Utah Valley Convention and Visitors Bureau have teamed up with the Bonneville Cycling Club to sponsor this event. Learn more here or register here.

Riding isn't your thing, but you want to be a part of the fun? Volunteer!