This week's featured trail is a Utah Valley all-around favorite, Bridal Veil Falls.
Bridal Veil Falls is a double cataract waterfall that is 607 feet tall. It's one of the most popular hikes in Utah Valley, but very few people know the history behind the falls. In the 1960s, a restaurant called the Eagle's Nest Lodge was built above the falls. To get to the Eagle's Nest Lodge, visitors took a tram up to the restaurant. This tram was heralded as one of the steepest trams in the world. In 1996, an avalanche destroyed the tram station and was never repaired. Then in 2008, a manmade fire engulfed the Eagle's Nest Lodge and now all that remains is some charred metal beams.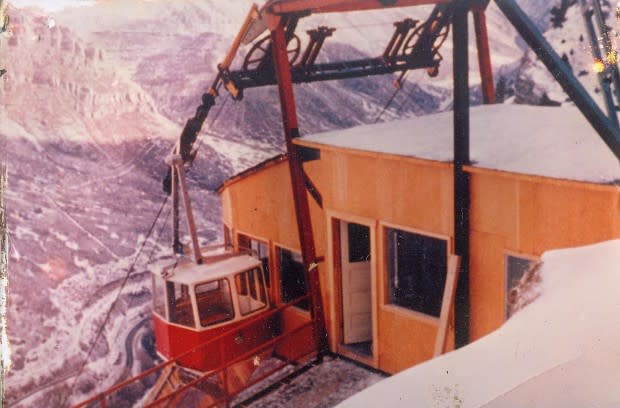 Located in Provo Canyon, the waterfall is easily seen from the highway (but if you're driving, remember to keep your eyes on the road). If you want to go up to Bridal Veil Falls, there is a pullout off Highway 189. Just look for the Bridal Veil Falls sign. The pullout takes you to a parking lot by a little park. You can park here and take an easy half mile walk to Bridal Veil Falls or continue on to a smaller parking lot in front of the falls.
At the base of the falls is a bridge where many people congregate to take pictures of the falls. The bridge goes over a little pond that, in the summer, is filled with rainbow trout. For a couple quarters, you can buy fish pellets to toss out to the trout, a kids' favorite. You can also wade over to the base of the falls and enjoy the cooling mist.
If you go east of the falls, you will find the Bridal Veil Falls Trail. This trail will take you to the lower tier of the waterfall. The trail is not long-it should only take you about 15-20 minutes-but it's pretty steep. Once you reach the bottom part of the falls, I would just stay put. It might be tempting to climb higher up the falls, but people have been injured and have even died at Bridal Veil Falls. An ER run is not necessarily a good way to spend a beautiful summer day so stay safe!
So if you're looking for a trail the whole family will enjoy, I highly recommend Bridal Veil Falls.