Utah Lake Scavenger Hunt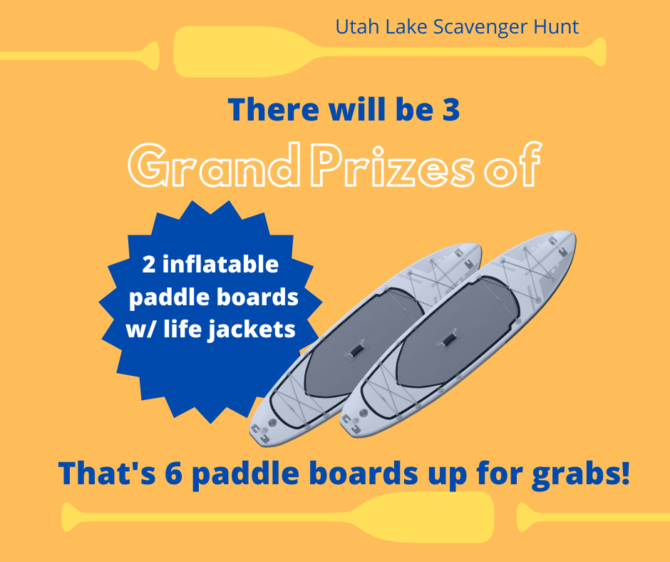 The Utah Lake Scavenger Hunt returns!! Do you like competitions? Do you love Utah Lake? This is the event for you! The events runs June 3-12, and you can join at any time. This countywide scavenger hunt, focusing on Utah Lake, uses the GooseChase app to create exciting Photo, Video, Text and GPS scavenger hunt missions out around Utah Lake! Each of these missions are assigned point values by the organizers, and the players are automatically awarded points after completing each submission on their device.
Some of the 150+ possible missions require people to visit the lake for a variety of activities while other missions include trivia questions about the lake, watching educational videos, capturing photos or videos of various recreation activities. Several missions have teams search down at the lake for hidden caches of cool Utah Lake stickers. Each day there will be daily prizes awarded, and at the end there will be 3 grand prize packages of 2 inflatable paddle boards with life jackets!
Get your family and friends together! Make a team! Have some fun! You won't want to miss this!
Click here to access more information about this event!
Photo Exhibit Fundraiser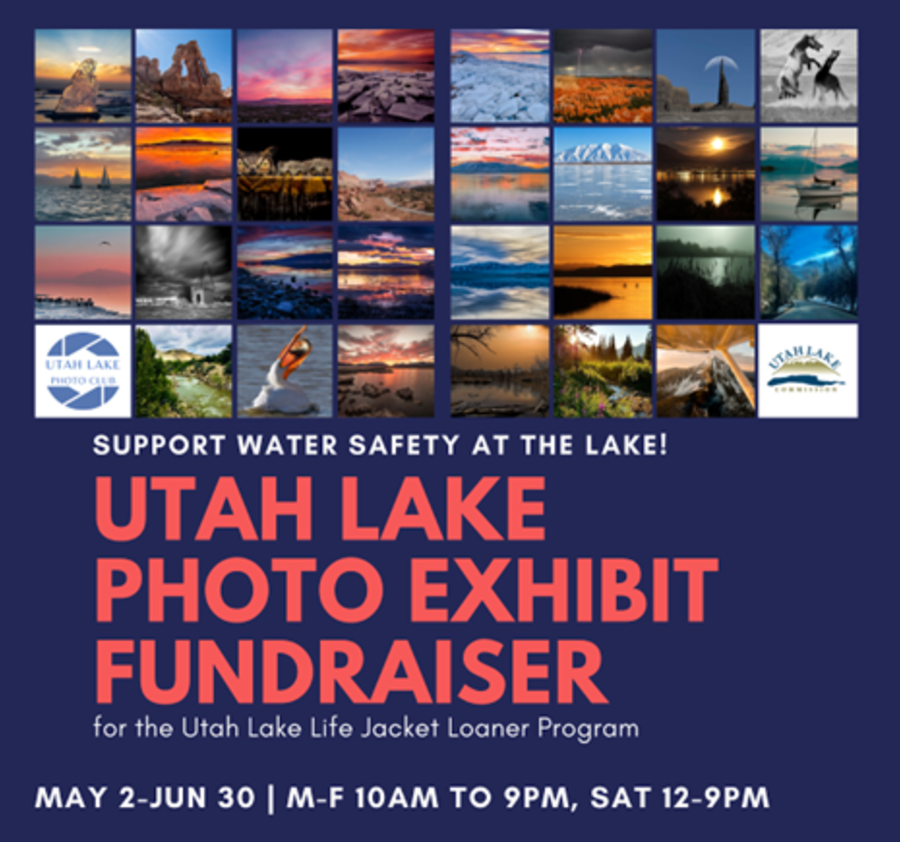 Utah Lake Commission and the Utah Lake Photography Club are hosting a fundraising photo exhibition to highlight beauty throughout Utah. All photos have been donated by local photographers and the sale of prints in person and online will support the Utah Lake Life Jacket Loaner program. 
There are some beautiful prints from some very talented photographers that you have the chance to purchase! Not only will you be helping to support this wonderful Life Jacket Loaner program, but you will also have the opportunity to showcase this beautiful state we live in, with a stunning photo of the lake or the many other beauties of nature in Utah!

Visit the show in person at Scera Center for the Arts in Orem anytime during business hours, May 2nd – June 30th, or click here for virtual access.
Utah Lake Sailing Regatta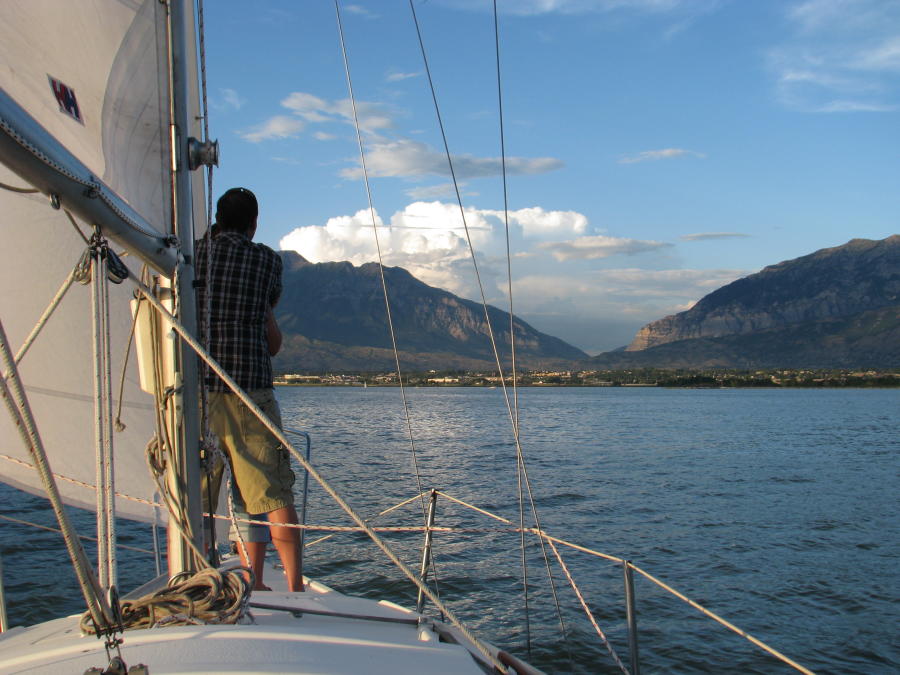 The Utah Lake Regatta is sponsored by Bonneville School of Sailing and the Utah Lake Commission. This fun, exciting, annual sailing event on Utah Lake has been a highlight for sailors throughout the state and beyond. Beginning with 10 competitors at its inception, this event grew to 27 competitors that raced last year. Join us on June 4th 2022 at Utah Lake State Park. It is quite a sight to see all those sailboats on the lake!
If you want more information and to register click here!
Summer Fishfest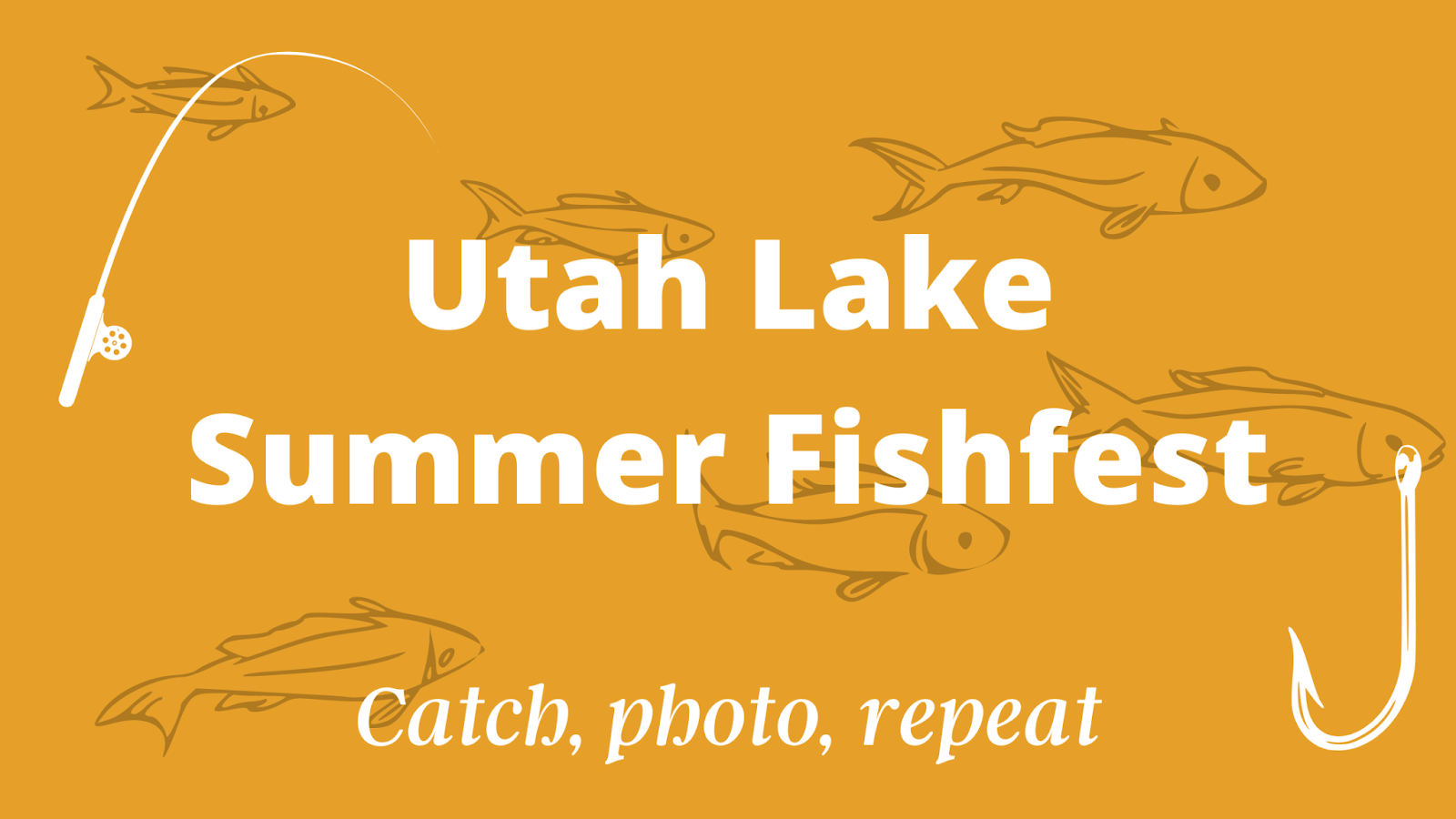 It's back! Well, kind of. Although this is the first ever Utah Lake Summer Fishfest, if that name sounds familiar it's because the idea was pulled from the Utah Lake WINTER Fishfest. We know, original, right? 😉 Like the winter version, this isn't your typical fishing tournament; we like to think of it as a fishing challenge. 
You'll have 9 days from June 18th - 26th, you can go anywhere on Utah Lake, as often as you want, and earn entries to a raffle. Catch a fish, take a photo, repeat. You'll have some fun, stay safe, learn a little about Utah Lake and maybe win a prize! 
If you call yourself an angler, or you want to earn your stripes, click here to register! You don't want to miss out!
Paddle with Care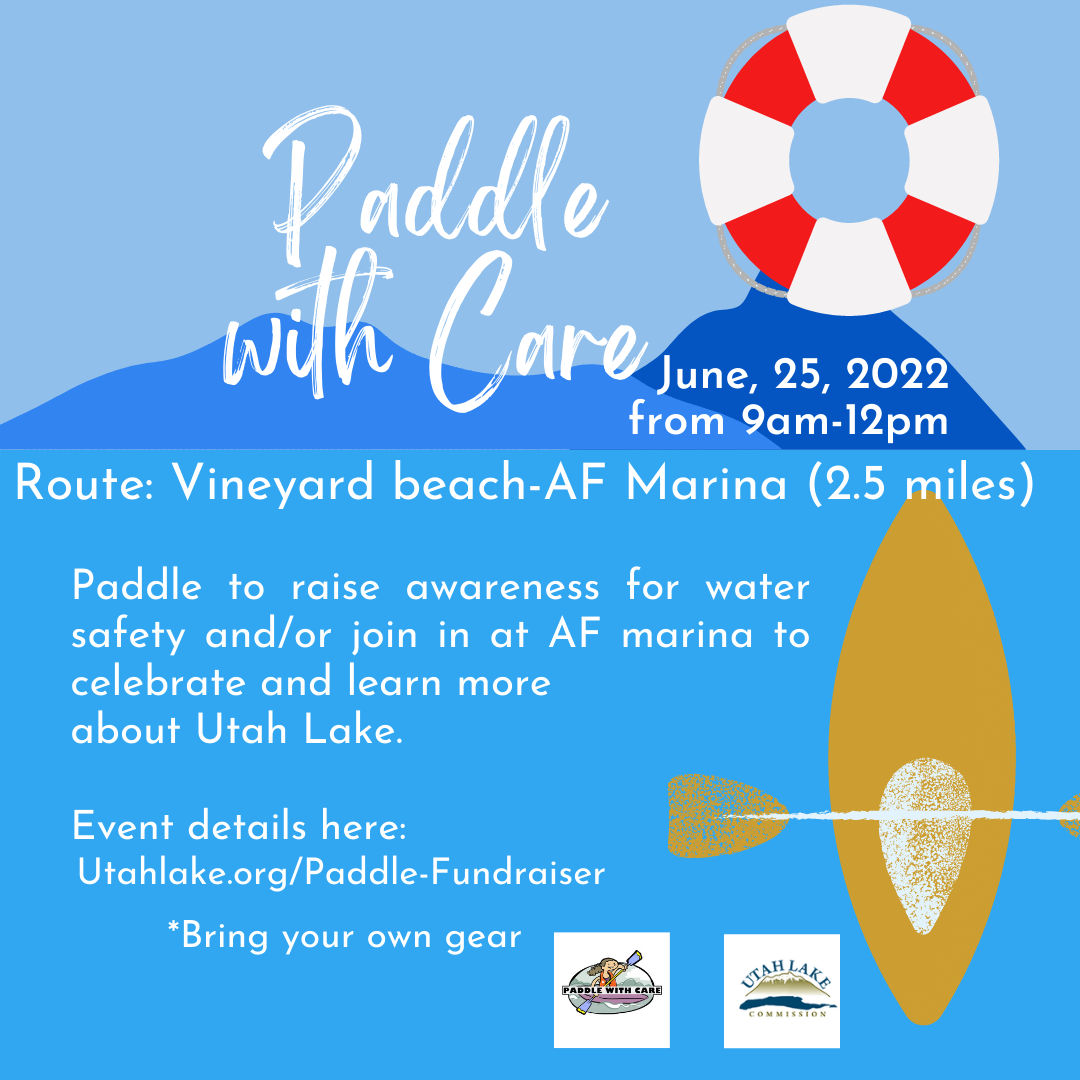 Come enjoy a paddle across Utah Lake to kick off Water Safety Awareness Month this May! The Paddle With Care event is Utah Lake's first water event of the year and will include a memorial paddle route and a celebration at the American Fork Marina. Participants of the paddling portion of this event may paddle via kayak, canoe, or paddleboard. If paddle sports don't suit you, you can still enjoy the celebration at the American Fork Marina!
After the paddlers have launched, the Utah Lake Commission will be hosting a celebration full of educational booths, food trucks, and games! As part of this event, the Utah Lake Commission will be fundraising for the Utah Lake Life Jacket Loaner Program: an initiative to promote water safety awareness and make life jackets more readily available for public use at the lake. This program is in partnership with the families of Priscilla Bienkowski and Sophia Hernandez, two friends who lost their lives at Utah Lake in 2020. The Utah Lake Commission and the families are implementing a lake-wide life jacket loaner program and community outreach to improve water safety. We will also be honoring the Utah County Search and Rescue along with remembering those who have lost their lives on the lake.
We would love to have you join us for this wonderful event! Register here.
Tour the Provo River Delta Restoration Project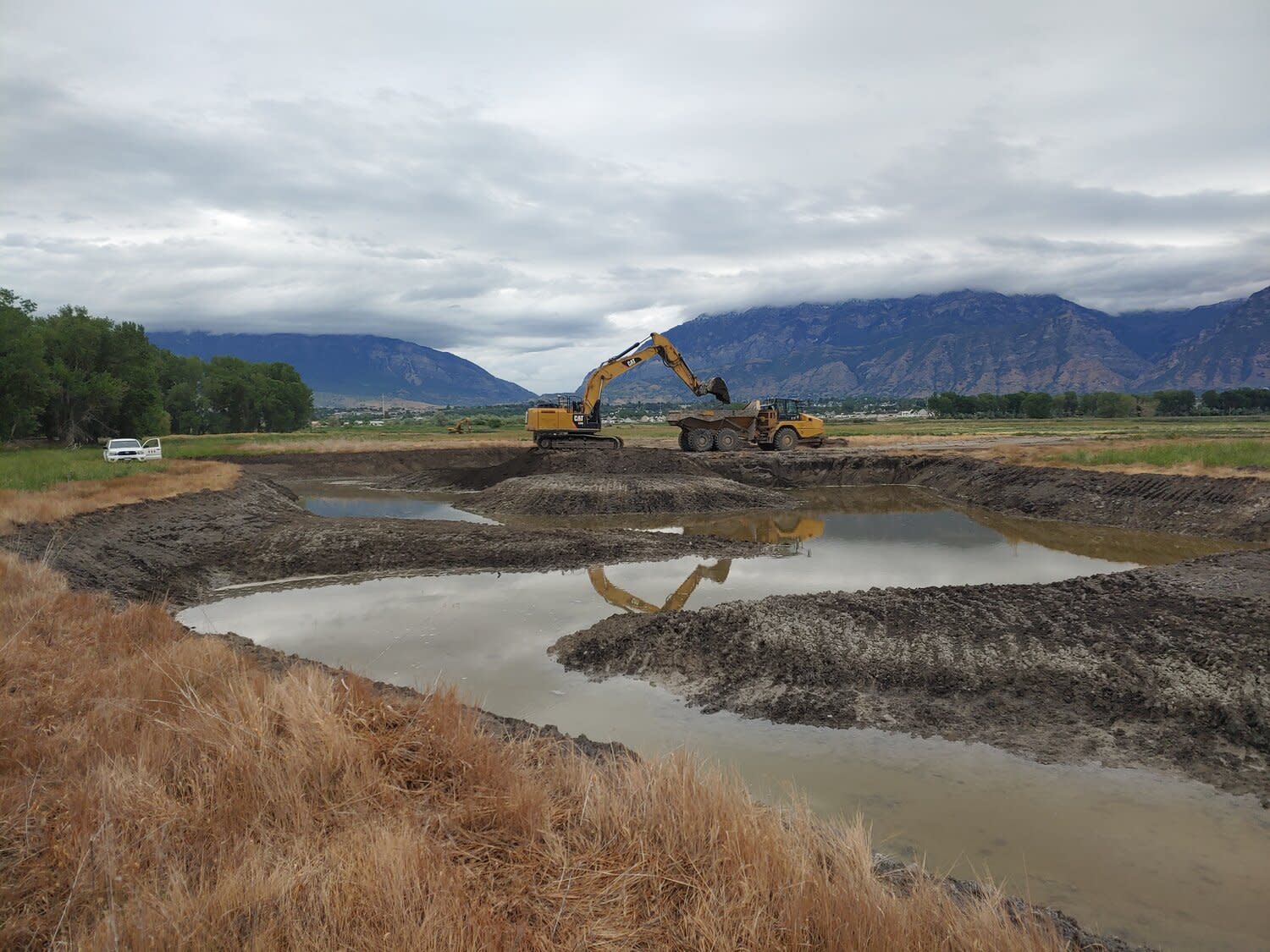 The purpose of the Provo River Delta Restoration Project is to help recover the threatened June sucker, and in doing so, restore the area's natural ecosystem. The project will provide and improve recreational experiences along the existing lower Provo River and to the newly restored delta area. By building this project, partners in the June Sucker Recovery Implementation Program help ensure important water projects linked to June sucker recovery stay on track.
Learn about the Provo River Delta being restored at Utah Lake by signing up here for a tour!
Group size is limited and advanced Sign-up is required. Date options: Second Saturdays of the month begin again in April (April 9th, May 14th, June 11th, July 9th, Aug 13th, Sept. 10th, Oct. 8th) 
Tour time options: 9:00-10:30am and 11:00am-12:30pm; and a community volunteer stewardship session (weed pull) will be hosted as needs arise. Custom group tours and/or stewardship projects also available.
Water Lantern Festival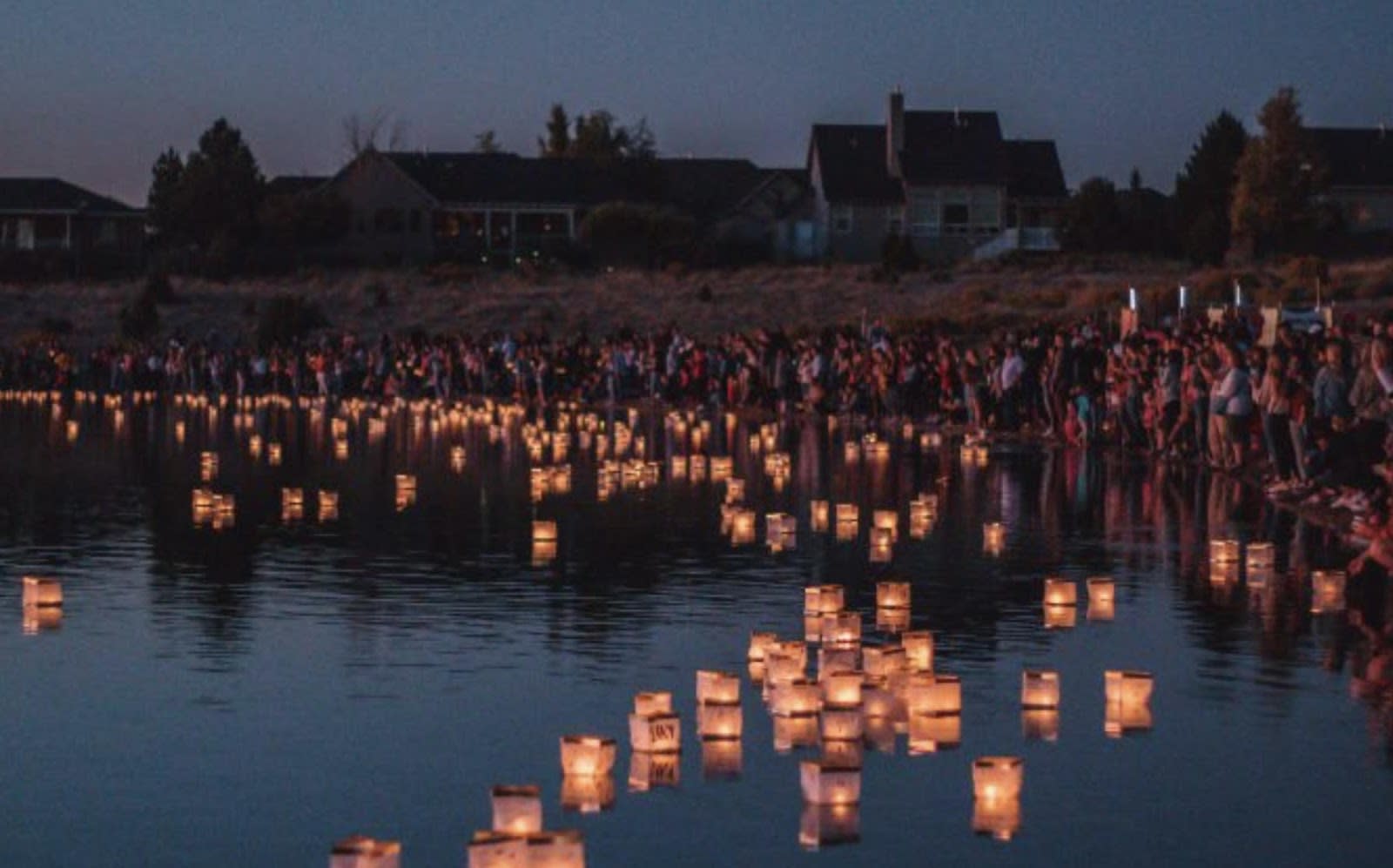 This is an eco-friendly water lantern festival held at the Lindon Marina on September 9th and 10th this year. You can decorate your lantern, and everyone releases their lanterns at the same time. We've seen as many as 1,000+ people participate in this event in one night and it is quite the sight to behold! Visit the event organizer's website here for more info and to register!
In Case it Rains…Watch a Movie!
If you love Utah Lake and want to learn more about its history check out this movie! This hour long movie is a great educational video that provides the amazing history of our beautiful Utah Lake! If you want to learn more and have a nice and relaxing time with your family and friends, this is a great way to do it!