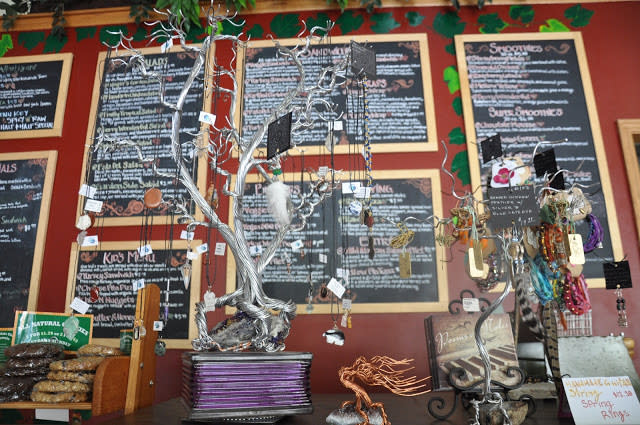 We were in for a real delight meeting with Bobby at Ginger's Garden Café. Bobby was bustling about making sure everything was perfect and that her customers were happy. We could tell immediately she has a real passion for the work she is doing and the healthy lifestyle she promotes. Bobby would soon introduce us to her inspiring way of thinking about food and life.
1.
This location is not one we have heard too much about; would you tell us about it?
"This store and restaurant was simply an herb shop for 25 years. John Christopher started the Christopher School of Natural Healing in the back of the building, and the shop up front sold all sorts or natural supplements. What the owners found was that customers were not seeing the desired results from the supplements because they did not practice a healthy eating plan, which is necessary for the herbs and supplements to be properly effective. So the café was added in. The café was never intended to feed the herb customers their every meal, but to show them how healthy eating is correctly done. The café's purpose is to promote the healthy lifestyle of whole foods diet so natural supplements can be the most effective."
2.
Wow, that is pretty unique! So what is your story here?
"So the café has been open for 8 years; I've been in charge of it for 7 of those years. I've worked with a master herbiest for years and learned a lot from that experience."
3.
What is your favorite thing about the café?
"In my time here, I've seen that the purpose of the café is to show compassion in helping with people's diet. We want to help people and it's a great thing to watch. We'll sometimes hire a person on, not to further our business, but to help them learn how to gather and prepare this kind of food so that they can do it in their own life."
4.
This is a fascinating way to handle employees. Will you tell us more about the culture of the staff?
Employees love it here. But I don't ever try to force an employee to stay with us. I want them to learn and grow and experience. I encourage them to travel, and we often have employees leave and return 4-5 times. We take care of each other and look out for one another. I encourage growth from learning, from submersion. In their time here I encourage them to blossom. We all work together to create the menu, and we all work together in the kitchen.
5.
From where do you collect all your ingredients?
"The majority of our ingredients are from local farmers markets, and we get a lot from
La Nay Ferme
in Provo. It is healthy, organic, and delicious. We even allow our regular customers to sometimes donate their extra garden squash or other things, as long as it is organic, and we test it for that."
Bobby told us that if you pay for quality in your diet now, you won't end up paying for lack of efforts in your diet later. Spending money on quality food and ingredients is not an expense so much as an investment in your health.
Ginger's Garden Café is a uniquely different kind of restaurant and not like ones we usually see. I felt unprepared to take in the knowledge bursting at the seams of the Café. I had other questions prepared for Bobby, but I really felt like I was the student in this interview. She was teaching me, and inspiring me! This little café is a great place to put on your Utah Valley checklist. Come check it out and see what you can learn about healthy eating!
The building also has an upstairs that offers Yoga classes, and soon to come will be room for art class and more space for Christopher's School of Healing. Check out their herb products which are available online
here
. Or check out Ginger's Garden Café website by clicking
here
or their Facebook page by clicking
here
.