With its scenic beauty, user-friendly terrain, and a touch of adventure, this trail is a must-visit destination for those seeking outdoor thrills and natural wonders. So, grab your longboard, bike, or scooter, and get ready to embrace the breathtaking beauty of the Provo River Trail!
---
How long is the Provo River Trail?
The Provo River Trail, also known as the Provo Canyon Trail, offers a captivating outdoor experience that stretches for an impressive 15 miles from Vivian Park in Provo Canyon to the shores of Utah Lake.
While the trail has various sections to explore, one of the most popular areas is the stretch leading to Bridal Veil Falls. This portion is a mere half-mile from the parking lot to the majestic waterfall.
---
Longboarding and Biking through Provo Canyon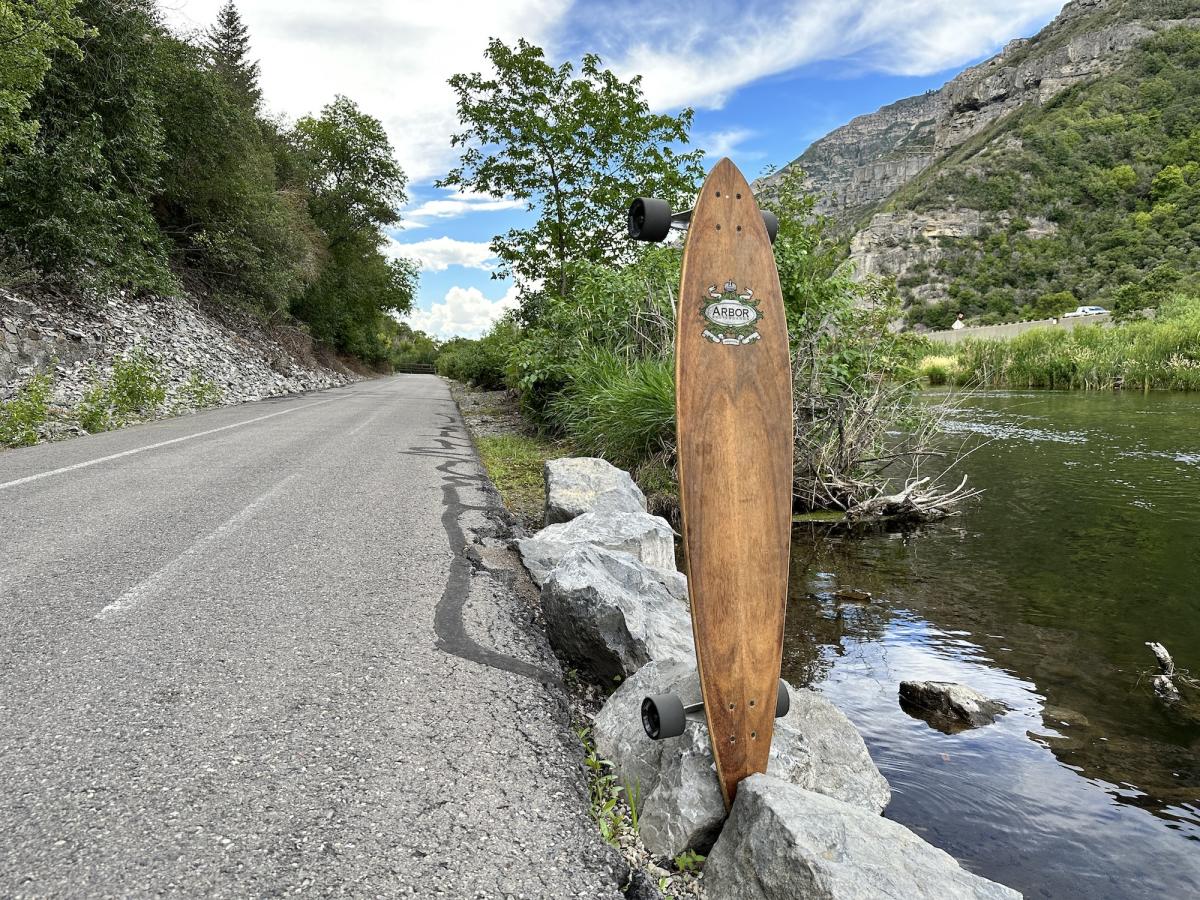 Venturing through the entirety of the Provo River Trail can be a thrilling endeavor, but let's focus on one of the best sections for both longboarding and biking enthusiasts: Provo Canyon. This picturesque 6-mile stretch is a haven for beginner longboarders and cyclists seeking an easy yet rewarding ride.
The trail winds downhill, requiring minimal physical exertion, making it an ideal option for those new to the activities. Furthermore, the route isn't overly steep, ensuring a safe and enjoyable journey.
As you glide down the trail, you'll be treated to an up-close view of one of Utah Valley's most iconic natural wonders – Bridal Veil Falls. The trail is enveloped in the shade of lush trees for about 90% of the journey, enhancing the overall experience.
The continuous presence of the Provo River on one side creates a soothing atmosphere that further adds to the charm of the trail. An added bonus is the restriction of motorized vehicles, ensuring that only pedestrians, cyclists, and longboarders can traverse the paved path.
In essence, Provo Canyon offers an optimal trail for beginners in the world of longboarding and cycling. So, whether you're fond of longboards, bikes, or scooters, the Provo River Trail invites you to embark on an unforgettable adventure.
---
Navigating the Trail: A Guide to Provo Canyon
Parking Logistics
To kick-start your journey along the Provo River Trail, head to Vivian Park, nestled in the heart of Provo Canyon. Unless you're up for pushing your longboard uphill or biking against the current, parking logistics are essential.
Consider riding with a friend and utilizing two cars for a seamless experience. Park one car at the canyon's mouth and drive together to the trailhead at the top. After your exhilarating descent down the canyon, you'll have a convenient mode of transportation back to your starting point. Vivian Park boasts ample parking space, and at the trail's endpoint, a spacious lot behind Will's Canyon Stop awaits.
Should you have just one car at your disposal, two options are at your disposal:
The Uphill Ride: Park at the bottom of the canyon, then embark on the journey uphill before enjoying the downhill thrill.
E-Bike Convenience: Rent an e-bike from Voltage Rentals, situated at the bottom of the canyon, providing an effortless ascent and an exhilarating descent.
---
E-Bike and Scooter Rentals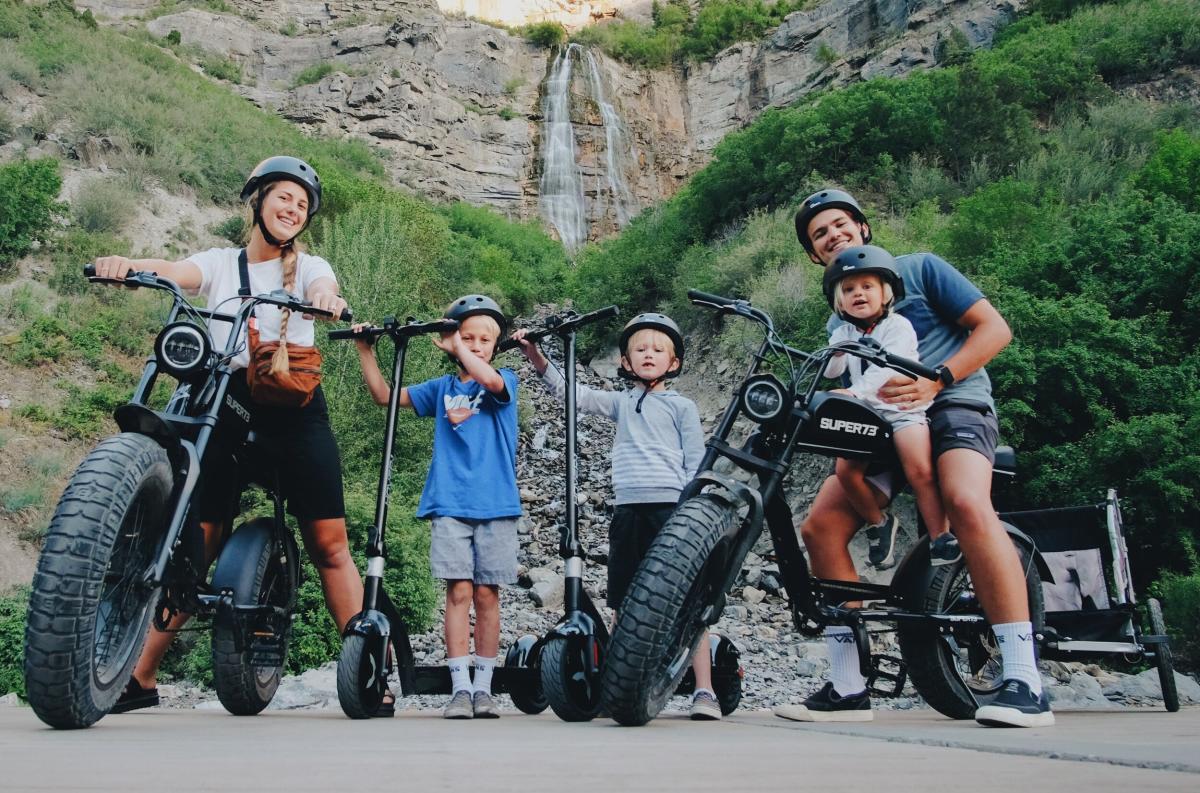 Voltage Rentals offers a range of e-bikes and kids' scooters for rent at competitive rates. E-bikes are available for $25 per hour, while kids scooters can be rented for $20 per hour. The rental shop is conveniently located near Will's Canyon Stop, ensuring easy access for all trail enthusiasts.
You can even enhance your adventure with add-ons like a picnic cooler backpack or a kid's bike trailer. For an exciting twist, consider the package that combines an uphill e-bike ride with a downstream rafting experience along the Provo River.
---
Journey Highlights: A Snapshot of the Trail
Vivian Park (Starting Point)

Begin your adventure in the heart of Provo Canyon. Vivian Park offers a range of amenities, from playgrounds to fishing spots, making it an ideal starting point.

Vivian Park to Bridal Veil Falls (0-2 miles)

Experience stunning views of the Provo River as the trail closely follows its course. Keep an eye out for local wildlife like river otters, deer, and herring.

Bridal Veil Falls (2.2 miles)

Pass in front of the awe-inspiring Bridal Veil Falls and traverse a bridge connecting the falls to the trail. Take a moment to capture the beauty and even hike closer to the falls if you wish.

Parks

As you journey forward, you'll encounter three parks – Nunn's Park (mile 2.8), Canyon Glen Park (mile 3.5), and Mount Timpanogos Park (mile 5.1). These parks offer various amenities, including restrooms, picnic spots, and fire pits.

Drinking Fountain (5.1 miles)

Just beyond Mount Timpanogos Park, you'll find a drinking fountain fed by a natural mountain spring. It's an ideal resting spot before the final stretch.

Provo River Parkway Trailhead (Stopping Point)

The completion of the 6.1-mile journey leads you to the canyon's mouth. Here, you can recharge at Will's Canyon Stop, return your rented e-bike, and reflect on the incredible ride.
---
Beyond the Canyon: Provo River Trail to Utah Lake
If you're eager to extend your adventure, the Provo River Trail continues for an additional 9 miles, leading you to the picturesque Utah Lake State Park.
The Provo River Trail, particularly through Provo Canyon, offers an unforgettable experience for longboarding and biking enthusiasts of all levels.