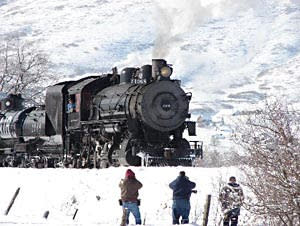 We're going to take a guess that you have read the story of the magical train ride to the North Pole on Christmas Eve a couple times in your day.... And chances are you used to daydream that you really could be aboard that train. Time to make those childhood fantasies real!  The Heber Valley Historic Railroad is providing a way to let you experience a real-life train ride with elves serving you hot chocolate and treats, singing carols, and sharing a Christmas story. Santa even makes an appearance on the train and gives every passenger a special gift.

We would type up all the information you need to know in this post, but it would be better if you just clicked on over to find all the information (pricing, dates, booking information, etc.) here:
http://bit.ly/V18aVb

We don't think there could be a better surprise to give your family!