The holidays are over, the kids are back in school, and the days are short. But while the snow has driven most of the hikers, boaters, and campers indoors until spring, there is one group that wakes up with a smile when the temperature hits single digits: Ice Climbers.
Not sure what I mean? Take a drive up Provo canyon next Saturday morning and glance over towards the frozen Bridal Veil Falls. If you haven't noticed them before and it's cold enough, you might spot people climbing them and wonder how people learn to climb ice like that.
Isn't it dangerous and freezing? Is it similar to rock climbing? What gear do they use? And, if you're especially adventurous, you might ask yourself how do I do that?
Luckily for you, Utah Valley has some of the world's best ice climbing and I might just be able to help you find some answers.
---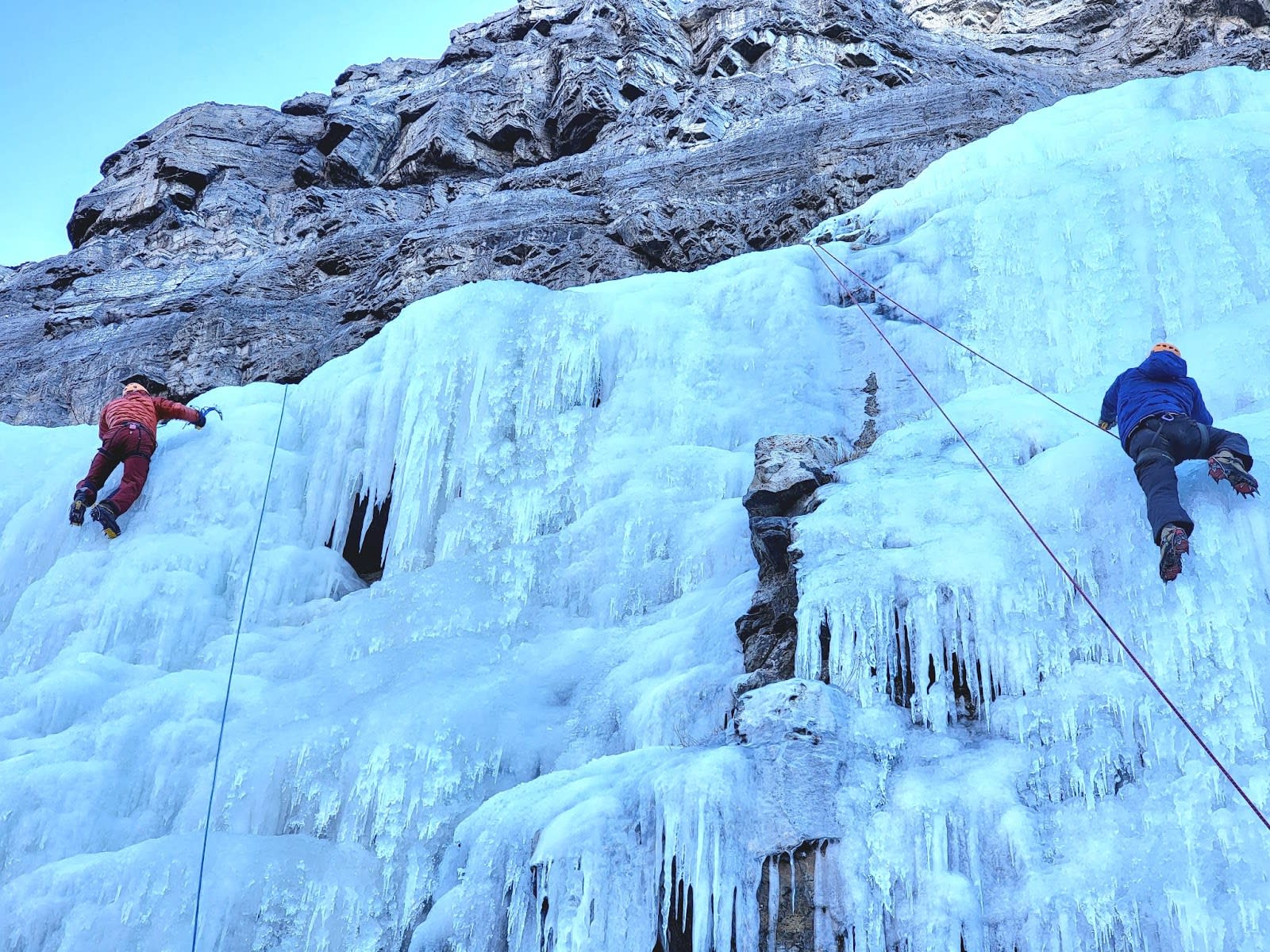 What is Ice Climbing?
People have been climbing ice for a long time, but it wasn't until the late 19th century that it started to shift from a necessity to a hobby for adrenaline-junkie Europeans. The basic premise is the same as rock climbing. Climb to the top.
If you fall, a rope attached to your harness will catch you. But there are some stark differences. Most noticeably, you don't grip the ice with your fingers.
Rather, you dig into it with arm-length tools called ice axes or ice tools. With these in hand, you slowly chip your way up the ice face, assisted by large spikes called crampons attached to your boots.
At the top, instead of bolts and chains drilled into solid rock, ice climbers usually attach their rope to pieces of equipment aptly named ice screws, which (as you've guessed), are screwed into the ice.
Sound intense? Well, it certainly can feel that way. My first ice climb felt like I was a kid again learning to climb, starting up at the wall, and putting on my harness for the first time. It is an adrenaline rush that left me smiling and laughing for quite a while.
---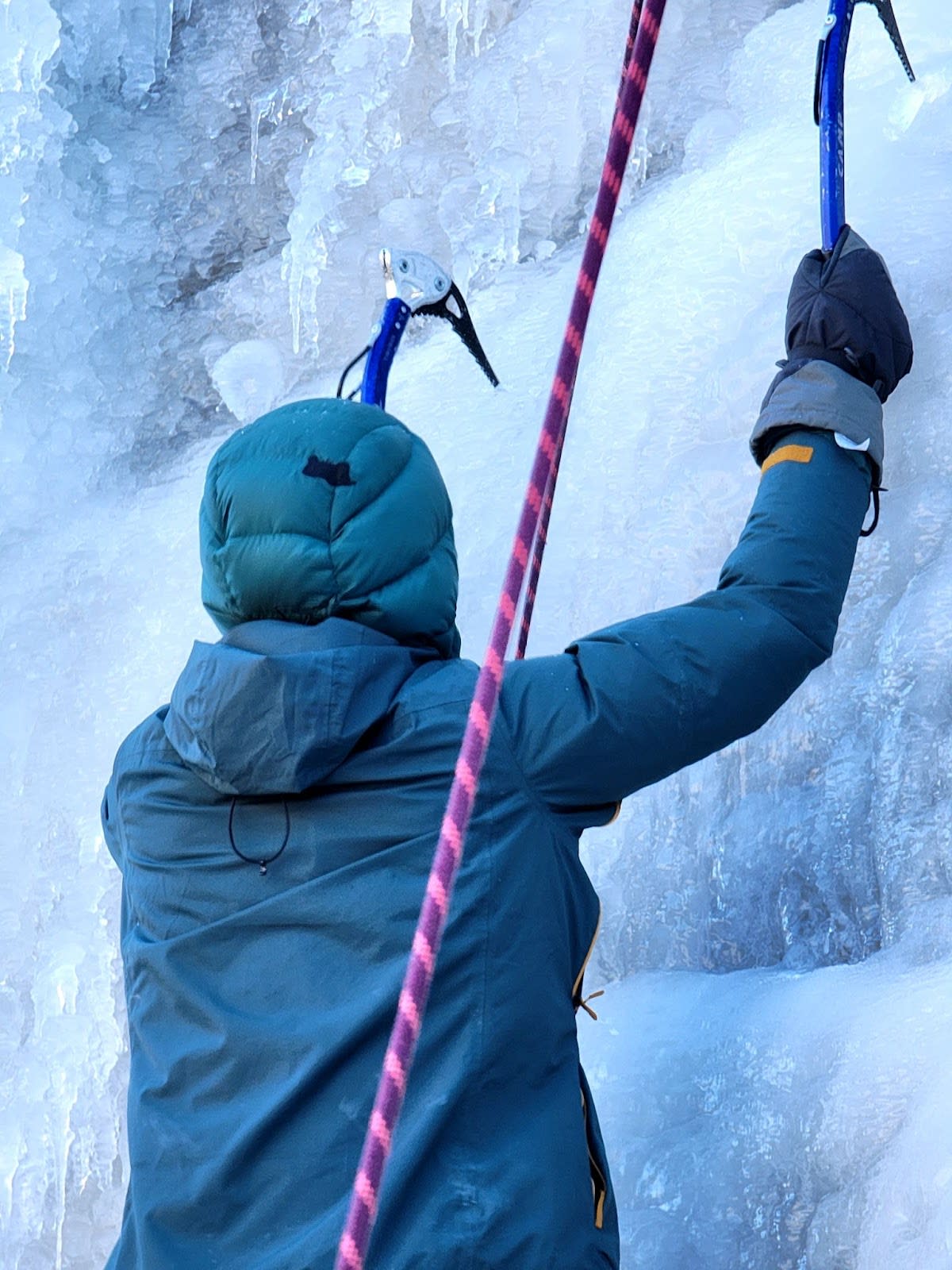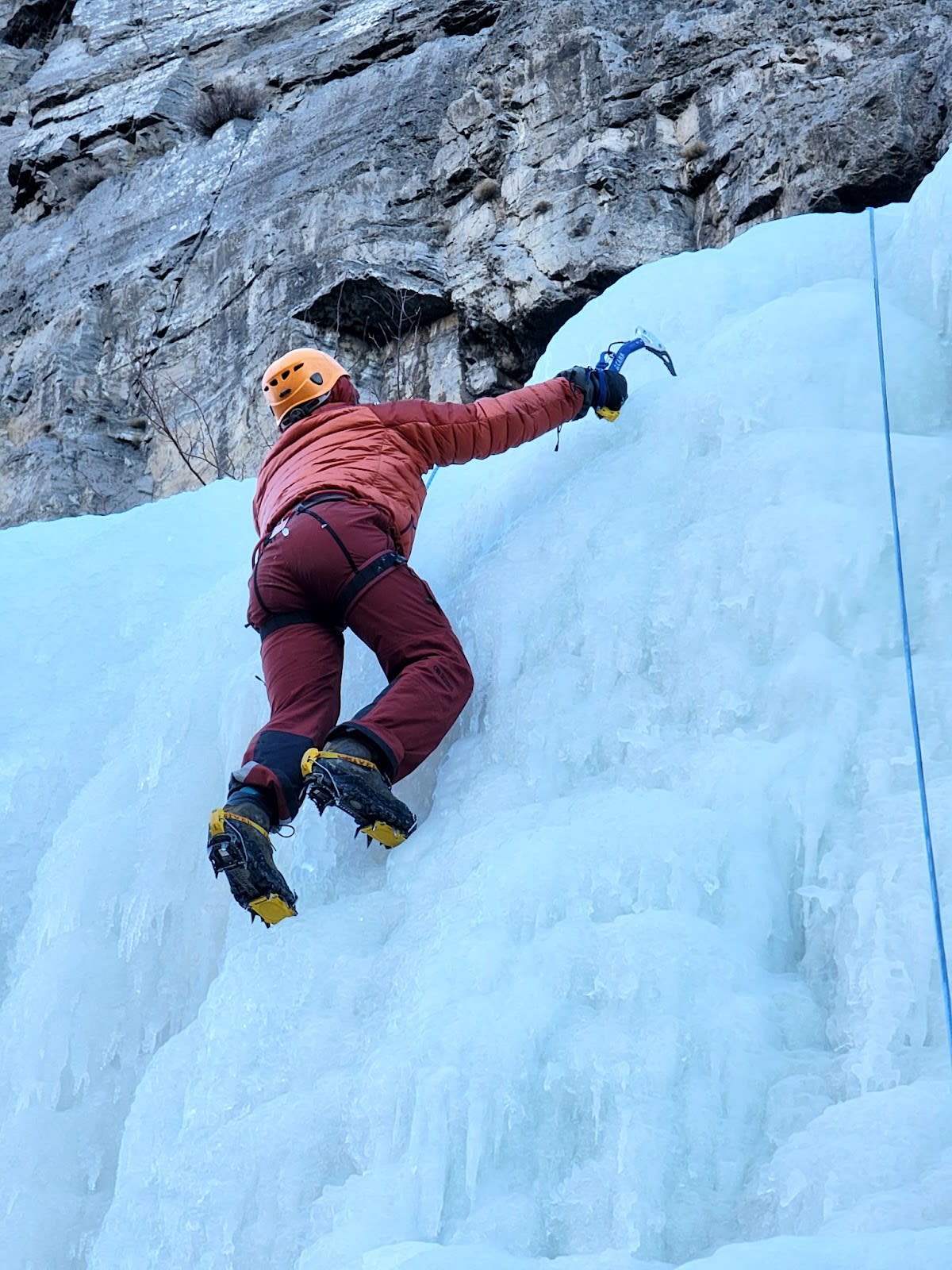 How do I learn to Ice Climb?
Think of learning to ice climb like learning to drive. If you had hopped behind the wheel of a car for the first time and immediately tried to drive to Seattle, the worst case scenario is you wouldn't make it, best case scenario, you'd get injured or die.
Similarly, you won't be able to simply "wing it" when learning to ice climb. The first step to learning to ice climb is to find a qualified and experienced guide or instructor. Check out organizations like Utah Mountain Adventures or Red River Adventures.
While most guide services will provide guidance on gear, it is always helpful to know what to look for yourself. In this case, the essentials are going to be ice axes, mountaineering boots, and crampons.
Mountainworks, a local climbing shop attached to the rock climbing gym The Quarry, is a great place to rent gear for the day. Make sure not to skimp on getting the right type of boots. Normal snow or hiking boots are not compatible with crampons.
Next, be sure to dress warmly. After all, you're going to be climbing ice. I like to dress like it is a cold ski day and use a lot of the same gear. My base layer is skiing thermals, always made of wool or synthetic material.
Similarly, I wear my wool ski socks. Next, I make sure that I have a solid mid-layer over my thermals. I like to use a Patagonia fleece pullover, but anything that will keep you warm under a jacket will work great.
Next, I wear Outdoor Research Carbide ski bibs and a down hoodie, but any ski pants will work great. On top of it all, I make sure to wear a waterproof shell to keep my clothes underneath dry.
Finally, warm gloves, a rock climbing helmet, and sunglasses/safety glasses will complete the ensemble. And of course, hand warmers and a thermos of hot chocolate for in-between climbs will make sure the more cold-blooded individuals are able to stay warm.
As always, be sure to check with your guide to ensure you have the correct gear before heading out to the crag.
---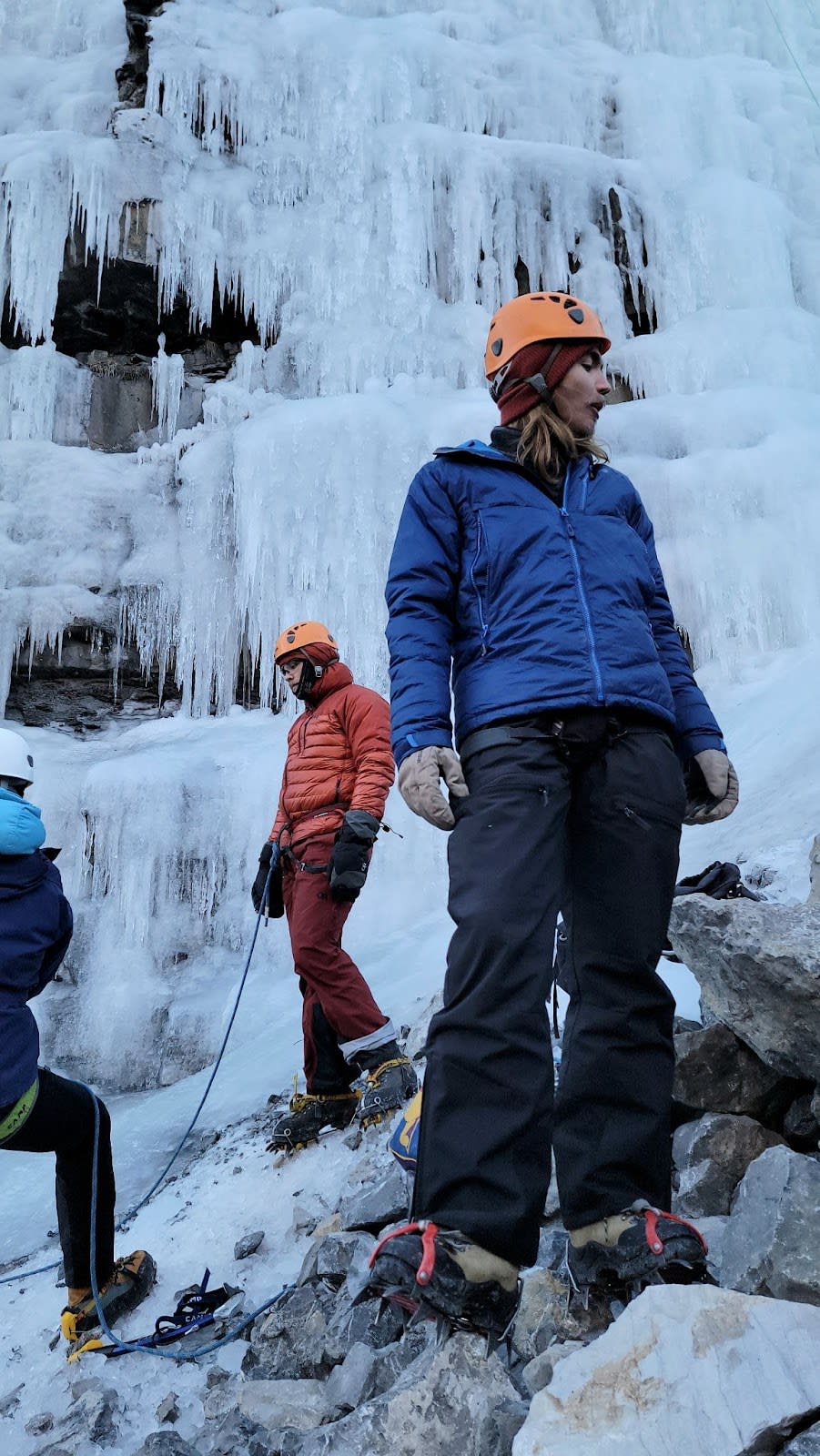 Ice Climbing in Utah
Utah Valley is home to some of the world's best ice climbing in North America. Provo canyon boasts some of the best ice in the world, with everything from beginner to expert level easily accessible within a short hike from the car.
Bridal Veil falls is a local favorite and is sure to wow everyone from first-time climbers to experienced veterans. If you're a Utah local, it is a no-brainer to head here for a day trip. If you're coming from further away, all climbs are easily accessible within 30 minutes of Provo and Orem, making it easy to spend the night in a Provo hotel and climb all day.
---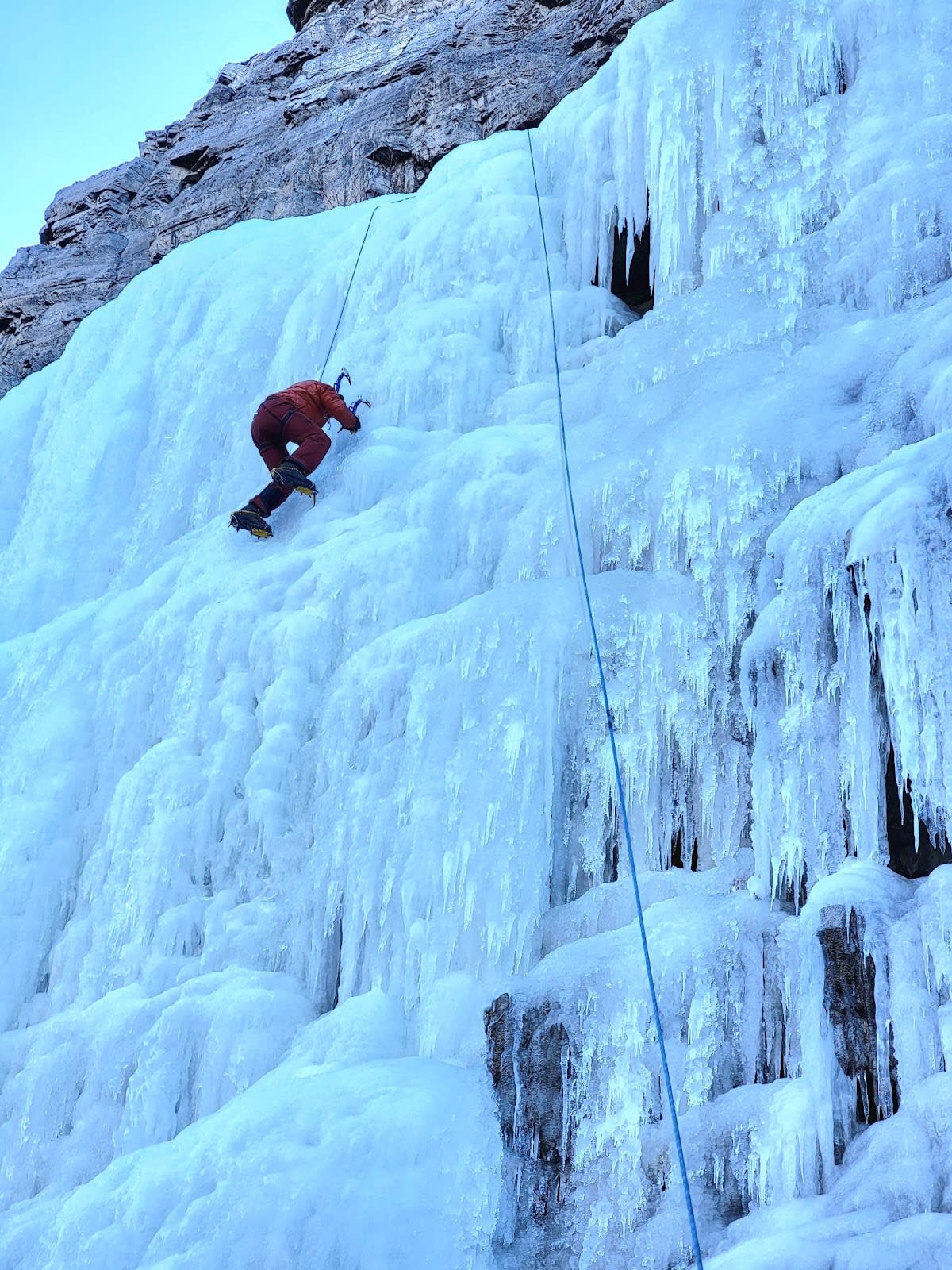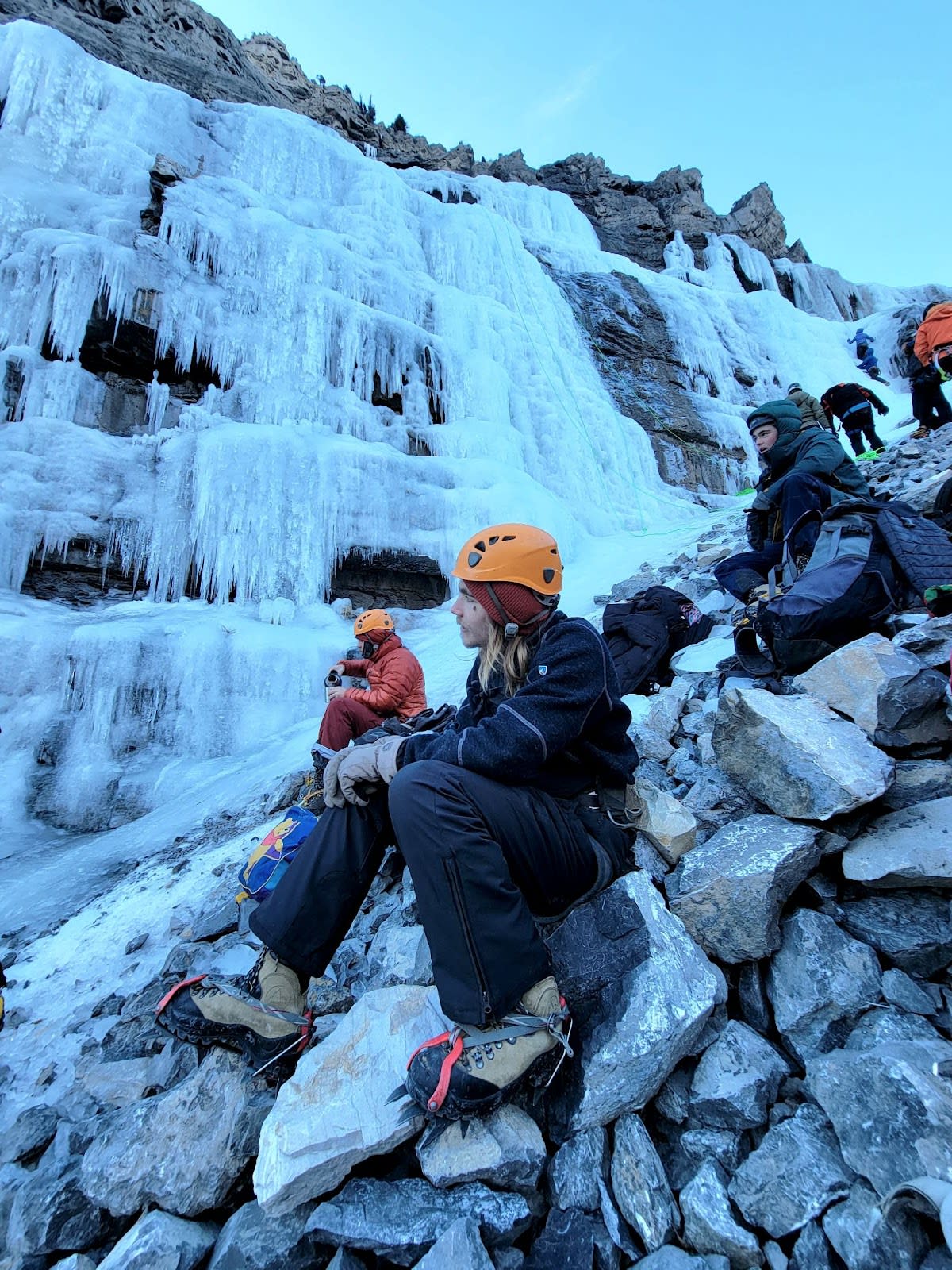 Things to do after Climbing
After the climb, be sure to load up on calories to help your body stay warm. My favorite location to do this is the downtown taco joint Don Joaquin, which has some of the most authentic tacos I have eaten since my days living along the Texas-Mexico border.
I'd recommend ordering their al pastor tacos. Pork grilled with pineapple, they are the perfect mix of sweet and savory you're craving after a day on the ice.
If tacos aren't your thing and you're in the mood for something fancier, head on over to Communal. Serving family-style gourmet dishes, it is the perfect place to take a significant other after a particularly chilly day in the mountains. It is upscale and a little pricey, so I would recommend a shower and a babysitter for the kids before swinging by this Utah Valley restaurant.
Finally, if you're in the mood for even more ice, head on over to Rockwell Ice cream. As an avid lover of all things with sugar, I can confidently say that Rockwell has the best ice cream not only in Utah County but in all of Utah as well.
Made in-house, they have traditional flavors which will blow your mind but also house specials such as honeycomb, spearmint, and goat-milk raspberry rosemary which are perfect to cap off a day climbing.
---
What are you waiting for? Give the ice a try!
Here are some of the best resources to learn how to Ice Climb in Utah. They provide climbing gear, and some of these adventure companies also offer guided ski/mountaineering experiences. Utah Mountain Adventures provides some great education. Red River Adventures gives guided tours for backcountry skiing and ice climbing.