There's no place like these light displays for the holidays!
Load up your car with your friends and family and jingle all the way by visiting as many of these holiday festival of lights as you can! You will find some of the best holiday lights in Utah, including a Christmas lights driving tour, forests of lit up trees, and even a holiday cruise.
Luminaria

Oh, Christmas tree, how lovely are your light bulbs
Head over to Ashton Gardens at Thanksgiving Point to see their holiday lights display with over a million lights. Take a dazzling journey through the forest, filled with string lights in a holiday wonderland! This year, discover the Aqueous paths that light up as you walk on them.
Location: Ashton Gardens - 3900 N. Garden Dr. Lehi, UT 84043
Admission: $10-$20 (see calendar for pricing details)
Dates: November 22nd through January 4th
Riverwoods Holiday Lights Display

All I want for Christmas can be found at the Shops at Riverwoods
Browse through one of the many shops or grab a bite to eat while you enjoy the lights! A great treat to grab would be a crepe and a warm white latte from The Crepery while you wander around the bright holiday lights.
Location: The Shops at Riverwoods - 4801 North University Avenue, Provo, UT 84604
Admission: Free!
Dates: November 15th until the end of the year
Spanish Fork Festival of Lights

It's beginning to look a lot like LED lighting
Enjoy a favorite local tradition on a driving tour through an incredible light display while listening to holiday music from the comfort of your own car! Enjoy poinsettias, Toyland, cowboys, the North Pole, and more!
Location: Canyon View Park - 3300 E Powerhouse Rd, Spanish Fork, UT 84660
Admission: $8 per car, $22 per commercial van or trailer, $30 per bus 
Dates: November 28th through January 1st
Pond Town Christmas


Photo Credit: Chase Higginson
Rockin' around the Christmas pond
Grab a cup of hot cocoa and drive by the enchanting Salem Pond to enjoy twinkling lights reflecting on the water. The atmosphere is peaceful and perfect for viewing a Nativity scene.
Location: Salem Pond - 259 W Salem Lake Dr, Salem, UT 84653
Admission: Free!
Dates: November 29th through January 1st
Christmas Cruise at Clas Ropes Course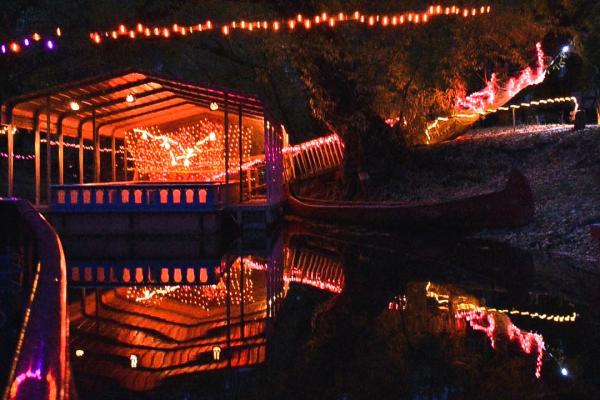 Photo Credit: @clasropes
Santa Claus is coming to Clas Ropes Course
Hop on a cruise that will take you down the Provo River with Santa while you delight in cheery and festive scenes along the shore! This activity is a unique holiday festival of lights you will remember forever.
Location: Clas Ropes Course - 3606 West Center Street, Provo, UT 84601
Admission: $8/person, free for 2 years old and younger
Dates: December 2nd until December 23rd
Forests of Misfits Lighting

Photo Credit: @rains.adventures
Baby, it's cold outside University Place
Wander around a display of 40,000 lights at the outdoor Orchard at University Place! Some of the prettiest holiday lights in Utah Valley can be found in the forest of Christmas trees.
Location: University Place - 575 East Univ. Parkway, Orem, UT 84097
Admission: Free!
Dates: November 18th until the end of the year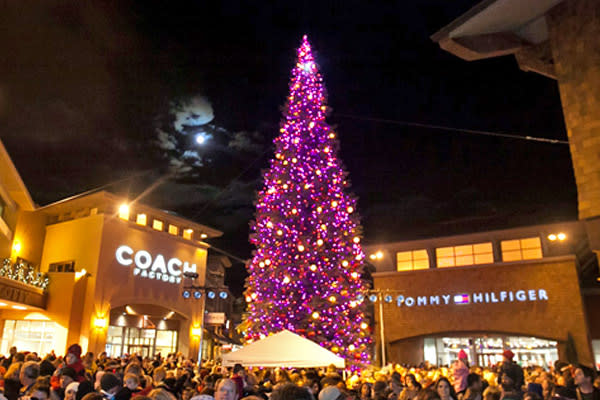 It's the most wonderful tree in the state
Visit the tallest Christmas tree in Utah as you go gift shopping at the Outlets of Traverse Mountain. The 80-foot tree is brought all the way from Washington state and then lit up and decorated with 8,000 ornaments!
Location: Outlets at Traverse Mountain - 3700 North Cabelas Blvd. Lehi, UT 84043
Admission: Free!
Dates: November 19th to December 25th
Grab your coats and your holiday spirit for a fun night out at one of these beautiful holiday lights in Utah Valley!
For more holiday and winter activities and fun ideas, see our events page or list of things to do.