A favorite annual Christmas tradition, and one of the most popular holiday activities in Utah Valley, is to stop and visit one of our local holiday light displays. These light shows are the perfect way to kick off the holiday season and indulge in some Christmas cheer. So join us in spreading a little of the Christmas spirit by hopping in your car with a few close loved ones and visiting as many of these holiday festivals of lights as you can! 
According to an article written by KSL, half of Utah's best light displays are here in Utah County. With thousands of lights and other Christmas decorations on exhibit, you will find some of Utah's best Christmas lights right here. From more conventional Christmas light shows to more unique displays, you'll find a range of holiday lights to view, including a Christmas light driving tour, forests of lit-up trees, and even a holiday cruise.
---

Oh, Christmas tree, how lovely are your light bulbs
With its close proximity to Salt Lake City, Luminaria is one of the most popular holiday light shows in the area! Head over to Ashton Gardens at Thanksgiving Point to see their holiday lights display with over a million lights. Take a dazzling journey through the forest, filled with string lights in a holiday winter wonderland!
Take a stroll this holiday season while enjoying treats like s'mores at glowing fire pits, hot chocolate and sweets from the gift boutique, and interactive game areas! This year, discover the Legend of the Yeti. See if you can spot him throughout the Luminaria before arriving at his home, the Himalayan Heights.
Enjoy a special fireworks show and more at the Ashton Gardens this New Year's Eve!
Location: Ashton Gardens - 3900 N. Garden Dr. Lehi, UT 84043
Admission: $17-$24 (see calendar event for pricing details)
Dates: November 17th through December 31st
---

All I want for Christmas can be found at the Shops at Riverwoods
Browse through one of the many shops or grab a bite to eat while you enjoy the outdoor holiday lights! A great treat would be a cookie from Suss Cookie Company or truffles from the Rocky Mountain Chocolate Factory while you wander around the bright holiday lights. The official lighting of Riverwoods will take place on November 19th from 6:00 PM - 8:00 PM with live entertainment, fireworks, ice sculptures, Santa, and one million lights!
Location: The Shops at Riverwoods - 4801 North University Avenue, Provo, UT 84604
Admission: Free!
Dates: November 19th until the end of the year
---

It's beginning to look a lot like LED lighting
Enjoy a favorite local tradition on a driving tour through an incredible light display while listening to Christmas carols from the comfort of your own car! Enjoy poinsettias, candy canes, Toyland, cowboys, the North Pole, and more!
Location: Canyon View Park - 3300 E Powerhouse Rd, Spanish Fork, UT 84660
Admission: $10 per car, $25 per commercial van or trailer, $50 per bus 
Dates: November 25th through January 1st, 6:00 PM - 10:00 PM
---


Photo Credit: Chase Higginson

Rockin' around the Christmas pond
Grab a cup of hot chocolate and drive by the enchanting Salem Pond to enjoy twinkling lights reflecting on the water. The atmosphere is peaceful and perfect for viewing a Nativity scene.
Location: Salem Pond - 259 W Salem Lake Dr, Salem, UT 84653
Admission: Free!
Dates: November 26th through January 1st, from 5:30 PM - 11:00 PM
---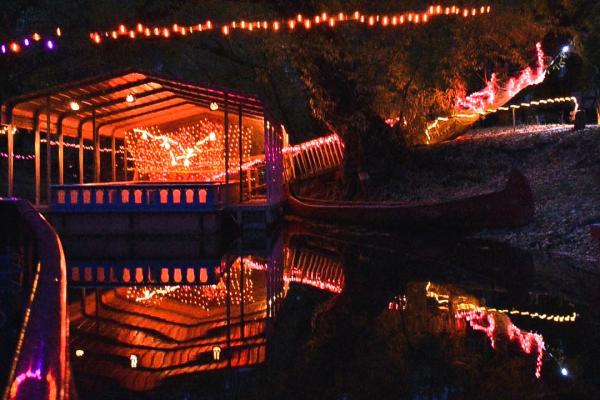 Photo Credit: @clasropes
Santa Claus is coming to CLAS Ropes Course
Hop on a cruise that will take you down the Provo River with Santa while you delight in cheery and festive scenes along the shore! This Provo Christmas event is a unique holiday festival of lights you will remember forever.
Location: CLAS Ropes Course - 3606 West Center Street, Provo, UT 84601
Admission:

Mon–Thurs: $9 each. Children 2 and under $1.
Fri–Sat: $10 each. Children 2 and under $2 

Dates: December 1st - 23rd
---

Photo Credit: @rains.adventures
Baby, it's cold outside University Place
Wander around a 30′ tall walk-through tree, 75′ of archways, the trees in the Orchard, and the "UP" logo all covered in 80,000 lights. Some of the prettiest holiday lights in Utah Valley can be found in the forest of Christmas trees. 
Location: University Place - 575 East Univ. Parkway, Orem, UT 84097
Admission: Free!
Dates: November 14th until December 31st
---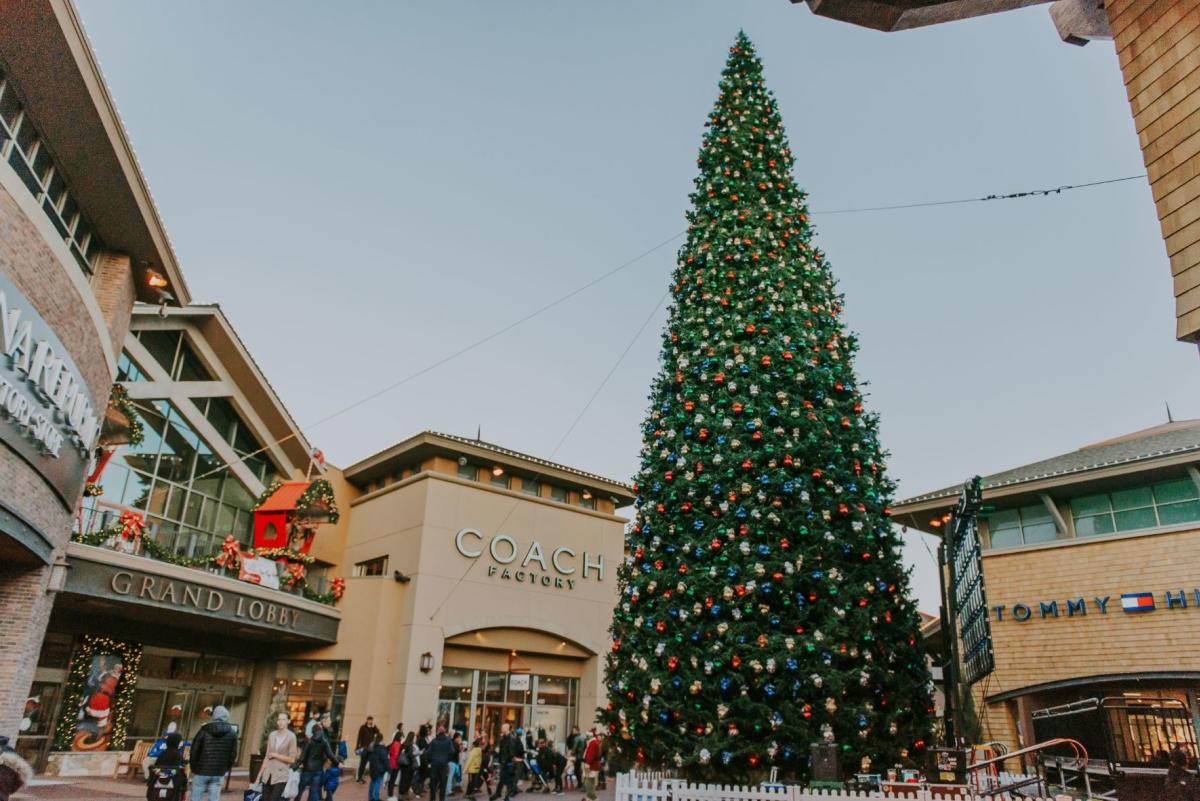 It's the most wonderful tree in the state
Visit the tallest Christmas tree in Utah as you go gift shopping at the Outlets of Traverse Mountain. The 80-foot tree is brought from Washington state and lit up and decorated with 5,000 Christmas ornaments!
The lighting of the tallest fresh-cut Christmas tree in the state of Utah is decorated with 5,000 twinkling lights and 6,000 bows and ornaments making it the perfect centerpiece for the Outlets' Winter Wonderland!
The Annual Tree Lighting event will be Saturday, November 19th. They will have a gingerbread festival from 12-4 PM and a concert beginning at 5 PM. Hosted by Melisa Osmond, the concert features musical performances by Katie Ainge and Steve Bossco.
Location: Outlets at Traverse Mountain - 3700 North Cabelas Blvd. Lehi, UT 84043
Admission: Free!
Dates: November 19th to December 25th
---
Provo Christmas Market at Pioneer Park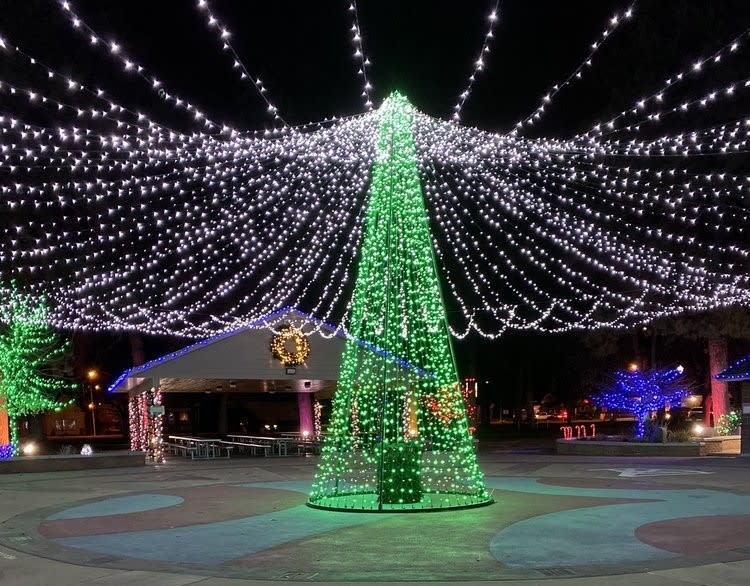 Rockin around the Provo Christmas Market
Come visit the Lights in Provo's Pioneer Park! On Saturday, December 3rd, they will be holding the Provo Christmas Market as well as a chance to meet Santa!
Location: Outlets at Traverse Mountain: 500 W Center St, Provo, UT 84601
Admission: Free!
Dates: Saturday, December 3rd, 4:00-8:00
More Outdoor Christmas Lights in Utah Valley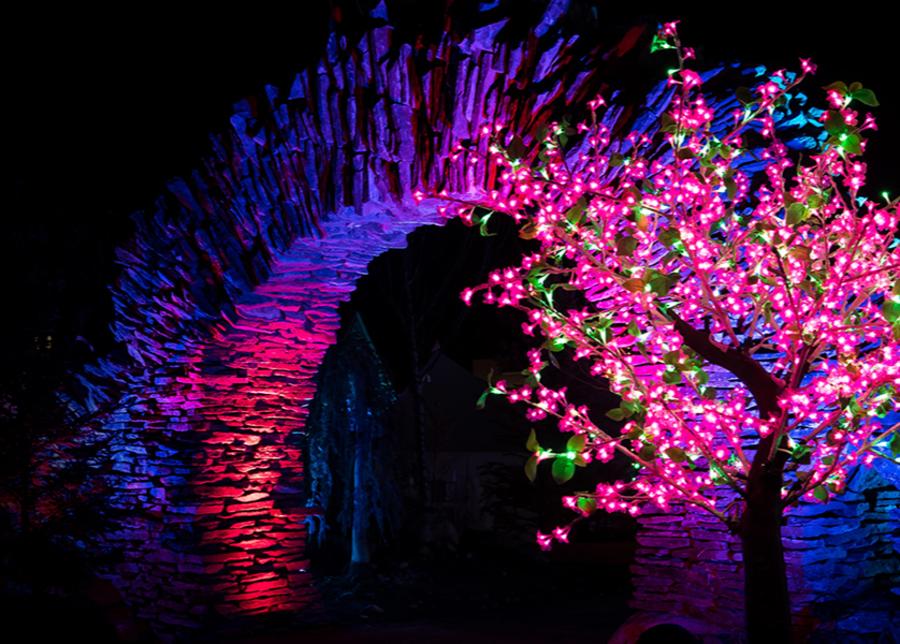 Peteetneet Museum and Cultural Arts Center (10 N 600 E, Payson, UT 84651)
Aurora at Evermore Park (382 S Evermore Ln, Pleasant Grove, UT 84062)
Neptune Park's Christmas Tree (452 W 400 N, Saratoga Springs, UT 84045)
Lindon City Center Park (200 N State St, Lindon, UT 84042)
Mapleton City Park Christmas Tree (W Maple St & N Main St, Mapleton, UT 84664)
Utah County Courthouse (151 S University Ave #3300, Provo, UT 84601)
Grab your coats and your holiday spirit for a fun night out at one of these beautiful holiday lights in Utah Valley!
For more holiday and winter activities, fun ideas, and events where you can see Father Christmas himself, see our online calendar or list of things to do.