Utah has a variety of hot springs scattered throughout the state. Popular ones, like mystic hot springs, meadow hot springs and the homestead crater, have become huge tourist attractions. For soaking pools a little closer to Salt Lake City, check out the two hot springs in Utah Valley. 
Closer than those in Fillmore or Monroe Utah, these mineral hot spring pools are located on city and public lands. This is advantageous because it means you don't have to worry about fees, like those associated with private property. You may not be able to scuba dive in these hot pools, but their ease of access and free cost make them ideal stops on your next road trip.
Utah Valley boasts two popular spots where people can soak in a natural hot spring.
1) Saratoga Hot Springs
The first hot spring resides in Saratoga Springs, and is actually where the city got its name. Named after the famous New York Saratoga resort, early settler John C. Nagle owned the springs long before they opened on July 24, 1884. When German immigrant John Beck purchased the ranch and surrounding land, he renamed it Beck's Saratoga Springs. 
By the mid-1910s, the land had changed hands several times. Over the next decades, several improvements to the area were suggested but never successful, yet the Hot Springs remained a popular destination.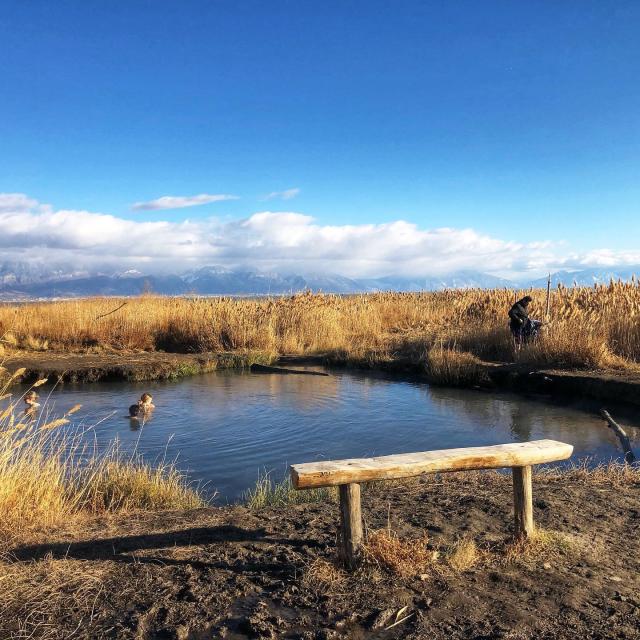 Photo Courtesy of @girlonahike Instagram
The Saratoga Hot Springs, also referred to as Inlet Hot Springs, are easily accessible and close to Salt Lake and Utah counties. They border the northwest side of Utah Lake and are located in the lakeside wetlands. These springs are good to visit year-round, but locals state the best time to visit is during winter at sunset. View the evening night sky with a snowy mountain backdrop while experiencing mother nature's spa!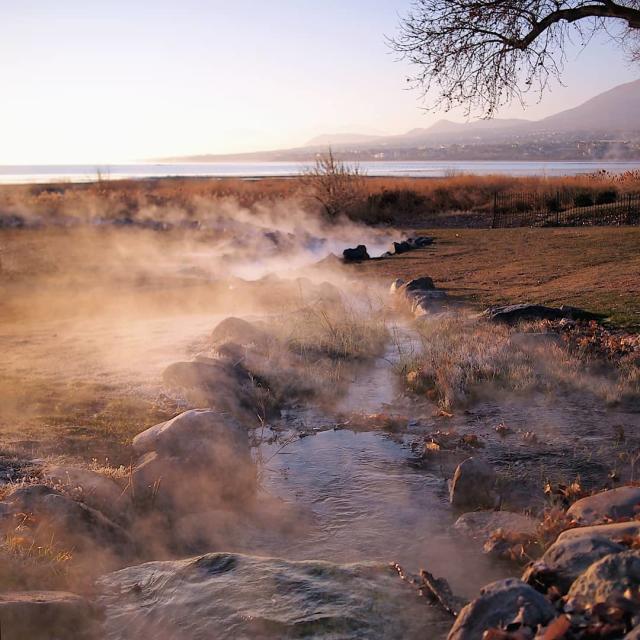 Photo courtesy of @eurekachuck Instagram
When you visit, be aware of mud and plan accordingly. Locals frequently suggest bringing a backpack and a tarp to protect your personal belongings. Also, don't forget to bring a towel and wear a swimsuit! 
The pools are closed from 10pm to 6am, and while they're typically left unattended, law enforcement does patrol the area. Alcohol and nudity are banned. Parking for the springs can be found at Inlet Park, which is only a ten-minute walk to the hot springs.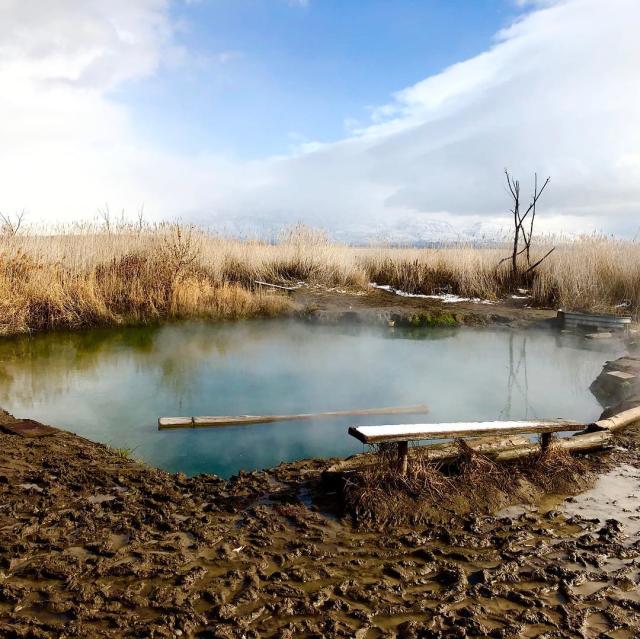 Photo courtesy of @utah.fun.guide Instagram
For directions to get there, check the map.
2) Fifth Water Hot Springs Fifth Water Hot Springs
The second hot springs in Utah Valley is traditionally known as Fifth Water Hot Springs, but is also called Diamond Fork Hot Springs after the canyon where it is located. Near Spanish Fork, these hot springs offer dozens of soaking spots in beautiful turquoise and emerald waters. 
There is a hike to get to the springs that changes in length and difficulty depending on the season you go. During the spring, summer, and fall, the hike is about 4.6 miles roundtrip, but during the winter can be 3x as long because of seasonal road closures.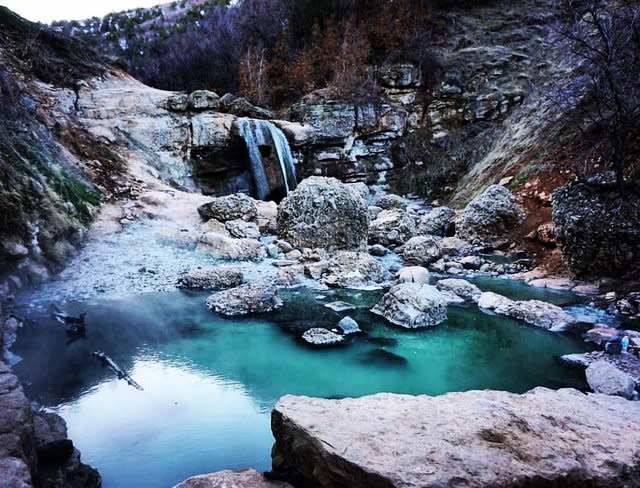 Photo courtesy of @charles.freehill Instagram
This is a family-friendly hike in the summer months, but exercise caution in winter as it becomes much more difficult to navigate and is recommended for experienced hikers only. The access road is generally not plowed in winter and 4WD will be required.
To reach the hot springs you'll start your hike at the Three Forks Trailhead parking area. Make sure to park in designated parking areas, as you can be fined if you don't. You'll cross the Diamond Fork River and head east, along the well-traveled path. For about a mile the trail follows Sixth Water Creek before it crosses the creek, where you will then follow the smaller Fifth Water Creek heading east. Continue on until you reach the hot springs. You'll know you're close when you start smelling the sulphur.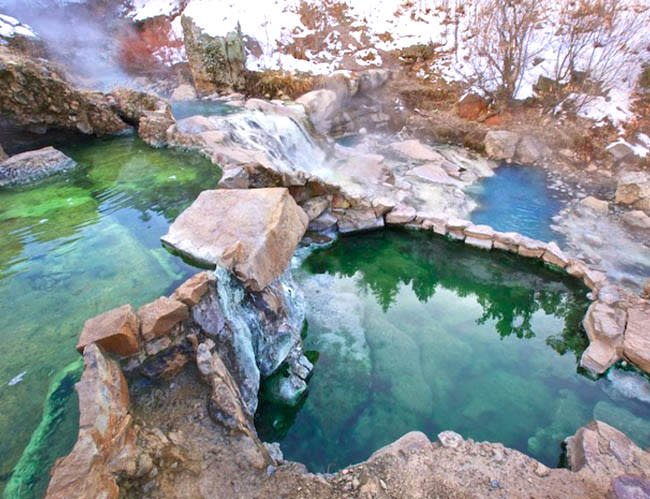 Come prepared with the proper hiking attire. You may want to bundle up for the hike and wear your swimming suit underneath a couple of layers, for sun or cold protection, depending on which time of the year you go. The pools are bright and colorful, with the temperature and water color varying between pools, which adds to the experience.
Skinny-dipping is illegal in Utah County, but it is best to be cautious of your surroundings. Don't forget a towel, change of clothes, and shoes for the hike. For further directions on how to get there, check the map.
Enjoy the hot springs Utah Valley has to offer and let us know about your experience! To share your photos with us, tag them with #exploreutahvalley on social media.