On the morning of Saturday, October 14th, the 2023 Annular Solar Eclipse is happening. Lucky for us, Utah gets a front seat at all the solar eclipse action. You will be able to see the annular solar eclipse in Utah County.
In this blog post, we'll cover where to see the solar eclipse, tips for eclipse viewers, and special solar eclipse events in Utah County.
What is an annular eclipse?
An annular solar eclipse happens when the Moon passes between the Earth and the Sun. Unlike a total solar eclipse, the apparent size of the Moon is slightly smaller than that of the Sun. This results in a brilliant, fiery ring, or "ring of fire," around the dark disk of the Moon.
The word "annular" itself comes from the Latin word "annulus," which means "ring." During this celestial event, the sky takes on an eerie twilight hue. It is a beautiful sight!
When will the eclipse happen?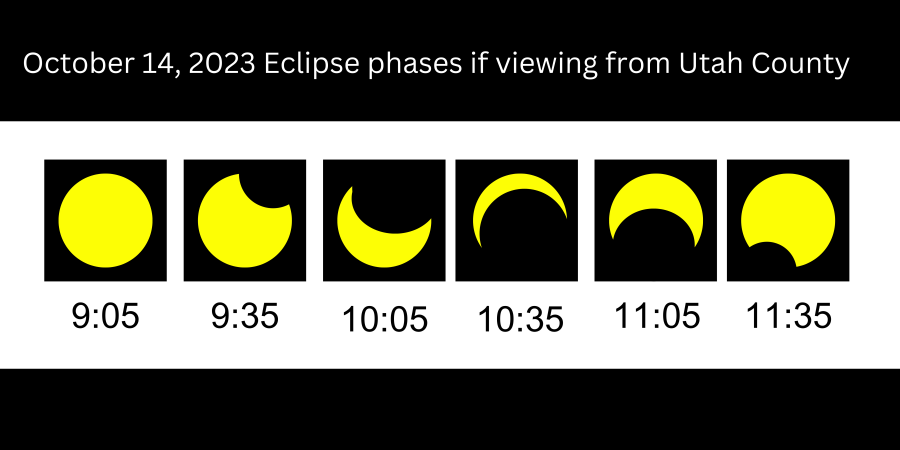 The eclipse will last from 9:07am until 11:54am. The peak of the Eclipse will happen around 10:28 when the Sun will be the most covered by the Moon. 
Utah Valley is outside the path of totality (the Moon centering in front of the Sun). Therefore, we will see a partial solar eclipse. The moon will cross in front of the Sun, darkening the daylight and visually turning the sun into a crescent.
Tips for Success: 
Make sure you and anyone viewing the eclipse has appropriate eclipse-safe eyewear that will protect your eyes from the Sun.
To prevent eye damage, make sure to use darkening filters on any cameras, binoculars, or telescopes pointed at the eclipse.
Anyone going to watch inside a local canyon should find a high spot. For example, the sun is not visible at Bridal Veil Falls in Provo Canyon or Swinging Bridge in American Fork Canyon.
Be prepared for traffic from people headed to and from viewpoints. 
There is a chance of clouds Saturday morning. Check in with the forecast before heading out.
Where to see the solar eclipse from Tibble Fork Reservoir.

Where to see the eclipse from the Saratoga Springs Marina.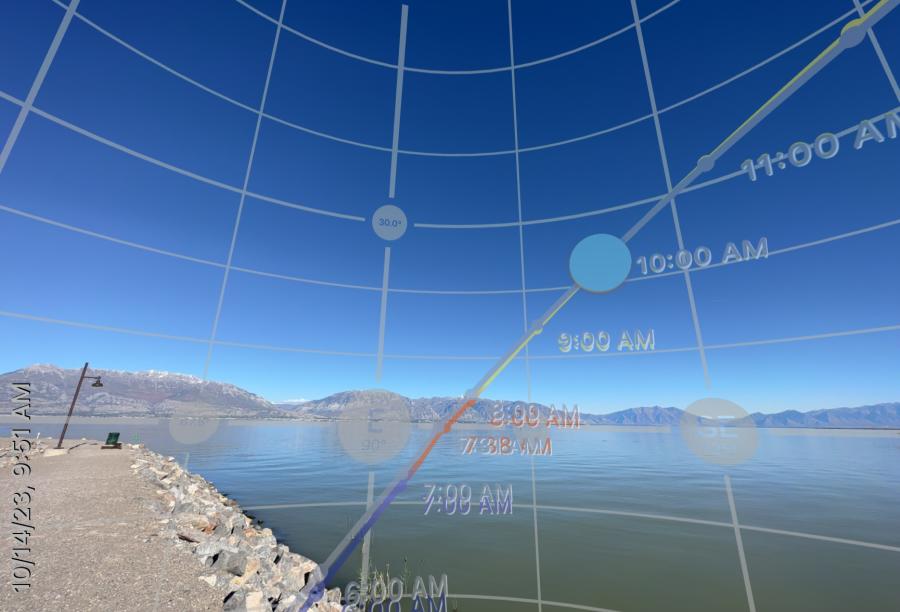 Community Eclipse Events:  
There are lots of solar eclipse events happening in Utah County this week!
October 9 - 13: 
Lehi Library Solar Eclipse Fun
"Pick up free eclipse viewing glasses and a packet of activities to do with your family." 

October 10: 
Eclipse Night at the Provo Library - 6:30pm to 8:00pm
"Get ready for the upcoming solar eclipse at the Library! Come do a sun-themed craft, play a game, and learn a little bit about an annular eclipse." 
October 14 (Day of the Eclipse): 
Springville Library Eclipse Viewing - 9:45am 
Hutchings Museum in Lehi  - 10:00am 
 "On October 14, 2023, an Annular Solar Eclipse will cross North and South America will be visible for millions of people in the Western Hemisphere. Come celebrate this celestial event at Hutchings Museum Institute with an official NASA Eclipse Ambassador, plus free solar eclipse glasses and activities! Please register to attend."
Museum of Natural Curiosity at Thanksgiving Point Eclipse Viewing - 9:00am to 11:00am
"On Saturday morning, an annular solar eclipse will cross North America and will be viewable right here in your backyard! Participate in celestial activities that will make this an unforgettable learning experience. Put on your solar eclipse sunglasses and watch the moon cover the sun for a few historic minutes." Glasses will be available for sale at this event.
Cornbelly's Solar Eclipse Viewing Party
"Mark your calendars to plan a visit to Cornbelly's on Saturday, Oct. 14 for all our usual fall festivities, but also just in time to view the solar eclipse! We open at 10 am at our Lehi/Thanksgiving Point location and best viewing is predicted for 10:26 am. Use the code ECLIPSE23 to save $3 on admission at cornbellys.com. The first 100 guests will receive a free pair of viewing glasses!"
After Eclipse Events: 
Scavenger Hunt at the Springville Library from October 19th - 23rd 
Looking to continue your celestial exploration? For those who are captivated by the wonders of the night sky, be sure to check out our blog post on stargazing in Utah County. It's your gateway to discovering the magic of the cosmos right from our own backyard. Happy eclipse viewing and stargazing adventures!