Hale Center Theater Orem's season begins with this wild western cowboy comedy! Take a group of rough-and-tumble tough guys, add a well-to-do school teacher tasked with civilizing them, and you've got the perfect comedy to start the year!
Man With The Pointed Toes will run from Jan. 04 – Feb. 08 nightly at 7:30PM, with a special opening New Year's Eve performance on December 31st at 10:00PM. To purchase tickets visit www.haletheater.org.
Production Team
Director – Cleveland McKay Nicoll
Assistant Director – Carolyn Hartvigsen
Production Stage Manager – Meagan Downey
Costume Design – Peter Terry
Hair and Make-up Design – Janna Larsen
Set Design & Master Carpenter – Bobby Swenson
Technical Direction, & Sound Design – Cole McClure
Lighting Design – Ryan Fallis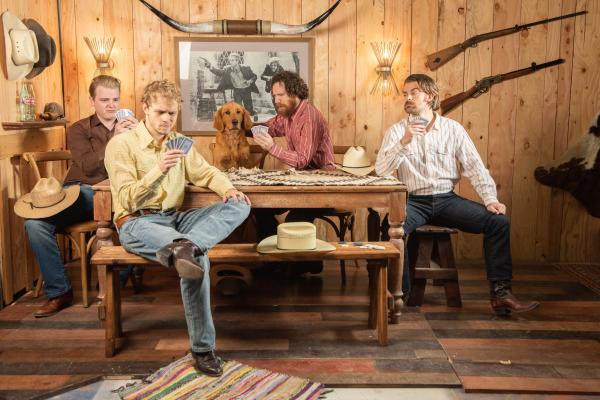 The Cast
| | |
| --- | --- |
| Tom Coterel | Will Ingram |
| Florence Rains | McKell Petersen |
| Link Hanson | Dallin Bradford |
| Hank Stover | Mason Willard |
| Lem Reed | Jordan Briggs |
| Jose | Paul Hill (MWF) |
|   | Marcos Alexis Terrazas (TThS) |
| Pamela Wright | Rachel Ryan Nicholes (MWF) |
|   | Sasha Fazulyanov (TThS) |
| Wright | Mark Pulham (MWF) |
|   | Geoff Means (TThS) |
Hale Center Foundation for the Arts and Education is a not-for-profit performing arts center whose mission is to provide a high quality, intimate theatrical experience while maintaining affordable ticket prices; furnish an excellent venue for artists to express their talents and gain valuable experience; and invest in people by providing a positive place for children and adults to learn and perform.
Joseph Paul Branca
Director of Marketing and Advertising
Hale Center Theater Orem
www.haletheater.org
Photo credit: Suzy Oliveira