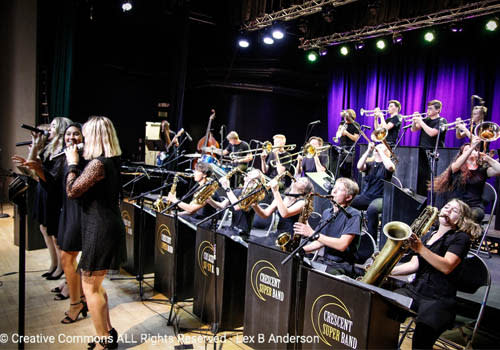 Caleb Chapman and his Crescent Super Band are so well-liked among Utah audiences that bringing him and his musicians to SCERA Center for the Arts in Orem is becoming a holiday tradition.
That tradition will continue Dec. 21 and 22 at 7 p.m. when founder and director Chapman brings Crescent Christmas' jazz and big band holidays styling to the stage. Tickets are available at www.scera.org, by calling 801-225-ARTS, or in person at SCERA Center (745 South State, Orem), weekdays from 10am-6pm and Saturdays from 12noon-6pm. All seats are reserved at $14 for adults and $12 for children 3-11 and seniors 65 and older.
Audiences can expect an evening of traditional Christmas music as well as more contemporary holiday melodies, complete with instrumental musicianship that rivals adult professionals and several vocalists who are featured on many of the numbers. Among them will be "I've Got My Love to Keep Warm," "Winter Wonderland," "Here Comes Santa Claus," "Boogie Woogie Santa Claus," "Cool Yule," "Jingle Bells" and "Merry Christmas Baby."
Other selections include "Christmas Time Is Here," "All I Want for Christmas is You," "Have Yourself a Merry Little Christmas," "What Are You Doing New Year's Eve," "Let It Snow," "Someday at Christmas," "This Christmas," "I'll Be Home for Christmas," "I Wish," "God Rest Ye Merry Gentlemen" and "Silent Night."
Chapman, the musician extraordinaire, takes the best of Utah's teenage musicians and frequently pairs them with noteworthy professional musicians and shows that music can be cool. As he likes to say, "There are no band geeks around here."
The ensemble is so talented, hip, and enthusiastic that Utah Gov. Gary Herbert presented Chapman with his prestigious Governor's Performing Artist Award. The award, which is given to only one artist annually, is merely one of many high-profile accolades for an artist that has been amassing crowds wherever he and his musicians perform.
Energetic and talented teens from Utah swarm to audition in front of the saxophonist who presents concerts both local and abroad. Audiences have cheered their sounds from Utah to Manhattan to the Netherlands, and are in awe of the instrumental choreography that always accompanies a Crescent Super Band show.
Being accepted in the band is a challenging achievement. Many musicians have been in Chapman's younger bands, and many come from Utah's schools.
"I could not do this were it not for dedicated band teachers statewide," he says. "I only get them one or two days a week, and they need to come to me with considerable skills and experience. They have great teachers who have helped them. I then can take them to places and performances the school systems are not equipped to offer."
While Utah is probably not noted as a jazz capital, Chapman is determined to change that, according to JAZZed Magazine, which wrote, "For those looking for a savior of jazz education, mild-mannered and sparsely populated Utah probably isn't high on the list of scouting locations. But what's where ambitious private teacher-turned-bandleader Caleb Chapman calls home, and he's gone a long way toward creating one of the most successful youth jazz programs in the country."
~April Berlin