---
India or... Utah?
A couple of years ago, I saw an ad run by the Indian Tourist Association encouraging Americans to book their tickets to enjoy the original festival in India - in the land of its birth. However, the stunning photograph in the ad had been taken, not in West Bengal, but – you guessed it – Spanish Fork, Utah.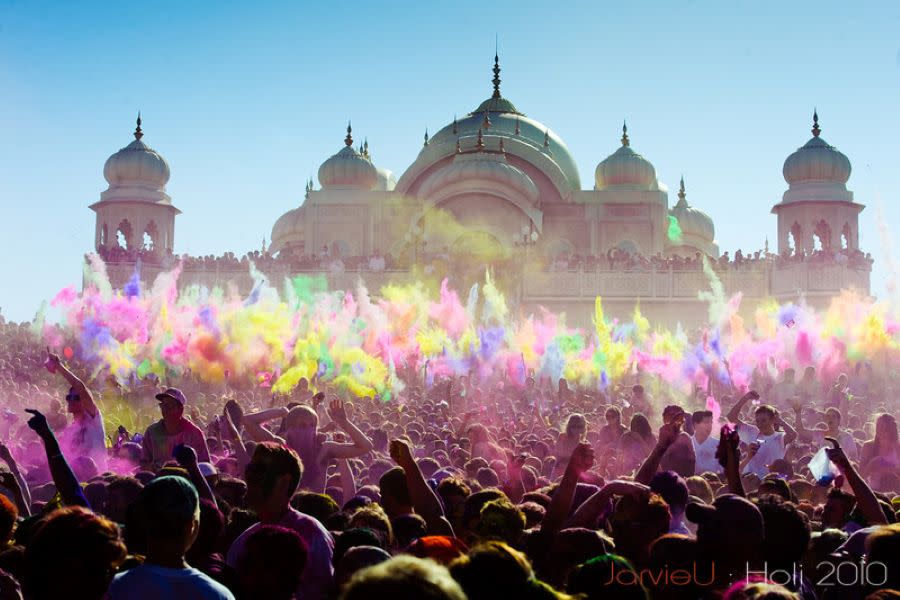 The Holi in Spanish Fork, Utah continues year after year to successfully defend its title as the biggest event of its kind in The United States.
Several years ago, the Wall Street Journal did an article in which they mentioned the worldwide phenomenon of Color Festivals and Color Runs started in Spanish Fork, Utah. With that in mind, we have a big reputation to uphold. 
That's not as hard as you might think when you consider the backdrop of a unique Rajasthani Style temple building and surrounding beautiful mountains. Another thing that contributes to the event's popularity is the youthful and pious population.
Given that the Spanish Fork Festival is a high-energy dance, music, and yoga event, centered on the glorification of God, it's the perfect venue to let off some steam in a good and exuberant way.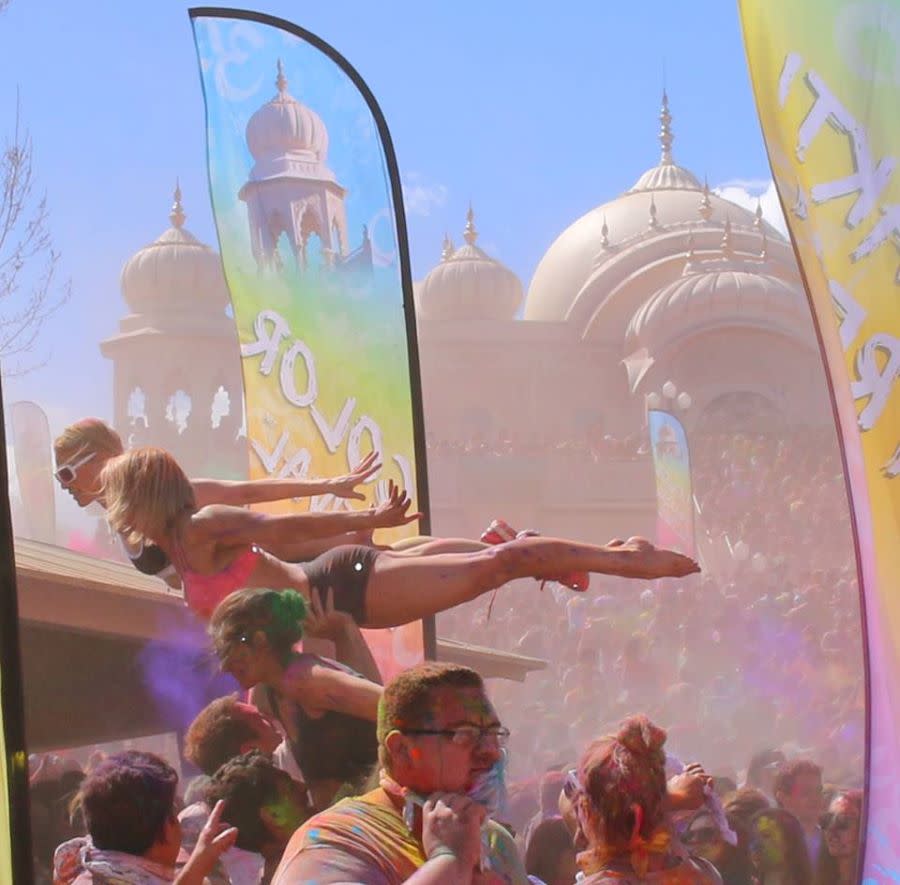 ---
About Holi
In India, Holi announces the arrival of spring and the passing of winter. Spring itself is a metaphor for rebirth, rejuvenation, new beginnings, and forgiveness. Spring represents the playfulness of God (Krishna) wherein the seeds which had been dormant during the winter months burst forth in riotous colors, and a variety of divine aromas. The colors used in a festival are composed of colored corn starch and permeated by fragrances like sandalwood, musk, rose, and jasmine. 
---
What is the Holi Festival of Colors in Spanish Fork?
At this Holi Hindu festival in Spanish Fork, attendees are invited to throw their worries (and a handful of their colorful powder) to the wind at the top of every hour and join in the celebration of the event. 
Besides the hourly color throws, other fun activities at the festival this year will include mantra bands like Ananda Groove, Shakti Tribe, Mikey Pauker, & NamRock, & The Butter Thief. There will be lots of upbeat soundtracks and interactive dancing led by Malini Taneja, Aakansha Maheshvara, and Sarika Dey of Bollypop, as well as Fitness Workouts led by the dance leaders from BollyX Utah.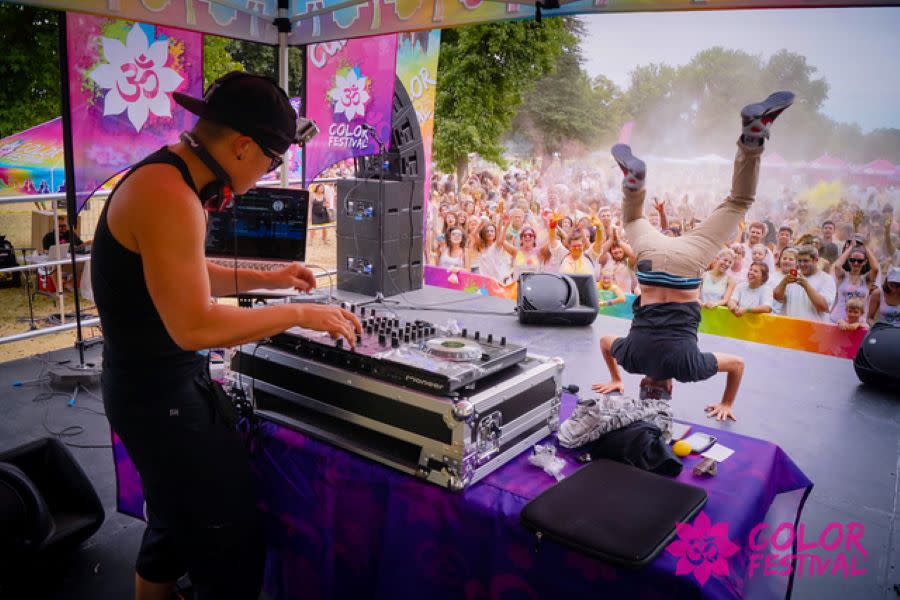 A food court will feature food trucks with international vegan/vegetarian cuisine and many craft vendors participate in our Ganesh Bazaar. 
The Yoga Shala of Orem provides teachers with continuous yoga classes, and last, but not least, there are inflatables, play areas, and lots of animals to enchant the kids between color throws. 
---
When and Where is the Festival of Colors Held?
When: The Festival of Colors will be on Saturday, March 25, and Sunday, March 26.
Where: The festival is located at the Shri Shri Radha Krishna Temple in Spanish Fork, Utah.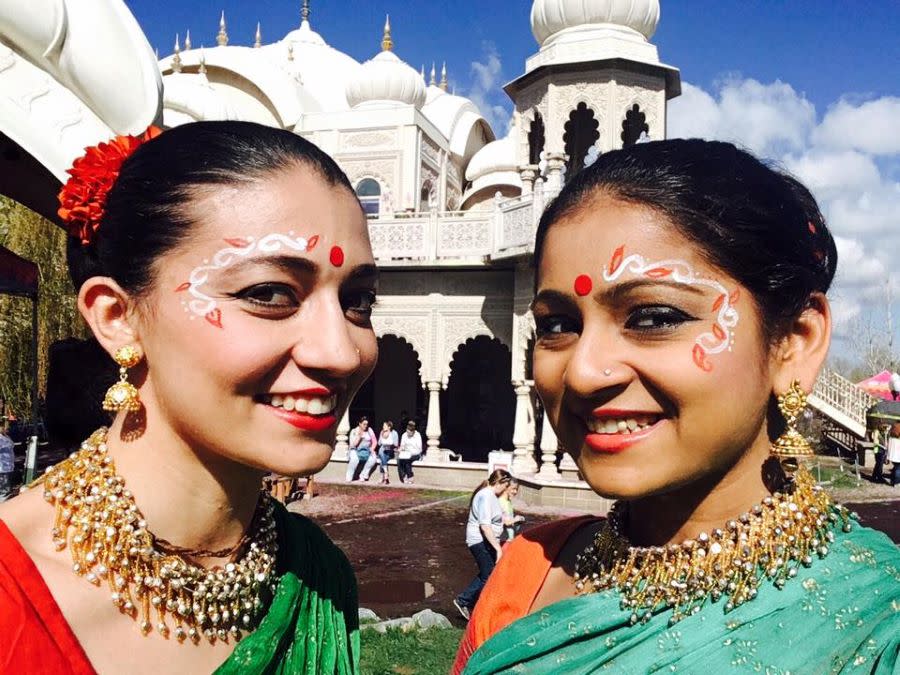 This is one of the only Hindu temples in Utah and is very welcoming to visitors! The festival is open to the public and you don't have to be affiliated with the religion to attend the festival. In fact, in past years, 99% of the attendees are not members of the religion.
---
Tips for attending the Festival of Colors:
Register in advance and purchase your chalk online! To save money and reduce the length of the lines, it's best to pre-register at www.festivalofcolorsusa.com. Pre-registrants pick up their colors when they check in at the gate and do not have to stand in a separate line for them.
Always remember, Admission is FREE for children 12 and under.
Don't take any strollers, and be mindful if you are bringing children to keep them away from the middle of the crowds for their safety. Especially keep young children out of the middle as the dust clouds can be a bit much.
Bring a scarf or some type of cover to protect your nose and mouth or buy a bandana at the online store.
Sunglasses are great to help protect your eyes from the chalk.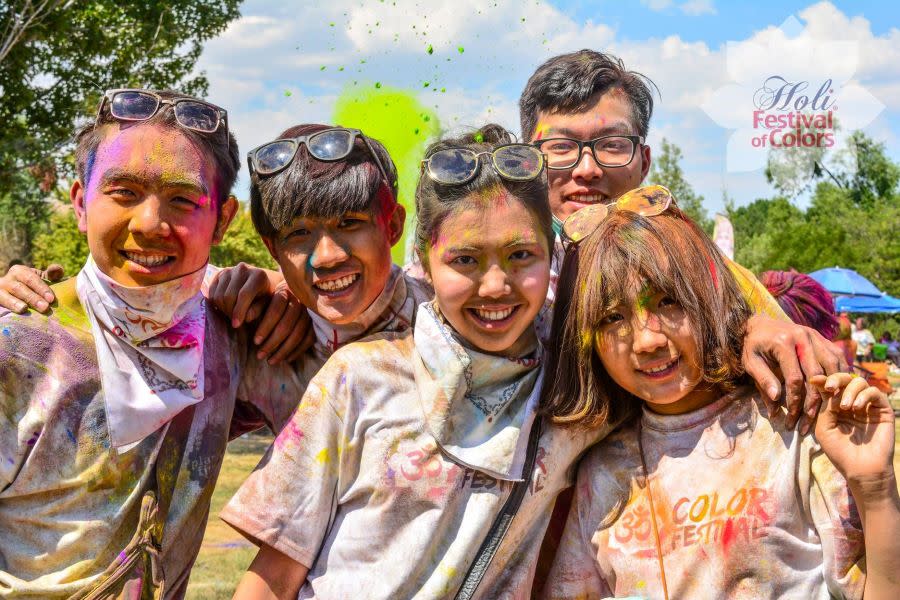 Remember there are a lot of people who want to have a great experience, too--so be mindful of that and don't be fussy about tight spaces & traffic. There will be a large crowd!
Wear clothes that you are okay with getting ruined.
Always avoid throwing colors into the eyes or mouth. 
This is a drug, alcohol, meat, and cigarette-free event. 
Be ready for a lot of fun & an experience of a lifetime!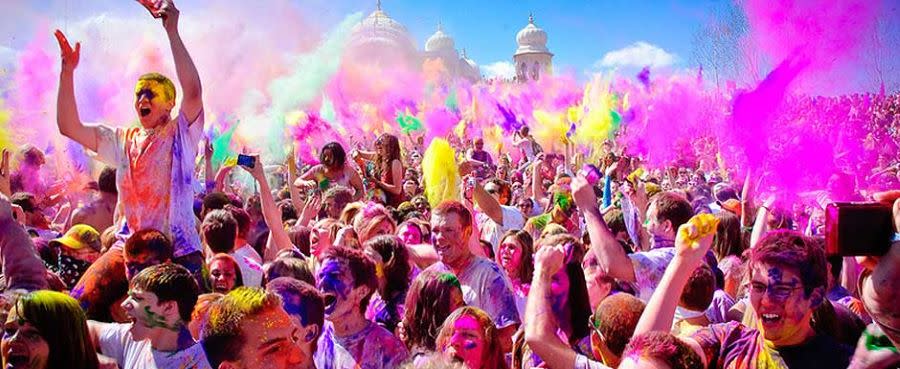 To learn more and to buy your tickets and color bags visit www.festivalofcolorsusa.com.
Take the chance and make this your year to experience the Festival of Colors! It is an experience that you will never forget!
For more fun things to do in Utah County, check out this website's Things to Do page here and Utah Valley events page here.
*All images used with permission from Caru Das.