The countdown for the wildly popular Holi Festival of Colors is officially on! At the end of March (the 30th and 31st), you can find yourself spotted in a rainbow of colors at this year's festival. For those still wondering why so many people have pictures of themselves doused in colors every March on Facebook and Instagram, here's what you need to know!
What is the Holi Festival of Color?
In India, Holi announces the arrival of spring and the passing of winter, and that's part of what the celebration is all about. To get a little more insight about the symbolism of the festival, click here. Guests are invited to throw their worries (and a handful of their colorful chalk) to the wind and join in celebration of the event. People in small groups are seen singing, dancing and throwing colors on each other. Sounds like a handful of fun, doesn't it?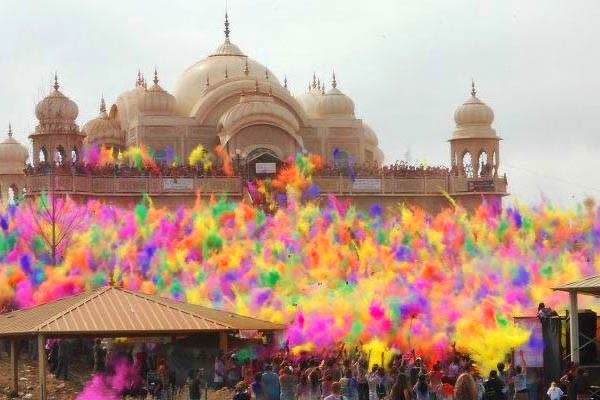 Where is the festival held? 
Every year at the end of March, the Holi Festival of Colors is held at the Sri Sri Radha Krishna Temple in Spanish Fork, Utah. This is one of the only Hindu temples in Utah and is very welcoming of visitors! No affiliation to the religion is required in order to attend the festival.
Details for going
The "chalk" provided by the temple is actually colored corn-starch, so ideally it won't stain if you shake your clothes our before getting them wet. However, it is still not ideal to wear your "Saturday Best."
Besides chalk throwing, other fun activities at the festival will include musical interludes, yoga, mantra, dancing, food, the lighting of a bonfire, and burning of an effigy in between color throws.
Colors will be thrown every hour, starting at noon, and chalk may be purchased for $3 a bag.
There is an entry fee of $5 per person, and children 12 and under are free. 

Extra Tips:
Don't take any strollers, and be mindful if you are bringing children to keep them away from the middle of the crowds for their safety
Register in advance and purchase your chalk online!
Bring a scarf or some type of a cover to protect your nose and mouth or buy a bandana on their online store
Sunglasses are great to help protect your eyes from the chalk
Remember that there are a lot of people who want to have a great experience, too--so be mindful of that and don't be fussy about tight spaces & traffic
Wear clothes that you are okay getting ruined
Be ready for a lot of fun & an experience of a lifetime!
To learn more and to buy your tickets and color bags (and bulk color bags for a discount) visit http://www.festivalofcolorsusa.com/.
Take the chance and make this your year to experience the Festival of Colors! It is definitely an experience that you will never forget!