Due to the thousands of square miles of wilderness within Utah Valley's Wasatch Mountains, we are among the ranks of premier hiking locations. With six mountain peaks over 10,000 feet tall and parts of two trails over 300 miles long, there are challenging adventures for the ultimate thrill seeker throughout Utah Valley.
The best time to hike each of these mountains tends to be in the summer months, from June to September, and changes with weather patterns. Below you will find a list of trails rated difficult and intended for experienced hikers.
Mount Nebo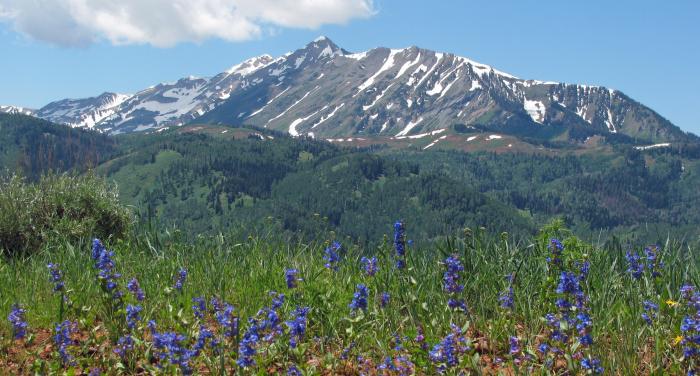 Distance: 8.5 miles
Elevation: 11,928 ft
Elevation Gain: 3,851 ft
Mount Nebo is the highest peak in the Wasatch Range. It can be reached along the Nebo Loop, where the North Peak Trailhead starts. With beautiful views at the top, the peak of Mount Nebo does not disappoint.
The trail may have snow at all times, so prepare with snowshoes, just in case. Also be prepared with plenty of drinking water--there are no places to fill up on water throughout the trail. You will face steep sections, scrambling through shale, and false peaks, but the views are so rewarding! This hike is worth the challenge.
Mount Timpanogos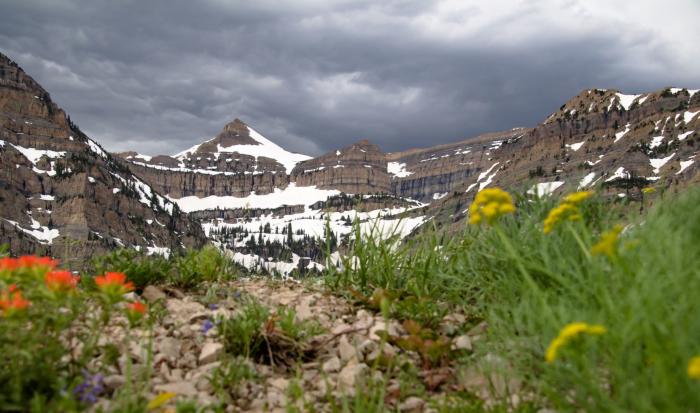 Distance: 14.3 miles/15.9 miles
Elevation: 11,749 ft
Elevation Gain: 4,566 ft/5,492 ft
Mount Timpanogos is a very popular hike among Utah Valley locals--everyone has either hiked it, dreamed of hiking it, or listened to everyone they know talk endlessly about their experiences hiking it. It's that good.
There are actually two ways to reach the summit of Mount Timpanogos. One is to start at Aspen Grove and hike through switchbacks, past waterfalls, and beyond Emerald Lake and a snow field (this trail is longer and has a larger elevation gain). The other way is to take the Timpooneke Trail, which goes through meadows, and up the basin to the saddle near the peak. Both ways are scenic, challenging, and exciting. Many hikers see bighorn sheep, wildflowers, and views of the entire Utah Valley.
Provo Peak
Distance: 11.4 miles
Elevation: 11,068 ft
Elevation Gain: 7,119 ft
This mountain is hidden behind the Y Mountain in Provo, but it is spectacular in its own right. It is much less trafficked than the above two trails, and for good reason! Hiking Provo Peak is steep and strenuous, and requires some driving on dirt roads to reach the trailhead.
The payoff of the hike is how it leads to 360 degree views of surrounding mountains that you can't find anywhere else. Bring a tent and find somewhere to camp along the way to break up the challenging hike. Keep an eye out for wildlife, follow Leave No Trace principles, and enjoy quiet solitude in the wilderness.
Box Elder Peak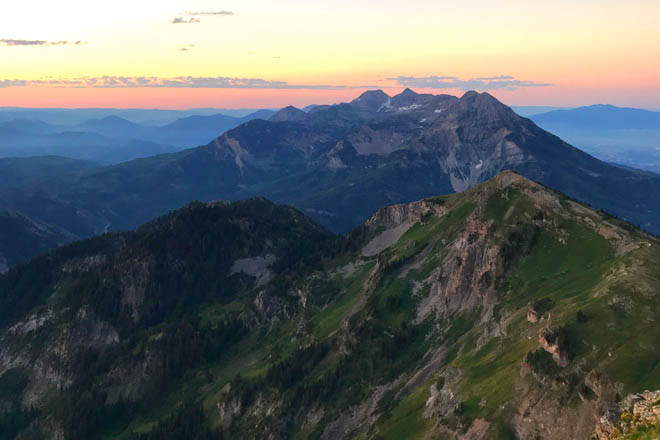 Distance: 10.2 miles
Elevation: 11,101 ft
Elevation Gain: 4,812 ft
This hike leads to a peak in the middle of the Alpine Loop. It is stunning, with awesome views that make all the hard work worth it at the end. There are several ways to access the peak, but one trail that is easily accessible from Alpine City is to start at Dry Creek Trail and go up the south face of the mountain.
Because of the wide array of wildflower meadows on this trail, it is also a great place for bird watching. There are beautiful views throughout the hike of the summit it leads to, and views of Mount Timpanogos and other surrounding peaks at the top.
Spanish Fork Peak
Distance: 10.6 miles
Elevation: 10,192 ft
Elevation Gain: 4,685 ft
Another quiet trail, the hike to Spanish Fork Peak via Maple Canyon is one that will take your breath away as it is mainly uphill with stunning scenery! Along the way, you will find a stream, a small lake, and maybe even some snow! It is also common to find wildlife up there, including elk, deer, cows, and some have even seen bears, so be careful.
Hike with a buddy as you traverse the mountain and enjoy the views of Mapleton and Spanish Fork at the top. Also, be aware of your surroundings, as navigating can become trickier the further up the trail you get.
Bonus Trails
Great Western Trail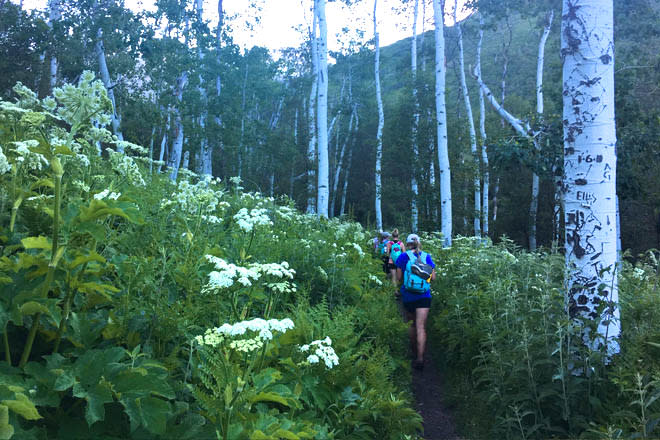 The Great Western Trail is an expansive trail that leads from Mexico to Canada and goes through the middle of Utah. If you're looking for a long-term adventure, consider traversing this trail. Some parts of the trail are in very remote areas and may not be as developed.
Navigational skills are essential for those planning to traverse the entirety of the trail. If you want to walk along the Utah Valley portion of the trail, find it past Battle Creek Falls in Pleasant Grove or near Big Springs Trail in Provo Canyon.
Bonneville Shoreline Trail
The Bonneville Shoreline is not only a massive trail in Utah, but it is also a historical hiking trail, marking the edges of the ancient Lake Bonneville that the Great Salt Lake gets its saltiness from.
It is a well-known trail, popular for trail running, day hiking and mountain biking. It is possible to hike the entirety of the trail, which runs from Ogden to Payson, and more is being built on to extend it north past Logan and south past Nephi. The entire stretch of the trail offers great views of Utah Valley and it is always within 20 miles of the centers of the cities.
Leave No Trace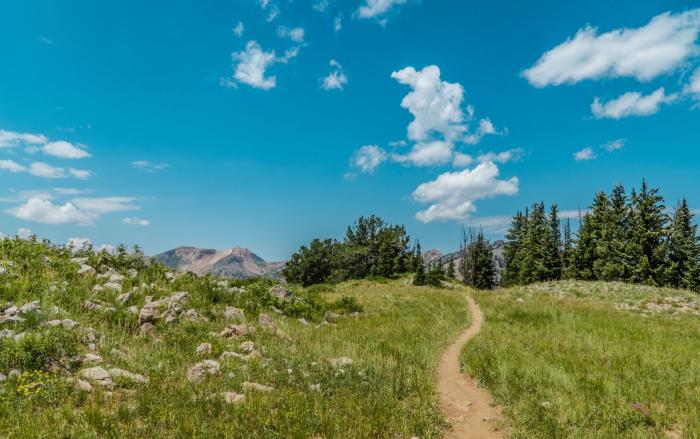 Keep these 7 Principles in Leave No Trace in mind before you go backpacking to ensure that you preserve the outdoor experience for you and others:
Plan ahead and prepare to make sure you have the right equipment and the physical ability to finish your trip safely.
Travel and camp on durable surfaces so you don't damage nature or injure yourself.
Dispose of waste properly, even if that means carrying it with you until you come across a dumpster or trash can.
Leave what you find, including flowers, leaves, and other pieces of nature you may find that look enticing to keep.
Minimize campfire effects by always putting it out completely and following proper fire rules in the area--consider using a stove instead.
Respect the wildlife by not getting near, feeding, or disturbing them and remember that you are in their home.
Be considerate of other visitors by not blasting loud music, giving uphill hikers and horseback riders the right of way on trails, and controlling your pets.
Tips for Backpacking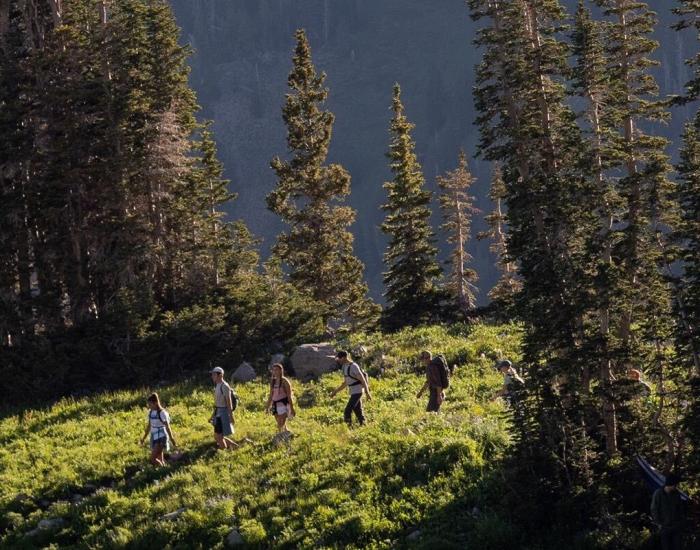 Here are some basic beginner tips for backpacking:
Pack light! You will not want to carry much weight with you for many miles up the mountains, so only pack the essentials.
Map out your hike. This will help you pace yourself, as well as locate features that will be ideal to stop at (i.e. water sources, camping spots, scenic areas, etc.)
Practice ahead of time by taking frequent, shorter hikes, leading up to your backpacking trip.
Backpack with a buddy! Hiking with others will help you stay safe, avoid getting lost, and find fun ways to pass the time.
Give your trip details to a friend who is not coming on the trip. This way, in case something happens to you, they will be more likely to find and help you.
When hiking in Utah, make sure you have prepared for the altitude. Most of the hikes below are over 10,000 feet and are strenuous.
Pack layers! It gets cold in Utah mountains at night, so you will want plenty of layers to keep you warm. The higher altitude can also increase your chance of getting sunburned, so layers will help prevent that.
Lastly, follow the Leave No Trace principles mentioned above! This is so important in keeping Utah Valley's mountains beautiful, clean, and preserved for people to enjoy in the future.
If you are planning on doing one of these hikes, consider renting a llama from Utah Valley Llamas to help carry your pack and ease the burdens of a strenuous hike! For more great hikes in the area, check out our hiking page!