Looking for a winter sport that the whole family can enjoy, without breaking the budget?  Of all the winter sports, snowshoeing is perhaps the most family-friendly, and best of all, it can usually be done for nothing more than the cost of equipment.  
While snowshoeing may look complicated, it's really nothing more than hiking through the snow, Making it a great winter sport for the whole family.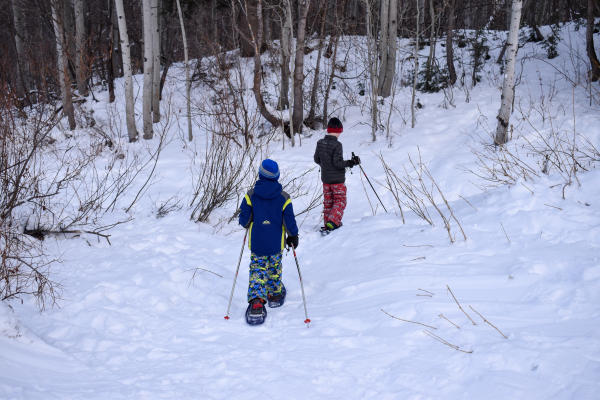 Teaching Kids To Snowshoe
My favorite part of teaching kids how to snowshoe is that most kids need little if any, instruction.  Simply strap on a pair of snowshoes to their feet and let them tromp around in the snow.  To help kids get the feel of snowshoeing before heading up to the trail, let them practice walking in snowshoes in the backyard or at a park.  This will help them know how it feels to walk with snowshoes on and will give them space to practice falling and getting up in an open area.  Letting kids learn to snowshoe in a comfortable, open area, will help them to be more resilient once you hit the trail.
Once your kids have figured out how to move around on snowshoes, it's time to hit the trail.  For your first time snowshoeing with kids on the trail, choose a trail that's relatively short and has very little elevation gain.  Below, we've shared our favorite local trails for snowshoeing with kids.  
It's also important to remind kids that while you are snowshoeing on the same trails that you hike on during the summer, there is a big difference between snowshoeing and hiking.  Most importantly, emphasize to your kids that snowshoeing is much slower than hiking, and remind them that it's completely normal to fall down while snowshoeing.  
As your kids get more comfortable on their snowshoes, gradually progress to more difficult terrain, introducing some hills and longer distances.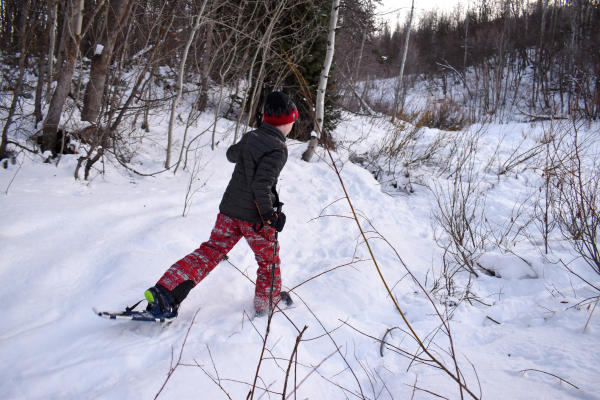 What Age Can Kids Learn To Snowshoe?
Wondering about the best age to teach kids how to snowshoe?  In my experience, I've found that age 4-5 and up is the best age to really teach kids to snowshoe if you want to cover any significant ground on the trail.  By that age, they're more coordinated and it's easier for them to take bigger steps on their snowshoes.  
With that in mind, we actually introduce our kids to snowshoeing at age 1 or 2.  We let them stomp around in the backyard, or go for walks around the neighborhood on snowy days with us.  Toddlers on snowshoes can have a difficult time because, in order to not be stepping on their snowshoes the entire time, their legs need to be in a much wider stance than they are used to walking in.  When we take babies or toddlers snowshoeing on the trail, we usually carry them in a hiking carrier and leave the snowshoes at home.
When kids are getting closer to 3 and 4, that's a great time to help kids improve snowshoe skills so that when they're ready they can hit the trail with you.  
You can help young kids snowshoe better by playing games with them, having races on snowshoes with kids, and by letting them snowshoe farther and for longer periods of time while still close to home.  When kids are three or four, they can often snowshoe for short distances, but often not far.  At this age, we pull the kids in a sled while we snowshoe, and then let them get out and try snowshoeing on their own at easier sections.  This works as a great way to introduce kids to snowshoeing on the trail but allows you to cover more ground than the ¼ mile that most kids can snowshoe at that age.  
Set Realistic Expectations
As a parent, it's important to set realistic expectations for our kids when teaching them to snowshoe.  While it would be impressive if kids could hike 8 miles into a backcountry hut, it may be just as big of a win to get the whole family outside in the snow, being active for a few hours, and make it back to the car with a smile.  
Just last week, I loaded up four of my kids for an after school snowshoe hike. All of them have quite a bit of snowshoe experience, yet as the sun sank lower into the sky, I realized that despite being on the trail for over an hour, we had only gone about half a mile. YIKES!  However, I resisted the urge to tell my kids to start moving faster and realized that even though we hadn't covered a lot of ground, we had still had a successful adventure together.  We'd stopped on a log to watch a few birds who were playing in the trees, we'd watched a squirrel trying to jump through the deep snow, and more snowballs than I can count had been thrown. The best part was that all of the kids were smiling and they all had a great day on snowshoes.  
While as parents, we often want to reach a certain destination, the real goal of introducing kids to outdoor adventures is to help them love being active outside, and that made our day an overwhelming success.  When snowshoeing with kids, remember to spend time enjoying the journey, and not just focus on the destination.
Kids Snowshoe Clothing
Dressing your kids in the best clothes for snowshoeing can be the difference between a great day and a terrible one.  Snowshoeing is an aerobic activity, so plan on working up a sweat, but since you're outside with kids in winter you have a few more challenges as that sweat can quickly cool and freeze.
When you're dressing kids for snowshoeing, plan to dress everyone in layers, especially Mom and Dad who always end up doing a lot of extra work.  Carry a backpack with you to put extra layers in as you warm-up, so that you have them handy in case you cold down.  Also, make sure to stash some snacks, and plenty of water in your backpack as well.  
Start with a high-quality base layer, made of merino wool or synthetic fibers.  A good base layer will not only insulate your child but will help to wick sweat away from them as they heat up.  DO NOT dress your kids in cotton base layers, since they will stay wet and cold as soon as your kids start sweating.  
On top of the base layer, wear an insulating mid-layer.  We typically choose fleece or down for snowshoeing with kids, since they both keep kids warm in winter, but pack down small if you need to take them off.  
Finally, have your kids wear waterproof outerwear for snowshoeing.  You'll definitely want them to have waterproof snow pants and gloves at a minimum, as well as a good waterproof winter coat for snowshoeing (though if the weather is good, kids may not need to wear a waterproof coat).  
Kids should also wear good fitting boots while snowshoeing.  I have found that waterproof hiking boots are great for snowshoeing with kids, though snow boots that lace up tightly also work well for kids' snowshoe boots.  Pair those with a good pair of merino wool socks, and your kids will have comfortable and warm feet while snowshoeing.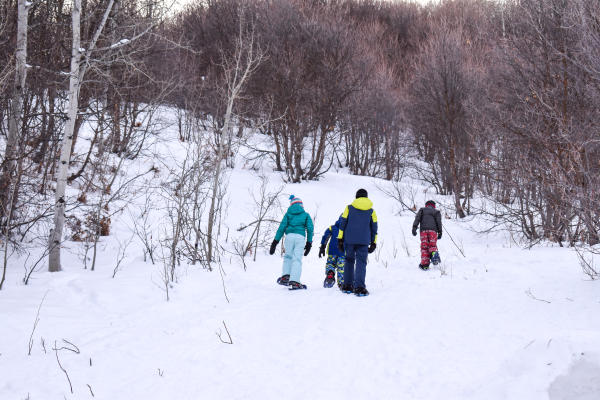 Best Trails To Snowshoe With Kids In Utah Valley
Tucked right against the Wasatch Mountains, we are perfectly situated with great access to kid-friendly snowshoe trails in Utah Valley.  Here are a few of the best places to snowshoe with kids in Utah Valley:
The Sundance Nordic Center is set up with over 10km of snowshoe trails through the forest.  The views of Mt Timpanogos are jaw-dropping here, so it's the perfect place to spend the day.  Most of the trails are fairly flat, so it's a great place to introduce kids to snowshoeing.  While using the Sundance Nordic Center does require the purchase of a trail pass ($12 adult/ $9 kids 7-17), you can also rent snowshoes here for just $13, so if you want everything you need in one stop, this is the place to go.  
This is one of the easiest places to snowshoe with kids near Provo Canyon.  Located just up South Fork Rd past Vivian Park, Big Springs has wide, easily identifiable trails with very minor elevation gain, making it an easy place to teach kids snowshoe skills.  While the trail is part of the larger Great Western Loop, it's easily done with kids as an out and back snowshoe trail, turning around when the slope starts to get steeper.
This trail around Tibble Fork Reservoir in American Fork Canyon can be a fun place to snowshoe after fresh snow.  The whole loop is about 4 miles, with a little over 1000 ft of elevation gain, so it is on the more difficult side.  If there hasn't been snow recently, snowshoes may not be necessary since the trail is heavily trafficked, so the snow can get packed down quickly.
If you want a hike that will gradually introduce your kids to more challenging terrain on snowshoes, check out the Grotto Falls Trail.  In the winter, the gate is closed, so you'll hike 1.3 miles along a snow-packed road, which is a great way to get a feel for how snowshoes work.  Once you hit the trailhead, you'll hike for 0.6 miles to the Grotto Falls, which will absolutely delight kids in the winter.  If you want a great destination snowshoe hike with kids, then this is the one to try.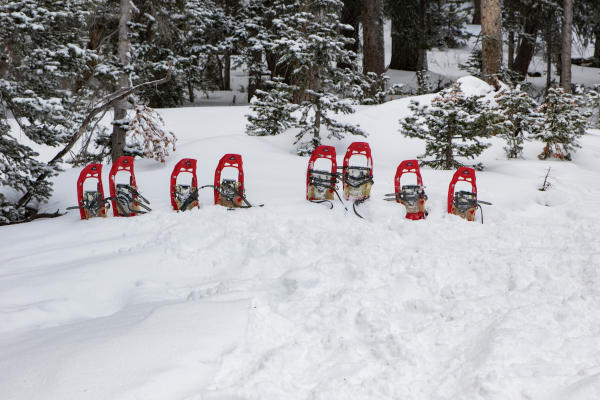 Where To Rent Snowshoes In Utah Valley
Sundance Nordic Center: $13 per day
BYU Outdoors Unlimited: $10 for the first day and $6 for each additional day
Level 9 Sports Orem: $12 per day
RentalShare Utah County: $8-$10 for 48 hours
Plan It Rentals American Fork: $7 per day
JJ's Rentals: $10 per day
Whether you're ready to hit the trail with the kids, or you just want to play around in the backyard, there are plenty of snowshoe opportunities for all ages in Utah Valley.