Spring has finally arrived and Easter is just around the corner! There are Easter egg hunts and events all over Utah Valley. Take your kids out for a great time at one of these fun events - or maybe even catch more than one! Events are listed in order by date.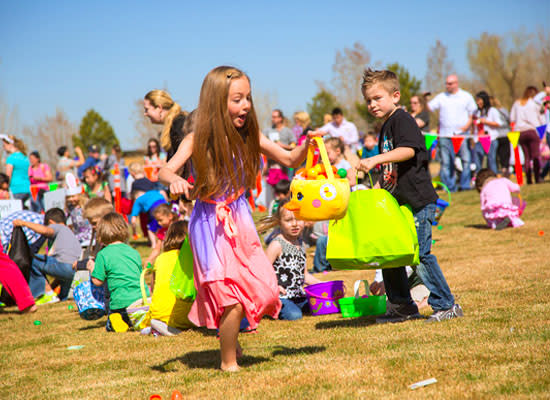 Saratoga Springs Spring Festival
Friday March 31st, 9PM (Teens) and Saturday April 1st, 9AM (Children), Neptune Park 452 W 400 N
Join in the fun at the Saratoga Springs Spring Festival this year! There will be a Teen's Easter Egg Hunt this year for the city's teens ages 13-18.  This will be an after dark Easter Egg Hunt on Friday, March 31, 2023 @ 9pm Sharp! And of course there will be a Children's Easter Egg Hunt - Saratoga Springs' Traditional Easter Egg Hunt on Saturday, April 1, 2023 at 9am Sharp! Both events will be held at Neptune Park.
Lehi Easter Egg Hunt
Friday March 31st, 9PM (Teens) and Saturday April 1st, 11AM (Children), Lehi City Sport Parks 2000 W 700 S
Bring your flashlights for Lehi's Teen Flashlight Easter Egg Hunt with cash and candy filled eggs at Sports Park on Friday, March 31 at 9 p.m. Teens ages 13-18 need to be in place ready to go at 9 p.m. sharp.
The Easter Egg Hunt on Saturday will have designated areas by age group for infant-3, 4-6, 7-9, 10-12, and an area for children with special needs
Spanish Fork Easter Egg Hunt
Saturday April 1st, 9AM, Spanish Fork Sports Park 295 Volunteer Drive
Come and celebrate your Easter weekend with the Spanish Fork City Easter egg hunt! It will begin at 9am at the Spanish Fork Sports Park. Make sure to bring an Easter basket to collect eggs.
Eagle Mountain Easter Egg Hunt
Saturday April 1st, 10AM, Cory Wride Memorial Park 5806 Pony Express Pkwy
Bring your camera, bring your basket and be ready to have an amazing hunt! Eagle Mountain's Easter egg hunt will include lots of fun prizes and is split up by age group! This will take place at Cory Wride Memorial Park at 11am. 
Santaquin City's Teen Flashlight Hunt
Friday April 7th, 9PM, Harvest View Sports Complex
Teens can join in the fun at this second annual Teen Flashlight Hunt and Dance on Friday night. This event is for ages 13-18, middle and high school students. Bring your own flashlight for the hunt and stay after for a dance which goes until 11pm. 
Saturday April 8th, 10AM, Heritage Park in Highland, 10400 Alpine Highway
Come celebrate the Easter holiday with an Easter egg hunt in Highland City! Hunts will be arranged by age group, so get there before the hunt which starts at 10am. There will be a children's art area sponsored by the Highland City Arts Council. And check your eggs before you leave the park - there will be prize tickets in some of them!  

Easter Extravaganza
Saturday April 8th, 2PM, University Place in Orem
Hop on over to The Orchard with your family and friends to enjoy this fun and exciting Spring-time event. Children can meet and have their photo taken with the Easter Bunny as well as enjoy several activities like: a petting zoo, pony rides, yard games, face painting, and so much more!
Harward Farms & Springville Rotary Annual Easter Mad Dash Egg Hunt
Saturday April 8th, 9AM, Jaker's 950 W 400 S in Springville
This event will have big prizes for a lucky few, with candy and fun for everyone! Multiple age range sections will be provided for the egg hunt.
Santaquin Recreation's Great Easter Egg Hunt
Saturday April 8th, 9AM, Santaquin baseball fields 400 W 190 S
Santaquin's annual Easter egg hunt will provide three different start times over three different fields, split up into seven groups by age and ability. Don't miss the Easter Bunny hopping around at this event!
Alpine Easter Egg Hunt
Saturday April 8th, 10AM, Creekside Park 100 S 600 E
Bring your own basket!
Friday, April 7th, 5-8PM and Saturday, April 8th, 11AM-3PM, Evermore Park
Join us in this easter at Evermore, a fantasy European village where dragons, fairies, and magic lay around every corner, for an unforgettable Easter Egg Hunt! Seek dazzling dragon eggs, shimmering golden bottles, and magical tokens amidst vibrant flora and mystical fauna.

Vineyard Bunny Hop Egg Drop
Saturday April 8th, 9AM, Vineyard Grove Park 350 N 100 E
Bring your own basket for this free event and see how many Easter eggs you can find! Be quick like a bunny to gather as many as you can! The fun starts right at 9am and will be over in minutes, so don't be late for this very important date!
Easter Eggstreme
Saturday April 8th, 9AM, Thanksgiving Point Electric Park
This is Thanksgiving Point's annual Easter egg hunt and event at Electric Park! They have hunts every 30 minutes from 10:30am to 1pm divided into age groups. The event goes from 10am to 2pm and there are other activities too such as bounce houses, tractor rides, and Easter-themed games. This event costs $9-$16. Be sure to snag a photo with the Easter Bunny as he hops on by at this event! 
Payson City Easter Egg Hunt
Saturday April 8th, 10AM, Hillman Fields, 955 South Main
From Payson's city website: "No bunny does an Easter Egg Hunt like Payson City! Grab your baskets and help celebrate the spring season at this favorite city event. Children will have an egg-cellent time gathering filled eggs."
Saturday April 8th, 11AM, 95 South 2000 West, Pleasant Grove
Visit a real farm for some real fun! There will be an Easter Egg Hunt every 30 minutes starting at 11am. From their Facebook event description: "Each child will get to find 10 candy/toy filled eggs plus each hunt session has golden eggs hidden that can be redeemed for special prizes. Farm activities for all include: petting farm, baby animals, silo slide, giant slide, animal train rides, zipline, corn box and courtyard activities." This event costs $13-14 which includes the farm activities, with addition activities available for a $1-$3 purchase such as Easter crafts, fish pond & Easter games with a prize!
Easter Family Night
Monday, April 10th, 6pm, Bean Life Science Museum in Provo
Join us for a night of free family fun! We will have various activities around the museum including a scavenger hunt and crafts!
Note: no candy will be handed out at this event.

Which event are you excited to attend? See our Spring Blog for more activities to take part in this beautiful season! Or check out our calendar of events here!