Thanksgiving is just around the corner and, if you're like me, cooking a giant meal that takes several hours doesn't sound too awesome. Luckily there are several places in Utah Valley where you can dine in on Thanksgiving or grab a pre-made meal to take and serve at home!
1. Provo Marriott
Feast at the Thanksgiving Buffet at the Provo Marriott. There will be classics like turkey breast, prime rib and sausage stuffing. The Provo Marriott also offers kid-friendly food like corn dogs, mac and cheese, and chicken strips. Speaking of kids, children 5 and under are FREE. 
To make a reservation, call 801-377-4700.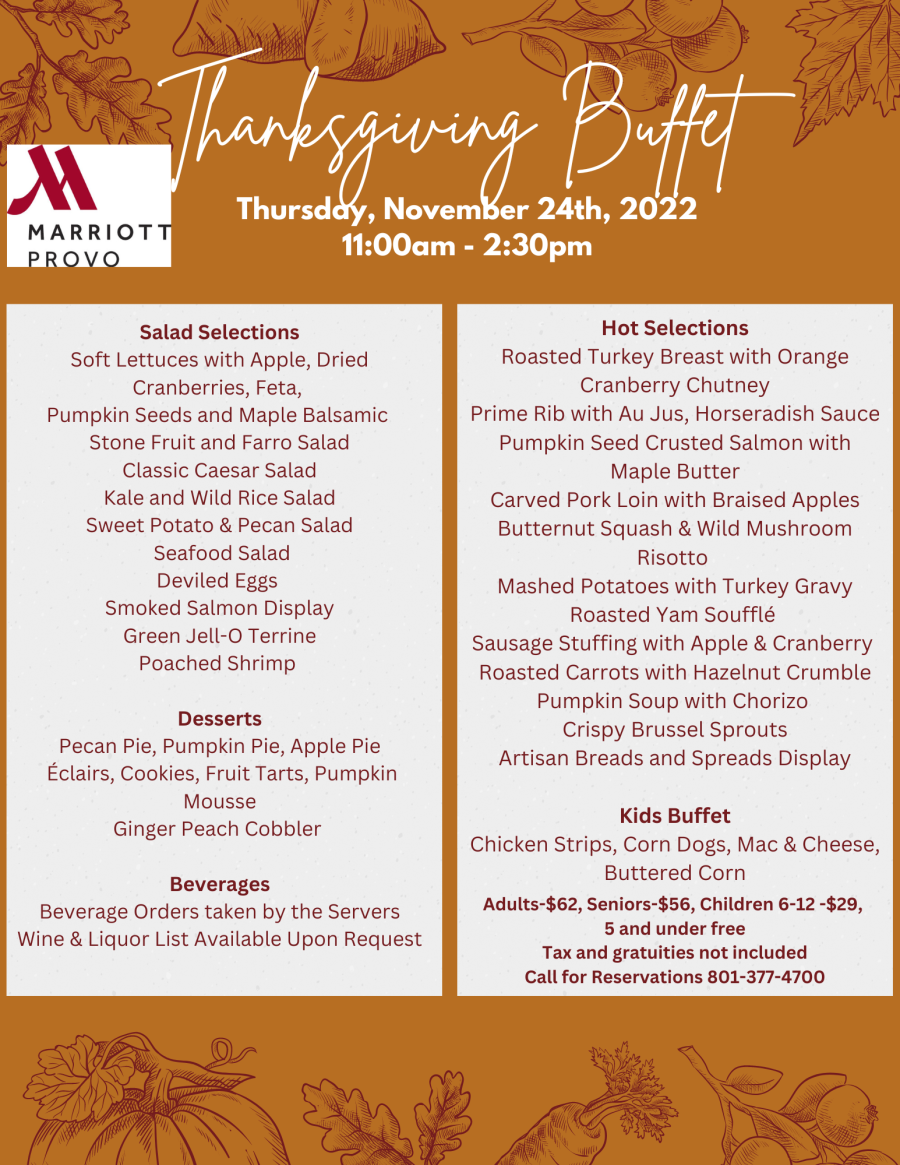 2. Bistro Provenance
Have a French-inspired Thanksgiving meal at Bistro Provenance in downtown Provo. They are offering a 3 course prix fixe menu for $75 per person. Make your reservation on their website.
3. Tucanos
Have a Brazilian Thanksgiving at Tucano's Brazilian Grill in Orem. Along with their usual menu, they will also be serving three kinds of turkey, mashed potatoes, green bean casserole and more! To reserve, call 801-224-4774.
They also offer a Thanksgiving meal to go. They have three options so you can choose the meal that best fits your holiday plans. To order, head to the Tucanos website!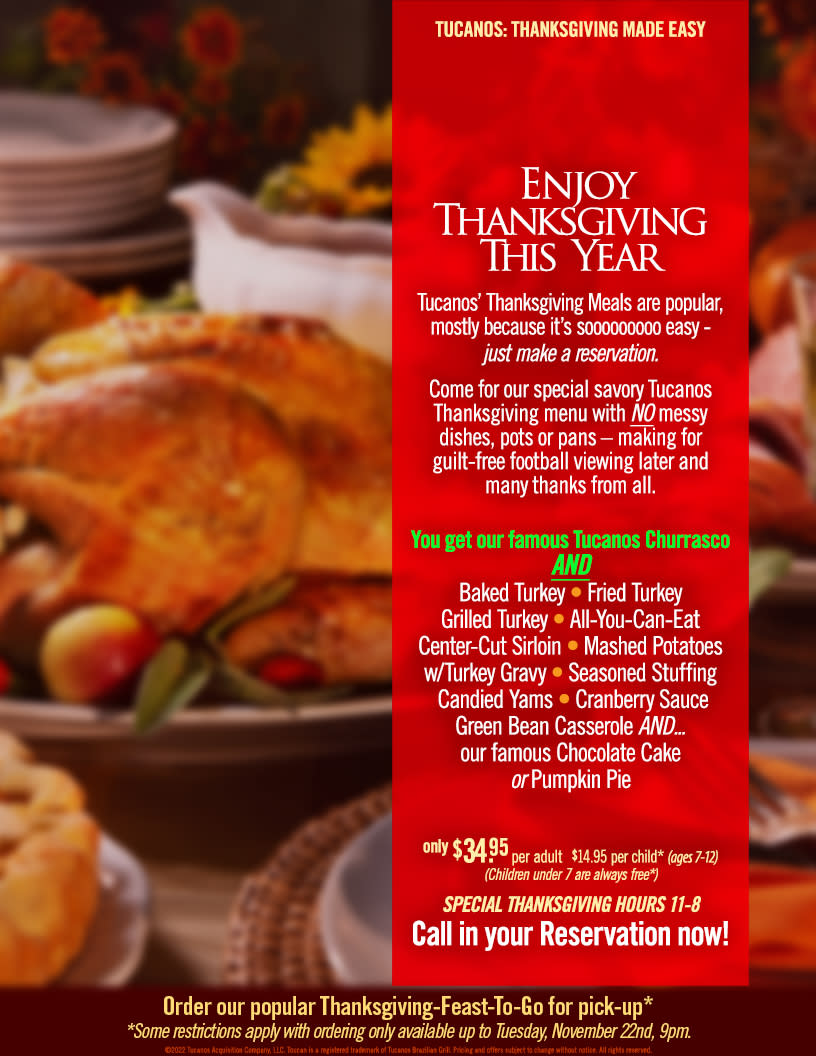 4. Golden Corral 
For a wallet-friendly Thanksgiving buffet, Golden Corral in Orem is offering all you can eat turkey, ham and beef roast. They also offer Thanksgiving meals for takeout. To order your Thanksgiving meal, use their app or go to their website.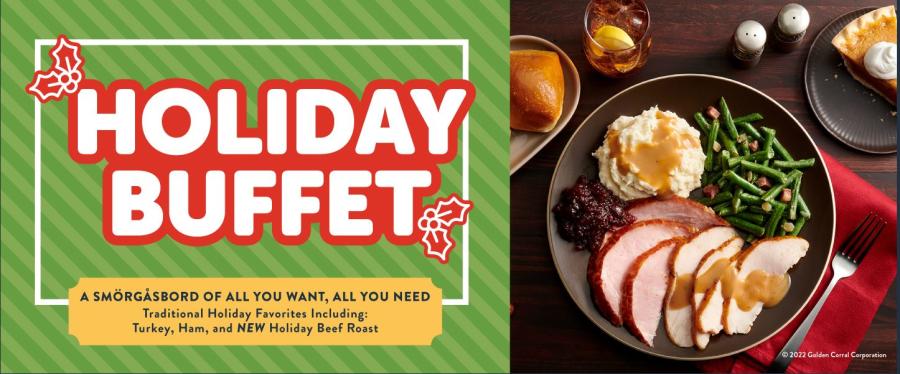 5. Chuckarama 
Chuckarama in Lehi and Provo will be open from 10am-6pm on Thanksgiving offering their all you can eat buffet. You can also grab "to-go" for $8.49/lb. Don't miss out on their lava cake and cheesecake ice cream!
6. La Jolla Grove
Fine dining restaurant La Jolla Grove in Provo is offering a Take Home Thanksgiving Feast that you can pick up and reheat on Thanksgiving Day. It is $40 per person and includes turkey, mashed potatoes, stuffing, vegetables, salad and rolls. Order at lajollagroves.com.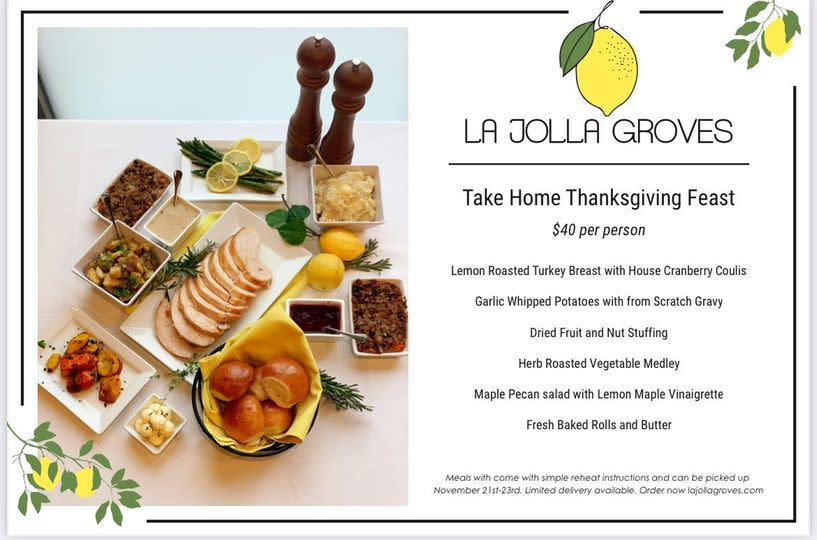 7. Gourmandise
Gourmandise in American Fork is offering a take-home Thanksgiving Feast which includes turkey breast, Gourmandise roasted vegetable medley, scratch-made cranberry chutney, mashed potatoes, sweet potatoes, Gourmandise croissant, and brioche stuffing, turkey gravy and butter and herb rolls. This option is $175 and feeds 4-6 people. You can also order individual sides and desserts. Sounds delicious? Order it on the Gourmandise website.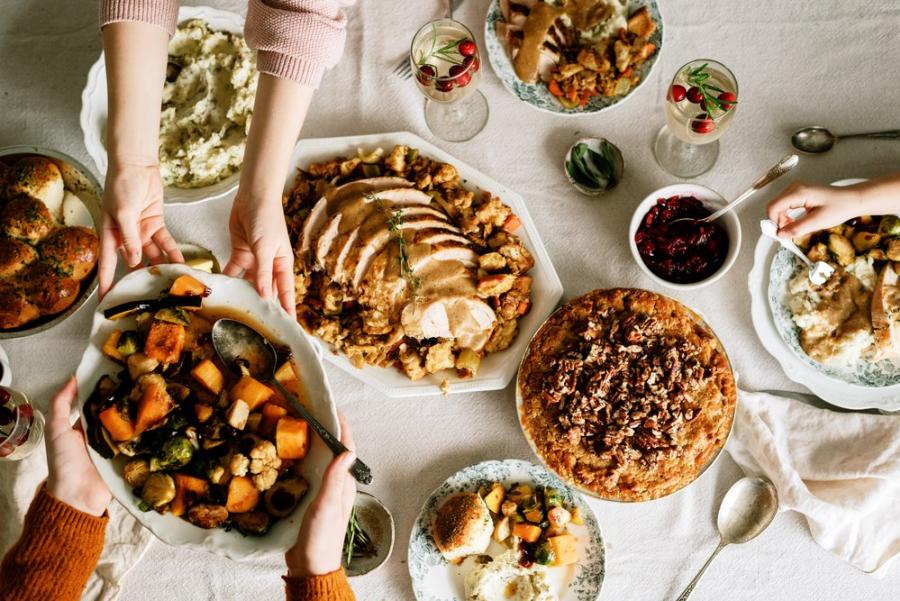 8. R&R BBQ
R&R's fan-favorite Smoked Holiday Dinner is back! This pack includes a turkey breast, garlic mashed potatoes with gravy, creamed corn, stuffing, rolls, and a delicious cranberry-apple crisp for dessert! With enough food to feed 6-8 people, your entire meal will be ready to take home and finish in your oven with easy at-home instructions.
Call in your order or order in-store at one of their Utah Valley locations (Lehi, Pleasant Grove, Provo, Spanish Fork)!
9. Magleby's
Every year, Magleby's hosts their famous Thanksgiving Buffet from 11:00 am - 3:00 pm on Thanksgiving day. As one of the most popular restaurants in Springville, the reservations fill up pretty fast, so make sure you call ahead to get on their list!