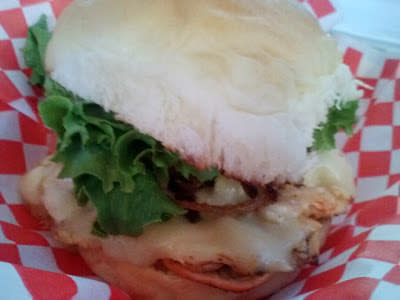 We had the opportunity to stop by the Provo Beach Resort and eat at The Pier Cafe. Now I need you to take a minute shut your eyes and forget everything you know about fun center food, because that's not what you'll find at The Pier Cafe. The restaurant doesn't even have microwaves in it, because everything is made fresh and cooked right!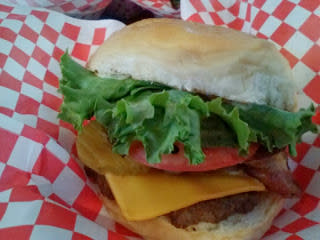 We tried the Bacon Cheeseburger and the Surf Shack Chicken Sandwich on our trip. We also had the hand cut fries and an order of curly fries with our sandwiches. They make their classic fries in house. We talked to the food operations manager Juan who told us they go through 150 pounds of potatoes in a week! These fries are so good. Both the chicken and the burger patty are seasoned with Juan's families secret recipes. I'm not sure what's in it, but I know I liked it. It has a very Latin American style to it. He is the only one in the restaurant who knows how to make the seasoning and does it from scratch every time. He does it from memory and with out measuring cups.
       The chicken is marinated over night to really give it that extra flavor. The Surf Shack chicken Sandwich is topped with jack cheese, tomato, avocado, and love. Now I'm a bacon person, so I get kind of picky about what kind of bacon goes on my burgers, but they exceeded my expectations at The Pier Cafe. The bacon was amazing as was the patty itself. The special seasoning used on the burger brought out the natural flavoring of the meat and mixed perfectly with the cilantro lime ranch sauce (made in house). I would say both of these sandwiches are must haves at the Pier Cafe along with the fries, but another item you need to try is the Dole Whips. These are the same ones they have at Disney land!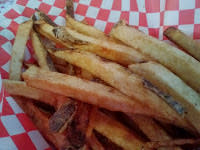 The Pier Cafe is set up so you can have delicious gourmet food and then go out and play, but you can always stop by just to get something amazing to eat. The restaurant is open Monday-Thursday 11 am-10 pm, Friday from 11 am- 11 pm and Saturday from 10 am-11 pm.