Chalk the Block is back for another year, and every single artist brought their "A" game! I was able to catch the artists at work this afternoon, and I've compiled a list of my "Top 5 Must-See Masterpieces" at this year's event. You're definitely going to want to check out these 5 exhibits on Saturday, because they're going to be jaw-dropping when they're finished!
1. Lady Liberty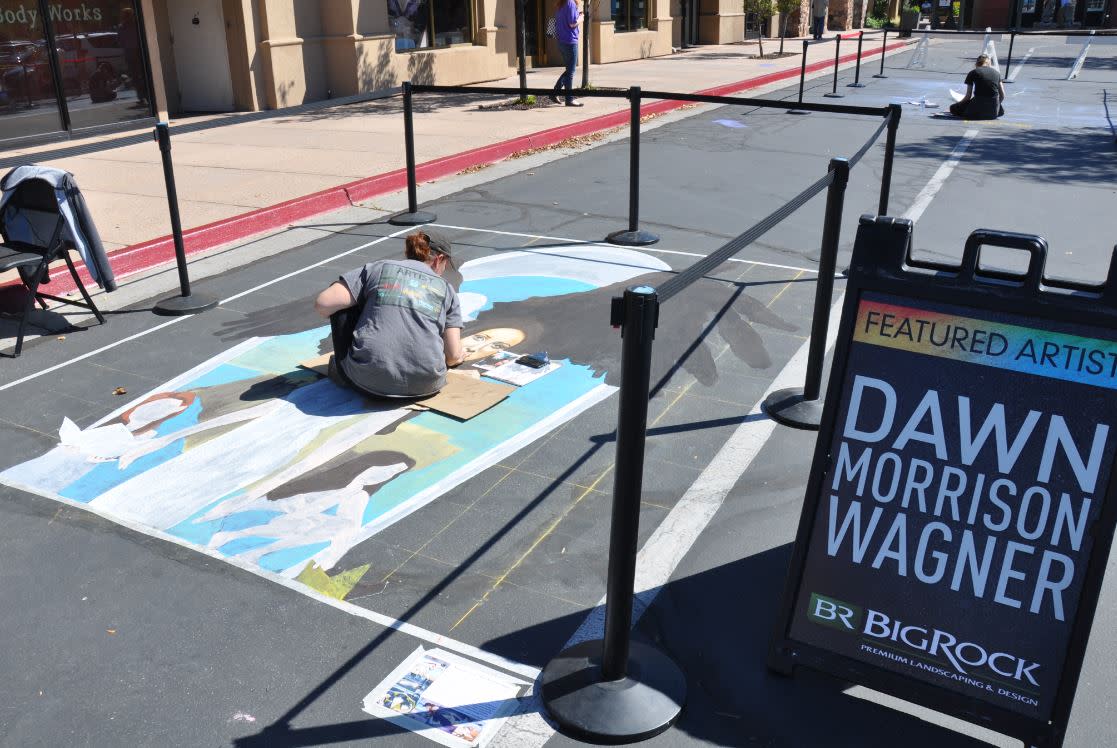 This theme of this year's festival is "From Sea to Shining Sea," and featured artist Dawn Morrison Wagner of Southern California has taken that theme to heart in her masterpiece. Her exhibit features a woman representing America, with a bald eagle representing strength behind her. In the background is a minature United States, with two young girls sitting on both coastlines. You can find Dawn's piece in the south parking lot behind Lime Ricki. 
2. The Mega Chalk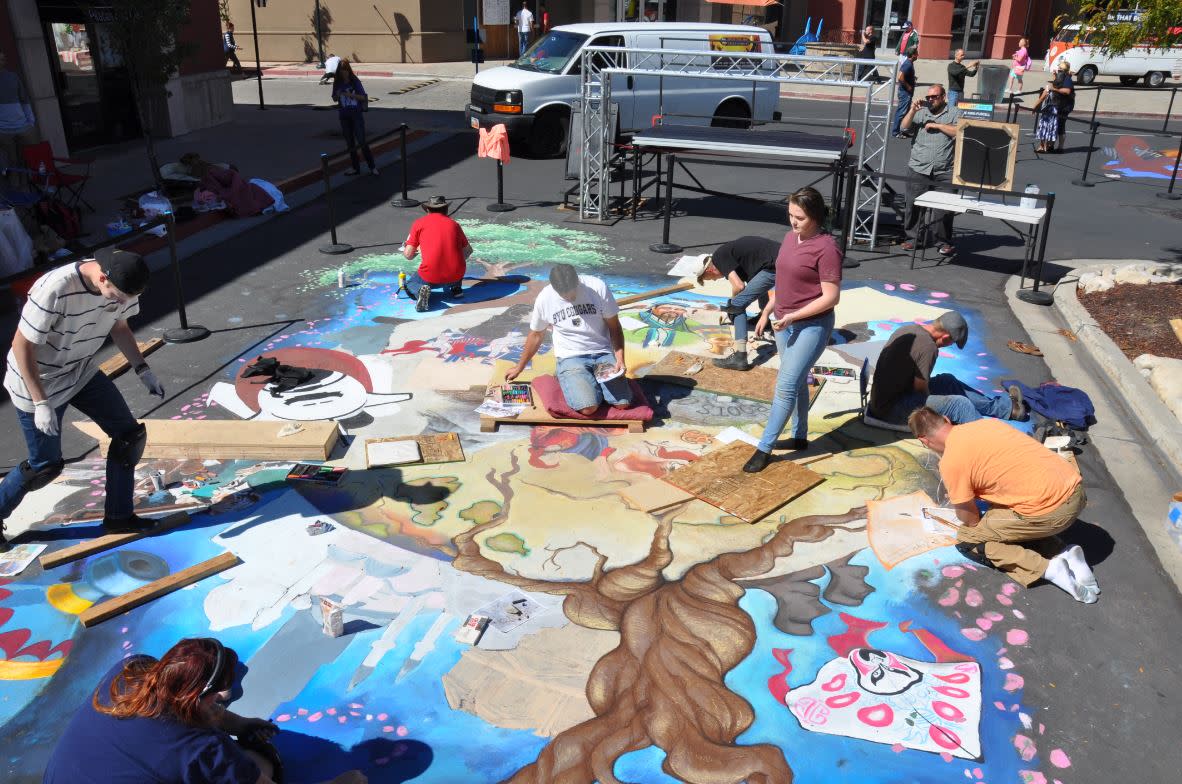 I've named this masterpiece "The Mega Chalk" because it's the largest exhibit I've ever seen in the 4-year history of Chalk the Block. There were eight people working on it when I took this photo, and as you can see, it's very detailed. This exhibit also features two raised platforms so that you can get a bird's-eye view of this gargantuan chalk art. This piece can be found right in front of Mend Juicery. 
3. Harry Potter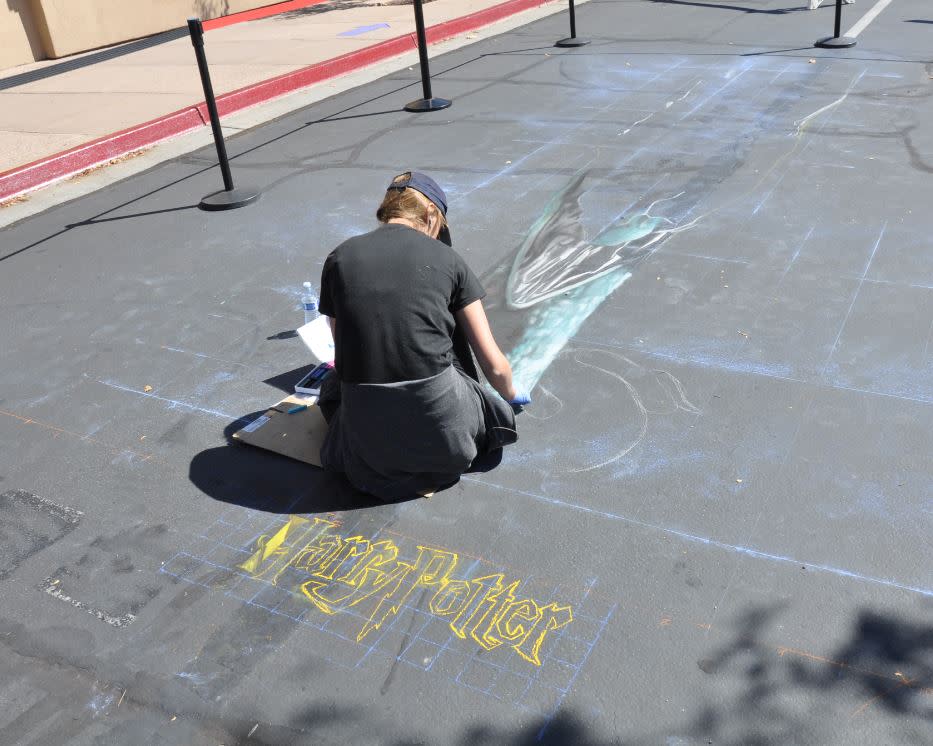 Rebecca Pletsch is another one of the featured artists at this year's event, and even though she was just getting started when I stopped by her station, it was clear her chalk art was going to be epic. I mean, it's Harry Potter-themed! Is that the beginnings of a basilisk I see there? As you can see, her artwork is HUGE, but unlike 8-person "The Mega-Chalk," this one is ALL her. Look for Rebecca in the south parking lot, right behind Dawn Morrison Wagner.
4. The Selfie Station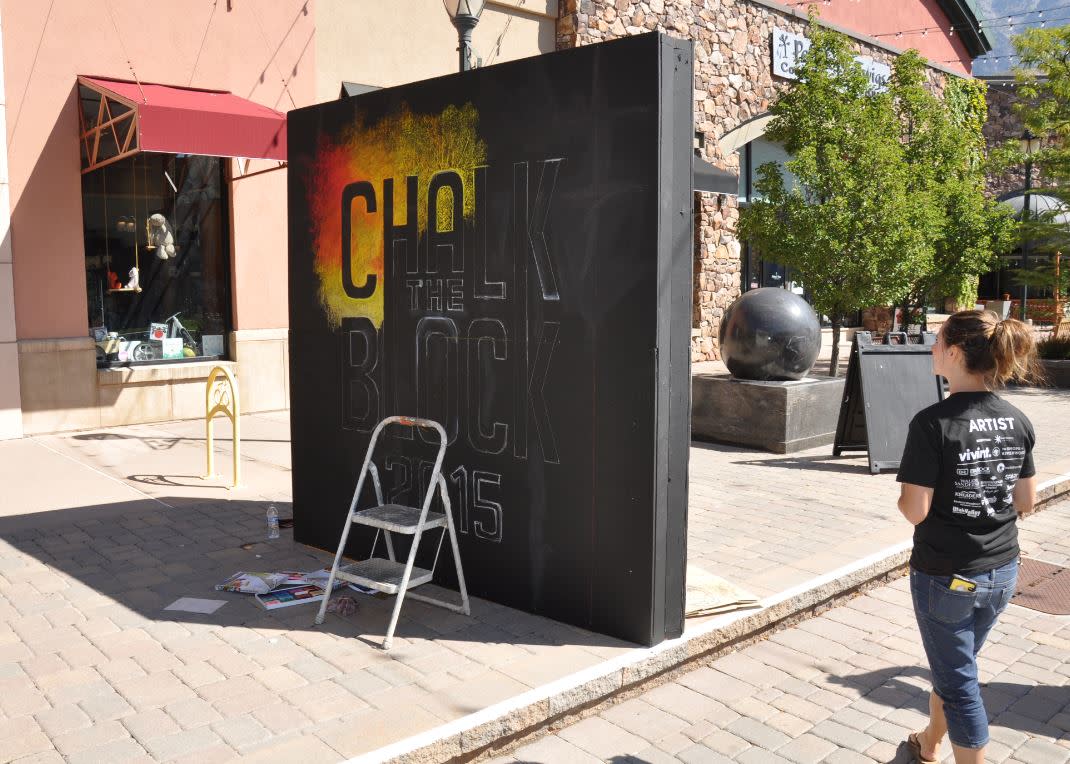 Of course, no Saturday afternoon at the Chalk the Block would be complete without a selfie! You can't miss free-standing Chalk the Block logo, which was created especially for the perfect photo op. It's the one and only free-standing chalk masterpiece at this year's event, and it features the Chalk the Block logo. Most artists chalk the block, but this artist got to chalk Chalk the Block! Make sure to stop by the selfie station, located just outside Blickenstaff's Toy Store.
5. Crush and Squirt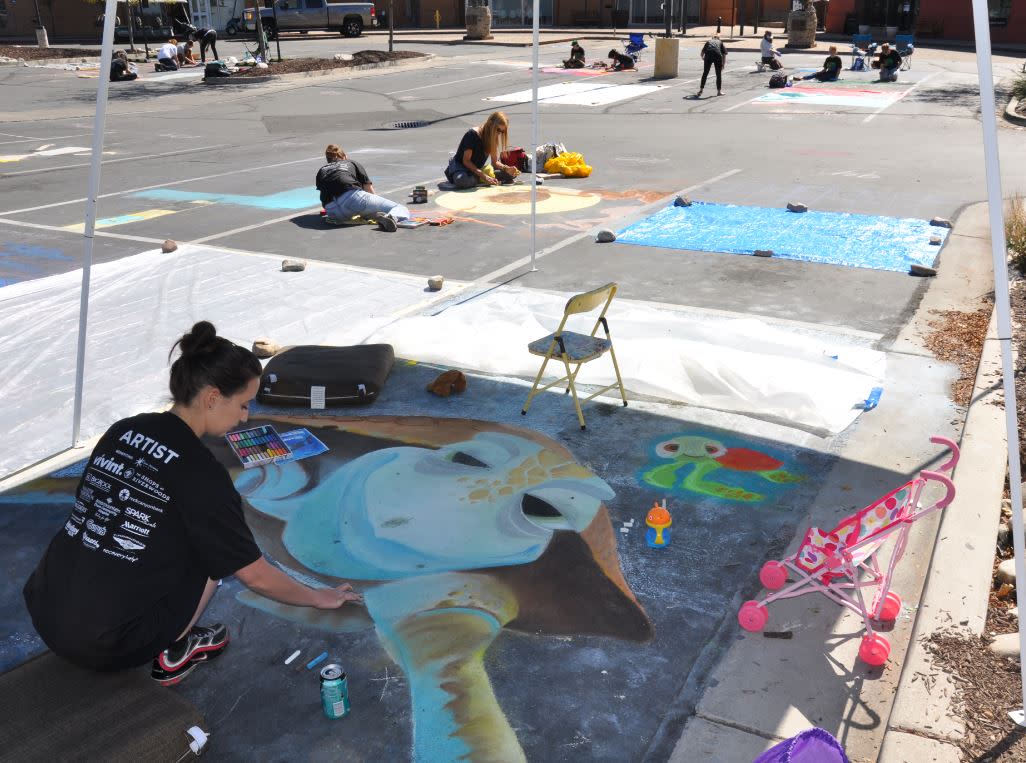 You might have to "grab shell dude" while viewing this masterpiece—it's Crush and Squirt from Finding Nemo! This chalk art was far from being finshed when I saw it, but you can already see the amazing detail including in this piece. I can't wait to see it when it's finished! Crush and Squirt are appropriately located right next to the Flow Rider at Provo Beach.
So there you have it—my "Top 5 Must-See Masterpieces." Check out Chalk the Block tonight (9/18) and tomorrow (9/19) at The Shops at Riverwoods in Provo, and make up your own Top 5 list! The event runs from 10 AM-9 PM. The weather will be perfect, and the artwork will be amazing. And with that, I leave you with a map of the event: