THE ROAD LESS TRAVELED
Total Driving Distance - 12 miles. Total Driving Time - 25 Minutes
Once you get to the southern part of Utah Valley, there are some great hidden gems for those willing to look for them. We've got some unique experiences in Spanish Fork and Springville that you won't find anywhere else.
Krishna Temple 8628 South State Rd, Spanish Fork, 84660. Hours: 10 am to 7 pm While most Utah Valley residents are familiar with the  Festival of Colors, which brings in over 50,000 people annually, the Lotus temple has so much more to offer. Free tours are available daily, with guides who can answer questions and help you understand the history and beliefs of Krishna Consciousness. Visitors may also stay and participate in a brief session of kirtan in the temple room after the tour. The vegan buffet is certainly worth trying. The temple also features a gift store and animal farm. Every September, you can enjoy India Fest, with Indian cuisine, photography, cultural exhibits, the burning of a 25-foot demon, and fireworks.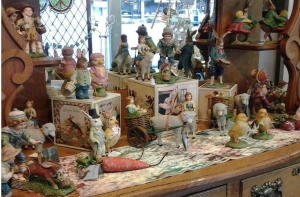 Confetti Antiques and Books 273 N. Main St, Spanish Fork, 84660. Hours: Tues-Sat 10:00 AM - 6:00 PM. Confetti carries a wide variety of products, including books, art, and home decor. They specialize in anything Utah, carrying Utah and Western Americana books and photographs, rare and out of print LDS books, Vintage Salt Lake Temple souvenirs, and Early Latter-Day Saint collectibles dating all the way back to the Early Nauvoo Period. They distribute products from over 20 vendors, in dozens of categories. They have large selections of both LDS and non-LDS. Springville Treasure antique Mall Address: 1045 N 2000 W, Springville, UT 84663 Hours: M-Sat. 10 am - 6 pm
Boothe Brother Music 135 N. Main St. Spanish Fork, UT 84660. Store hours: Mon-Fri 10:00 AM - 6:30 PM, Sat 10:00 - 6:00. Boothe Brother Performing Arts Center is a rent-able concert hall and event center. The venue holds approximately 250 people, and hosts local music, unique performances, and private events, specializing in the performing arts. The music starts as early as 10, and goes late into the night. Their calendar showcases a wide variety of events. The venue is best known for its vintage feel, as the building is over 100 years old. Their store offers great deals on a diverse selection of instruments, sheet music, equipment, and rentals.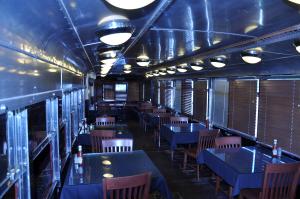 Art City Trolley 256 North Main St, Springville, 84663. Hours: Mon-Th 11:00 AM - 9:00, Fri-Sat 11:00 AM - 10:00 PM. Art City Trolley offers a unique dining experience inside of a 1931 Brill Bullet Trolley car. They serve everything from Mexican food, to burgers, to seafood. The restaurant was originally just inside of the trolley car, seating 26 people, but with the support of the community, added the "Trolley Station" that increased capacity to 115.The owner of Art City Trolley, Jeff Decker, is a licensed Harley Davidson sculptor, and many of his sculptures can be seen in the restaurant.
Treasures Antique Mall Address: 1045 N 2000 W, Springville, UT 84663. Hours: Mon-Sat 10:00 AM - 6:00 PM. One of the best places in Utah for antiquing, the Treasures Antique Mall, there's something new to find every day. Hosting over 50 different dealers in two buildings covering 24,000 square feet has led to Treasures Antique Mall being voted the best antique store in Utah County. Take your time looking through both buildings, and see if you can find any great steals!
---