ALL-AMERICAN FESTIVALS

Fun, Freedom, Festivals & Utah Valley
By Christianna Silva
What do cowboys, parades, fireworks and carnivals all have in common? Americana tradition and Utah Valley, Utah. Utah Valley epitomizes the charming side of America. As a child, racing through sprinklers in a star spangled dress and filling up on watermelon and hotdogs was ultimate happiness. As I get older, my new definition hasn't strayed too far from the original - although I often leave out the skipping though sprinklers part. When I need to rejuvenate and rediscover that summer happiness, I find myself craving a trip to Utah Valley.
Setting the stage
American icons of a past culture are alive and well in Utah Valley. Between Strawberry Days, Onion Days, Salmon Supper, Steel Days and even Pony Express Days, there's never a day lacking activity or reason to celebrate. Stepping into the festivals and carnivals of Utah Valley in the summer is like stepping into a time machine, sans the outdated technology. In fact, high tech is as huge in the Valley as roots to tradition, with a small town feel that's since been modernized in the silicon slopes of Utah. If you move past the incredible mountainous views and sublime summer weather, and onto the rodeos, festivals and community growth, it's no surprise that USA Today declared Provo, the city in the heart of Utah Valley, the happiest city in the nation.
Grand Parade always starts my day right. Families set up camp, complete with chairs, coolers and mini American flags. Before the parade steps off, adults chat as their kids skip around in anticipation. Music starts and the crowd of over 250,000 people from all over the country watch floats, giant helium balloons and local performers waltz by.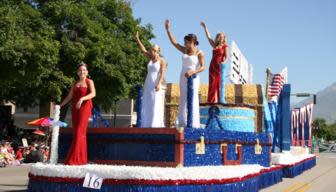 Spectators become friends with their neighbors, and parents hop up to catch photos of their daughters marching with drill team troops and sons playing sax in the band. There are loads of families sitting together for their reunions, and with Utah Valley's slogan "Bring Everyone Together!" there's no wonder everyone feels like they've come to the right place.
Looking up and around
Another attraction not to be forgotten is the Balloon Fest. Something about watching hot air lift hundreds of pounds of fabric, food and people up into the air really puts life into perspective - and that's not just a bunch of hot air. It begins at the crack of dawn, so local coffee joints call my name. The experience is delightful for all, as kids hoot with glee and stare with wonder at the magical, gigantic balloons. Afterward, with an audience ready for some grub, there's a huge community breakfast served at the same park.
After an exciting morning, I'm hoping for an equally exciting afternoon, and Utah Valley has me covered. When I'm around in September, I'll spend my time at the Storytelling Festival, moving from concert to workshop, and watching bubbly children of all ages whoop up with laughter, and July days I'll spend at the Freedom Festival.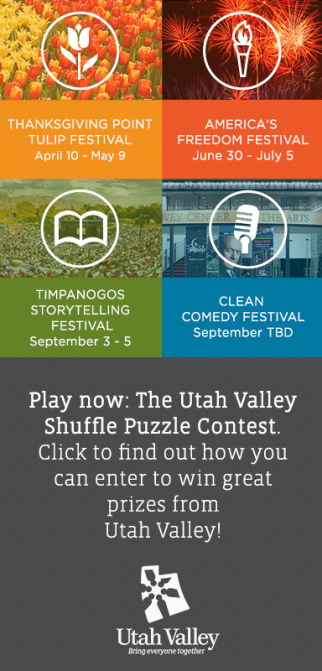 The entertainment stage at the Freedom Festival is full of all sorts of performances to enjoy right on the historic courthouse grounds. Spectators can bounce from exhibit to exhibit of handcrafted knickknacks, clothes, jewelry and more. There's a carnival nearby for the tykes, with snow cones and lots of food choices to keep both them and me satisfied. Thanks to the old sycamore trees surrounding the event, there's plenty of shade to eat, rest and enjoy the music that flows from the stage.
Soaking it all in
Now for one of my favorite parts of a summer celebration in Utah Valley, a part that truly rejuvenates my Americana-craving soul: the famed Stadium of Fire. Groups from all over the surrounding states audition to become a part of the show, and headliners like Journey make the evening an absolute blast. The Stadium of Fire Dancers, complete with members of the Utah Valley community, grace the stage every year. Beyond that, the firework show is incredible, and seeing a stadium fill with families, friends, blankets and snacks really completes that community feeling.
America's Freedom Festival takes me back to a time when things were simpler: cowboys roamed the roads and patriotism covered the nation like a blanket. For me, this place offers a vacation spot full of quality entertainment and a matchless Americana celebration.   
Find more festival fun in Utah Valley!