DOWNTOWN PROVO NATURE TOUR
Total Walking Distance - .4 miles. Total Walking Time - 9 minutes.  
While Provo's climate is very dry, and temperatures are very hot in the summer and sub-freezing in the winter, there are several places just in the downtown area that have managed to overcome the elements and make nature a display worth seeking out. Enjoy a walk among the shady trees on Center Street and see some of Provo's impressive greenery. 
Pioneer Park (500 W Center St Provo UT 84601)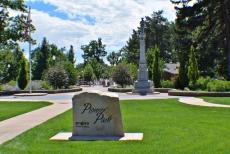 - Renovated in 2013 Pioneer Park is a sparkling jewel in Provo City.  Sporting a new splash pad, children and adults from all over the City come to cool off in the spouting waters under the hot summer sun. Pioneer Park is also the home of the Provo Farmer's Market held every Saturday starting the first of June and running through the end of October. It also features a playground for kids and pavilion if you want to bring a lunch and have a picnic.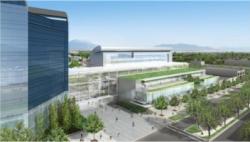 Nuskin gardens (75 W Center St) - As soon as you enter the Nuskin building, the spacious glass building greets you immediately with a fountain and flowering garden. The garden is meant to convey the company's mission of "healing hospitality". The central courtyard is a true spectacle, especially at night, as the lighting accents the pools, benches and plants.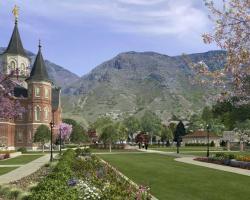 Provo City Center Temple grounds (100 S University Ave Provo UT 84601) - The Provo City Center Temple grounds feature beautiful landscaping and greenery that LDS temples are known for, including trees, bushes, and hundreds of flowers. Visitors are welcome to enjoy the grounds, pavilion, and the incredible lights at night.
---
<< Back to Nature Lover Itineraries