TASTE OF PROVO
Total Walking Distance - .6 miles. Total Walking Time - 13 minutes.
Every year, the Utah County Chamber of Commerce puts on an incredible event known as Taste of the Valley where dozens of the top restaurants from the Valley compete in several different categories. If you're looking for award-winning Presentation, Hospitality, or the Best Kept Secret, they can all be easily found along in one of the major restaurant hubs of the county on Center Street in Downtown Provo. We've picked out some of the past winners within easy walking distance of each other to give you a great culinary experience.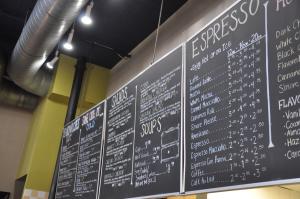 Guru's Café - Best Hospitality. 45 E Center St, Provo, 84606 - Guru's hospitality is incredible, and they can make something healthy to suit anyone's palate. Everything is made fresh in a clean kitchen using environmentally friendly products. The menu is very extensive, featuring breakfasts, salads, sandwiches and wraps, pasta and rice bowls, tacos and burritos, soups, vegetarian foods, appetizers, sides and desserts. They serve breakfast, lunch and dinner, all featuring fast service, fair prices, and a friendly atmosphere. They host local bands every Wednesday night, open mic poetry readings Thursdays, Blues Dancing Friday nights, and Karaoke night every Saturday. (Mon-Tue 8:00am-9:00pm, Wed-Sat 8:00am-10:00pm)
The Spoon - Best Presentation. 75 W Center St,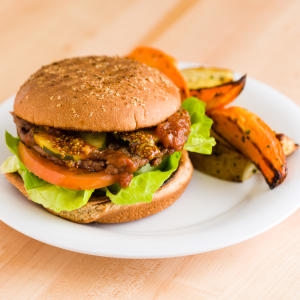 Provo, 84601 - The Spoon is a local restaurant located in the Nuskin Innovation Center that focuses on nutrition without losing any flavor. Despite its location, it is open to the public. They make everything fresh in-house, including the flat-bread and sauces, and can adjust the menu to your preferences, dietary restrictions, or allergies. The Spoon offers breakfast meals, like Almond Crusted French Toast and an Omelet Bar. Their Flatbread Pizzas, pastas, salads and sandwiches make for great lunch and dinner options, and they have a snack menu if you just need something to tide you over. They also offer call-ahead ordering, so you can walk right in and pick up your meal. We had a great experience eating there, and you will too! (Mon-Sat: 8:00am - 5:00pm)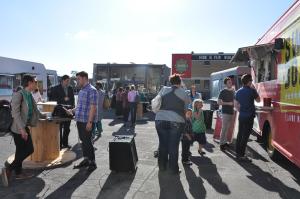 In addition to the three restaurants listed above, there were two categories for food trucks, which can be found in the Valley at different times and locations if you're willing to investigate a little bit. The two winning food trucks and many others will frequently appear at the Provo Food Truck Roundup Thursday nights at the Startup Building, Orem Food Truck Underground Mondays and Fridays at the SCERA, Eagle Mountain Food Truck Underground Tuesdays at The Ranches Homeowners Association, Pleasant Grove Food Truck Tuesdays at Veterans Memorial Park, and the Lehi Round up at Margaret Wines Park Wednesday nights.
Special Courses - Best Food Truck. Special Courses is a food truck with a military theme. Their specialty is American food, like hamburgers and other delicious meats, and some amazing French fry options, including their Chili Cheese Fries, Cheddar Cheese Fries, and Semper Fries.
The Matterhorn - Most Unique. Though the Matterhorn spends a lot of its time a bit further away than other local food trucks, they have an incredible selection of Gourmet French toast. Their menu features homemade coconut syrup, fresh fruit toppings, biscoff spread, and bread from Lehi Roller Mills. The Matterhorn is always generous with the toppings, and their four available options area all well worth checking out.
---