A Complete Guide to
Nebo Loop: Where to
Camp, Hike, and Play
The Nebo Loop National Scenic Byway is a 38-mile (one-way) road that meanders through the backside of Mount Nebo, the highest peak in Utah Valley and along the Wasatch Mountain Range. It can be accessed in the north from Payson or in the south from Nephi. The road winds around the mountains, offering a variety of stunning views, including pine forests, canyons, and red rock formations. The road is closed seasonally when it snows, but can still be accessed by snowmobile, offering year round beauty and adventure.
Useful Info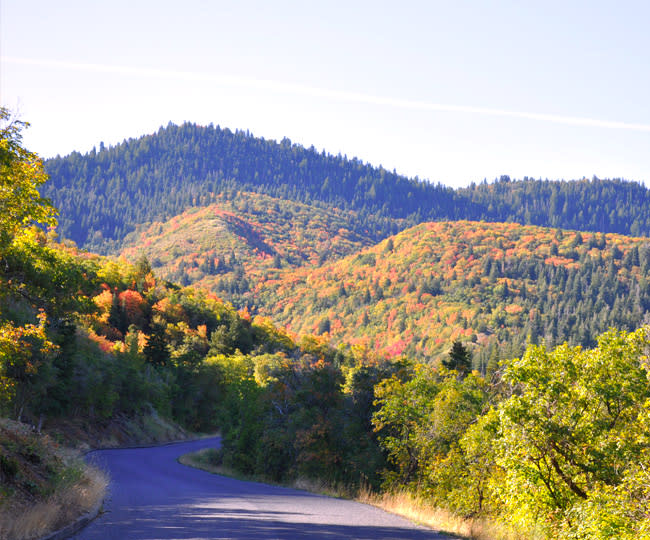 Driving the Nebo Loop takes about and hour and a half or longer if you stop at the overlooks for pictures and gorgeous scenery.
If visiting from Payson, take exit 250 from I-15 and head south on Main St. Turn left on 100 North, then turn right on 600 East to the entrance.
If visiting from Nephi, take exit 225 on I-15, and head east on S-R 132. After about 5 miles, turn left on Forest Road 015, which is the south entrance.
Cell phone service is spotty along Nebo Loop, so a downloaded Google map or a physical map to navigate through the area is useful.
No passes or entrance fees are required to enter the Nebo Loop. However, some areas, such as many campgrounds, do require passes.
Check with the US Forest Service when planning your trip for updates on seasonal conditions, such as wildfires, early snow, etc.
For more information about Nebo Loop, contact the Spanish Fork Ranger District at 801-798-3571.
Where to Camp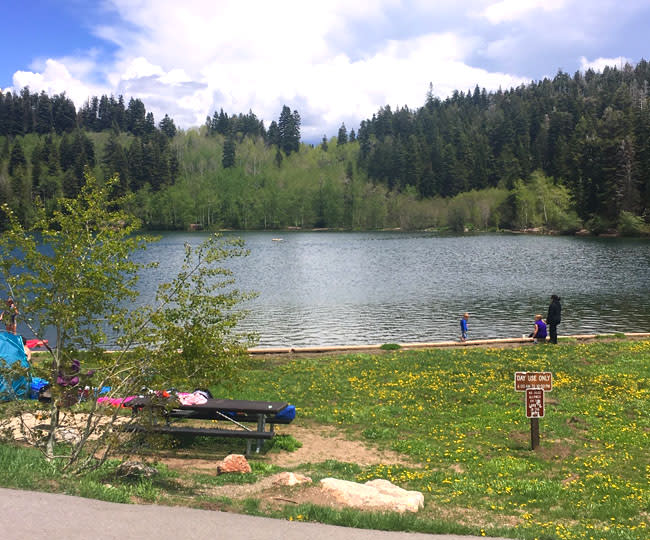 If you plan to spend a lot of your time along the Nebo Loop at the lakes, camp at them! The setting is beautiful and surrounded by aspen and fir trees.
Elevation: 8,000 ft
Amenities: single and double sites, flush and vault toilets, fire rings, drinking water
If you are looking for a smaller, quieter campground, go here! With only 7 single sites and no reservations accepted, you can consider yourself lucky to get a spot here!
Elevation: 6,000 ft
Amenities: vault restrooms, no water
This campground is not too far from Maple Lake Campground in another smaller, more intimate setting. It is also non-reservable.
Elevation: 5,800 ft
Amenities: drinking water, non-flush toilets
This camp frequently hosts boy scout groups, but families are also welcome to stay here for an idyllic camping experience.
Elevation: 5,768 ft
Amenities: toilets, showers, picnic tables, drinking water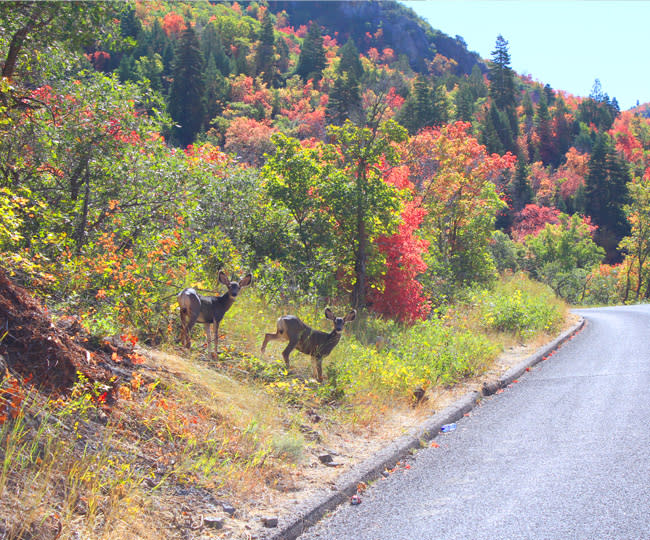 Near the middle of the Nebo Loop, this campground sits high in the mountains, providing panoramic views of the surrounding canyons and valleys.
Elevation: 8,000 ft
Amenities: accessible sites, picnic tables, flush toilets, drinking water, grills, fire rings
This campground is a little bit off of Nebo Loop inside Santaquin Canyon and there is a steep, narrow road that leads to it.
Elevation: 7,000 ft
Amenities: grills, picnic tables, drinking water, vault restrooms, fire rings
Cottonwood trees and maple trees surround this free campground at the southern end of Nebo Loop.
Elevation: 6,300 ft
Amenities: no drinking water
If you want a good amount of privacy, head to this campground where the sites are spread out from each other.
Elevation: 6,200 ft
Amenities: grills, picnic tables, drinking water, non-flush toilets, fire rings
Where to Hike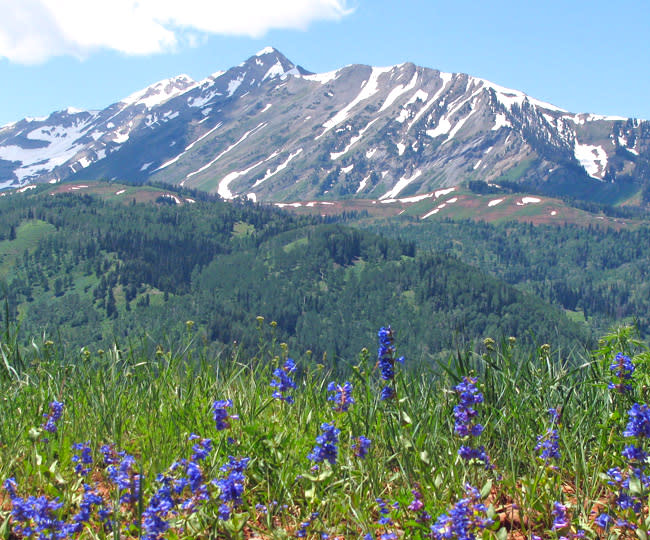 A coveted peak to reach, Mount Nebo offers stunning views on all sides. Climbing it is a strenuous, all-day activity, but if you are prepared it is a lot of fun! The peak is 11,928 ft tall with an ascent of 3,800 ft over 9 miles, out and back. Hiking to Mount Nebo will take through forests and meadows, along many switchbacks, and across a narrow ridgeline. You'll have no problem getting your 10,000 steps in for the day!
A little past Payson Lakes along the Nebo Loop, you can find Rock Springs trailhead! The trail meanders through meadows in a beautiful setting amid the mountains. The trail is long at over eight miles, but you can adventure as far as you want and turn back at any time, as there is no ultimate ending. For a peaceful, quiet adventure choose this trail.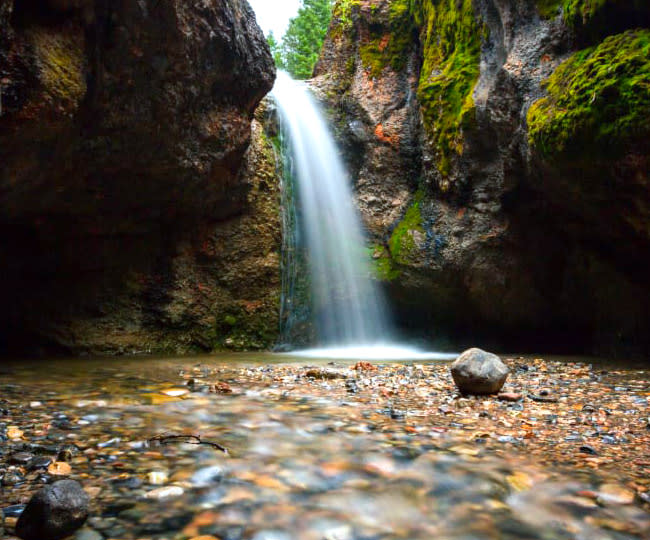 Picture Credit: Utah.com
Much different than the hike up Mount Nebo, Grotto Falls is a very doable and family friendly hike! The trail is short, at only about half a mile, with very few inclines. It runs along a stream and leads to a beautiful alcove with a small flow of water running down the middle. Children love playing in the pools of water and crossing the logs laid out over the river.
Where to Play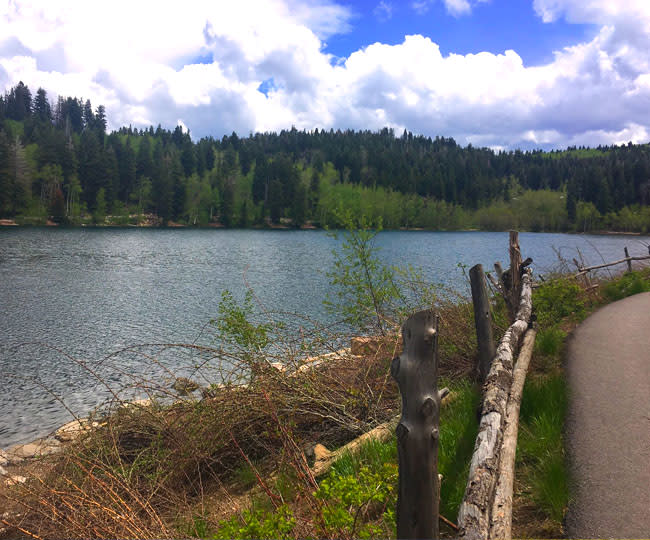 One of the greatest gems of Nebo Loop is Payson Lakes. The campground mentioned above is adjacent to the lakes. There is a trail that wraps around the largest lake, which makes it a scenic place to enjoy nature. The lakes are great for swimming, kayaking, canoeing, stand-up paddleboarding, and floating on a tube in. There are also picnic benches along the shore, so bring a lunch and make a day out of playing at the lakes!
Taking an ATV through the forest is a thrilling way to enjoy the beauty of Nebo Loop. Mona Pole Canyon is becoming a popular area for ATV riders! It is one of the only ATV trails along the Nebo Loop and offers an exciting adventure for those with off-road vehicles. Two other OHV trails managed by the Uinta-Wasatch-Cache National Forest Service are Bennie Creek Trail and Jones Ranch Trail. Rent an ATV from ATV Rentals Utah!
There are a variety of places to horseback ride throughout the Nebo Loop. Some notable horseback riding trails along the Nebo Loop include Lizard Lake Trail, Red Lake Trail, Shram Creek Trail, and Blackhawk Trail. With options ranging from lakeside destinations to meadows and forests, you really can't go wrong! Blackhawk Trail is the longest of the trails, so if you are looking for a longer adventure, make your way there.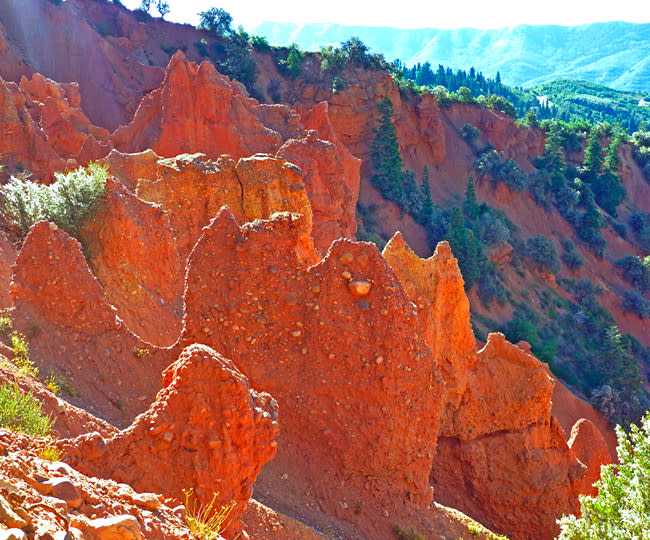 If you wanna get your fill of red rock before your Nebo Loop trip ends, head south to Devils Kitchen Geological Area! Devils Kitchen has often been compared to a mini Bryce Canyon and for good reason. The rock formations are stunning and a deep red color that contrasts with the rest of the Nebo Loop. The path to view the rocks is easy to follow and just a short walk from the car.
Many of the mountain biking trails along the Nebo Loop are also good for hiking and horseback riding, with advanced and beginner trails. Some cycling favorites include Jones Ranch Trail, Blackhawk Loop Trail, Bennie Creek Cutoff (going downhill), and Rock Springs Loop. Another option is to cycle along the Nebo Loop, which is frequently included in the Tour of Utah cycling event, and take in the views of the surrounding mountains and valleys from the main road.
Stargazing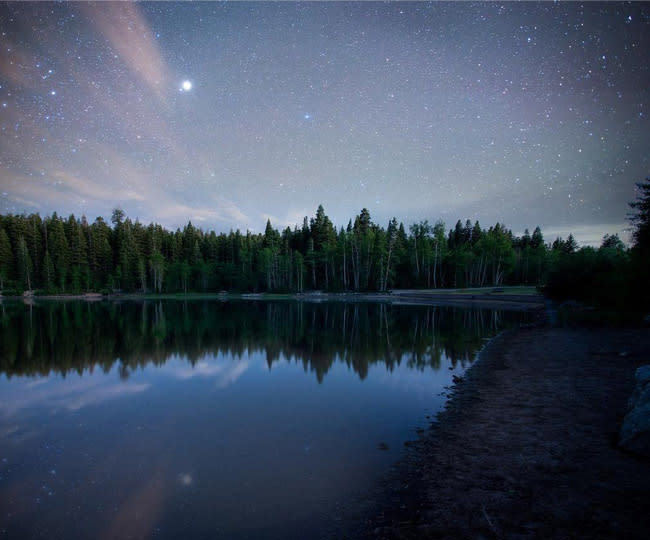 Picture Credit: Instagram @pocktography
The Nebo Loop offers one of the best places in Utah County for stargazing since it is farther from the city than the mountains in the north and is not as frequently traveled. While camping, be sure to spend each night gazing up at the stars and see how many shooting stars you can count. Areas with a clear sky, such as meadows and around lakes make for some of the most beautiful unobstructed viewing platforms!
Tips for Visiting the Rocky Mountains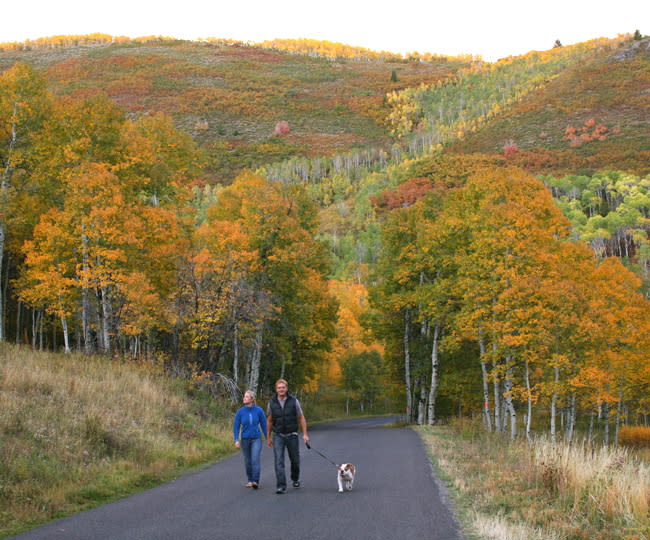 Acclimate to the higher altitude before doing any strenuous activities. The air is thinner in the mountains, so if you are used to being at or near sea level, you will want to take it easy until you get used to it.
Always pack warmer clothes for the night, even in the summer. Temperatures can dip to jacket-weather and if you are camping you will want to have a warm sleeping bag. 
Wear sunscreen since you will be closer to the sun in the mountains.
Enjoy your time in the outdoors, but remember to leave no trace! Leave things where you found them and clean up after yourself before leaving.
Stay updated on the weather and avoid being out in rainstorms and snowstorms.
Take lots of pictures and tag @exploreutahvalley on Facebook and Instagram!
Disconnect, have fun, and soak up your vacation in the mountains! It will be one you and your friends or family will cherish forever!