ADVERTISE WITH US
Free Listing & Updates on UtahValley.com (Calendar of Events and other pages):
Submit your event now via our online form or contact our information specialists at visitors@utahvalley.com or 801-851-2100 to post/update your information on our website for free. Businesses should provide a service (regarding events, activities, things to do, dining, lodging, etc.) in Utah County for locals and visitors to Utah Valley to be considered. (placement is at the discretion of the CVB).
Free Online Coupons for Utah County Businesses

Coupons on UtahValley.com have been very successful with local and out of area consumers since moving them from the previously printed "Adventure Passport". This has allowed consumers to get the offer more than once and share the information with other friends and family. Advertisers have been able to adapt to different seasons and update their offers more frequently.
The CVB continues to promote the offers via various marketing methods, including social media where more consumers are able to act on the offer immediately.
Now available on our new mobile site at UtahValley.com !!!
Completed Coupon Example:
Coupons are automatically displayed on our mobile site as well - visit UtahValley.com on your phone or view our mobile site on your computer at m.utahvalley.com (Hot Deals - Coupons)
Utah County Business Owners:
Request your free coupon listing now.
***(please note - coupons should be offers that are directed towards visitor activities, the CVB reserves the right to approval of offers)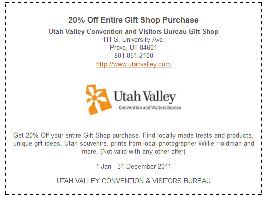 Two Steps:
1. Fill out our coupon submission form Online

Note: Since the coupons are available on mobile phones we highly recommend that if you do not accept electronic coupons that you add text to state that "Only Printed Coupons Accepted at this Location"

2. Email your logo to utahvalleycvb@gmail.com (logos will be resized to 200 px wide x 100 px high)
3. The CVB will proof the coupon with you for your approval (please allow 3-5 business days based on approval from your business)
2012 Visitors Guide Ad Reservation Now Open: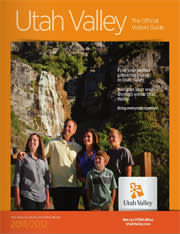 The Utah Valley Visitor's Guide is 8.5 X 11 and is distributed to Utah County hotels, businesses and visitors. ~30,000 are published and distributed annually with several more electronic views on UtahValley.com. Partners are allowed to purchase limited business ads within the publication, as requested by partners to increase their visibility within this critical visitor information piece.
In addition, the guide includes a Meeting & Event Planner section. This section includes facility, location and planner information for those interested in holding business (both corporate & association), sporting, film, religious, wedding and family reunion type events in Utah Valley.
View the electronic versions:
Important dates to consider are:
Ad Reservation - April 2012
Artwork Submission - April 2012
Please call us at 801-851-2100 or email us the completed form at visitors@utahvalley.com
If you have any other ideas for marketing opportunities we would love feedback. Please contact us at at 801-851-2100