Hello, my name is Anna. I am the resident Sales Coordinator at the Utah Valley Convention & Visitors Bureau. My husband and I both graduated from Brigham Young University this April and we're tickled to be living in Provo!
Friends, let's talk bucket lists, have one? We do, we've pretty much had the same Utah Valley bucket list the last three summers but have finally decided to do something about it this summer. Which is why when Monday, July 22 rolled around; we decided to try out the
Sundance Resort Full Moon Lift Rides
. These are evening scenic lift rides that Sundance Resort offers over every full moon from May through September. Note: you can ride their lifts all year round. In the summer months their lift runs during the day from 10:00 a.m. – 6:00 p.m. But on full moon evenings in the summer, they re-open their lift from 8:30 – 11:00 p.m.
Not only was the experience relaxing, but also so refreshing! Sometimes we all need to escape to the mountains a little bit. The evening we went the weather was absolutely perfect. Fun fact: as we were standing in line to get on the lift, my husband told me that this was his first time EVER on a ski lift! I enjoyed teaching him how to not get pummeled by the chair (lessons I learned the hard way as a child).
While our lift ride adventure was very low-key and relaxing, a few changes in our evening could have changed the experience. Here are my 4 tips for tackling the Sundance Full Moon Lift Ride:
1.

       
Think about your feet.
When I was getting ready for our Full Moon Lift Ride date, I fought the urge to wear my cute moccasins and instead opted to go for shoes that tie. I could just imagine one of my favorite shoes falling to its demise 30 feet below. I have friends that take their shoes off, which is fine if you're willing to risk getting mosquito bites on your feet.
2.

     
Check the weather.
Don't forget to check the weather forecast before you go, and remember, it's always more chilly in the mountains. Therefore, plan your layers accordingly. When we went we both wore long pants and brought jackets – which we were really grateful for. Some people were there with blankets. The night we went you wouldn't have needed both a blanket and a jacket, but again, that was the night we went. 
3.

     
Plan your Timing.
We left Provo at 9:00 p.m. By the time we drove up to Sundance, parked in the upper lot and took the shuttle down to the resort it was 9:30. After a quick trip to the bathroom (Tip 3B – Go to the bathroom before getting on the lift, it's 45-50 minutes roundtrip and there's nowhere to get off at the top to go), and thanks to pre-paid tickets, we went to the front of the line. However, I have other friends who got there about the same time as us and did not have either a season pass or pre-paid tickets and had to wait in line 45 minutes just to buy a ticket. By the time we were almost done, they were just getting on.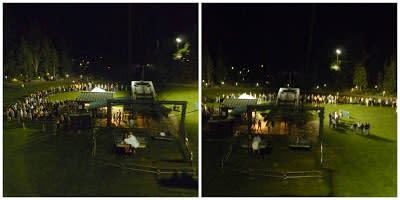 Length of line at 9:30 vs. an hour later at 10:30
4.

     
If possible, pre-purchase.
If you want to avoid long lines the night of, you can pre-purchase full moon lift ride tickets at the Sundance ski rental shop, which is open from 9:30 a.m. – 6:00 p.m.
We seriously had so much fun. Not only is the location breathtaking, but it was also cool to catch a glimpse of different features of the resort (e.g. the amphitheater, the lodges, cabins, ski hills, etc.). Please go, you will be glad you did. The next full moon lift ride is Monday-Wednesday, August 19-21.
Until next time friends, happy adventures!